Knack Weekend Blog Awards
Ok, tijd om onze blog wat op te blinken. Want plots zijn daar de Weekend Knack Blog Awards en komen er juryleden op onze blog lurken.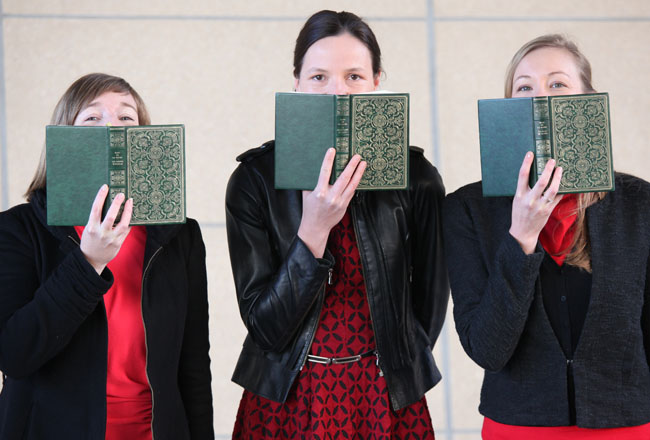 Columnwedstrijd-genomineerde Kurt omschreef onze schrijfactiviteiten onlangs nog als "Ik lever een lap tekst met een verslag van de boekenvoorstelling -al dan niet met foto's genomen van op een tafel- doorspekt met een heel summiere boekbespreking, TIHWR-stijl."
Dat, beste juryleden, is exact wat wij doen. Foto's trekken van rare boeken uit onmogelijke hoeken, zoals Katrien deed om de Libris receptie voor u vast te leggen. Om 23u 's avonds beseffen dat het morgen 'mijnentoer' is om te posten en  als een bezetene beginnen typen. Die snel-snel in elkaar geflanste stukken doen het uiteindelijk altijd beter dan de wekenlang geplande interviews met Russische literaire tsarina's en aanstormende Zweedse talenten.
Maar wat zoeken Weekend Knack juryleden in een boekenblog? Recensies, ja, en zo hebben we er wel enkele in ons archief: Juli Zeh, Hilary Mantel en Cheryl Strayed ontsnapten niet aan onze aandacht.
Verder denken we bij Weekend Knack aan reizen. Gelukkig kriebelt het bij ons vaker dan goed is voor ons en lieten we literair Parijs, Bournemouth, Italië, Nepal en Sri Lanka de revue passeren. Dichter bij huis zochten we knusse leeshoekjes in Luik, Antwerpen en Leuven. Op weekend gaan durven we ook al eens, alleen of met drie.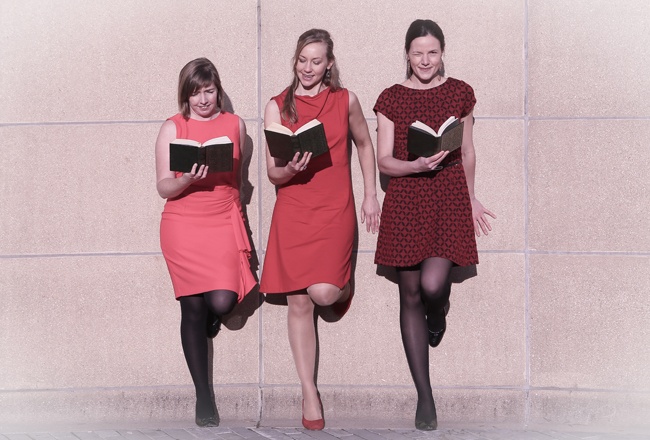 Eten vinden we ook belangrijk, met of zonder de hete adem van Weekend Knack culinaire journalisten in onze nek. We bakken taart, stellen een literair zomermenu samen (Ja, ja, voor de concurrentie van Elle België) en slurpen literair verantwoorde machiatos.
We zijn schaamteloos en slepen er te pas en te onpas onze kinderen (Barbara),  reizen voor het werk (Katrien) en een halve dansschool bij (Eveline).
En of we mee zijn met onze tijd: we bombarderen onze lezers met Tedtalks, boekenapps en een literaire datingssite.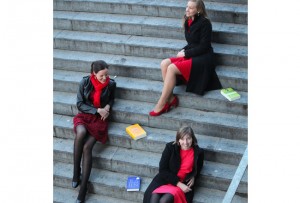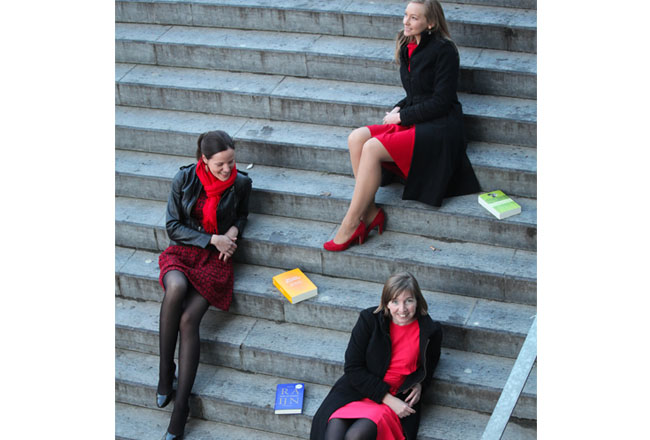 En ja, als jurylid voor onze zomerwedstrijd kozen we columniste An Olaerts. Weekend Knack meubilair Jean-Paul Mulders stond ook in onze lijst kandidaten, dus in ruil voor wat goede punten willen we hem wel vragen voor de volgende editie.
Snuffel dus gerust verder, hooggeëerde juryleden, wij kruipen weer in een boek en op een tafel…