Drie boekenapps uitgetest
Een leven zonder smartphone. Ik kan het me nog moeilijk voorstellen. Ik gebruik hem voortdurend (waarschijnlijk te veel) maar qua apps ben ik eigenlijk heel klassiek. Naast mail, agenda en sociale media (Skype, Facebook, Instagram, Twitter, een occasionele Snapchat en LinkedIn) gebruik ik nog Evernote (voor zo goed als alles), Deezer voor muziek en Dropbox (oftewel het secret weapon van de boekenmeisjes).
Lezen doe ik regelmatig op de iPad, niet omdat het zo veel leuker is maar wel om drukproeven voor verschijningsdatum te kunnen lezen en de vinger aan de pols te houden.
Tijd dus om wat nieuwe apps uit te testen. Eveline had het eerder al over Goodreads, dat ze een literaire datingsite noemde. Kan wel kloppen want gisteren zei een vriend me nog: 'ik heb een 80% match met een vriendin van jou, ik ben nu haar hele boekenkast aan het lezen.'
Bksy
Het idee is geniaal. Je importeert je eigen boeken in de app (dit kan door de ISBN code in te scannen zoals op Goodreads), je voegt je vrienden toe en het uitlenen kan beginnen. Je deelt met andere woorden je boeken en je wordt eigen bibliotheek maar houdt ook een overzicht van wie welk boek in zijn bezit heeft.
Toch een minpuntje. Het succes van apps als de deze hangt natuurlijk af van het aantal leden. Zelf vind ik in mijn adresboek geen enkel lid. Leuker zou zijn als de app je bibliotheek Tindergewijs openstelt voor buurtgenoten. Want zeg nu zelf, boeken uitwisselen met vrienden aan de andere kant van het land, is ook niet alles.
Bliyoo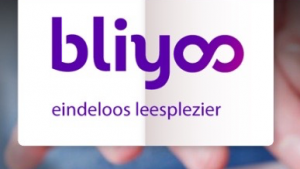 Bliyoo is boekenwinkel Bruna's Netflix voor boeken en tijdschriften. Voor €9,95 (boeken of tijdschriften) of €14,95 (combo) kan je onbeperkt online lezen zoveel je wil. Met dit 'Bookify' initiatief wil Bruna het illegaal downloaden van boeken tegengaan.
De eerste maand is gratis en kies ik voor een combo abonnement. Bij de tijdschriften zitten er veel relatief onbekende magazines en download ik een exemplaar van Schrijven en de fotografiegids van Zoom.nl. Voor Belgische kranten ben ik beperkt tot De zondag of De streekkrant. Wie denkt dat een Bliyoo abonnement een toegangskaartje is voor het lezen van De Morgen, Elle en Dag allemaal is er aan voor de moeite. Wil je wel eens wat nieuwe niche tijdschriften ontdekken dan is dit een ideale formule.
Het boekenaanbod kan me meer bekoren. Ik zie Valerie Eyckmans, Renate Dorrenstein, Erik Vlaeminck en Isabelle Allende de revue passeren … tussen heel wat pulp. Jammer dat kwaliteitstitels niet wat meer in de kijker worden gezet! Af te wachten of meer uitgeverijen zich zullen aansluiten…
De bibliotheek (voor iOS, voor Android)
Toegegeven, deze app heb ik niet kunnen testen, wegens enkel beschikbaar in Nederland. Maar ze lijkt me zo praktisch! Met deze app kan je immers boeken reserveren, je uitlening verlengen en krijg je pushberichten als je je boeken terug moet binnenbrengen. De app doet me daarom een beetje denken aan de superhandige Recycle app die je helpt herinneren wanneer je vuilnis buiten moet. Bibliotheek.be waar wachten jullie op?
PS: Welke literaire apps gebruik jij?