Goodreads: datingsite voor literatuurfreaks
Als boekenmeisje krijg ik regelmatig de vraag 'Of ik nog een goed boek weet.' Volgens alle truuken van de psychologie antwoord ik meestal met een wederzijdse vraag: 'Welke boeken vind je goed?'.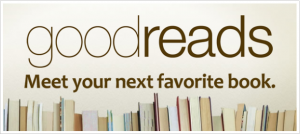 Enter Goodreads. De literaire datingsite geeft je boekentips gebaseerd op je leesvoorkeuren. De referentie voor boekenliefhebbers en literatuurfanaten. De tagline van Goodreads is 'Meet your next favourite book.' 30 miljoen leden, 900 miljoen boeken in de database en 34 miljoen recensies.
De site werkt met lijstjes (Jeuj, lijstjes!). Je voegt uitgelezen boeken toe aan de 'Read' lijst, boeken die je wenst te lezen aan de 'To read' lijst en je kan boeken een score geven. Op basis van deze score krijg je persoonlijk leesadvies, gebaseerd op de twee eerder genoemde lijstjes. Ik zei het al, lijstjes.Voor mobile devices kan je met een Qr-scanner ook gewoon de barcode van een boek scannen en zo toevoegen aan één van je lijsten.
Zoals je op Tinder de creeps weg kan sliden (Tinder is een datingsite waarbij een match wordt gerealiseerd doordat gebruikers foto's beoordelen; rechts swipen Ja, links swipen Nee.) kan je ook op Goodreads vrij snel shiften. Op je lijst met boekentips voeg je werken toe aan de 'To read' lijst of kieper ze je op de 'Not interested' hoop. Bij elke match wordt ook uitgelegd waarom je dit boek zou moeten lezen. Zo zou The history of Love van Nicole Kraus mij op het lijf geschreven zijn omdat ik Jonathan Foer's Extremely Loud and Incredibly Close zo goed vond. Benieuwd.
De site is verzot op cijfers. Elk jaar is er de Reading Challenge, waarbij je het aantal boeken ingeeft dat je wil lezen. Zo hebben 687.391 deelnemers gezworen om in 2015 34.498.880 boeken te verslinden. Ikzelf heb het magere getal 5 ingevuld (onze vijf van 2015, dus) en momenteel al 40% van mijn challenge volbracht. Dat is dus één van mijn vijf die ik heb uitgelezen en een boek dat ik voor Elle besprak… En deze week ingaf. In het achterhoofd mik ik op een getal dat toch wat hoger ligt.Misschien zou een lijst met inhoudelijke doelen leuker zijn?
Ook leuk: de rubriek 'Listopia'. Alle mogelijke onderwerpen en invalshoeken komen aan bod, ideaal voor wie nog wat inspiratie nodig heeft. Een steekproef:
Elk jaar lanceert de site ook de 'Choice Awards'. Rainbow Rowell kaapte met 46.154 stemmen de titel van beste fictie weg met haar Landline. Een prachtboek met een zeer diepe… Nee, eerlijk? Nog nooit van gehoord, maar het mag wel op de 'To-read' lijst. Ook op de lijst staat David Mitchell, Margareth Atwood (hop, ook op de 'To-read' lijst) en Haruki Murakami. Readers know best, blijkbaar. Elke maand zijn er ook recensie-exemplaren te winnen, en je kan (uiteraard) zien hoeveel leden meedoen aan de prijsvraag. Begin al maar aan de kansberekening.
Voor de lezers onder ons met serieuze schrijfambities is er de 'Creative Writing' rubriek. Je post hier kortverhalen, essays, gedichten, of hoofdstukken van je nieuwe boek. Leden kunnen commentaar geven en je werk al dan niet liken. Verder voorziet Goodreads je ook van een lijstje (veelal klassieke) ebooks die je gratis kan downloaden. Voor recenter werk zijn er fragmenten waar je alvast van kan proeven.
Omdat het in de eerste plaats gebaseerd is op een uitwisseling van ervaringen, kan je je vrienden volgen. Ik heb momenteel 1 vriendje op Goodreads (ha, die Katrien), dus voel je gerust geroepen om mijn literaire vereenzaming van de baan te helpen. Net als op facebook en andere social media kan je heerlijk tijd zitten verprutsen met het invullen van de 'Trivia Quiz', het scrollen door quotes van je favoriete auteurs en het zoeken naar literaire events (1, in België, voor 2015). Je kan ook statistieken bezichtigen. De meest fervente lezer in België vermaalde deze week 14 boeken. Of gaf er dan toch 14 in op zijn account.
De goodreads app is gebruiksvriendelijk, gefocust op cijfers (en dat voor zo'n geletterde app), maar geeft je boekentips waar je in de plaatselijke bib of boekenwinkel niet snel aan zou komen.
Dus als je vandaag nog wat tijd hebt tussen twee vergaderingen door…