Leesinspiratie voor iedereen
Ben jij bibmedewerker, leerkracht Nederlands 3e graad, trekker van een leesclub of culturele organisatie? En nodig je wel eens een spreker uit? Weet dan dat This Is How We Read op tour is, met een interactieve lezing vol boekentips.
Wil je een leuke activiteit organiseren rond literatuur? Eentje waarvoor geen voorkennis of voorbereiding wordt gevraagd van de deelnemers, alleen een beetje boekenliefde? Lees dan verder!
This Is How We Read strooit al meer dan zeven jaar enthousiast met boekentips. Eerst alleen op deze blog, later – met dank aan uitgeverij Pelckmans – ook op de literaire scheurkalender 'De Eerste Zin – Een boekentip voor elke dag'. Rond een selectie van die 365 tips en boekopeners hebben we een lezing opgebouwd. Voor iedereen die leesinspiratie zoekt (concrete toptitels) en tips om bewuster te kiezen voor boeken die echt bij je passen.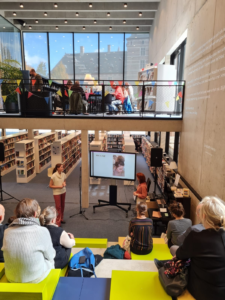 Voor wie is de lezing?
Er zijn twee versies. De oorspronkelijke talk richt zich tot volwassen lezers met een brede boekensmaak, en een lichte voorkeur voor fictie. De lezing voor middelbare scholieren (3e graad) is daarvan afgeleid, maar bevat alleen boeken die thematisch aansluiten bij de leefwereld van jongeren.
Hoe gaat het praktisch?
Tijdens de lezing van 70 à 90 minuten geven Barbara De Munnynck en Katrien Elen houvast aan gretige (of aarzelende) lezers, die door het enorme boekenaanbod wel eens last hebben van keuzestress. Zoveel boeken, zo weinig tijd – zuchtte Frank Zappa. This Is How We Read schiet de weifelende lezer te hulp met een spervuur van boekentips en leesweetjes, gepassionneerd geciteerde boekopeners en hier en daar een filmpje waarin schrijvers als Lize Spit en Saskia Decoster vertellen over hun openingszinnen.
De lezing is interactief opgebouwd. Omdat de sprekers met 2 zijn en persoonlijk vertellen, hangt er sowieso een gesprekssfeer. Er is altijd ruimte voor het publiek om in te pikken en aan te vullen. Niets zo fijn als (lees)ervaringen uitwisselen onder gelijkgestemde boekenzielen!
Wanneer kun je een lezing plannen?
's Avonds of overdag, op een weekdag of in het weekend – stuur ons een mailtje op info@thisishowweread.be en we kijken wat kan. Tot juni 2024 zijn we beschikbaar met deze lezing (op basis van de Eerste Zin Scheurkalender 2022). Daarna begint de promotie voor de nieuwe kalender voor 2025.
De lezing is een ideale activiteit bij de start (of het einde) van een leesclubjaar in de bibliotheek, tijdens een teambuilding, themaweekend of opendeurdag! Of als leesbevordering tijdens het schooljaar.
Via Literatuur Vlaanderen kun je een tegemoetkoming krijgen in de kosten – kijk op auteurslezingen.be onder 'zoek een auteur' naar Barbara De Munnynck of Katrien Elen.
Een greep uit de reacties
"Vlotte en zeer boeiende lezing. Onze aanwezigen waren allemaal fervente lezers, en werden op hun wenken bediend. Een aanrader voor leesgroepen!" – Jürgen Nakielski – Bibliotheek Willebroek
"Zeer leuke en spontane interactie met het publiek en tussen de mensen onderling. Het format is goed opgebouwd en wérkt: iedereen neemt vlot deel aan het gesprek." Aäron Willem – Bibliotheek Sophia Schaarbeek
"Inhoudelijk sterke en afwisselende lezing. Fijne interactie met het publiek. Alleen maar positieve reacties" Katrijn Van Gorp – Bibliotheek Turnhout