Thomas Mann had een haat-liefde verhouding met zijn geboortestad. Ons weet Lübeck compleet te charmeren.
Make no mistake, het zijn de voetsporen van Thomas Mann die ons naar Lübeck brengen. Wij zijn hier voor het Buddenbrooks Haus. Toch pakken ook de andere bezienswaardigheden van de stad ons in sneltempo in. Lübeck is een gezellige en overzichtelijke middeleeuwse stad op een eilandje tussen twee rivieren. We steken onze neus in de lucht, maar de 'muffige burgerlucht' waar Mann over kloeg, ruiken we niet. Tien highlights, vandaag deel 2.
Marzipansalon & Café Niederegger
Wat Hotel Sacher en z'n chocoladetaart met abrikozenjam zijn voor Wenen, dat zijn Café Niederegger en z'n marsepein voor Lübeck. Johann Niederegger richtte de familiezaak op in 1806 en ruim 200 jaar later weet nog altijd slechts een beperkte incrowd welk 'geheim ingrediënt' de marsepein z'n unieke smaak geeft. Stadsgids Jan loodst ons binnen in dit zoete walhalla, waar je op de benedenverdieping kunstwerken – zoals een reuze versie van het Duitse kinderboek op rijm Max & Moritz van Wilhelm Busch – kunt bewonderen en lekkers kunt kopen, terwijl je op de bovenverdieping taart bestelt bij diensters in roos-wit gestreepte schortjes.
Klassieke muziek op de achtergrond, antieke zilveren taartscheppen als wanddecoratie en een publiek van letterlijk 2 maanden tot 92 jaar oud. Café Niederegger is een instituut.
Thomas Mann himself erkende nederig dat Niederegger marsepein – en niet zijn literair werk – het beroemdste exportproduct was van Lübeck.
Een dag na onze 'Cappuccino mit Marzipangeschmack' bij Niederegger, lezen we in het Buddenbrooks Haus deze quote, afkomstig uit Manns essay Lübeck als geistige Lebensform van 1926: "Das Marzipan ist erstens eine sehr wohlschmeckende Substanz und zweitens eine nicht weniger als triviale, sondern geradezu merkwürdige und geheimnisvolle. Und sieht man sich diese Süssigker genauer an, so drängt sich die Vermutung auf, dass da der Orient im Spiele ist, dass man ein Haremskonfekt vor sich hat."
Schiffergesellschaft
Een bezoek aan Lübeck is niet compleet zonder een maaltijd in het historische restaurant 'Schiffergesellschaft' met z'n gezellige, 16e eeuwse interieur.
Aan het plafond hangen lantaarns en houten miniatuurschepen, in lang vervlogen winters gemaakt door verveelde schippers,
die in afwachting van het nieuwe vaarseizoen, verstrooiing zochten in de zalen van hun schippersgilde. Wij installeren ons zij aan zij op een houten bank en laten mosselsoep, gegrilde inktvis en een fles Rotspon (waarover zo dadelijk meer) aanrukken. Smakelijke gerechten en een unieke, donkere tavernesfeer – dat is The Name of the Seafarers' Guild's Game. Ja, dit adres trekt toeristische groepen aan, die in het centrum van de zaal aan lange scheepstafels eten. Maar toch wil je hier getafeld hebben voor het bijzondere kader.
De volgende dag mag het bij wijze van tegenwicht wel iets verfijnder, meer hedendaags en minder toeristy zijn. Bistro-wijnbar Miera (Hüxstrasse 57) bedient ons op onze wenken. Mijn aspergesoep met gegrilde scampi en chillipeper is een absoluut succes en het hoofdgerecht van vis en aspergerisotto wordt opgediend met bloemendecoratie. De Duitsers zouden zeggen: "Ein kulinarisches Erlebnis!"
Een fles Rotspon, bitte
Bij lekker eten hoort goede wijn en in Lübeck betekent dat sinds de 14e eeuw: een fles Rotspon. Rotspon is Franse wijn die in grote vaten naar Lübeck komt – in de middeleeuwen als bijvracht op schepen die zout om haring te pekelen aanvoerden van de Golf van Biskaje – en pas gebotteld wordt in de Hanzestad.
De lange tocht op zee en het geklots in de vaten, komt de smaak van de wijn ten goede. Dat vonden al de soldaten van Napoleon,
die na de slag bij Jena zonder verpinken Lübeck innamen en de keldervoorraden leeg dronken. 'Waarom smaakt Franse wijn hier beter dan thuis?' vroegen ze zich af. Het is zo'n vraag die geen antwoord behoeft, maar waarover wij ons toch graag buigen nu we in Lübeck zijn. Een gedegen studie van de Lübecker Rotspon gaat tot op de bodem van de fles, maar resulteert niet in hoofdpijn 's anderendaags. We like.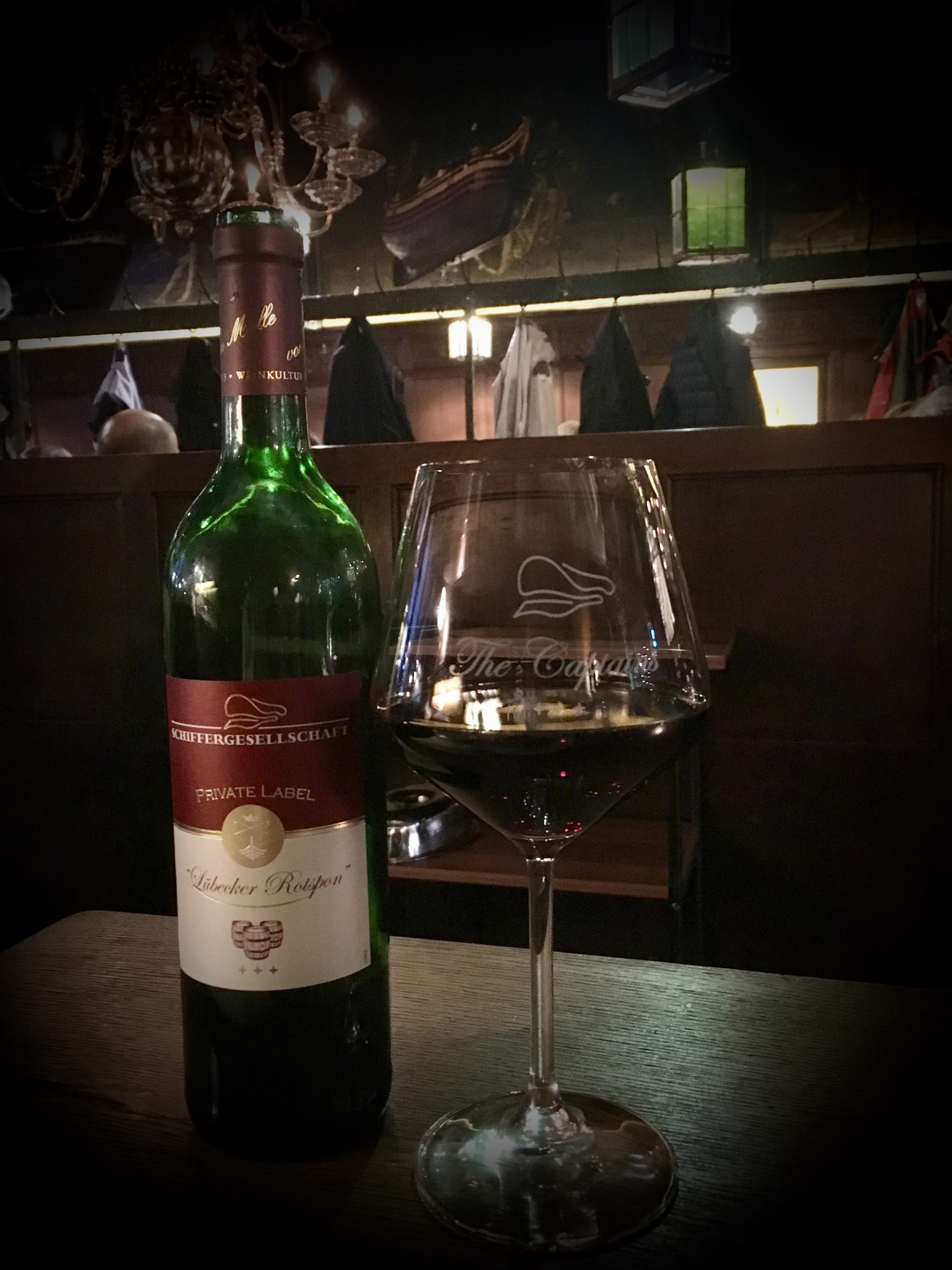 Bootje varen
Of het geen bomma-activiteit is, polst Barbara voorzichtig, als ze voorstelt om een een boottochtje te maken. Maar na vierentwintig uur in deze stad, is er niets dat we liever willen. We hebben al lang begrepen dat het leven in Lübeck zich op zonnige dagen afspeelt aan de oevers van de Trave en Wakenitz. In de buurt van de Holstentor vind je verschillende rederijen die rondvaarten van een uur aanbieden en helemaal rond het eiland varen. We krijgen niet alleen de pittoreske toeristische kant van de binnenstad te zien, maar ook het havengebied, verhipt met strandbars, een groene fiets- en wandelstrook langs het water en elegante waterfront appartementen.
Kleine bootjes met vrijgezellen vrienden en romantische koppeltjes varen ons voorbij, maar het is toch vooral het einde van de tocht, wanneer we in de buurt komen van de Dom die het meeste indruk maakt. Op de oevers voor hun stadshuisjes drogen Lübeckenaars hun was terwijl ze zitten te aperitieven, lezen, frisbeeën, dutten of picknicken met zicht op het water. Ons oog valt op twee oude dametjes met klapstoeltjes en een dito tafeltje waarop een flesje bubbels staat.
Zo wil ik oud worden, zeggen we bijna tegelijk tegen elkaar.
Kuieren in de hofjes
Kleurrijke gevels, zonnige loggia's, authentieke deuren… voor ons fotografenhart zijn de kleine steegjes met voortuintjes vol bakfietsen, planten en intimistische bankjes en zithoekjes een hoogtepunt. We leven ons dus nog een laatste keer uit met onze camera's. Gelukkig is Lübeck geen Parijs en kan je hier nog rustig een yoga pose aannemen zonder dat de inwoners je zengevoel verstoren. Pun intended.
PS. Deze post kwam tot stand in samenwerking met de German National Tourist Board.
PPS. Deel 1 van de highlights lees je hier.
PPPS. Deze blogpost is een coproductie van Barbara en Katrien.