10 highlights in Lübeck (1/2)
Thomas Mann had een haat-liefde verhouding met zijn geboortestad. Ons weet Lübeck compleet te charmeren.
Make no mistake, het zijn de voetsporen van Thomas Mann die ons naar Lübeck brengen. Wij zijn hier voor het Buddenbrooks Haus. Toch pakken ook de andere bezienswaardigheden van de stad ons in sneltempo in. Lübeck is een gezellige en overzichtelijke middeleeuwse stad op een eilandje tussen twee rivieren. We steken onze neus in de lucht, maar de 'muffige burgerlucht' waar Mann over kloeg, ruiken we niet. Tien highlights, vandaag deel 1.
De Holstentor
We bereiken Lübeck met een huurauto vanaf de luchthaven van Hamburg (uurtje rijden). "Oh wow," zeggen we tegelijk, wanneer we de stad binnenrijden langs de westelijke toegangspoort. Het is dan ook een pittoresk zicht: achter de dikke bakstenen torens met spits hoedje van de Holstentor verrijzen de zeven kerktorens van Lübeck met hun kopergroene patina.
Een Insta-perfect panorama van laat-gotische signatuur.
We besluiten meteen om, na het inchecken, te voet naar de Holstentor terug te keren, om er een GIF-je te maken met gifgroene zomerjurk. En vanop een bankje te genieten van het uitzicht… en van andere toeristen die zich uitsloven voor foto's. De Holstentor duikt op in alle lijstjes van 'de 10 mooiste' of '8 beroemdste' gebouwen van Duitsland, in het gezelschap van andere beroemde landmarks als de Branderburger Tor of de Kölner Dom. Weer eentje van de bucket list.
Tintoretto, Bach & de duivel
Jan Kruijswijk, een Nederlander die al een kwarteeuw in Lübeck woont, neemt ons een middag op sleeptouw door de stad. Ja, tegenwoordig kan je met de smartphone in de hand gewoon de Wiki-pagina lezen van de historische plaatsen die je bezoekt. Maar daar vind je feiten en geen verhalen, en laat Jan nu net een zwierige verhalenverteller zijn. Hij entertaint ons tijdens een zonnige wandeling met de legende van de duivel, die als standbeeld voor de Marienkirche zit.
Hij legt ons uit waarom het stadhuis van Lübeck zwart is: geglazuurde baksteen is duurder dan gewone en
in een stad vol rijke kooplieden moeten de autoriteiten toch iets doen om zich te onderscheiden?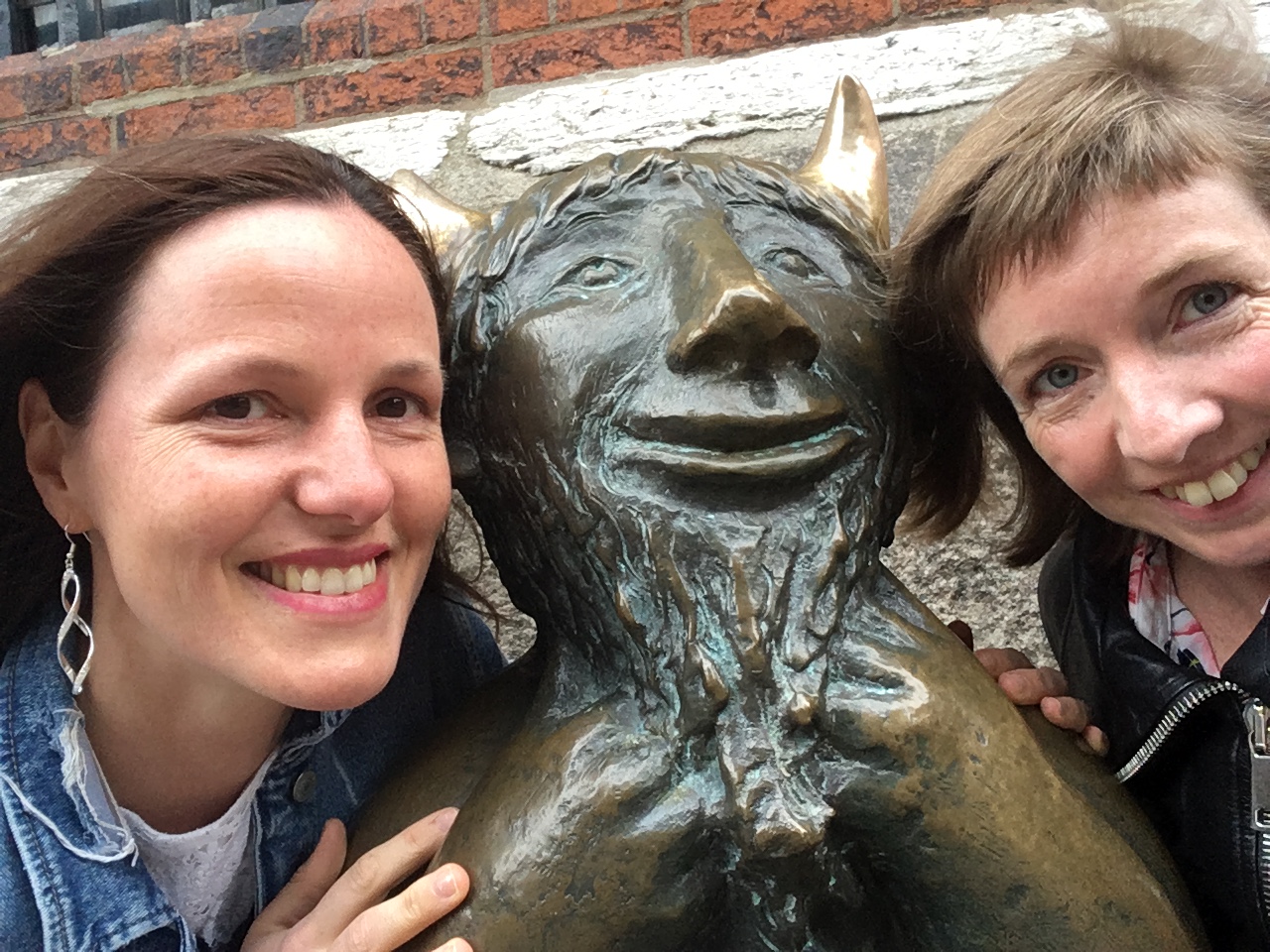 In Lübeck struikel je bijna over de kunstschatten. Een gedenkplaat van Bach? Een schilderij van Tintoretto? Een gouden altaar uit Antwerpen? We hoeven maar te prevelen: "Wat doet dat hier?" en Jan voorziet ons van de nodige uitleg.
Ook leuk: onze gids beseft dat we toeristen met euhm, special interests, zijn. En dus loodst hij ons binnen in de (doorgaans voor het publiek gesloten) raadszaal van het stadhuis, waar Thomas Mann in 1953, kort voor zijn dood, werd uitgeroepen tot ereburger van de stad.
Jan probeert ons zelfs warm te maken voor die andere twee Nobelprijswinnaars uit Lübeck, Günter Grass en Willy Brandt. Maar die vlieger gaat niet op. We are in it for Thomas, en dulden geen andere sterren aan het Lübecker firmament.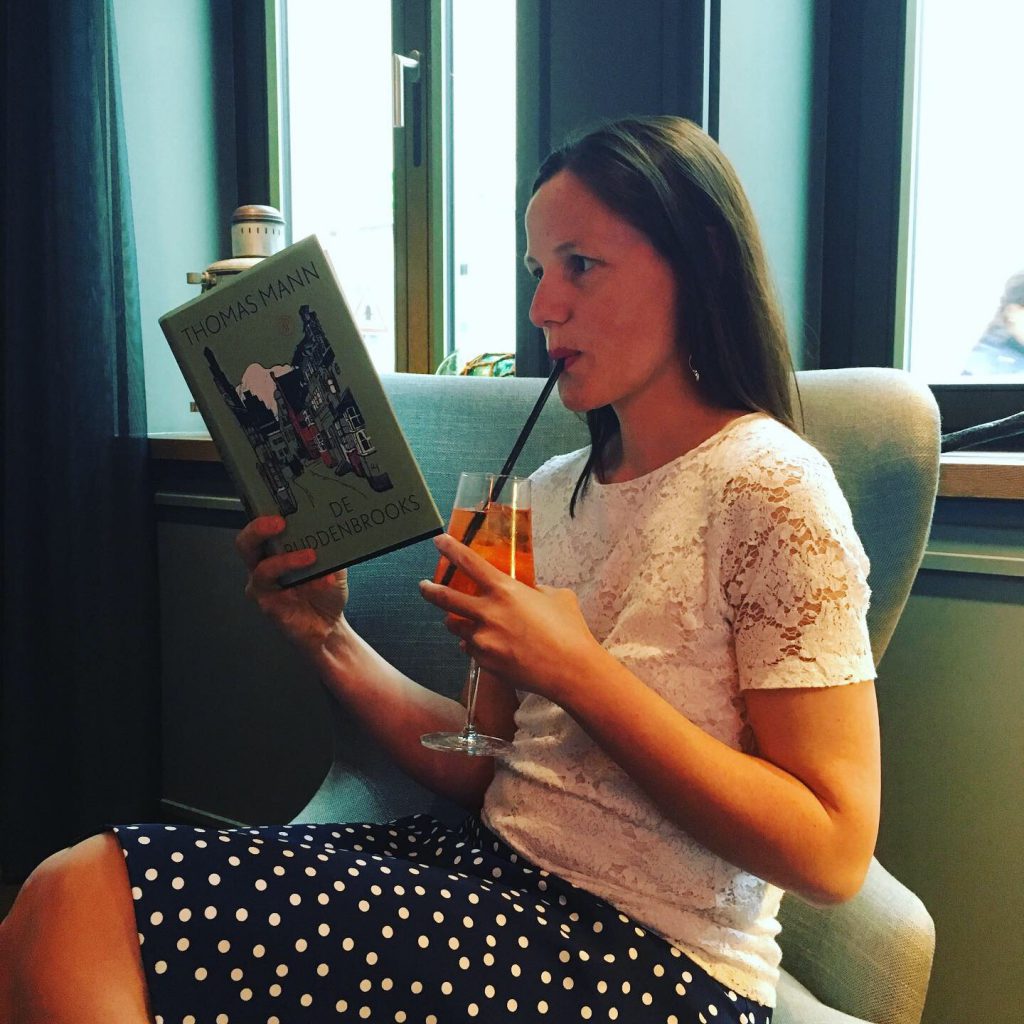 De Marienkirche, na de brand
Zeven torens sieren de skyline van Lübeck en domineren het stadsbeeld in de binnenstad. Zeven torens, maar vijf kerken.
Is de eer van de dubbele toren normaal niet voorbehouden aan kathedralen? Klopt, weet stadsgids Jan, maar voor de Marienkirche, gekend om het hoogste bakstenen 'schip' ter wereld, maakte de bisschop een uitzondering.
Het is dat Katrien een week voor ons bezoek aan Lübeck nog rond de verbrande Notre Dame in Parijs wandelde, dat het verhaal van de brand van de Marienkirche in Lübeck in 1942 harder lijkt binnen te komen. Volgens de geschiedenis functioneerde de klokkentoren van de kerk als een schoorsteen toen het vuur uitbrak. De warme luchtstroom deed de klokken luiden, terwijl de houten draagbalken steeds zwakker werden. Zo broos dat de klokken uiteindelijk al klepelend naar beneden stortten. En daar liggen ze nog steeds. Een beetje gesmolten – daarvoor moest de temperatuur boven de duizend graden gaan – maar wel als
een onuitwisbaar litteken aan die dramatische dag in de Tweede Wereldoorlog.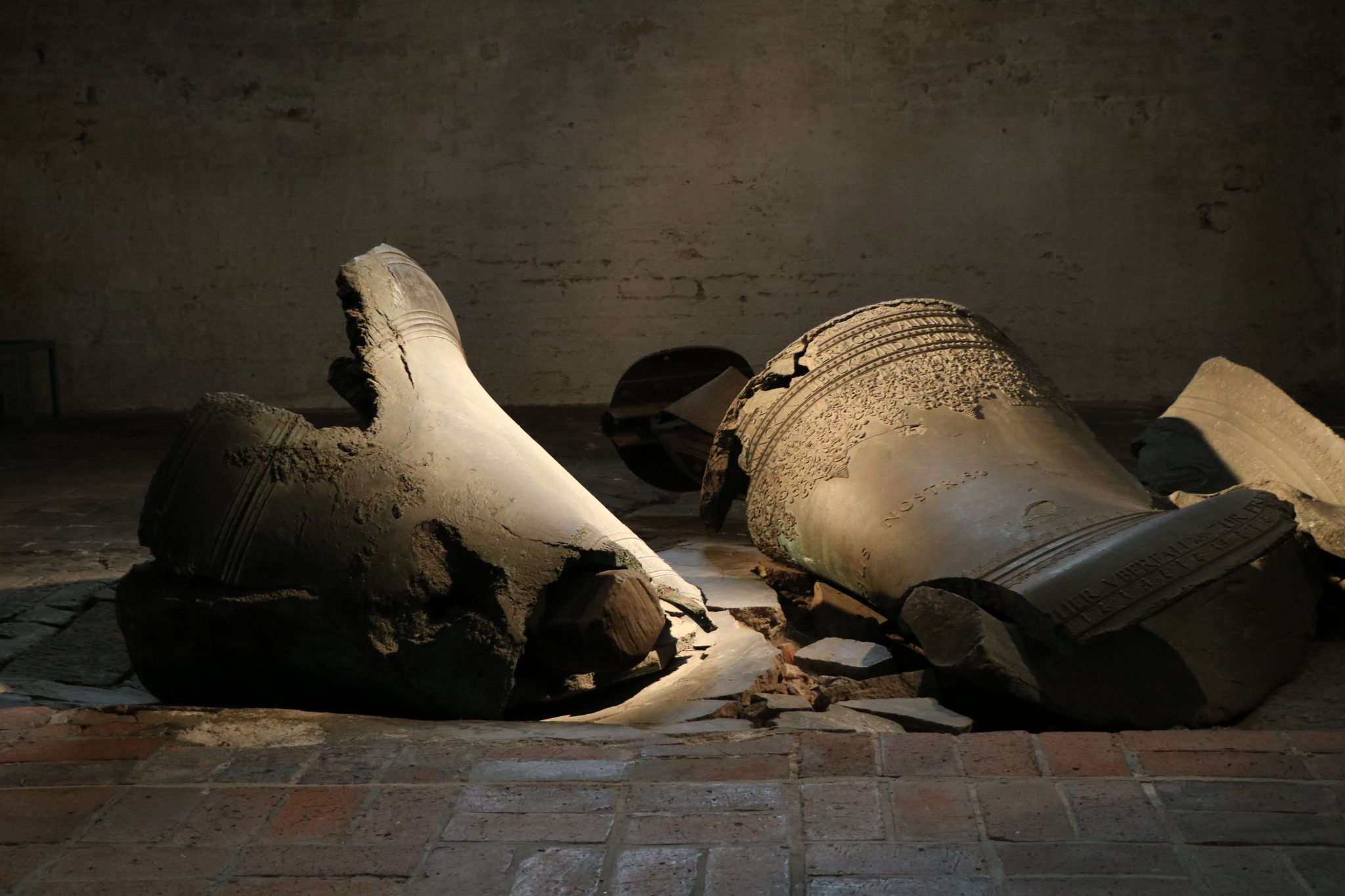 Als we even later van de achterkant naar de kerk kijken, doet het silhouet onze gedachten spontaan naar de Notre Dame gaan. Niet toevallig, zegt onze gids. De bouwheren reisden naar Parijs voor inspiratie. Hoe konden ze zo'n hoge kerk immers de nodige steun geven. Luchtbogen bleken de oplossing. Toen de kerk door de eeuwen heen alsnog bleek uit te deinen – binnenin lijkt het of ze vanboven almaar breder wordt – moesten er trekbalken worden gebruikt om het geheel bij elkaar te houden. Het zijn maar een paar van de littekens die de Marienkirche vertoont.
Schoonheidsfoutjes? Misschien. Maar ze maken haar wel interessanter, tonen dat de brand deel uitmaakt van haar verhaal. Nu maar hopen dat de Notre Dame niet te veel plastische chirurgie krijgt.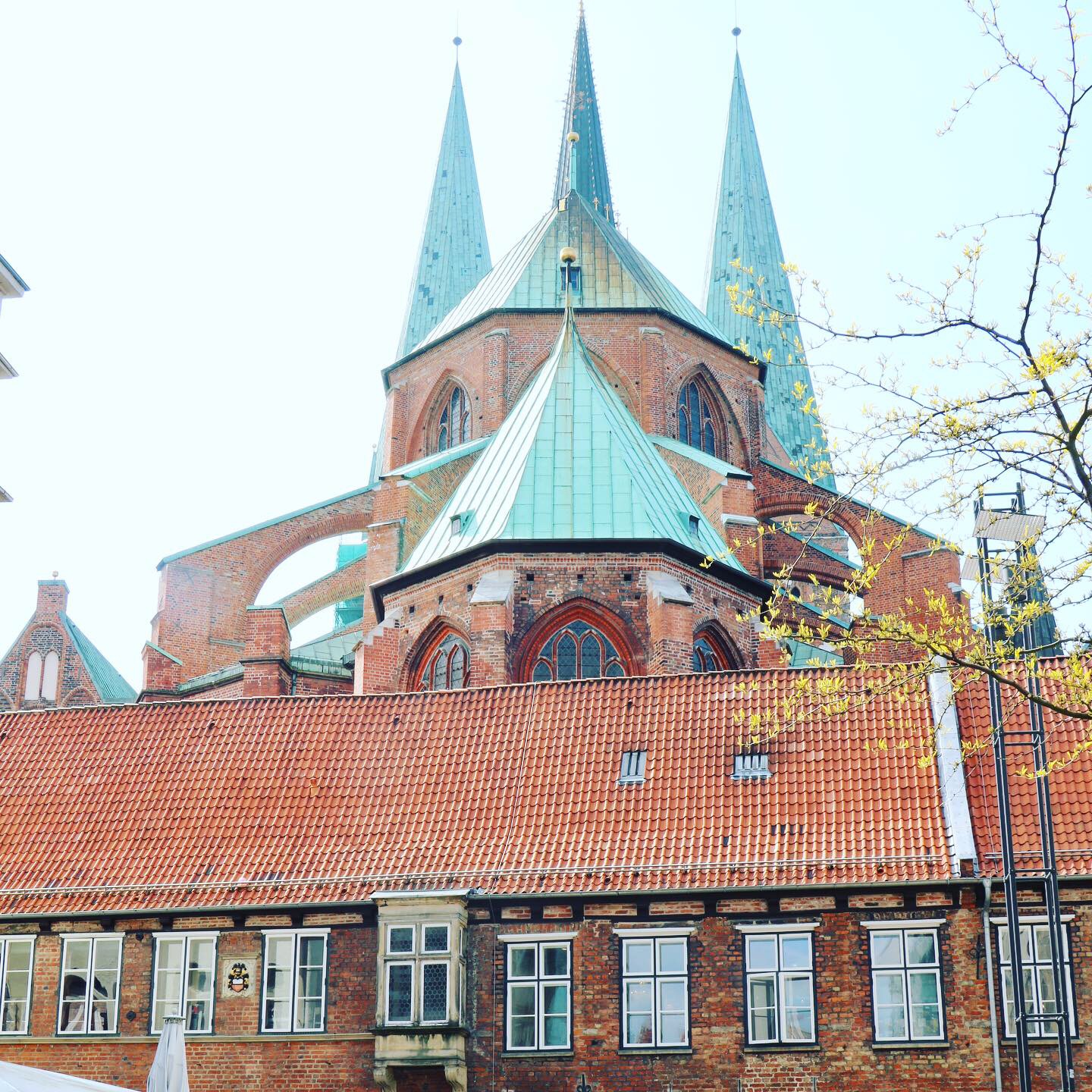 Boeiend weetje: enkele weken voor ons bezoek stortten plots twee wijzers van de St. Jakobi Kirche naar beneden om voorlopig onbekende redenen. Preventief werden de anderen verwijderd. Het geeft een bevreemdende indruk, zo'n ontwijzerde klokkentoren.
Panorama
Vanop de toren van St. Petri Kirche (ja, it's all about de kerken in Lübeck) heb je een panoramisch zicht over de stad, en je hoeft je er niet eens moe voor te maken. Als we met de lift boven arriveren, zien we in één oogopslag waar we zo dadelijk een terrasje willen doen, zijn we eens te meer onder de indruk van de rijkelijk versierde gevel van het stadhuis en vallen we beiden als een blok voor 'dat gele huis in dat straatje daar'. Dat ook de zes andere torens in het oog springen, hoeven we niet meer te vertellen zeker, maar
om een goed overzicht te krijgen van de structuur van de stad, is dit bezoek een must.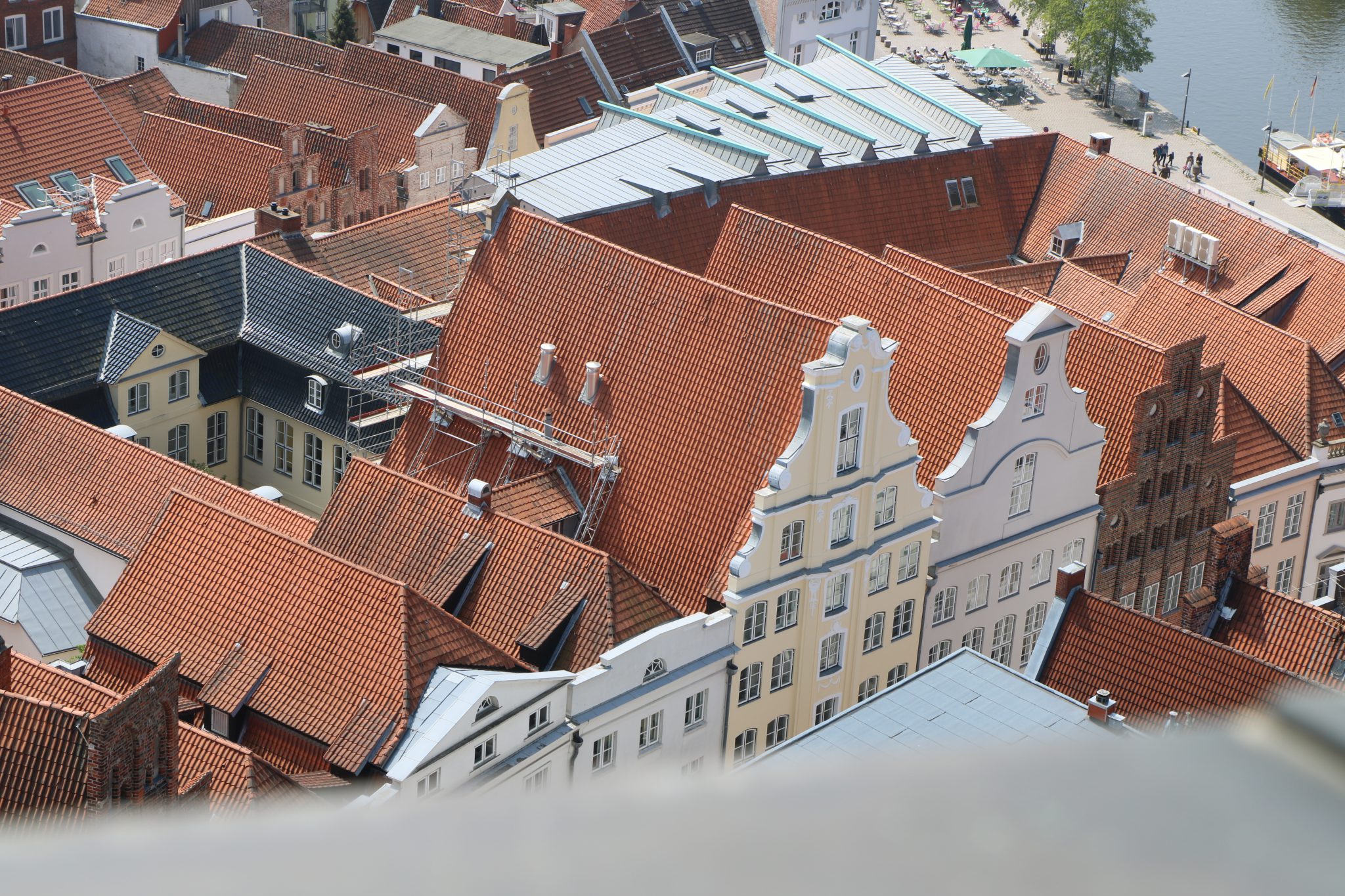 Achteraf dwalen we nog even door de verlaten en spierwitte kerk die vandaag de dag gebruikt wordt als eventlocatie. Met onze camera's jagen we het invallende licht na in deze ingetogen ruimte.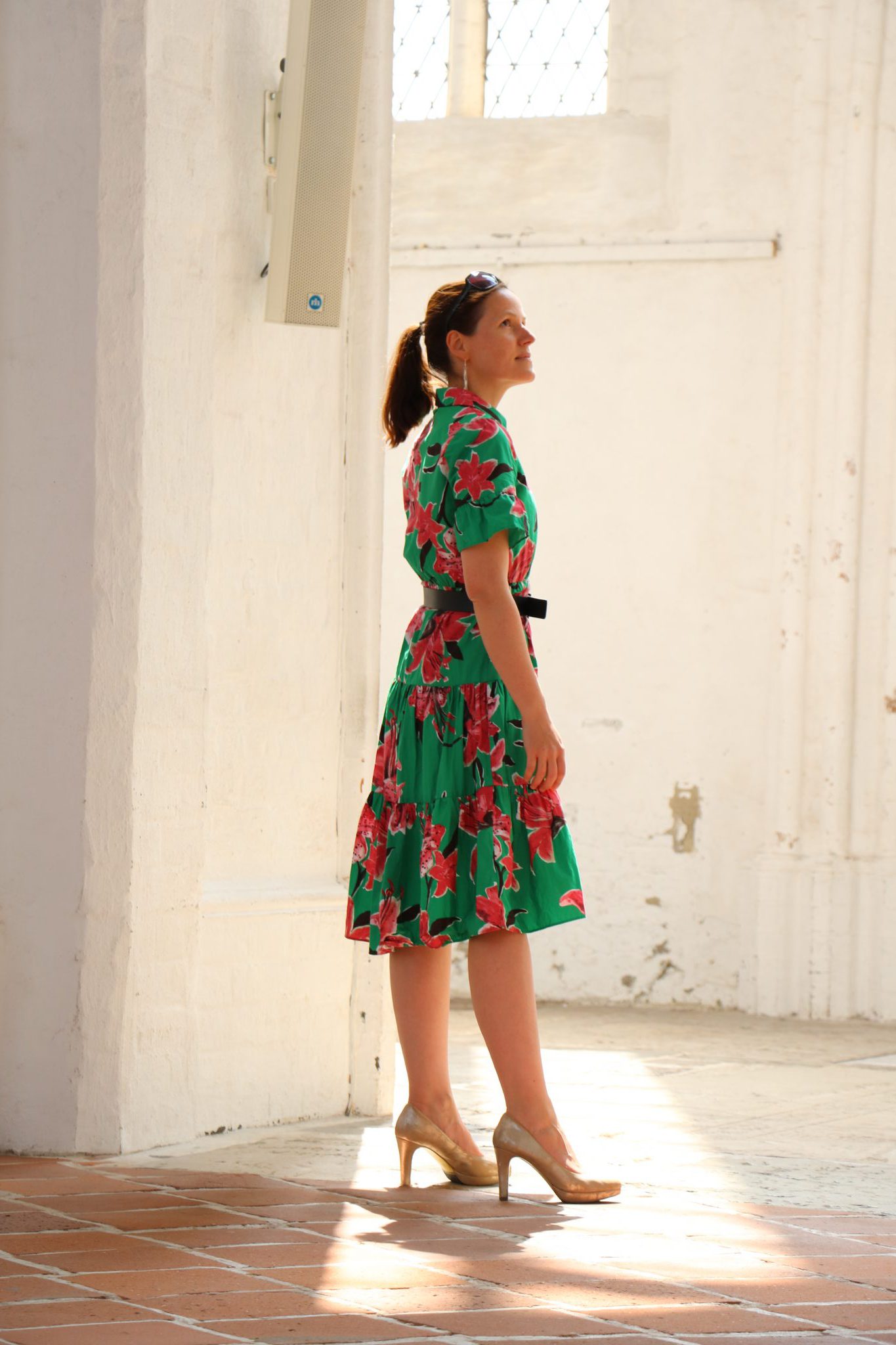 Kerst in het ziekenhuis
We zijn nog maar vijf minuten in Lübeck of onze gids Jan probeert ons al te overtuigen om terug te komen. In de aanloop naar kerst zou er op het marktplein aan het stadhuis (vlakbij ons hotel) een sfeervolle kerstmarkt plaatsvinden. Mmm knikken we, in de lentezon is onze trek in Glühwein verder weg dan ooit… tot we aan het einde van onze stadswandeling komen en Jan de poorten van het Heiligen-Geist-Hospital openzwaait.
Nog meer fresco's, nog meer heiligenbeelden… én twee ziekenboegen, met ziekenhuiskamertjes voor mannen en voor vrouwen. Ook die kleine ziekencellen veranderen in de kerstperiode in sfeervolle kraampjes.
Misschien toch maar overwegen om onze kerstinkopen dit jaar in Lübeck te doen.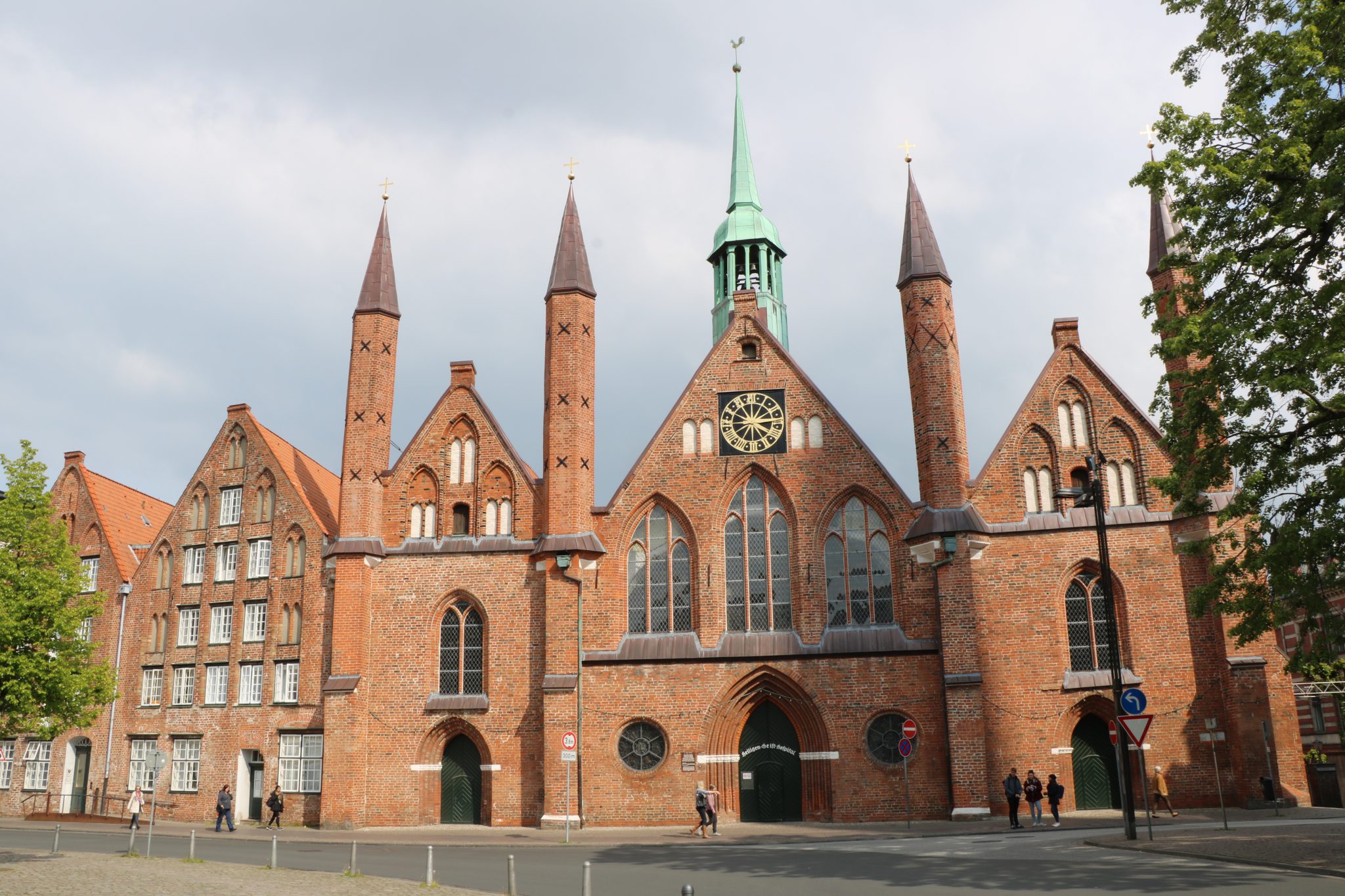 PS. Deze post kwam tot stand in samenwerking met de German National Tourist Board.
PPS. Deze blogpost is een coproductie van Barbara en Katrien.