In Lübeck – koningin van de hanzesteden – staat het mekka van elke Thomas Mann fan: het Buddenbrooks Haus! Barbara en Katrien gaan er kijken.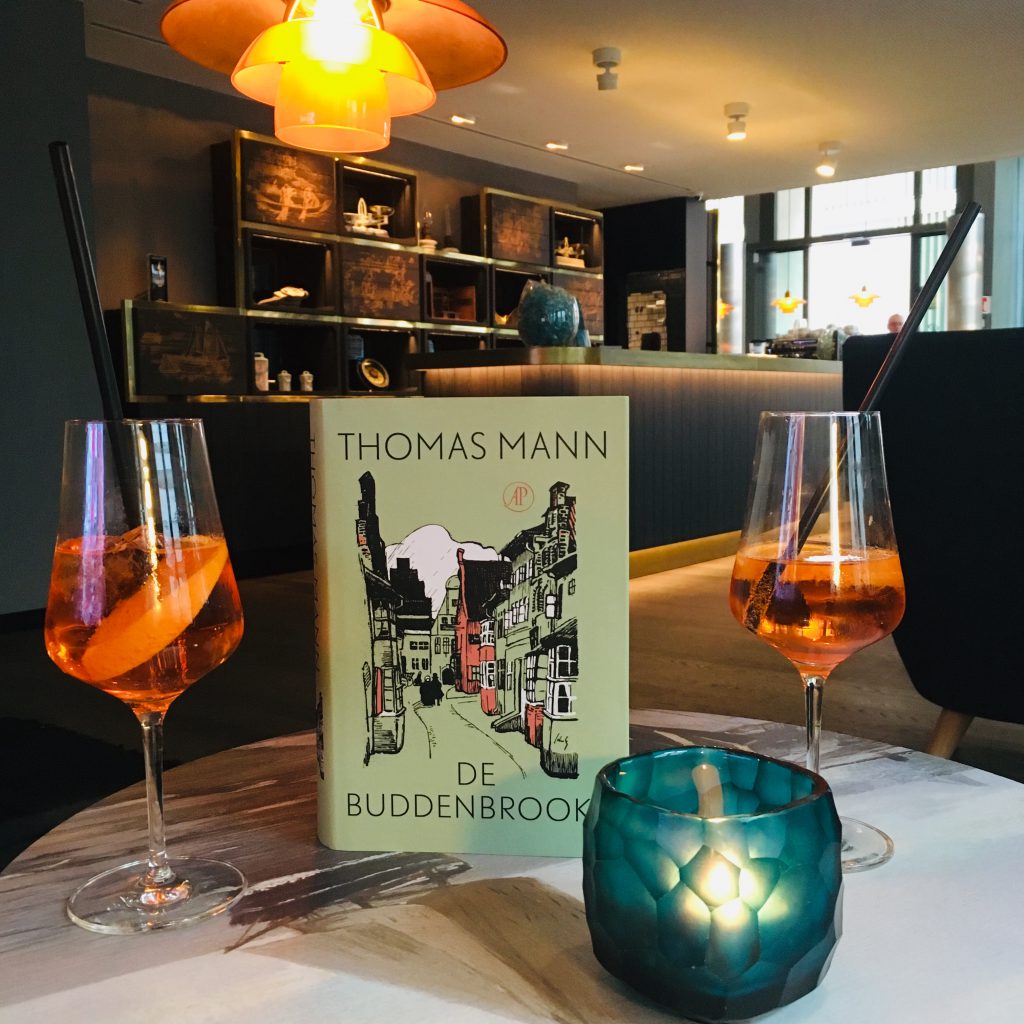 Barbara: Ik heb in Rusland een aantal 'Dom-Muzej' bezocht – huizen van beroemde schrijvers, componisten of wetenschappers die postuum werden ingericht als museum. De kleren van de beroemdheid hingen er nog aan het haakje. De lepels lagen nog op tafel. De stem van de gids klonk steevast devoot: 'En aan deze wastafel friste Poesjkin zich 's morgens op!' Erg verhelderend voor de analyse van hun werk, natuurlijk. Not.
Uit de brochure van de toeristische dienst van de stad Lübeck blijkt dat men zoiets in Duitsland anno 2019 toch anders aanpakt.
In het Buddenbrooks Haus gaat men voor multimediaal en interactief. Katrien en ik kijken elkaar boven onze Milchkaffees fronsend aan.
Wat moeten we ons daarbij voorstellen?
Na het ontbijt trekken we nieuwsgierig naar de Mengstrasse 4, waar zich het 'Heinrich und Thomas Mann Zentrum' aka het Buddenbrooks Haus bevindt. Letterlijk tegenover de imposante Marienkirche. Wie hier opgroeit, zit op schoot bij God. Maar wacht – daar is de eerste ontdekking van de dag al. Thomas Mann is niet opgegroeid in dit koopmanshuis met fraaie, witte gevel – wel in een huis op de Beckergrube 52. Het Buddenbrooks Haus is gevestigd in het tweede huis van de familie, waar Thomas vaak kwam omdat zijn oma er woonde.
Je kunt veel zeggen van het levensverhaal van Thomas Mann, maar een 'rags to riches'-story is het niet.
Katrien: Een knalroze en levensgroot beeld van Thomas Mann verwelkomt ons in de inkomhal. Een gedurfde keuze om de Nobelprijswinnaar in dit statige huis zo poppy neer te poten. Is het een subtiele (?) knipoog naar zijn homoseksuele aard? Want hoewel Mann in de praktijk een heteroseksueel leven leidde met zijn Katia en nooit uit de kast kwam, blijkt uit zijn persoonlijke geschriften (en literaire werk) dat hij altijd gedroomd heeft van jonge mannen. Een statement dus, dit beeld. Hierdoor blijft de gedachte aan Manns onderdrukte gevoelens de volgende uren tussen de lijnen van mijn bezoek zweven.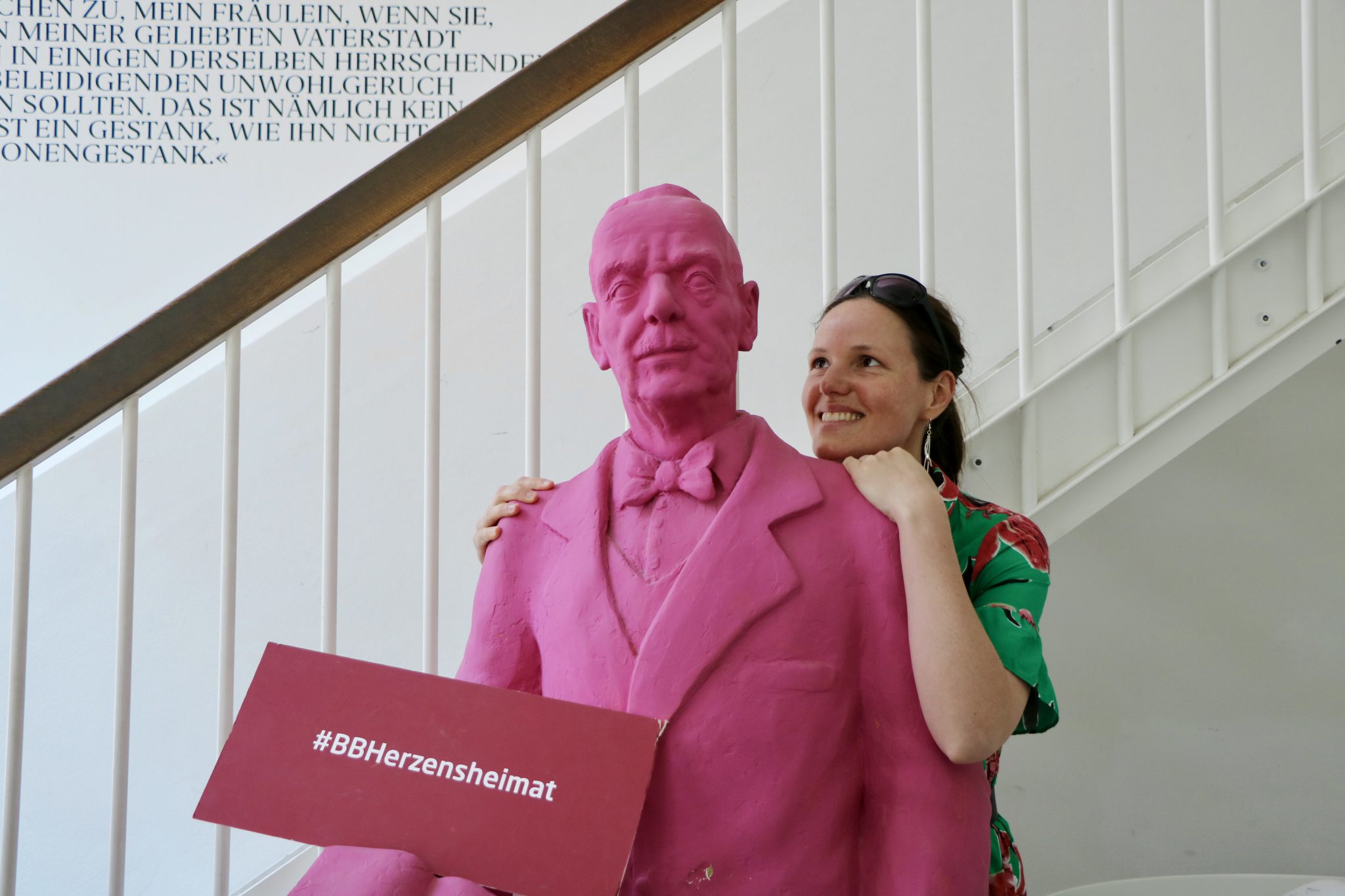 Via de museumshop wandelen we binnen. Terwijl Barbara zich meteen verdiept in een boek over de ontmoeting tussen Susan Sontag en Thomas Mann (voor haar een mijlpaal – voor hem geen vermelding waard in z'n dagboek), bekijk ik de elegante covers van Manns debuutroman De Buddenbrooks. Mijn exemplaar, een heruitgave van De Arbeiderspers uit 2018, moet alvast niet onderdoen voor de retro-exemplaren in de shop.
Barbara: Op de benedenverdieping van het Buddenbrooks Haus blijkt het nog wel mee te vallen met die hypermoderne, interactieve aanpak.
Hoe vooruitstrevend Duitse museumcuratoren ook willen zijn, hun befaamde grondigheid is sterker dan henzelf.
Wat wij overigens niet erg vinden. Vitrines vol documenten, foto's en bindteksten brengen het leven van Thomas Mann gedetailleerd in beeld. Het perspectief is daarbij altijd familiaal. Er gaat ruime aandacht naar het gezin waarin Mann opgroeide – zijn burgerlijke vader, zijn moeder met Braziliaanse roots, zijn oudere broer Heinrich met wie hij een soort literaire broedertwist uitvocht op papier…
Kleurloze types komen in deze stamboom niet voor.
Zo was ik helemaal vergeten dat de twee zussen van Thomas Mann allebei zelfmoord pleegden.
Actrice Carla vergiftigde zichzelf in 1911;de keurig gehuwde moeder-van-drie-dochters Julia hing zich op in 1927.
Ze was toen vijftig en kon niet aanzien hoe – na de dood van haar man – haar financiële situatie verslechterde. Bovendien had ze (ook een familietrekje) haar drugsverslaving steeds slechter in de hand.
Katrien: Het gezin met zes kinderen dat Thomas Mann en Katia Pringsheim stichtten, was al even onconventioneel en getormenteerd. Erika, de oudste dochter was Manns favoriet. Het verhaal gaat dat Thomas Mann tijdens de Eerste Wereldoorlog toen voedsel schaars was, eens een sappige vijg aan Erika gaf, terwijl de andere kinderen onthutst en jaloers toekeken. Mann zou daarbij gezegd hebben dat kinderen best op vroege leeftijd wennen aan onrecht en ongelijkheid. Ook later bleef de schrijfster en actrice een geprivilegieerde plaats innemen in het gezin Mann.
Mij vallen vooral Erika's androgyne foto's op. Bij onze Milchkaffee vanochtend passeerde immers ook het Vlaamse nieuws van de dag: de transformatie van zangeres Sarah Bettens naar Sam. Dat bericht is blijven nazinderen. Dat Erika er op zijn minst ook wel heel mannelijk uitziet, vinden we. Verder ben ik geïntrigeerd door haar kortstondige huwelijk met de dichter W.H. Auden, een paspoortkwestie tijdens WOII. Dat biografieën van de Mann-familie altijd zo dik zijn, had Barbara nog gezucht in de boekenwinkel. Nu begrijp ik waarom.
Elk leven in dit gezin telt meer plottwisten dan een seizoen van The Bold and the Beautiful.
Barbara: Multimediaal is de aanpak op de benedenverdieping trouwens wel. Tussen de klassieke kijk-en-lees vitrines staan zetels waarin je allerlei audiofragmenten kunt beluisteren. Zes verschillende vanuit elke stoel. Het zijn gesproken herinneringen van Erika, Katia en de andere gezinsleden. En geluidsopnames van de meester zelf. Gek,
ik besef dat ik Manns stem alleen ken, zoals die klinkt in mijn hoofd wanneer ik hem lees.
Ik moet hem dringend eens als zoekterm ingeven op YouTube! In het Buddenbrooks Haus hoor ik hem praten over zijn bezoek aan Lübeck toen hij al een stuk in de zeventig was.
Hij praat op een ietwat pedante toon, maar ook met humor.
Hij zegt: 'Ik was blij nog een keer de lucht van een hansestad in te ademen, de lucht van mijn Heimat. Die vind je trouwens niet alleen in Lübeck. Hamburg tut es auch.'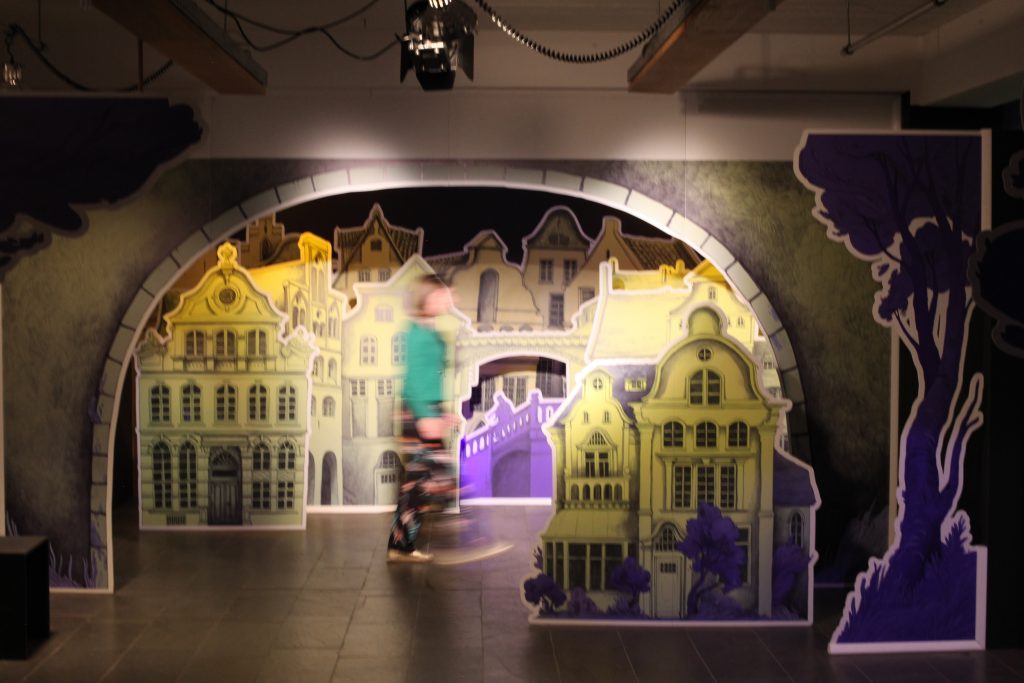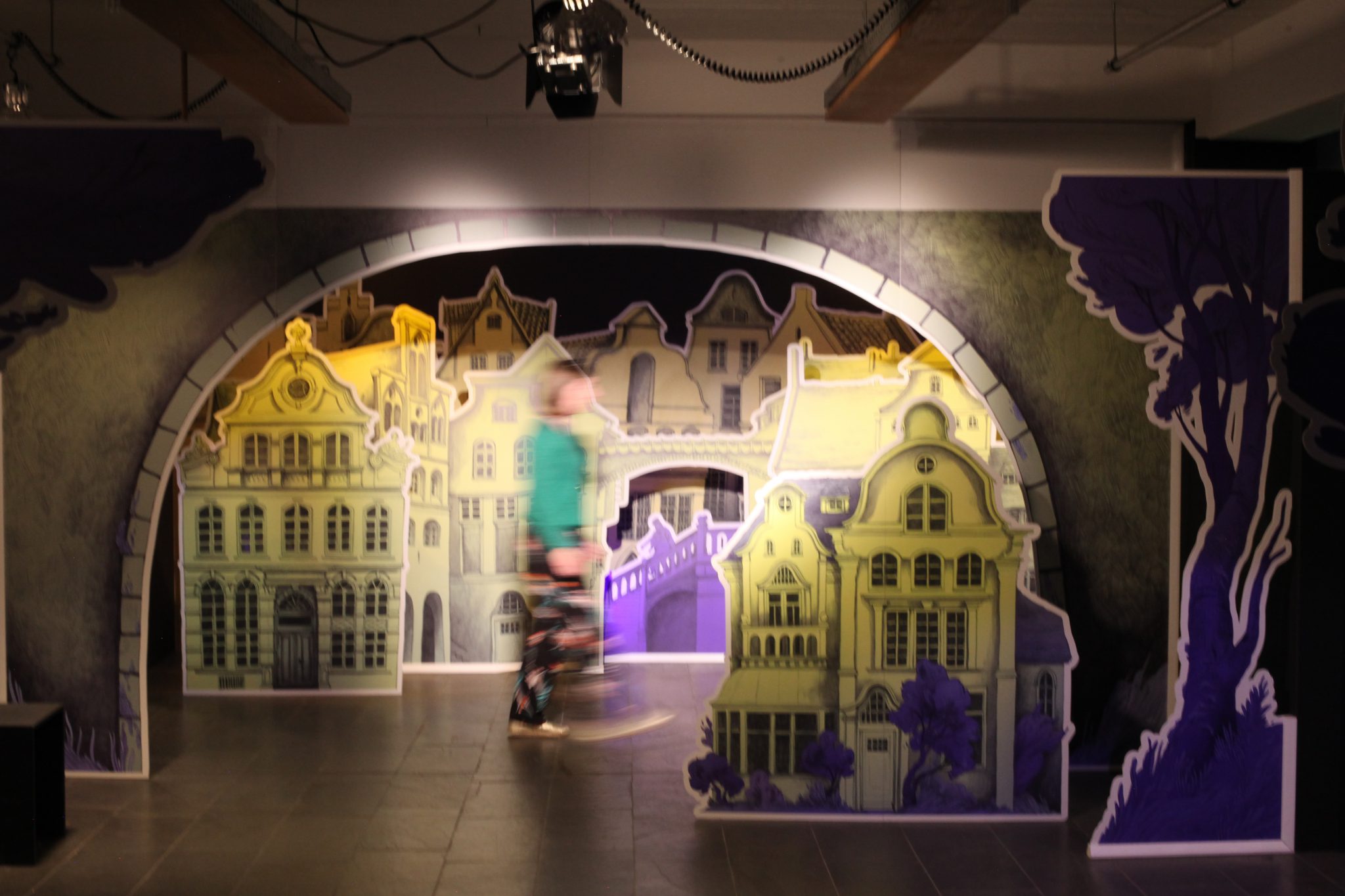 Katrien: Op de eerste verdieping belicht een tentoonstelling in een ietwat psychedelisch decor de band die Thomas Mann had met Lübeck. Die was lang niet altijd hartelijk. Laten we het erop houden dat Mann de rijke geldbeluste Lübeckenaars nogal geschoffeerd had in De Buddenbrooks. Pas net voor zijn dood zal er eerherstel plaatsvinden. Op de foto's van die verzoening herkennen we de rijkelijk gedecoreerde raadzaal van het stadhuis dat we gisteren bezochten.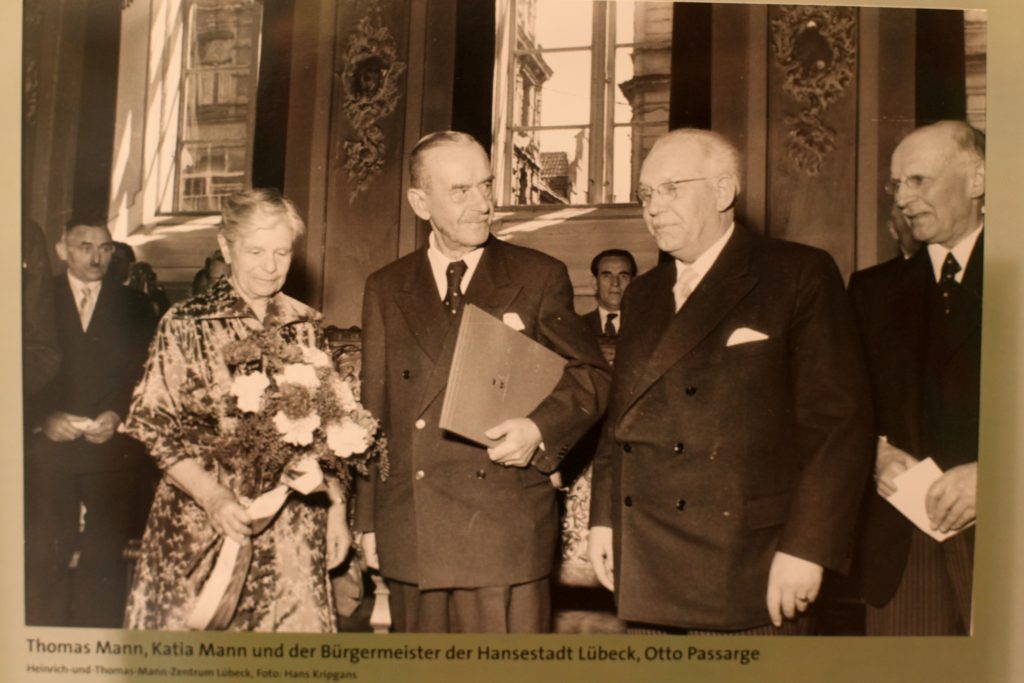 Een verdieping hoger betreden we het Buddenbrooks Haus echt, zoals het eruit zag toen de familie Mann het pand verliet. Hoewel ook dit relatief is: de woning achter de (wel originele) façade van de Buddenbrooks mansion is een moderne reconstructie. Het oorspronkelijke woonhuis werd op Palmzondag 1942 immers gebombardeerd (zie de gevelfoto's helemaal bovenaan dit stuk).
Dankzij de statige ramen en het zorgvuldig ingerichte interieur katapulteren deze ruimtes ons toch even terug in de tijd,
naar het moment dat de familie Mann het huis en de zaak heeft verkocht aan de rivaliserende familie Hagenström. De lakens hangen als een bescherming over de stoelen, alles wijst erop dat het gezin vertrekkensklaar is. Voor ik de woonkamer betreed, neem ik een exemplaar van De Buddenbrooks uit het rek.
Terwijl ik de aangegeven paginanummers opensla, vallen woord en beeld in de landschapskamer samen.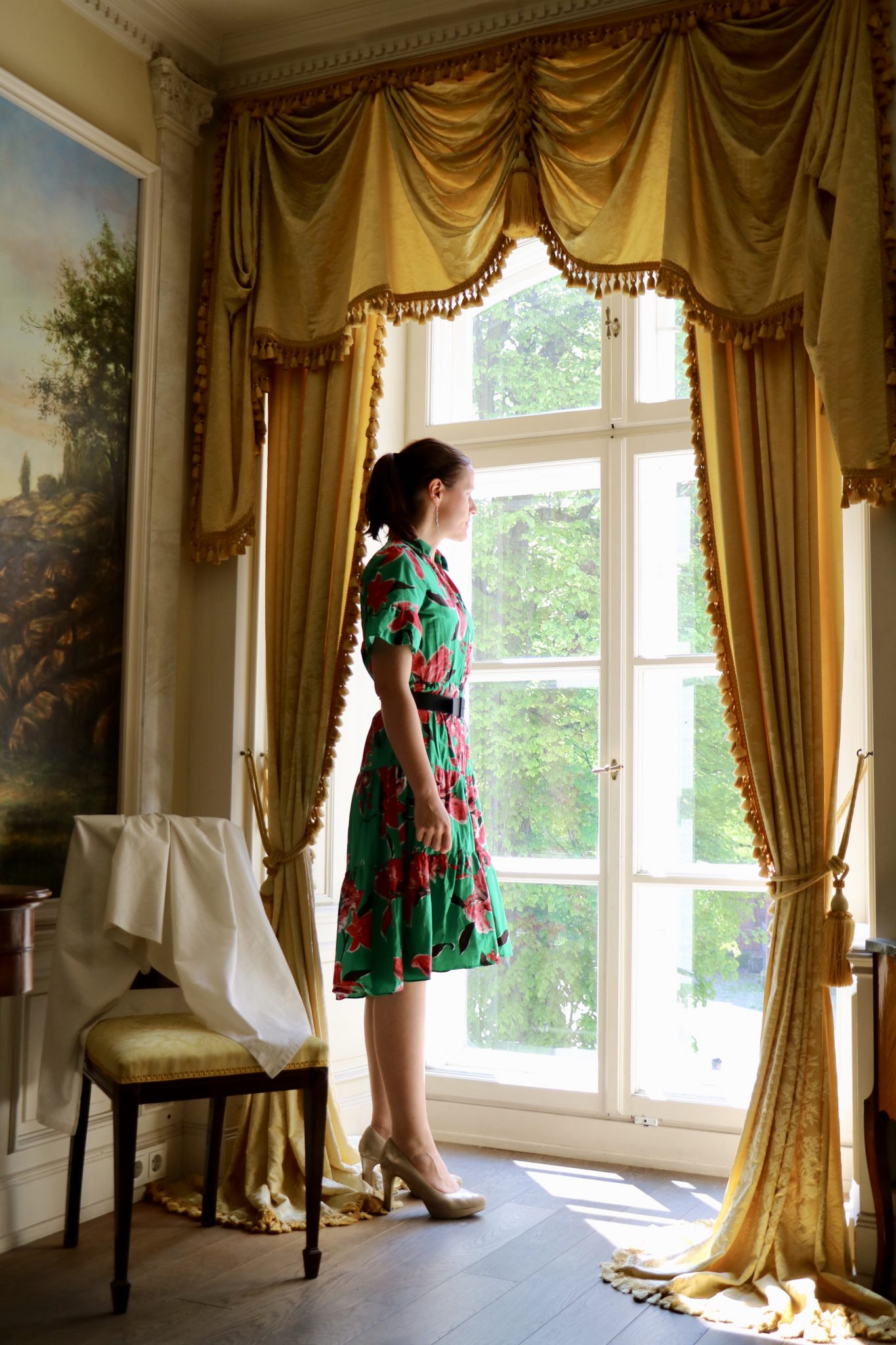 Barbara: We hadden gedacht een uurtje nodig te hebben voor ons bezoek. Wanneer we weer buiten staan, blijken er twee uur voorbij. Time flies when you're…marveling at the beauty of the German Sprache. Sommige zinnen in de vitrines vond ik zo mooi, dat ik ze heb gekopieerd. Het gezin van Thomas Mann kort samengevat: "Der Umgangston in der Familie ist locker-ironisch. Keines seiner Kinder wird bürgerlich,
es ist eine in äusserlich bürgerlichen Umständen lebende Künstlerfamilie.
Ohne Katias praktisches Geschick in den alltäglichen Dingen wäre das fragile Gleichgewicht schnell gestört."
PS. Eveline bezocht eerder dit literair museum in Hasselt, het Roald Dahl Museum en het huis van Rudyard Kipling.
PPS. Deze post kwam tot stand in samenwerking met de German National Tourist Board. Een meer klassieke biografische schets over Thomas Mann schreven we hier.