Een zonnige lentedag in Zuid-Engeland. Ik weet het, zo zijn er gemiddeld vier per jaar, en ik mocht ze meteen alle vier na elkaar opsouperen tijdens een verlengd weekend.
Brighton, Hastings, rijden langs golvende groene heuvels, paniekaanvallen op ronde punten (links rijden, weet u wel), High Tea bij Mrs Knott`s en… een bezoek aan het mooiste dat de National Trust op literair erfgoedgebied te bieden heeft.
Het huis van Rudyard Kipling, het genie achter klassiekers als Het Jungle Boek, Kim en het gedicht If . Tot op heden ook de jongste schrijver ooit om een Nobelprijs in ontvangst te mogen nemen. 42 was hij toen. Een schatrijk man, zo getuigt de Rolls Royce in zijn garage. Enorm populair ook, als schrijver. Zo'n beetje de Justin Bieber van het begin van het Edwardian Engeland van begin vorige eeuw. Daarom dat Rudyard in 1902 Bateman's House kocht, een huis zonder verwarming, zonder stromend water maar met bergen charme. En wat privacy. Hij was meteen verliefd op het prachtige 17e eeuwse huis, en schreef er een groot deel van zijn oeuvre bij elkaar. Ik volg hem volledig, Bateman's druipt van de inspirerende schrijfplekken en uitnodigende leeshoeken. Klaar voor een klein virtuele tour?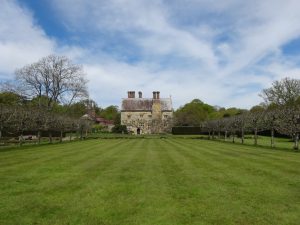 De prachtige Engelse tuin wordt met veel zorg onderhouden door vrijwilligers van de National Trust. En met veel zorg bedoelen we: op de blote knieën en met de schaar in de aanslag.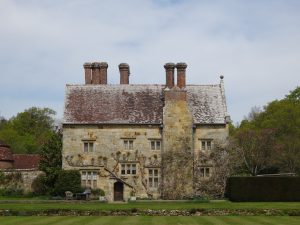 Kenmerkend aan het huis zijn de vele schoorstenen. Binnen kozen Rudyard en zijn vrouw voor een interieur dat bij het 17e eeuwse karakter van het huis past. Rudyard stierf in 1936, zijn vrouw drie jaar later. Ze schonk het huis aan het National Trust, dat elke kamer liet zoals Rudyard en zijn vrouw het hebben achtergelaten.
Letterlijk dus, met proppen papier op de grond. Ook alle pennen, presse-papiers, notitieboeken en memorabilia die aan zijn tijd in India herinneren, staan nog onaangeroerd op zijn schrijftafel.
De schrijfkamer voelt een beetje aan als 'a place of worship'. Alle bezoekers hangen aan de lippen van de gids die Rudyard ongetwijfeld nog net gekend moet hebben, zo verrimpeld is hij. Met pretlichtjes in zijn ogen weet hij ons te vertellen dat het toch niet je dat was, daar in het echtelijke bed van de Kiplings. "Once the uhoo went out of the marriage…"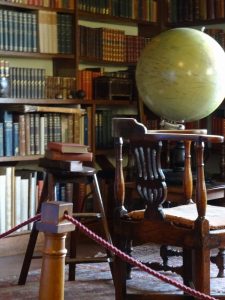 Dat verklaart misschien de rijen en rijen boeken?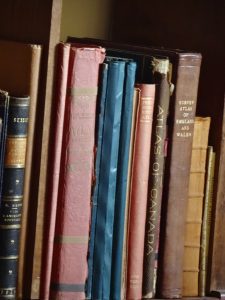 De rest van het huis nodigt uit om kennis te maken met zijn werk. Je bewondert er oude brieven en postkaarten, eerste manuscripten en vroege illustraties van Het Jungle Boek.
Het landgoed heeft een nog werkende molen, kippen die akelig dichtbij onschuldige bezoekers komen en enorme bijenkasten. De honing wordt verkocht in de souvenirshop. En ja, uiteraard, dat konden we niet laten staan.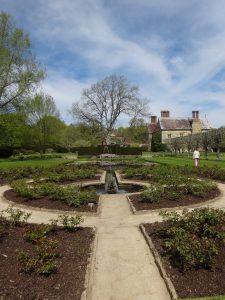 Dus beste lezer, het is een beetje zoals roulette spelen en gokken wanneer die mooie zonnige lentedagen er dit jaar aankomen, maar ik zou zeggen: boeken maar en laat de voorpret beginnen.
P.s: nog meer literair erfgoed? Ook het Roald Dahl Museum werd door de redactie onder de voet gelopen.
P.p.s.: nog meer schrijverskamers? Die kan je hier bewonderen.