En of we jaloers zijn! Huib Afman kreeg de sleutel tot de schrijfkamers van een schare auteurs uit Vlaanderen en Nederland. In Where the magic happens loert hij mee over de schouder van onder andere Kader Abdollah, Saskia De Coster, Renate Dorrestein, Arthur Japin, Herman Koch, Bart Moeyaert, Gustaaf Peek, Marnix Peeters,  Peter Terrin, Christophe Vekeman en Tommy Wieringa, om slechts enkele te noemen uit een ongelofelijke lijst ronkende namen.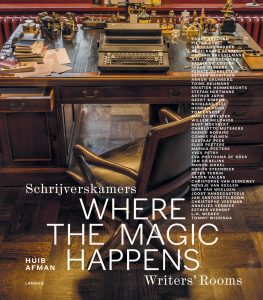 Huib is benieuwd naar de randvoorwaarden die schrijvers scheppen en de ruimtes, voorwerpen en eigenaardigheden die inspiratie en discipline brengen. Kijk maar even mee.
Arnon Grunberg kan overal schrijven. In New York, zijn woonplaats, schrijft hij in de keuken, want eten, dat gebeurt vooral buitenshuis. In Nederland schrijft Grunberg het liefst in hotels. De voorbije jaren is het Ambassade Hotel zijn stek geworden. Het voordeel? Hij moet zelf z'n bed niet opmaken.
Overdag nadenken over hoe kut het leven is, dat gaat niet, zegt Herman Brusselmans. Zijn boeken zijn nachtboeken. Hij wil de pijn en het alleen zijn van de nacht kunnen vatten. Minimalisme, dat is de grootste deugd van dit voormalig Grieks restaurant, dat afbrandde voordat Brusselmans het samen met zijn ex-vrouw verbouwde. Hij moet ruimte hebben om te kunnen ijsberen en na te denken.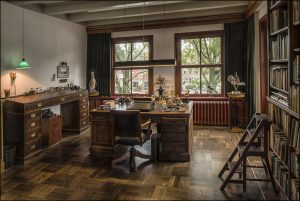 Midas Dekkers ijsbeert zo'n acht uur per dag. De bibliotheektafel achterin zijn werkkamer in een voormalig gemeentehuis heeft als enige functie dat Midas er omheen kan wandelen. 'Wandelen is de ideale manier om na te denken, en schrijven is voornamelijk nadenken.' De boekenkast liet hij maken. 'Hoe kun je beter in de stemming komen dan door je te omringen met mooie boeken'
Na het overlijden van haar man Herman De Concinck verhuisde Kristien Hemmerechts naar de serre in hun huis in Antwerpen. Toch is niets aan de ruimte of de spullen pijnlijk. 'Ik heb het gevoel dat ik via hem een stad, een huis en een werkplek cadeau heb gekregen.' Als ze schrijft, leent ze haar hoofd uit aan een verhaal. 'Er mag geen leger doormarcheren als ik werk.' Voordat ze achter haar bureau gaat zitten, is er eerst tijd voor het huishouden, de kleinkinderen en lesvoorbereidingen.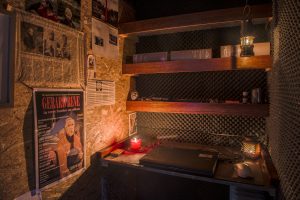 L.H. Wiener bouwde een schuur in zijn tuin. 'Zo ongeveer ter grootte van een doodskist', aldus Wiener. Met dikke muren van hout en weinig licht, zodat hij niet afgeleid wordt. Rond een uur of negen 's avonds begint hij te schrijven, tot twee uur. Daarna komt de wijn erbij, en meestal ook de beste en meest waanzinnige ideeën. Hij gebruikt een klein lampje, een kaars en brandt wat etherische olie, steeds dezelfde geur: dennen.
Where the magic happens, Huib Afman, Lannoo