Column op woensdag: de spoorligster
Tijdens de zomervakantie presenteert This Is How We Read elke woensdag één van de genomineerden van onze columnwedstrijd 2016. Eind augustus bekronen we de eindwinnaar met vijf boeken en een spectaculaire cupcaketoren.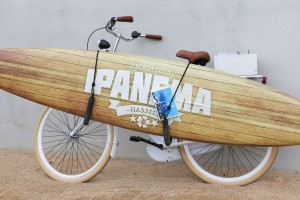 Vandaag wenst Sofie de spoorligster en de fietsendief een lang en ongelukkig leven toe.
Mijn fiets werd gestolen. Ik stelde het vast nadat ik een uur in een oververhitte trein had gezeten. Een persoon op het spoor had al het treinverkeer tussen Mechelen en Antwerpen grondig in de war gestuurd. Tijdens de treinreis dacht ik grootmoedig: liever zitten zweten in een trein zonder airco dan de familie zijn die straks het slechte nieuws krijg. Maar wat eerst nog 'aanrijding van een persoon' heette, bleek de volgende dag een 'spoorligster voor de sport' te zijn. Een trap onder de kont van mijn verdraagzaamheid.
Toen ik – minstens een halve kilo lichter van al dat zweten – eindelijk in Berchem aangekomen was, snelde ik naar mijn fiets. Correctie: naar de plek waar ik verwachtte blij herenigd te worden met mijn fiets.
Ik keek in de fietsenstalling naar het nummer 44. Per hoge uitzondering herinnerde ik me die dag heel specifiek dat ik mijn fiets daar neergezet had. Nummer 44. Dat moet ik onthouden voor vanavond, dacht ik nog. Er stond een andere fiets op nummer 44. *Insert sad trombone*
Bij de uitgang van het station deden vier zwaarbewapende politieagenten een gezellig babbeltje. Ik trommelde hen op met de woorden: 'Excuseer, mijn fiets is weg'. Twee politieagenten-met-machinegeweren liepen met me mee naar nummer 44. Ik vond het nogal veel machtsvertoon voor een gestolen fiets, maar wellicht stonden ze daar niet om de fietsenstalling te bewaken. Ze keken.
'Hier staat nochtans een fiets,' zei één van hen, 'maar dat is misschien de jouwe niet.'
Nee, dat was de mijne niet. Dat leek me nogal evident. Ze vroegen hoe hij eruit zag en keken rond of ze een andere fiets zagen die aan mijn beschrijving voldeed. Ze hadden duidelijk evenveel geloof in de intelligentie van hun medemens als ikzelf. Ze vroegen of mijn fiets wel reglementair stond, of ik hem had vastgezet, en met welk slot dan wel? Victim blaming voor dummies. Dat neem ik ze niet kwalijk. Ik herinnerde me verbazend helder dat ik mijn slot had vastgemaakt die ochtend, maar misschien had ik het slot wel alleen aan de fiets of alleen aan het fietsrek vastgemaakt en niet de beide aan elkaar? Geïnternaliseerde victim blaming voor dummies. Nadat ze wat onhandig hadden rondgekeken op de plek van het misdrijf, zeiden ze: 'maak je maar niet druk'.
Dat deed ik niet. Er zijn ergere dingen in het leven, veel ergere dingen. Sommige daarvan heb ik zelf meegemaakt, andere niet.
Een fiets is maar een fiets is maar een fiets.
Ik haalde mijn schouders op en ging te voet naar huis. Niettemin wenst het kleinste kantje van mezelf de spoorligster en de fietsendief toe dat ze elkaar vandaag ontmoeten, halsoverkop verliefd worden en trouwen, en dat ze elkaar vervolgens heel erg ongelukkig maken.
Sofie Strubbe wilde als kind al schrijfster worden. De beste manier om dat te doen is schrijven. Het duurde een tijdje voor ze tot dat besef kwam. Als dinosaurus van de 21ste eeuw werkt ze in het boekenvak. Ze leest en slaapt te weinig, maar ontdekt de wereld mee door de ogen van haar driejarige dochter en haar éénjarige zoon. Daarnaast is ze freelance journaliste en blogt ze op perfectdayforapicnic.
PS: Meer columns? Ook Aline, Tyche, Valerie, Jasper en Ann maken kans om de 2e editie van onze columnwedstrijd te winnen.