Zintuigen op scherp bij Craves
Dat wij met een straf verhaal graag even ontsnappen aan het dagelijkse leven, dat is geweten. Wij zijn grootverbruikers van boeken, series, films en theater… Maar een nog beter antidotum voor de sleur is een nachtje weg. Eentje is al genoeg. Dus trokken Mirand en ik afgelopen zaterdag naar Brussel. Logeren deden we in het zinnenprikkelende Craves hotel. Een aanrader! En wel hierom.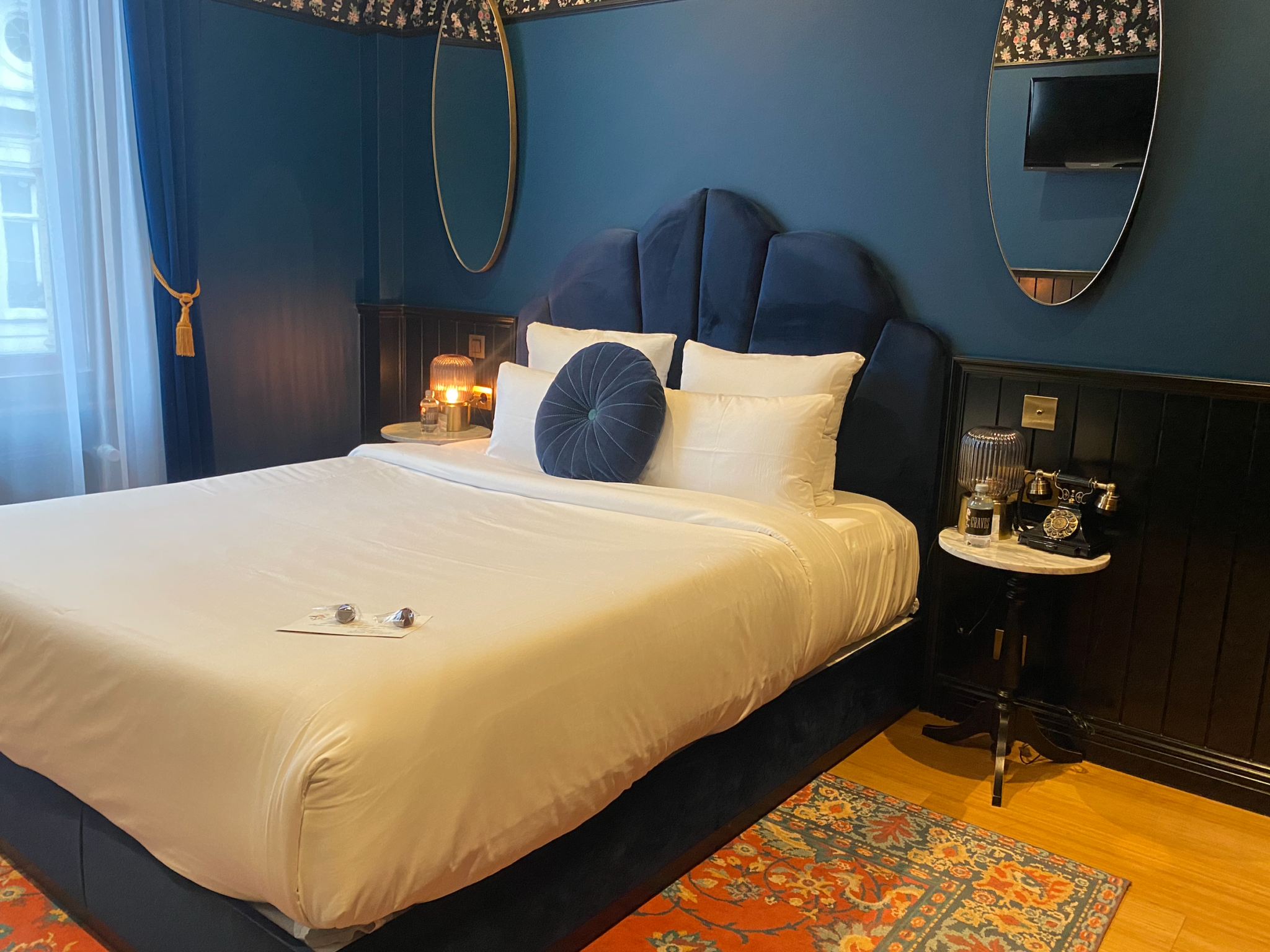 Sensueel art-deco design
Het boetiekhotel met 58 kamers is een ontwerp van de Israëlische interieur designer Saar Zafrir die met zijn Londense ontwerpstudio hotels over heel Europa inricht. En die nu met Craves voor het eerst een hotelproject in België op zijn naam heeft. Hedendaagse art-deco, zo zou ik de stijl omschrijven. Het hotel ademt de grandeur van het begin van de twintigste eeuw, met een klassieke receptie, vintage kraanwerk in de badkamers, gordijnkwasten en een retro telefoontoestel op je nachttafel. Tegelijk is de inrichting erg eigentijds met veel fluweel en intense kleurencombinaties.
In elk van zijn hotelontwerpen steekt Zafrir een unieke 'gimmick' – zo vind je in het Max Brown in Berlijn in iedere kamer een kleine basketbalring. Bij Craves is de gimmick het bloemetjesbehang. Een floraal motief denk je op het eerste gezicht, maar als je beter kijkt zie je dat er in de bloemen verwijzingen naar de vijf zintuigen werden verstopt. En dat is niet alleen maar een gimmick. Een verblijf bij Craves is werkelijk een zintuiglijke ervaring. Alleen al de geur van die douchegel van Perricone in de badkamer, heerlijk!
Le conteur
Op de gelijkvloerse verdieping ligt restaurant Le Conteur – eveneens een ontwerp van Saar Zafrir. Hier kom je niet alleen voor de sharing dishes met veel groenten uit het Midden-Oosten, maar ook voor de ambiance. Vanaf de tweede seating gaat de volumeknop flink omhoog en zorgen de beats voor een sfeer die doet denken aan hippe bars in Tel Aviv. Had ik al gezegd dat een verblijf bij Craves alle zintuigen aanspreekt?
Dineren bij Le Conteur deed ik in het verleden al – hun haloumi frietjes, traag geroosterde bloemkool en boterzachte inktvis zijn to die for – dit weekend gingen we op zoek naar de beste pizza van de hoofdstad. Maar de prachtige eetzaal met Parijse bistro-allures en art-deco plafondventilatoren als eyecatcher doet ook dienst voor het ontbijt. En dat is royaal. Naast de klassiekers, vind je ook hier specialiteiten uit Israël: van shakshuka, over mini falafels tot gegrilde groenten. Mijn innerlijke Ottolenghi is alweer gestild.
Locatie, locatie, locatie
Veel centraler dan dit logeer je niet in Brussel. Wij kwamen met de trein tot in Brussel-Centraal en stonden tien minuten later al oog in oog met de imposante kerstboom in de lobby. Of je nu naar de kerstmarkt (check!) of het historische centrum wilt, de klassieke highlights liggen allemaal vlakbij. Wij kozen voor een wat meer off-the-beaten track programma met een wandeling doorheen Elsene en Sint-Gillis, zagen de lichtexpo Magnetic Flow – waarover later meer – en deden op zondagochtend inkopen op de Zuidmarkt waar de overwinning van Marokko (tegen Portugal) van de avond voordien nog nazinderde. En als we nog een tip mogen geven voor een weekendje Brussel: een fietstocht met Cactus. Via hun tochten krijg je inzicht in de stadsontwikkeling van onze hoofdstad en ga je zelfs de lelijke kantjes appreciëren.
PS. Nog meer inspiratie voor een nachtje weg in Zeeland, Amsterdam en Brugge.
PPS. Barbara tipte onlangs dit eetadresje in Brussel.