Afgelopen week logeerde ik een nachtje met mijn allerbeste vriendin – boeken-en-bubbelsmeisje Katrien Lodewyckx – in Villa Magnolia in het Zeeuwse Oostkapelle. Een hotel dat klinkt als een roman van Willem Elsschot, waar de wind je hoofd leegmaakt en het decor inspiratie laat aanwaaien.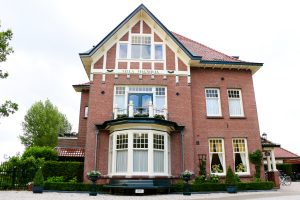 De persoonlijke ontvangst door hoteleigenaar Jerry J. Troy is ronduit indrukwekkend, van de goed voorbereide "u bent zeker mevrouw Elen en u mevrouw Lodewyckx" tot het besef dat Jerry werkelijk alle 81 gasten persoonlijk kent. Van vaste klanten – en dat zijn er heel wat – onthoudt deze zwierige man hoe hun kinderen heten en weet ook de 28-koppige staf welke thee ze liefst bij het ontbijt drinken en hoeveel kussens er op bed moeten. We grappen dat we hem over een jaar zullen opbellen: "Katrien hier hé" en dat hij zal weten wie van de twee het is. En geloof ons, deze man is hiertoe in staat. Niet te verwonderen dat klanten jaar na jaar terugkeren en sommige kamers al zeven jaar op voorhand worden geboekt. Jerry: "80% van onze gasten komen uit Duitsland.
Duitsers boeken hun vakantie maanden vooraf, Nederlanders nemen een maand op voorhand pas contact op en Vlamingen een week vooraf. Dan zijn wij al lang volzet."
De familie Troy runt Villa Magnolia sinds 1985 maar het gebouw dateert al van 1910 toen burgemeester C.J.J.A. Van Teylingen hier zijn intrek nam. De familie Van Teylingen wilde per se een woning in art-nouveaustijl maar vond in de streek geen architect die hierin gespecialiseerd was. Daarom stuurden ze bouwheer A.L.J. Goethals naar Brussel om in de leer te gaan bij Victor Horta en Henri Van de Velde. Goethals was een perfectionist en stelde een bijzonder gedetailleerd aannemersboek op.
Zo schreef hij zeven lagen verf voor en een droogtijd van drie dagen tussen elke laag.
Jerry: "Wij proberen het gebouw te beheren met dezelfde grondigheid en oog voor detail. Deze handleiding is verplichte lectuur voor ons personeel. Er is dan ook permanent een schilder bij ons in dienst." Hoewel niets in de afwerking het doet vermoeden, was de Villa indertijd een koopje. Jerry: "We hebben het eens omgerekend. De bouw van de Villa kostte 32 000 gulden, omgerekend naar deze tijd is dat slechts zo'n 240 000 euro. Onvoorstelbaar!"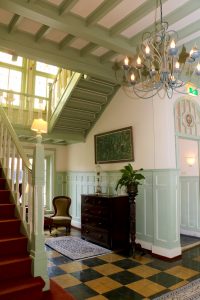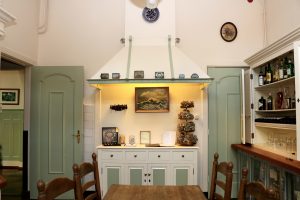 Sinds het vertrek van de familie Van Teylingen fungeerde het gebouw als landbouwschool en nam een kunstenares er haar intrek. Tijdens de tweede Wereldoorlog stond het hele gebied – en dus ook de Villa en aanpalende boerderijgebouwen anderhalf jaar onder water. Jerry: "De mensen vaarden met een bootje door te straten."
Het is in die tijd dat de magnolia uit de tuin van de gelijknamige Villa verdween. Achteraf was er in de tuin (mét charmant theepaviljoen) enkel ruimte voor inheemse plantensoorten. De exotische magnolia hoorde hier niet bij.
Ook nu benadrukt Villa Magnolia sterk haar Nederlandse DNA. In de kamer vinden we stroopwafels voor bij de koffie en voor kinderen is er Nijntje beddengoed en servies. De Villa werkt bovendien samen met het Rijksmuseum en mag als enige Nederlandse hotel reproducties uit het museum tentoonstellen. Bij het ontbijt en in de Honesty Bar (je noteert eerlijk wat je hebt gedronken) proef je lokale producten, zoals chocoladerepen van Tony's Chocolonely of Royal Dutch Espresso en in het midden van de ontbijtzaal glimt er een imposante Delfts Blauwe vaas… met magnolia's, een unicum in de geschiedenis van Royal Delft (zoek op Facebook op 'magnolia maandag' en je volgt de vaas van creatie tot plaatsing).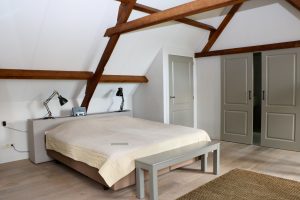 Katrien en ik logeren in de aanpalende boerderijgebouwen die enkele jaren geleden door een Londens architectenbureau werden omgetoverd tot vijf-sterren suites. De oorspronkelijke boerderij dateert van 1860 en de architecten respecteerden het historisch kleurenpalet en gaven het een hedendaagse toets. De luxueuze suite heeft een aparte ingang en salon, een zeer ruime slaapkamer en stijlvolle badkamer. Terwijl Katrien geniet van het vrijstaande ligbad, droom ik weg op de zitkussens voor het raam.
Hier zou ik wel een tijdje kunnen blijven om te schrijven! De wind loeit, voor het overige is het doodstil.
Geen wonder dat de villa regelmatig artiesten aantrekt. Volgens Jerry werd hier al meer dan één managementboek geschreven en zelf stimuleert hij gratis verblijven voor artists in residence. Vaak is het een figuur uit de podiumkunsten die hier logeert, de kunsttak waar Jerry zelf de meeste affiniteit mee heeft (check het promofilmpje van Villa Magnolia in samenwerking met het Nederlands Dans Theater dat opent in 'onze' kamer).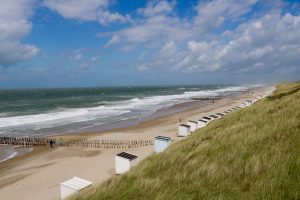 De omgeving moet natuurlijk ook verkend worden. Vanuit de Villa is het een uurtje wandelen naar Domburg, door het bos, via kasteel Westhoven, doorheen de duinen en langs de zee.
Wat is de Nederlandse kust ongerept. Geen dijk, geen gocarts, geen hoogbouw!
De pastelkleurige strandcabines fleuren de kustlijn op, de wind staat strak, het zout kleeft op onze huid. Al na een half uurtje wandelen voelt België heel erg veraf! 's Avonds beslissen we om terug te keren naar het kleine kuststadje. We eten kleine en verfijnde gerechtjes om te delen in het pas geopende De Boterkapel. Het geurt hier heerlijk naar de zelf gerookte zalm en de in hooi bereide kip. Met een glaasje wijn uit de Honesty Bar praten we bij in ons privé salon. Zalig om de ruimte van een suite te mogen combineren met een hotelservice. Helemaal tevreden van de dag duiken we op tijd in ons kingsize bed.
Na een heel uitgebreid ontbijt (check alleen al het assortiment granen, noten en gedroogde vruchten) in de orangerie rijden we de tweede dag richting Veere. Het vissersdorpje is zo charmant dat we meteen verliefd worden. Ooh die toren, ooh die huisjes, ooh die bootjes… ooh ooh ooh! Helaas roept het werk en heeft de stop een hoog blitzbezoek gehalte. Op de terugweg beslissen we onmiddellijk dat we terug komen, naar Veere, naar Zeeland, naar Villa Magnolia!
PS. Logeren in modehotel The Exchange in Amsterdam combineer je met deze literaire hotspots.
PPS. Eveline trok onlangs naar Den Haag voor een bezoek aan het Kinderboekenmuseum.