4 literaire hotspots in Amsterdam
 Dit artikel verscheen eerder  (donderdag 14 mei 2015) op elle.be
Voor de Libris Literatuurprijs trok ELLE 24u naar Amsterdam. Net genoeg tijd om vier hotspots uit te testen.
13u Lunchen en sterren spotten in Café Americain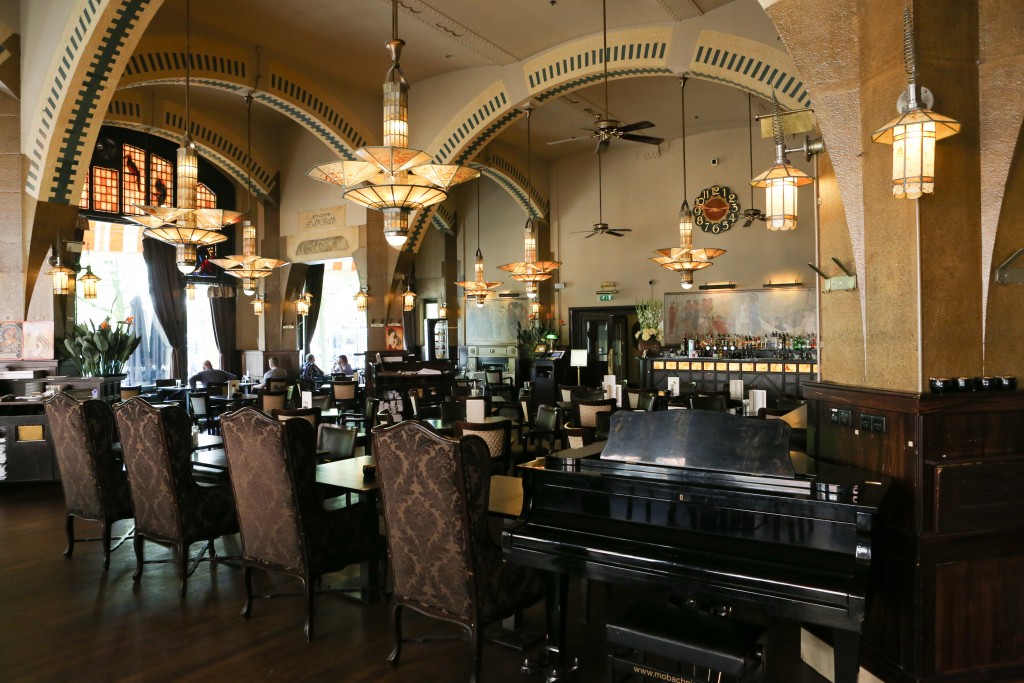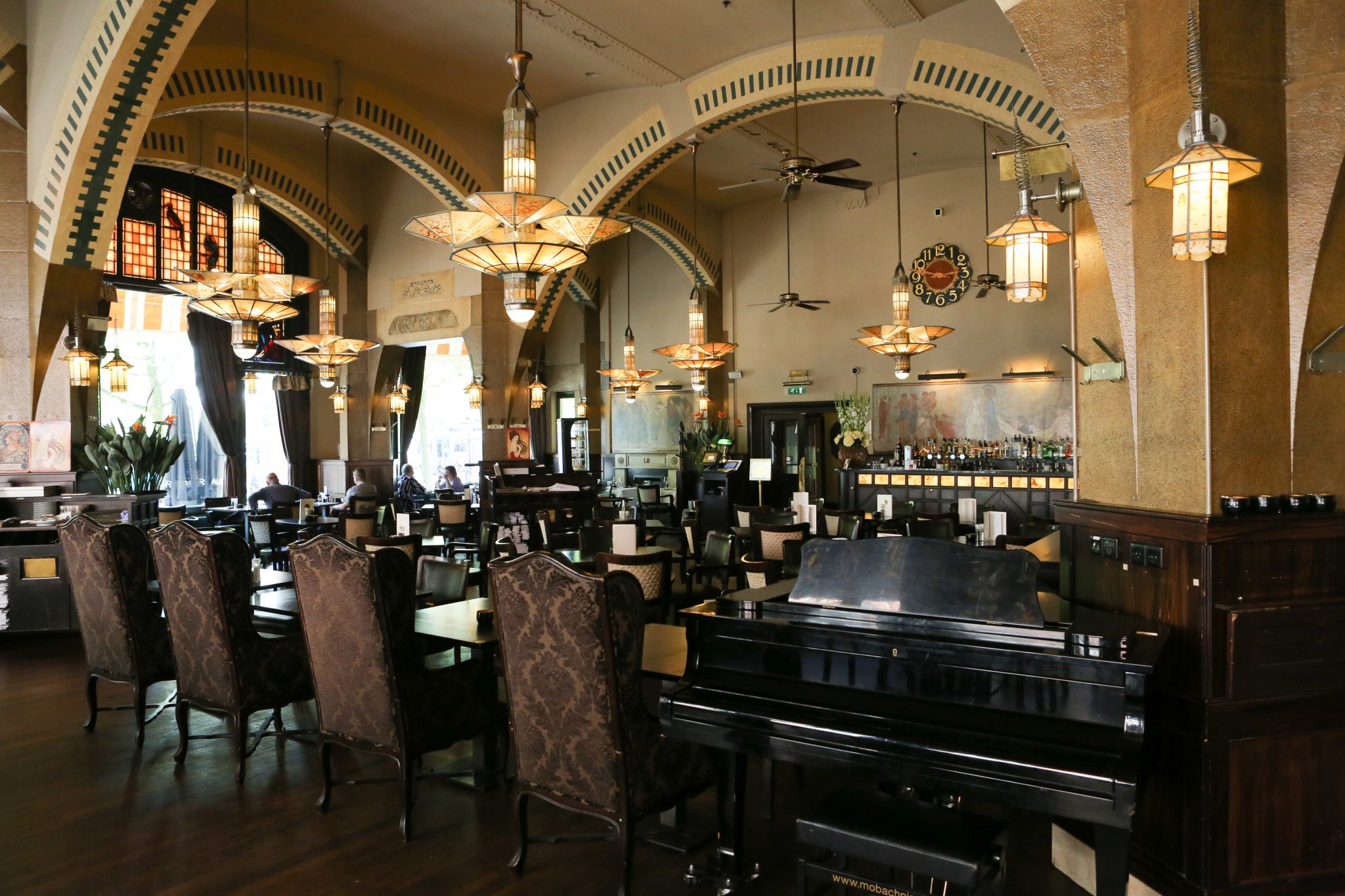 In het hart van de Amsterdamse theaterbuurt (vlakbij de Stadsschouwburg, Melkweg en Paradiso) ligt het American Hotel, een topadres sinds 1875. Het interieur van restaurant Café Americain met Tiffany lampen, glas-in-lood ramen en Engelse leessofa's ademt retro en art déco. 'Maar,' zo benadrukt Food & Beverage Manager Joeri van der Wees voor hij ons aan tafel brengt, 'wij hebben een lange geschiedenis, maar trekken ook een jong publiek.' Daar zit het uitgebreide cocktailmenu (met een aparte gin-tonic en rum-cola kaart) en de 'ice fondue' (denk: aardbeien met chocoladedip in een wolkje van stikstof) vast voor iets tussen. Het hoofdkantoor van Tommy Hilfiger ligt om de hoek, dus topmodellen op doorreis zijn vaste klant in Café Americain. Van der Wees: 'Wij krijgen echte supersterren over de vloer, ook uit de film- en muziekwereld, maar staan bekend om onze discretie. Ons personeel, zelfs onze stagiaires, tekenen een contract dat ze niet gaan Instagrammen als ze een beroemdheid spotten.' In de jaren '60 was het Café Americain een ontmoetingsplek voor schrijvers en kunstenaars. Harry Mulisch zat zo vaak te schrijven aan de centrale leestafel in het restaurant, dat die vandaag een plaque draagt met een citaat van hem. De buitenkant van het hotel duikt op in de film The Fault in Our Stars.  
Café Americain/Leidsekade 97, Amsterdam/www.cafeamericain.nl
19u Exclusief borrelen in het Amstel Hotel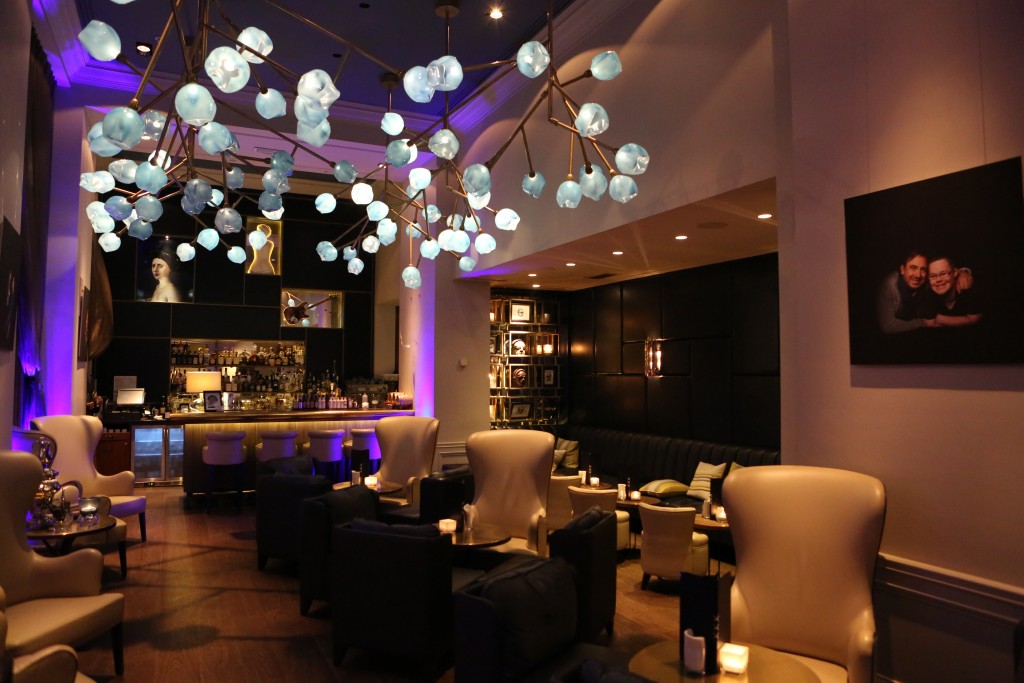 Lucky us! De uitreiking van de Libris Literatuurprijs vindt jaarlijks plaats in het majestueuze Amstel Hotel (5*), misschien wel het meest exclusieve hotel in Amsterdam. Wij worden hier hartelijk onthaald door de portiers met hoge hoed en beleven een avond in stijl. In het Amstel verblijven dan ook regelmatig royals en popsterren als The rolling stones of Rihanna. Je kan er niet alleen logeren in een Champagne Suite van Dom Pérignon, dineren in een sterrenrestaurant, gracieus de imposante marmeren trappenhal bestijgen of ontbijten onder de kroonluchters, maar evengoed aperitieven op het panoramische terras met uitzicht op de Amstel. De A Bar is hiervoor the place to be! Op het menu van deze hotelbar staan cocktails met een twist zoals de Royal Amstel Club met 24 K bladgoud. Een echte ervaring is de high tea in de traditie van de Verenigde Oost-Indische Compagnie met tea-cocktails en aromatische sandwiches, appetizers en gebak. Partypeepz let op, regelmatig kan je hier ook lokale dj's aan het werk horen.
Amstel Hotel/Professor Tulpplein 1, Amsterdam/www.amsterdam.intercontinental.com
9u Ontwaken in stijl in The Exchange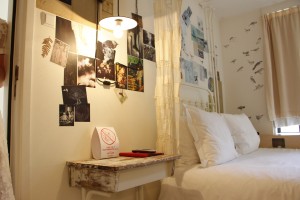 Fashionista's logeren in The Exchange, hét modehotel van Amsterdam waar je kan kiezen tussen kamers van één tot vijf sterren. Laat je niet misleiden door de smalle ingang, verscholen tussen de shoarmazaken op het Damrak, binnen ademt alles mode en design. Denk: een sterke gemerchandisede huisstijl met de XXX van Amsterdam, overal gekke vogels, borduurringen met kamernummers… en vooral 61 unieke kamers.
In 2011 mochten acht studenten van het Amsterdam Fashion Institute de kamers van dit concepthotel aankleden als modellen. Lelijke stukken zoals radiatoren werden bedekt, mooie delen geaccentueerd. Van lampen uit de kringloopwinkel werden parelkettingen gemaakt. De gangen bleven naakt en kregen een huidskleurig laagje verf.
In de Crinoline Room kan je slapen onder een hoepelrok, in de Matress Room gebruikte studente Roos Soetekouw, ondertussen een bekende textielontwerpster (Salone del Mobile 2015, Milaan),  alle onderdelen van een boxspring om de kamer aan te kleden. In dit boetiekhotel kan je wegdromen in een oversized T-shirt die de hele kamer bedekt of naar bed gaan in de Camera Obscura Room waar je – als de luiken dicht zijn – de skyline van Amsterdam op de muur ziet. En wat dacht je van kamers met lusters en behangpapier van modebladen?!
Hotel The Exchange/Damrak 50, Amsterdam/www.hoteltheexchange.com
11u30 Literair brunchen bij Boekalicious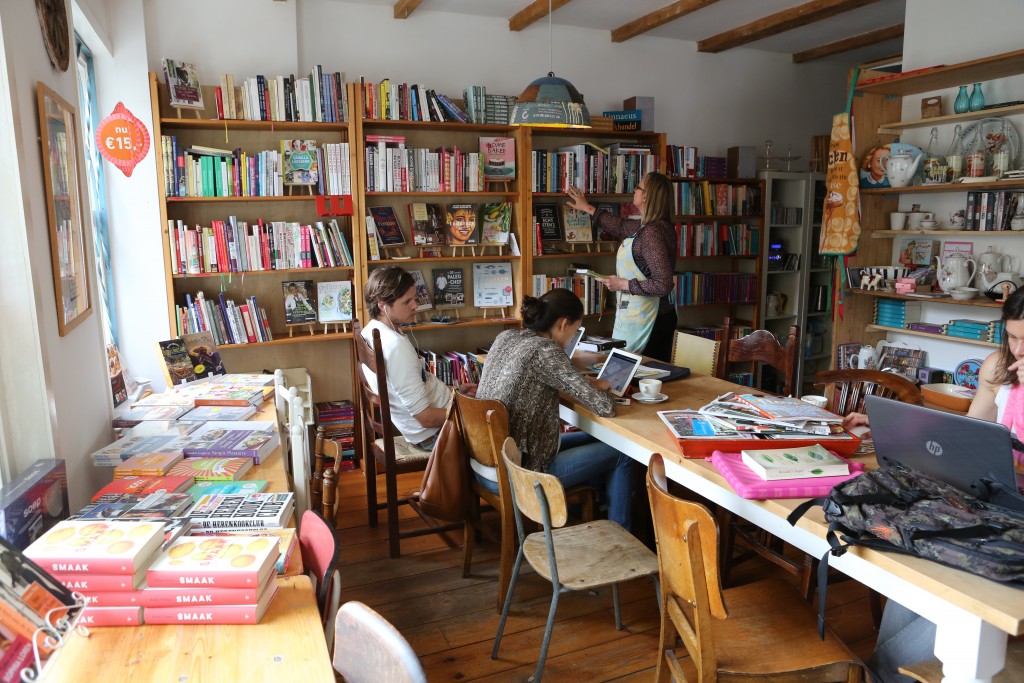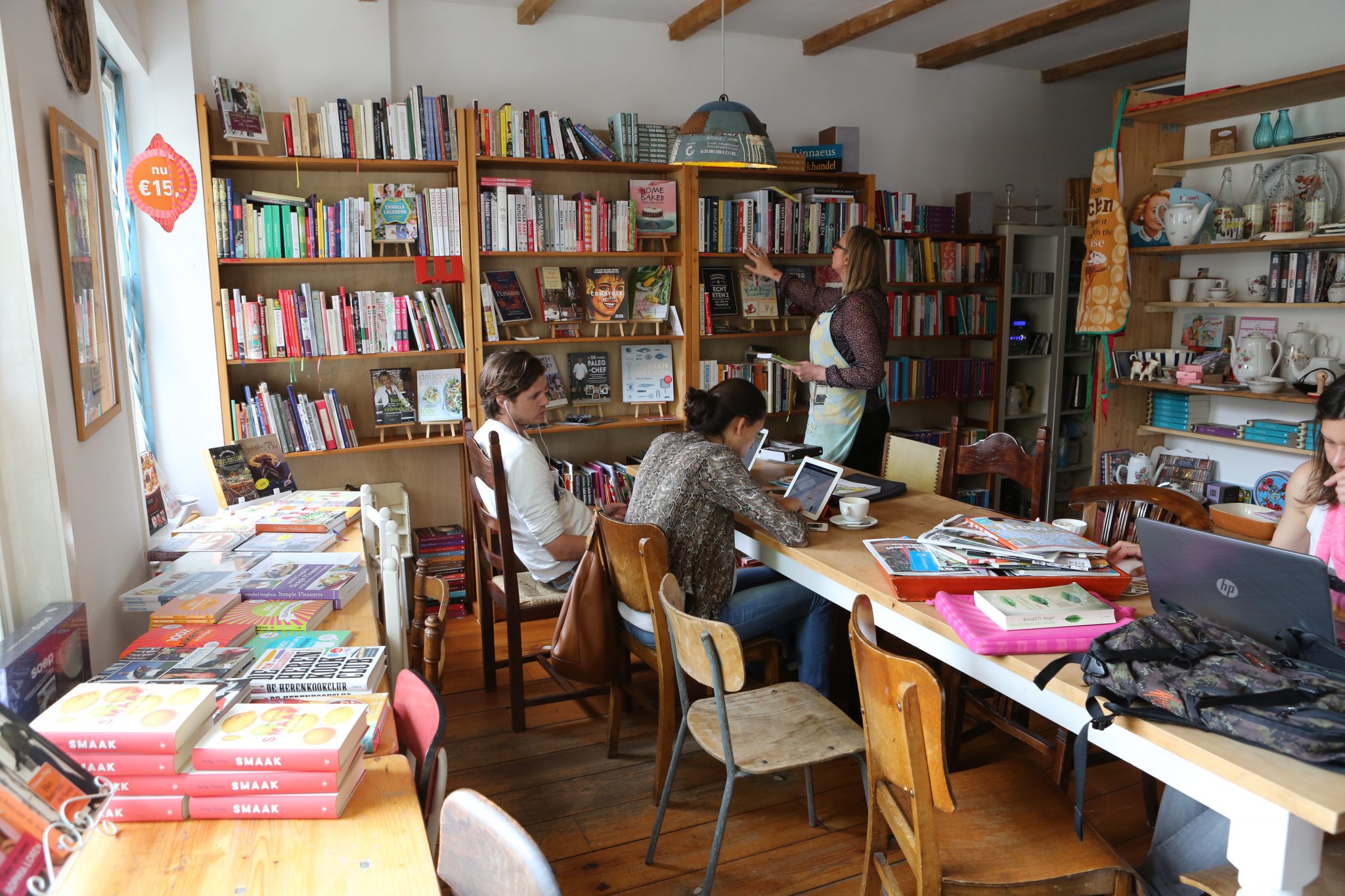 Lekker eten interesseert ons altijd. Lezen over lekker eten eveneens. Enter Boekalicious, een heerlijke zaak waar je versgebakken taart en biologische broodjes kan eten, kookboeken kan scoren en literaire events kan meepikken. Op het moment dat ELLE er broodjes humus zit te degusteren, wandelt schrijfster Kathy Mathys binnen voor haar boekpresentatie van Smaak en nipt columniste Aaf Brandt Corstius er van een cappuccino. De hippe buurt trekt acteurs, kunstenaars, cabaretiers en journalisten aan.
Een topper uit het boekenaanbod in Boekalicious is Home Baked van Yvette Van Boven. Eerlijke recepten en foto's, met minder suiker en meer honing en humoristische maar bruikbare baktips.
Eigenaresse Jacqueline Smit werkte 20 jaar als uitgever en combineert nu haar passie voor koken en boeken in haar zaak. Ze huldigt het motto 'eten is leven, liefde en genieten'. Een wijze Amsterdamse les.
Boekalicious/Galileiplantsoen 94, Amsterdam/www.boekalicious.be
PS: Jurken spotten op het Libris gala en Libris backstage