Libris backstage: 10 hoogtepunten
De high en de kick van het Libris gala zijn na een week wel gaan liggen. Ons officiële verslag op de ELLE website is alweer van de homepage verdrongen door de jurken van het festival van Cannes. Glanzende feestjes zijn altijd vluchtig, dus vandaag is het 'now or never' voor een laatste bericht over de Libris Literatuurprijs 2015.  Een unieke blik backstage bij de meest glamoureuze boekenprijs van de Lage Landen. Een selectie van 10 hilarische, gênante of memorabele momenten: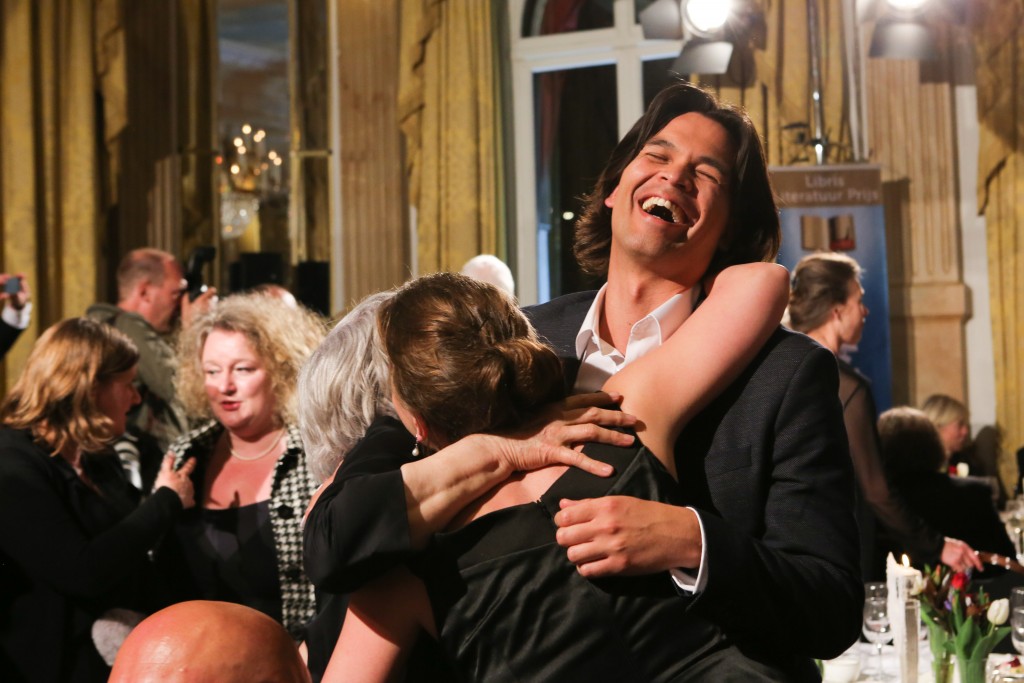 1. We hebben een overzichtsfoto nodig van de receptie. Katrien (de niet-zwangere fotograaf) offert zich op, schopt haar heels uit en klautert op een receptietafel. Als trouwe vriendinnen helpen Barbara en Eveline haar. Om daarna prompt te vergeten dat ze daar staat en rustig verder te borrelen. Gelukkig schiet één van de juryleden Katrien ter hulp. Ze stond er anders nog, daar aan de Amstel. En nogmaals sorry!
2. Babs heeft succes op de Libris Literatuurprijs. Uiteraard is ze een steengoede en graag geziene journalist, in een killer donkerblauw bruidsmeisjeskleed, maar daar heeft het niks mee te maken. Haar bolle babybuik wordt meermaals opgemerkt, bewonderd en becommentarieerd.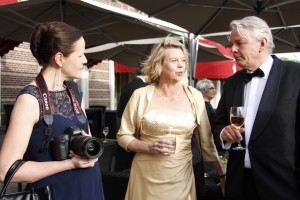 3. Highbrow literature of een goede portie chicklit. Wij zijn van alle markten thuis. Gegeneerd om met galajurk over het ordinaire Damrak te lopen? Helemaal niet… Net daarom gingen we voor een hamburger en frietjes in galakledij…
4. Tijdens het galadiner wacht de pers achter gesloten deuren op de bekendmaking van de winnaar. Als we wat staan te dralen in de gang, worden we aangesproken door twee vrolijke en ietwat beschonken twintigers. Of ze binnen zouden kunnen sneaken… Ze komen namelijk supporteren voor Nina Weijers.
De twintigers op sneakers zijn niemand minder dan longlist genomineerden Hanna Bervoets (Efter) en Maartje Wortel (Ijstijd).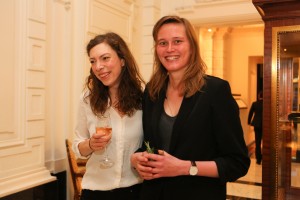 5. ELLEbogenwerk. Barbara en Katrien fotograferen samen met NRC Handelsblad, de Volkskrant en Vrij Nederland. We zijn hier allemaal met hetzelfde doel: hét beeld van de avond vastleggen. Bij de eerste officiële fotoshoot positioneert Katrien zich – ietwat overweldigd door die grote namen met dito lenzen – op de achtergrond om dit leuke beeld te schieten.
Bij de bekendmaking van de winnaars staan Barbara en Katrien er helemaal… op de vierkante meter bestemd voor persfotografen. We hebben de tafelschikking bestudeerd en weten perfect wie waar zit om euforie en teleurstelling in beeld te brengen. Als Wim Pijbes Adriaan Van Dis aankondigt volgen 10 minuten pure adrenaline … waarin we alle hoeken van de zaal hebben gezien. This was fun!
6. http://nos.nl/nieuwsuur/artikel/2035186-artikel.html?title=adriaan-van-dis-winnaar-libris-literatuur-prijs-2015
Meteen na de bekendmaking van de winnaar, gaat NOS Nieuwsuur live op antenne met een interview met de gelukkige schrijver. Adriaan Van Dis vertelt over z'n boek en z'n moeder, terwijl tv-kijkers over z'n schouder een blik in de Spiegelzaal kunnen werpen. En wie staan daar gezellig te keuvelen, vanaf 03:38? Inderdaad: uw boekenmeisjes. Probeert Barbara zich rond 04:28 discreet uit de voeten te maken, dan flitst Katrien om 04:34 nog even doodleuk tegen. Sorry voor het storen van de uitzending! Not!
7. Peter Terrin is als schrijver de discretie zelve. Hij schermt z'n privéleven graag af van z'n publieke verschijning. Als ons gesprek met mevrouw Terrin duidelijk animo krijgt, wordt de auteur van Monte Carlo een beetje bezorgd: "Niet alles verklappen, hé Lut!" Geen zorgen, meneer Terrin. Discretie is (als het ons uitkomt) ook our middle name.
8. Later op de receptie raken we aan de praat met het enige Vlaamse jurylid: literair journalist Marnix Verplancke. We zijn behoorlijk onder de indruk. Jurylid zijn is geen walk in the park. 120 boeken lezen en motiveren, negen keer samenkomen in Amsterdam, de zwijgplicht… Verplancke vertrouwt ons nog toe dat we met de Libris een uitstekende keuze hebben gemaakt: de Libris is by far het meest glamoureuze (g)lit(t)erair event.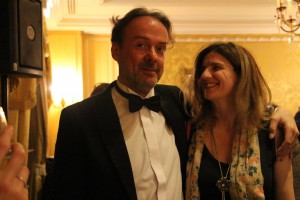 9. Eind goed al goed. Organisatrice Patty Voorsmit geeft ons een knuffel voor we het Amstel Hotel verlaten. Patty kan een vlekkeloos, geslaagd event aan haar palmares toevoegen – wat een avond! Ze waagde een gokje door aan ELLE België/This Is How We Read een driedubbele persaccreditatie te geven, maar lijkt geen spijt te hebben van haar beslissing. Beter nog: ze lijkt vergeten dat Barbara haar op Koninginnedag uit bed belde. Prima zo!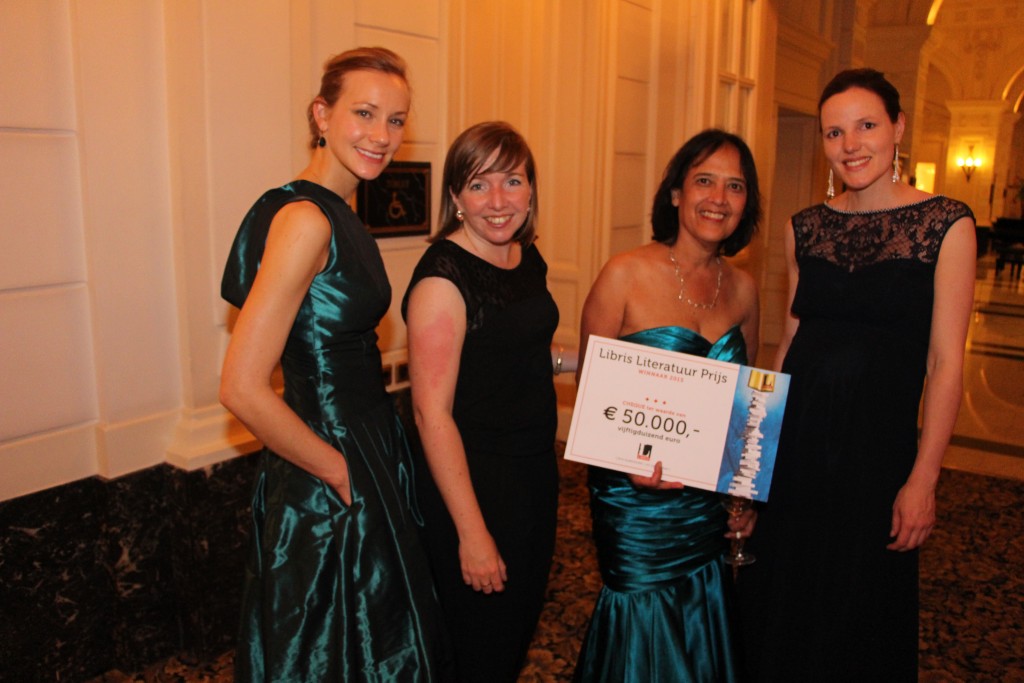 10. We wandelen huiswaarts. Op pijnlijke hakken. Onderweg worden we achtereenvolgens: nagefloten door een taxi, ten huwelijk gevraagd door een (hopelijk beschonken) Engelsman, in paparazzi stijl gefotografeerd door een wildvreemde voor een cocktailbar en achterna geroepen door Hollandsche blonde deernes: 'Wow, wat een jurken.'. Amsterdam by gala, de moeite.
PS: Literaire hotspots in Amsterdam en een blik op de genomineerden