"Gelukkig zijn mijn kinderen braver dan mijn personages"
Gisteren galoppeerden we naar Absurdistan met Toon Van Mierlo, die in Vlaanderen de promotie verzorgt van de boeken van o.a. uitgeverij Cossee, Van Gennep en Pelckmans. Van Mierlo schreef in 2006 nl. zelf een uiterst leesbare roman waarin hij z'n neiging tot overdrijven botviert. Vandaag leggen we Toon drie vragen voor.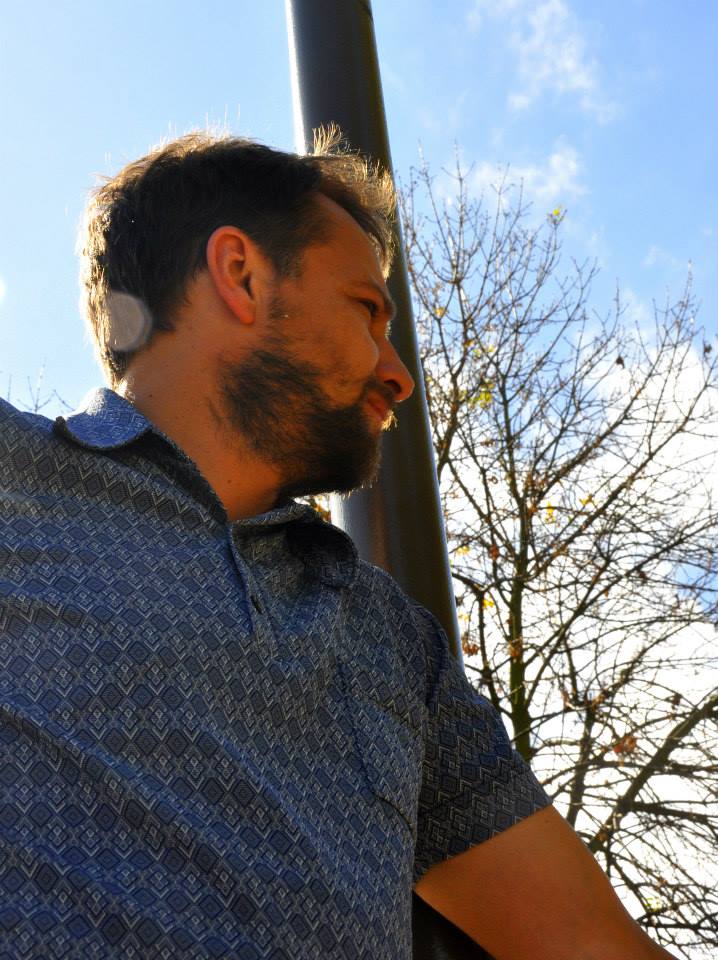 Het geluk van jonge vaders verscheen tien jaar geleden. Welke plaats kreeg het boek in je leven? Welke leuke of minder leuke dingen blijven je bij van het schrijf- en publicatieproces?
Tien jaar, ja… En de eerste woorden schreef ik nog eens tien jaar eerder, schat ik. Niet dat ik er zo lang aan heb gewerkt, dat ging met grote tussenpozen, tot ik  uiteindelijk toch een keer vond dat het af was en het naar enkele uitgeverijen stuurde.
Toen Querido positief reageerde, was ik natuurlijk in de wolken, ik zag al een heel oeuvre voor me, een boekenplank vol boeken die ik had geschreven.
Zo'n vaart is het niet gelopen, een tweede boek schrijven bleek minder eenvoudig dan gehoopt. Daar zijn veel uitvluchten voor te verzinnen, maar de belangrijkste reden is waarschijnlijk dat ik gewoon lui ben. Uiteindelijk bewaar ik eigenlijk alleen maar positieve herinneringen aan deze roman, ik ben erg blij dat er een boekje van mijn hand bestaat.
Die neiging tot overdrijven… heb je die in het dagelijkse leven ook? Of ben je schatplichtig aan literaire voorbeelden?
In het dagelijkse leven ben ik een saaie en ongezellige mens, maar het wonderlijke aan boeken schrijven is dat je je niet aan de werkelijkheid moet houden. Je kan overdrijven, of dingen laten gebeuren die volgens de wetten van de natuurkunde onmogelijk zijn, je kan je personages de gruwelijkste dingen aandoen zonder dat je je daarvoor in een rechtbank zal moeten verantwoorden. Zolang het klopt in de context van je verhaal, doe je wat je wil.
En literaire voorbeelden… Ik lees heel graag en redelijk veel, en zou natuurlijk wel willen dat ik kon schrijven als notoire overdrijvers zoals Kurt Vonnegut of Chester Himes, of dat ik juist kon doseren als Willem Elsschot of Gerbrand Bakker, en er zijn nog tientallen helden die ik zou kunnen opnoemen, maar ik weet ook wel dat dat allemaal veel te hoog gegrepen is voor een onnozele (maar vrolijke) dilettant als ik. Nee, als ik schrijf probeer ik niemand na te doen, want dat kan alleen maar mislukken.
Intussen zijn je drie kinderen pubers. Hoe gaat het met hen? Zit er in een huis opgroeiende kinderen geen materiaal voor een tweede boek?
Met mijn kinderen gaat het prima, bedankt. Ze zijn nauwelijks bij te benen. En weet je wat?
Vermoedelijk zal er nog dit jaar een tweede boek verschijnen bij uitgeverij Vrijdag, en dat wordt een roman waarin inderdaad ook enkele pubers rondlopen die, zoals dat gaat,  puberstreken vertonen.
Het zijn nevenpersonages, maar ik kan wel zeggen dat ik me gelukkig prijs dat mijn kinderen braver zijn dan mijn personages. Er was geen concrete aanleiding om weer te gaan schrijven. Eigenlijk ben ik er nooit helemaal mee gestopt. Het gaat alleen erg langzaam.
Ik heb kinderen, een voltijdse baan en ik kom al eens graag buiten. En nog lui ook, dan zijn tien jaar zo om.