Hotel The Exchange Amsterdam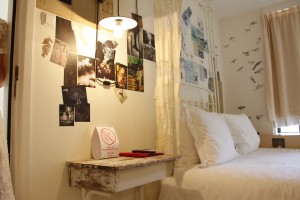 Voor de uitreiking van de Librisprijs gingen Barbara, Eveline en ik 24 uur naar Amsterdam. Goed voor samen negen paar schoenen, zes jurken en acht outfits in de koffer want er stonden een gala-avond en twee lunchafspraken op de agenda (Marie Kondo-gewijs koffers pakken, daar deden wij dit keer niet aan mee). Bovendien waren we daar in opdracht voor modeblad Elle! We beslisten daarom om te logeren in stijl in hotel The Exchange in Amsterdam. In hét modehotel van Amsterdam kan je kiezen tussen kamers van één tot vijf sterren. Laat je echter niet misleiden door deze categorisering want tussen de twee-sterrenkamers zitten ook echte pareltjes, die gewoon wat kleiner uitvallen dan de vijf-sterren exemplaren.
Laat je ook niet afschrikken door de smalle ingang, verscholen tussen de shoarmazaken op het Damrak, binnen ademt alles mode en design. Denk: een sterke gemerchandisede huisstijl met de XXX van Amsterdam, overal gekke vogels, borduurringen met kamernummers… en vooral 61 unieke kamers.  We kregen er een rondleiding van Suki en dat leverde deze beelden en verhalen op.
In dit fashion hotel zijn de kamers aangekleed door studenten van het Amsterdam Fashion Institute. Ze bekeken de kamers als een model waarvan ze de mooie delen wilden accentueren en de lelijke kantjes verdoezelen. De gangen bleven naakt en dus huidkleurig. Hier zie je hoe Eveline bijna helemaal opgaat in de muren.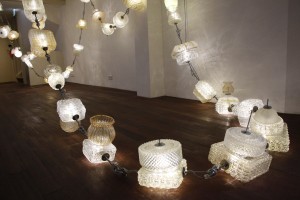 Van lampen uit de kringloopwinkel maakten de ontwerpers een reuze-parelketting voor de gemeenschappelijke ruimte.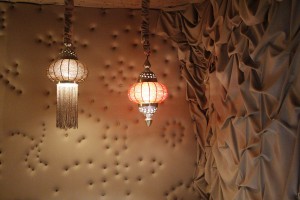 De Mestiza Room werd geïnspireerd door Frida Kahlo. De lampen hangen hier als oorbellen en de stof op de muren is gedrapeerd als een avondjurk. Stel je voor dat je deze kamers moet poetsen! Hier komen heel wat stoomreinigers aan te pas. 
In de Crinoline Room kan je slapen onder 'de kooi' van een hoepelrok. Levert gegarandeerd spannende nachten op!
In de Matress Room gebruikte studente Roos Soetekouw, ondertussen een bekende textielontwerpster (Salone del Mobile 2015, Milaan), alle onderdelen van een boxspring om de kamer aan te kleden. Een 'zachte' kamer waar je je kleding ophangt aan de vering van een matras.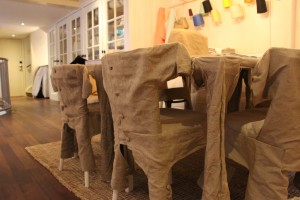 In de naai- en leeshoek kregen de stoelen een jasje, kan je tussen de paspoppen zelf je kleren verstellen met een naaimachine en kan je inspiratie opdoen in de modeboeken. Wij konden het natuurlijk niet laten om een zwerfboek te droppen op deze tafel.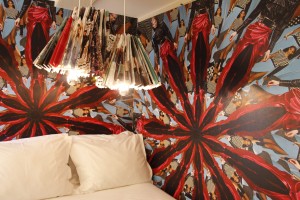 Wat vind je van deze kamer met lusters en behangpapier van modeblad Garment, het tijdschrift van het AFI?! De lampen lijken wel plooirokjes. In deze kamer ligt er trouwens een spiegel op de vloer om onder je rokje te kijken.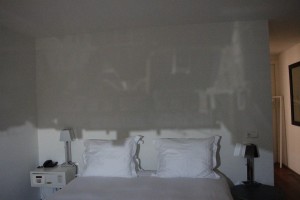 Als je de luiken van de Camera Obscura Room sluit, verandert deze kamer in één grote Camera Obscura en zie je de skyline van Amsterdam op de muur.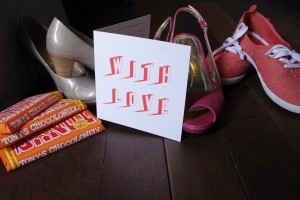 Oh ja, we hadden alledrie onze pink shoes bij! Iets van cultureel verantwoorde prinsessen…?
In welke kamer zou jij graag logeren?
Hotel The Exchange, Damrak 50, Amsterdam
www.hoteltheexchange.com