Vlaanderen en Nederland zijn in 2016 de eregast op de Frankfurter Buchmesse, dat schreven we al. De Nederlandstalige literatuur staat dit najaar extra in de spots op één van de belangrijkste internationale beurzen voor het boekenvak. Da's niet niks.
Vorige keer schreven we zelfs :'Het belang daarvan kan moeilijk worden overschat'. Maar is dat wel zo?
Het statement werd ons ingefluisterd door twee vriendelijke medewerksters van het Vlaamse Fonds voor de Letteren. Vandaag steken wij – bij wijze van kritische check – ons licht op bij twee Vlaamse uitgevers met een indrukwekkende staat van dienst. Vinden zij het ook zo'n big deal, dat gastlandschap? En zo ja: waarom dan wel? 
Rudy Vanschoonbeek, Uitgeverij Vrijdag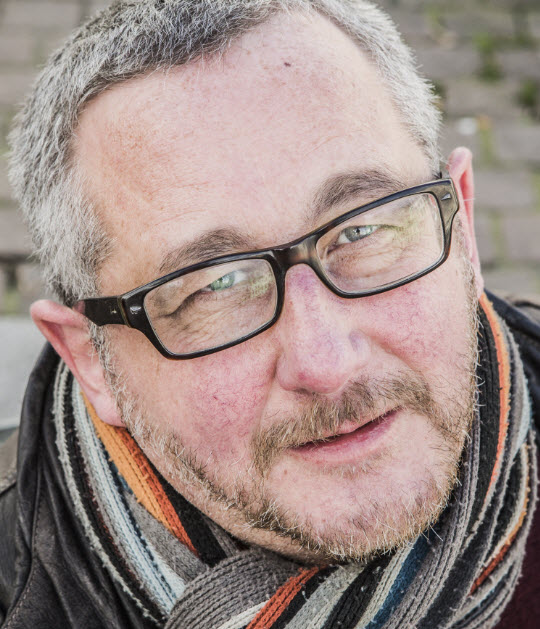 Ik wil het gastlandschap zien resulteren in meer vertalingen van onze auteurs
Wat zijn je ervaringen met de Frankfurter Buchmesse?
Dit jaar zal ik voor de 35e keer de Messe in Frankfurt bezoeken. Vanwege het gastlandschap gaan we met drie mensen uit het team van onze uitgeverij, plus de auteurs die werden uitgenodigd door het Vlaamse Fonds voor de Letteren of die wij er graag bij hebben. Wij hebben vooraf mooie deals kunnen sluiten met Duitse en andere uitgevers. We willen de focus op ons taalgebied vooral zien resulteren in meer vertalingen van het werk van onze auteurs naar andere talen. Diane Broeckhoven, Fikry El Azzouzi, Kris Van Steenberge, Mustafa Kör en Max Temmerman zullen prominent aanwezig zijn.
In die vijfendertig jaar heb ik heel wat memorabele momenten meegemaakt in Frankfurt.
Mijn persoonlijke top drie: samen met de jonge Arnon Grunberg vanuit het Frankfurter Hof terugkeren naar ons hotel in Mainz en ervaringen delen;
de toenmalige Amerikaanse Minister van Buitenlandse Zaken Colin Powell ontmoeten; tijdens mijn wandeling op de beurs Günter Grass in een hoekje zien contempleren.
Wat is Uitgeverij Vrijdag van plan in het kader van het gastlandschap in 2016?
We hebben extra geïnvesteerd in proefvertalingen naar het Engels van tekstfragmenten van onze auteurs. Zo kunnen buitenlandse uitgevers snel kennismaken met hun werk. Daarbij zetten we een aantal van onze auteurs extra in de kijker: Diane Broeckhoven, die eerder al erg succesvol publiceerde in Duitsland en er vele lezingen en optredens gaf; of Kris Van Steenberge en Fikry El Azzouzi, wiens romans dit najaar in het Duits verschijnen bij de grote Duitse uitgevers. Ook Randall Casaer en Mustafa Kör nemen deel aan het officiële programma, en er zijn gedichten van Max Temmerman opgenomen in een Duitse anthologie van Nederlandstalige poëzie.
Van Erik Vlaminck en Elvis Peeters hopen we de rechten van hun nieuwste roman te verkopen.
We plannen enkele evenementen op onze beursstand, maar kijken ook breder dan de duur van de Messe. Zo houden we binnenkort in Brussel een Publisher's Lunch met Diane Broeckhoven voor Europese parlementsleden en medewerkers. Op die manier willen we het gastlandschap ook daar onder de aandacht brengen. De beurs in Frankfurt valt net voor de Antwerpse boekenbeurs, maar is heel anders van opzet.
Je kunt een rechtenbeurs niet vergelijken met een publieksbeurs, dat zijn totaal verschillende werelden.
Wanneer is Frankfurt 2016 voor jou geslaagd?
De verwachtingen zijn zeker hoog: we zijn al ruim een jaar aan het voorbereiden en lobbyen… gelukkig met resultaat. We verkochten reeds een vijftal rechten van onze auteurs, dus wat ons betreft is FF2016 nu al geslaagd. We hopen nog meer internationale bekendheid te verwerven voor onze auteurs, en zien vertalingen naar het Duits (of Spaans of Zuid-Afrikaans…) als een internationale erkenning van hun talent.
Katrien De Vreese, Uitgeverij Davidsfonds
Toen die Amerikaan zei dat ik het mooiste kunstboek van de beurs bij had, was ik trots
Wat zijn je ervaringen met de Frankfurter Buchmesse?
Ik was er al 27 keer. Dit jaar gaan we met een driekoppig team. Voor het eerst kunnen we ons nestelen in de stand van WPG en hoeven we praktisch niet zoveel te doen. Vorig jaar hadden we onze eigen stand, dus we weten hoeveel werk dat meebrengt.
Frankfurt is bijzonder, de hele boekenwereld komt er samen. Je krijgt previews van wat er op komst is en – vooral – je kan trends spotten en daarop inpikken. Ik steel graag met mijn ogen. Het is telkens een bijzonder intense en inspirerende tijd. Een aantal jaren geleden had ik in mijn boekentrolley het boek Flemish Miniatures zitten, de Engelse vertaling van een meesterwerk van Maurits Smeyers. Ik was op zoek naar een co-editor/distributeur en klopte aan bij de gereputeerde Amerikaanse kunstboekenuitgever Abrams. De big boss himself bekeek het boek en zei me dat ik wellicht het mooiste kunstboek van de hele Frankfurter Buchmesse bij me had. Dat vond ik een mooi compliment.
Wat is Uitgeverij Davidsfonds van plan in het kader van het gastlandschap in 2016?
Naast de inkoop van boeken, focus ik me vooral op verkoop van het mooie boekenfonds van Infodok.
In Bologna heb ik interessante contacten gelegd voor de vertaling van een aantal titels naar het Duits: Nachtspelers van Hilde van Cauteren en Grensgangers van Aline Sax. Ik hoop tegen Frankfurt Duitse uitgevers te vinden voor deze titels.
Dit najaar brengen we ook drie titels uit over Utopia van Thomas More omdat dit wereldbekende werk rond die tijd precies 500 jaar geleden voor het eerst is verschenen. Aangezien dit boekje een enorme impact heeft gehad op het denken over democratie – het woord utopie is ontleend aan Utopia – schuiven we dit sterk naar voor. We hebben ook nogal wat boeken over bier (trappistenbier) en zetten die in de kijker. België en bier is een vanzelfsprekend huwelijk.
Wanneer is Frankfurt 2016 voor jou geslaagd?
De aandacht voor boeken uit de Lage Landen zal bij de andere uitgevers sowieso groter zijn. Dus verwachten we om te beginnen meer bezoekers op onze stand. Geslaagd is de beurs wanneer we naar huis gaan met enkele concrete vertaalcontracten en wanneer we goede boeken ontdekken die we kunnen inkopen.
PS: Volgende week laten we opnieuw twee uitgevers aan het woord
PPS: Droomjob – uitgever