En alweer bleven we ongedeerd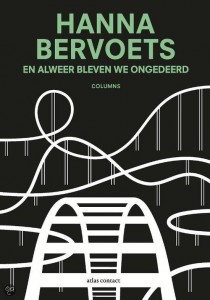 'Maar wanneer we omlaaggaan, is het wellicht verstandiger het nu het nu te laten, en te denken aan later, aan het moment dat ons karretje met een schok tot stilstand komt, we eerst naar achteren klappen en dan naar voren, ons haar uit ons gezicht vegen, even aan onze nek voelen, en dan om ons heen kijken. Om te concluderen dat we, alweer, ongedeerd zijn gebleven.'
Met deze woorden besluit Hanna Bervoets Attractie, de openingscolumn van haar nieuwe bundel En alweer bleven we ongedeerd (Atlas Contact), een column waarin ze de emotionele rollercoaster van het leven even letterlijk neemt. In haar derde bundeling columns uit Volkskrant Magazine maakt de hippe schrijvende Amsterdamse zeventig rake reflecties. Aanleiding is telkens een alledaags detail: een nooit opgevallen moedervlek, korrelige foto's van kerstbomen of een stout huisdier. Bervoets analyseert dit plots ontdekt fenomeen vol humor, bekijkt het van alle (liefst verrassende) hoeken en maakt vergelijkingen die vergezocht lijken, maar het nooit zijn als:
'Maar als scheldwoorden snacks waren, dan gold hypocriet als sushi: het is de meest geaccepteerde keuze, al is die acceptatie vooral gebaseerd op imago.'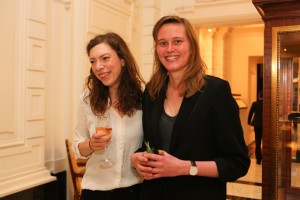 In het universum van Bervoets worden kennissen van vrienden 'zwienden', kunnen zwienden het soms niet met elkaar vinden omwille van de Gemankeerde Overlap en gaan zwienden vaak bonden tegen de gemeenschappelijke vriend volgens het Samenspansysteem. Bervoets analyseert die weinig onderzochte en onbesproken alledaagse conventies zo fijntjes dat je na het lezen van haar columns niet meer naar de winkel kan gaan zonder onbewust te 'schapschuiven' (het elkaar passeren aan een kledingrek zonder elkaar een teken van erkenning te geven).
'Komt een vreemd lichaam zo dichtbij, dan willen we van de geest niets weten; de nabijheid is immers alleen geoorloofd wanneer deze puur praktisch blijft. Zouden we de lichamelijke interactie van een emotionele component voorzien – een knipoog, glimlach of doortastende blik – dan maakt dat de handeling plots intiem.'
Bervoets is de sociologe van hipster Amsterdam, die brak op de zetel Youtube filmpjes bekijkt over valpartijen, die lacht met oneliners in zogenaamd realistische sitcoms terwijl ze beseft dat we zelden zo spreken en die wel eens coke snuift op een slecht feestje. Bervoets is tegelijk ook een troostende dochter aan het bed van haar zieke moeder, een jonge vrouw met beide voeten op de grond die zich realiseert dat je met een Pippi Langkous mentaliteit en Rebel T-shirt het niet maakt in het leven en een aspirant-mama die nadenkt of haar kinderen ooit prinsessenpoppen zullen krijgen.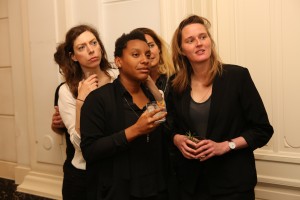 Of het nu gaat over partycrashen of een dipje, Bervoets doorprikt telkens onze systemen van zelfvergoelijking: 'Eigenlijk is het leven één grote overtuigingsrede, waarbij we onze eigen advocaat, rechter en toehoorder tegelijk zijn.' En houdt ons meer dan één spiegel voor zonder te moraliseren. Om het met een vergelijking à la Bervoets te zeggen: op het einde van haar columns wil je rechtveren van je zetel en heel hard 'gooooaal' roepen omdat ze de bal er toch maar mooi heeft ingekopt.
Zelf columnaspiraties, doe dan mee aan onze wedstrijd 'Column op woensdag'!
PS: Deze recensie is geschreven zonder de bundel uit te lezen. Een schande voor een recensent? Nee, ik wil de resterende columns (nog zo'n 20) opsparen. Een groot compliment voor een snellezer als ik!