Oké, volgende week is het zo ver. Dan houden we onze eerste themaweek op This Is How We Read. En waarover gaan we het hebben? Ondernemende vrouwen!
Met een eigen dansschool (Eveline), een eigen schrijfbedrijf (Barbara), een bijberoep dat stilaan uit z'n voegen barst (Katrien) en een pretblog met ambitie (samen) mogen we onszelf wel tot die categorie rekenen.  Toch laten we volgende week in de eerste plaats anderen aan het woord.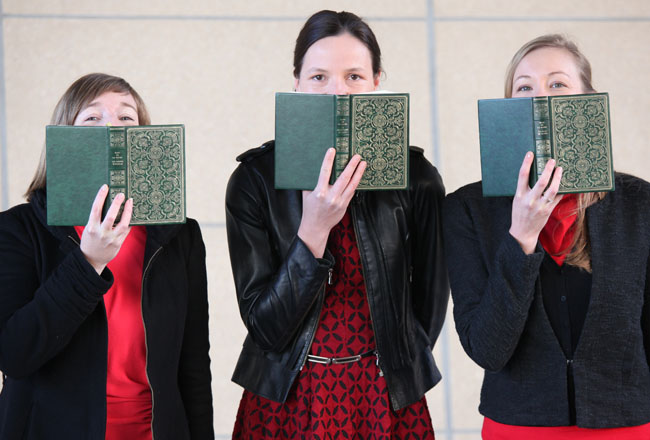 Wat mogen jullie verwachten?
Op maandag geeft Katlijn Voordeckers van OpmerKelijk in een interview tips en tricks om een sterk merk uit te bouwen. Katlijn is business coach en consultant voor vrouwelijke ondernemers en publiceerde begin dit jaar samen met Sara Reymen het boek Onderneemster zoekt sterk merk (Lannoo Campus).
Op dinsdag legt stijlfiguur en online influencer Anna Nooshin van het webmagazine NSMBL.nl uit hoe zij 4 miljoen bezoekers per maand naar haar site lokt – kijk, zoiets willen wij (en alle bloggers en creatives met ons?) dus graag weten. Nooshin schreef haar succesverhaal recent neer in On top (Het Spectrum).
Op woensdag en ook op donderdag geven vijf ondernemende vrouwen voor wie wij een mix van sympathie en bewondering voelen hun ultieme boekentip. Welk boek heeft hen geholpen om te worden wie ze zijn en te komen waar ze staan?
En op vrijdag keren we terug naar onze 'core business'. Dan geven we tien zomerse leestips. Een literair menu, dat we komend weekend gaan samenstellen in een fancy restaurant in Hasselt. Kwestie van even te bewijzen hoe leuk het leven is voor ondernemende types.
Voor wie is die Ondernemende Vrouwen Week precies?
Voor vrouwelijke ondernemers – natuurlijk. Maar niet uitsluitend.
Mannen mogen ook meelezen. Net als vrouwen die geen eigen bedrijf hebben, maar wel van aanpakken weten, dromen en doelen hebben en ergens voor gaan.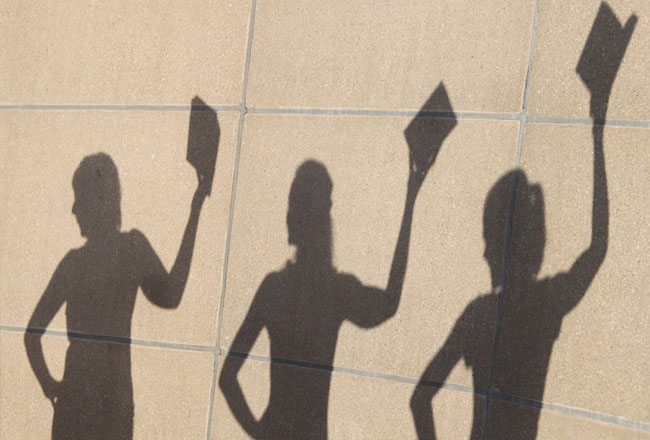 Waarom doen we het?
Tja, waarom eigenlijk? Hebben jullie een half uurtje?
Primo – In het kader van This Is How We Read liepen we al behoorlijk veel leuke, ondernemende vrouwen tegen het lijf.
De Italiaanse Vincenza… die een B&B met bibliotheek uitbouwde naast haar advocatenpraktijk.
De Nederlandse Jacqueline… die na haar ontslag uit haar droombaan recht krabbelde en een boekenwinkel slash lunchroom slash uitgeverij slash bakkerij begon.
60 positieve bloggers… die op een zomerse lentemorgen aan het brunchen en netwerken sloegen.
De ploeg achter Alle Dagen Honger… een foodcollectief dat een boek schreef en events organiseert.
En recent nog Caro…die haar ding niet vond in het bestaande cursusaanbod en dan maar haar eigen nascholingsinstituut uit de grond stampte.
Telkens fijne, inspirerende ontmoetingen. Ondernemende vrouwen – they're simply hard not to love.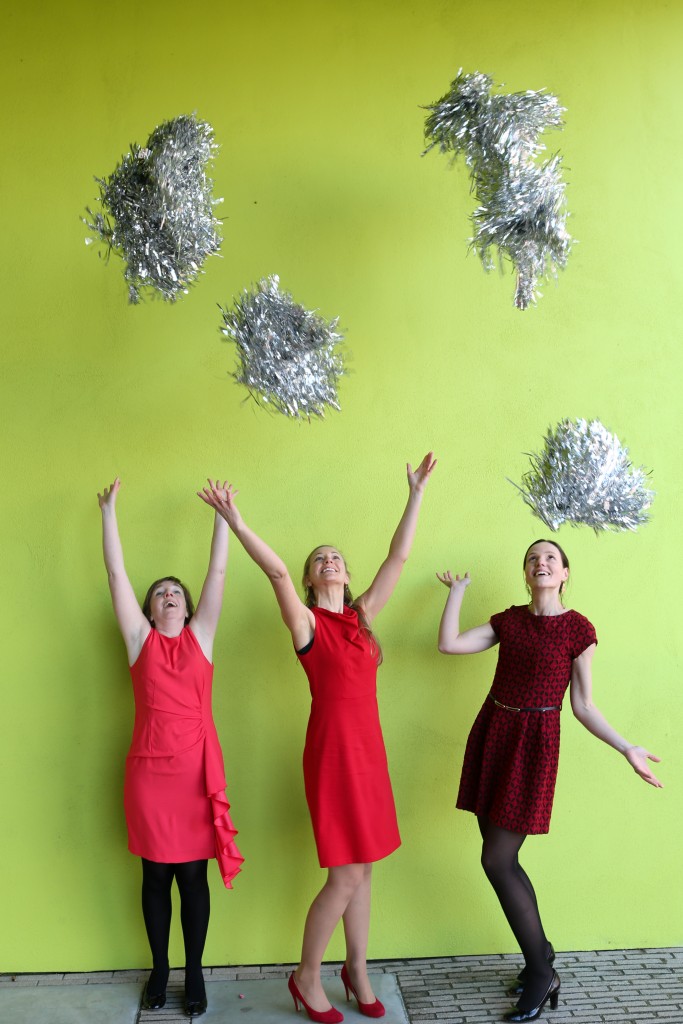 Secundo – Ik ben al jaren een tevreden freelancer. Soms slaat mijn enthousiasme om in bekeringsdrang, dat kan meespelen in de keuze van deze themaweek.
Gelukkig is die bekeringsdrang perfect verdedigbaar. Wijst een recente studie soms niet uit dat maar liefst 73,9% van de Vlaamse zelfstandige ondernemers (m/v) tevreden is met z'n beroepskeuze? Bij de zelfstandigen binnen de 'intellectuele diensten' is dat zelfs 83,2%. Dus eigenlijk roepen we gewoon:  Join the happy club!
Hoe doe je dat? Door te lezen, de kriebels te krijgen en daarna gewoon te springen, natuurlijk. Wil je dat iets concreter? In 2011 maakte ik voor ELLE een uitgebreide reportage n.a.v. het boek Eindelijk Eigen Baas van Gunnar Michielssen (Lannoo Campus). De tips uit zijn boek lijken me vandaag nog steeds relevant en het delen waard:
(1) Begin eer je bezint – Test de levensvatbaarheid van je plannen in de praktijk, niet aan de toog bij een bende zwartkijkers. 
(Die raad hebben wij alvast opgevolgd. Toen deze blog op 5 januari online ging, waren we vertrokken. Zonder scherp omlijnde bestemming in het vizier en kijk… zes maanden later zijn we nog altijd enthousiast onderweg)
(2) Blijf op platgetreden paden – Verfijn een bestaand product. Probeer 'De Bedenkers' niet te winnen; geef liever een twist aan iets welbekend.
(3) Loop in je eigen ongeluk – Om succes te oogsten moet je niet non-stop succesvol zijn. Een vergissing onderweg kan leerzaam zijn.
(4) Maak geen plannen – Drie klanten helpen meer dan een business plan van driehonderd pagina's.
…en Gunnar tipt vrolijk verder tot raadgeving nummer twaalf, lees maar na.
In het stuk stond ook een quote die me altijd is bijgebleven:
Zegt Nathalie Vleesschouwer van het maternity fashion label Fragile:
"Mijn werk en mijn leven lopen onontwarbaar door elkaar en dat is fantastisch. Ik ben heel gelukkig.
Mijn kinderen zijn nu 18, 14 en 8. Er zat veel tijd tussen de geboortes, omdat een zwangerschap en bevalling lichamelijk belastend zijn en ik van elke baby wilde genieten. Het is niet evident om een zelfstandige met jonge kinderen te zijn, maar je bent wel flexibeler dan als werknemer. Omdat ik boven mijn zaak woonde, kon ik zieke kinderen gewoon zelf in bed leggen." Lees meer
En tenslotte: er hangt gewoon iets in de lucht. De tijd is rijp voor een Ondernemende Vrouwen Week. Check bv. de volgende links:
Deze week nog riep Tine Holvoet in De Tijd op voor een ruimere en rijkere blik op ondernemerschap, met meer aandacht voor bv. social entrepreneurs, micro-ondernemers en ondernemende werknemers in bestaande organisaties.
Op Charlie – F*ck Fake loopt al een hele tijd een (interview)reeks rond vrouwen met hun eigen zaak. Stuk voor stuk leuke portretten, met quotes als "Bleiten en blijven gaan" of "Weerstand tegen verandering is van alle tijden".
Op Twitter heeft Elke Jeurissen een lijst aangelegd met 627 (and counting…) ondernemende vrouwen – oftewel 'Straffe Madammen'. In de hoop hen naar voren te kunnen schuiven in het medialandschap en als rolmodel.
Er is ook een Straffe Madammen Club, met events om elkaar te ontmoeten. Volgende meeting is op 30 juni op het Antwerpse Zuiderterras.
Het netwerk voor vrouwelijke ondernemers Zeker van haar Zaak organiseert online crash courses. Snel meedoen, want ze zitten al aan deel 9 op een totaal van 10.
Vrouwelijke ondernemers scoren gemiddeld niet zo sterk (oké, ronduit zwak: 3,9/10) op basisvragen over financiën. Markant vzw, UNIZO en Agentschap Ondernemen willen daar iets aan doen, met een sessiereeks in het najaar van 2015 om als vrouw je BMI te verhogen. En dan bedoelen ze Budget Mass Index, stupid. Klinkt als iets voor mij…
Op She Works With Women staan interessante artikels, zoals de bijdrage van Liesbeth Dillen: Why female role models of success are broken and need to be fixed…
En tot slot…5 gratis e-books voor creatieve ondernemers (m/v)
Een heel fijn weekend en tot volgende week!