Elk jaar ga ik zo'n drie keer naar Parijs met in mijn kielzog een horde tieners op schoolreis. Ondertussen heb ik al lang begrepen dat er geen enkele millenial zit te wachten op een exposé over de Frans-Duitse Oorlog, is zelfs Amélie Poulain gedateerd en is het belangrijker om de locatie van het Hard Rock café te kennen dan te weten waar de Assemblée Nationale ligt.
Scoren bij tieners dat doe ik met leuke fun facts als het huwelijk tussen Erika en de Eiffeltoren, de grillen van Madonna tijdens haar optreden in de Stade de France (de kleedkamer moest fluoroze worden geschilderd en ze bracht haar eigen toilet mee) en de verplicht witte letters van de Mc Donalds op de Champs Elysées.
Om al die tienerbesognes te compenseren las ik voor mezelf steevast een pitstop in in de leukste boekhandel van de lichtstad, Shakespeare and Company. En omdat mijn weetjes af en toe wel een update kunnen gebruiken, tikte ik er dit boekje op de kop.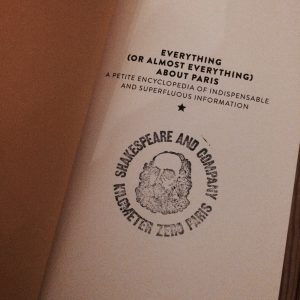 Wil jij binnenkort indruk maken op je reisgenoten, onthoud dan deze tien faits divers.
1. Als je alle schilderijen van het Louvre twee minuten wil bewonderen, en dat gedurende acht uur per dag, dan heb je vijf maand nodig!
2. Voor een avondje puur entertainment moet je al 42 jaar in Studio Galande zijn. Op vrijdag- en zaterdagavond vinden daar legendarische vertoningen van The Rocky Horror Picture Show plaats. Een cult happening met een publiek vol acteurs waarbij er met rijst en water mag worden gegooid.
3. Vier Franse presidenten stierven in functie. Maar Félix Faure deed dat in de meest compromitterende omstandigheden. Hij bevond zich immers in het gezelschap van zijn minnares.

4. In Parijs vind je veel drinkwaterfonteintjes. De smeedijzeren kapelletjes zijn neergepoot door de filantroop Richard Wallace na de Frans-Duitse oorlog toen drinkwater schaars was. Maar wist je dat er ook 6 fonteintjes met spuitwater zijn?
5. Wij crashen wel eens graag een literaire prijsuitreiking en weten nu dat we voor de Prix Goncourt in het Parijse restaurant Drouant moeten zijn.
6. Veel duiven in Parijs? Ja, maar weet dan dat er ongeveer tachtig keer zoveel ratten rondlopen, zo'n acht miljoen. Dat is ongeveer vier ratten per Parijzenaar. Meer dan terecht dus dat de Parijse rat haar eigen Pixarfilm kreeg.
7. In 1884 voerde de prefect van de Seine, Eugène Poubelle een nieuwe regel in. Elk gebouw moest een bak met deksel hebben voor huishoudelijk afval, de vuilbak oftewel 'la poubelle' was geboren en Eugène ging de eeuwigheid in.
8. Klachten dat de Eiffeltoren toch wel heel veel trappen telt? Weet dan dat zelfs olifanten naar boven kunnen. In 1948 beklom een olifant van het Bouglione circus de Eiffeltoren tot de eerste verdieping.
9. Voor langere ritten neem je in Parijs niet de metro maar de RER, de afkorting voor Réseau Express Régional. Die zou oorspronkelijk echter Métro Express Régional heten. Tot de schilder van de signalisatieborden op het laatste moment opmerkte dat de eerst te openen sectie, Défense-Etoile als MERDE door het leven zou gaan.
10. De quartier chaud rond Pigalle is legendarisch, ook op taalkundig vlak. De Fransen hebben immers meer dan 40 woorden voor een prostituee. Zo doet een pontonnière haar werk onder bruggen, zet een entoleuse haar klanten af en is een faux-poids minderjarig.
PS Ik stak Allmensch van Alicja Gescinska in mijn koffer, een geschenkje van Alicja zelf. Allmensch is het eerste essay van Karakters, een filosofische reeks in zakformaat. Ideaal dus om mee te nemen naar dit artistiek café in Parijs: licht maar allesbehalve luchtig. Timshel!
PS2 In La librairie Contretemps op de sfeervolle en lokale Rue Cler vond ik dit mooie prentenboek van de Tsjechische Miroslav Sasek.
PS3 Iemand De verborgen geschiedenis van Andrew Hussey al gelezen? Ik overweeg om het aan te schaffen.
PS4 De meest onbenullige faits divers ontdek je per toeval, zoals dit kleurrijke toilet in de Caroussel du Louvre.
PS5 Nog meer literair Parijs, vind je hier, hier, hier en hier.