Paris is always a good idea. Maar wat doe je als je voor de vijfde, tiende of honderdste keer naar Parijs gaat?  Even rondsnuffelen in enkele leuke boeken over Parijs voor inspiratie.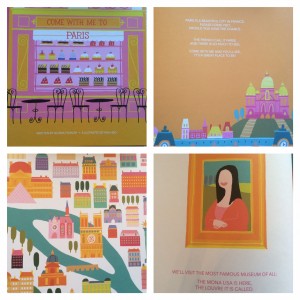 Come with me to Paris, Gloria Fowler & Min Heo, Ammo, 56 p
Dit mooie prentenboek voor kinderen neemt je niet alleen mee naar de toeristische highlights als de Eiffeltoren of de Arc de Triomphe, maar ook langs Berthillon, het beste ijssalon van Parijs in de buurt van de Notre Dame of naar Paris Plage. Met dit kleurrijke en charmante boek maak je je kleuter gegarandeerd laaiend enthousiast over een bezoek aan de Lichtstad.
Je t'aims my dear one,

and je t'aime to paree.
Parijs, alles wat je altijd al wilde weten, Klay Lamprell, Lannoo, 96 p
Deze Lonely Planet reisgids werd geschreven op maat van kinderen en belooft hen een Parijs te laten zien 'waar je ouders waarschijnlijk niets van weten'. Op een heel bevattelijke manier wordt de 'axe historique' gelinkt aan de geschiedenis van de stad, leer je hoe de slinger van Foucault in het Panthéon het eerste bewijs leverde voor de draaiing van de aarde en worden de bouwvoorschriften van Haussmann stap voor stap ontleed. Drie fun facts die ik nog niet kende:
Parijs is een hondenparadijs. Eén op de zes Parijzenaars heeft een hond. Honden mogen gratis mee op trein en bus als ze in een tas zitten en het poepsjieke Hôtel de Crillon heeft een 'Dog de Crillon' programma met manden op maat en heerlijke hondenhapjes.
De oevers van de Seine zijn werelderfgoed. Maar hoe weet je of ze gaan overstromen? Bekijk het standbeeld van de Zoeaaf aan de Pont de l'Alma. Als de soldaat met zijn voeten in het water staat, moeten de wandelpaden aan de rivierkade dicht.
Wist je hoe de smalste straat van Parijs, la Rue du Chat-qui-Pêche aan haar naam kwam. Deze straat ligt vlakbij de Seine en bij overstromingen liepen de kelders van de huizen in deze straat onder water. Een slimme kat ging vis vangen in de kelders en zo kreeg de straat haar naam.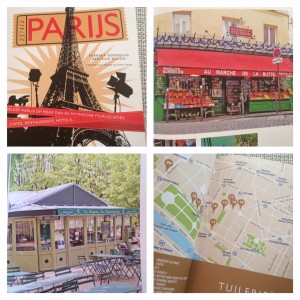 3, 2, 1… Action! Parijs, Barbara Boespflug & Beatrice Billon, Lannoo, 220p
Dit boek laat je kennismaken met het Parijs van het witte doek. Per buurt vind je tientallen culinaire en culturele adresjes waar films werden opgenomen. Op mijn bucket list:
een etentje in de Parijse bistro Paul (15, Place Dauphine) op l'Ile de la cité waar één van de meest romantische scènes uit Woody Allens Midnight in Paris werd opgenomen.Bekijk zeker ook eens de trailer van de film voor enkele fantastische shots van Parijs.
boodschappen doen in Au marché de la butte (56, rue des Trois-Frères) op Montmartre. In deze mythische groentewinkel met tuinkabouters aan de ingang beledigde Amélie Poulain kruidenier Monsieur Collignon. Als je toch in Montmartre bent, loop dan zeker ook langs in Café des 2 moulins waar Amélie opdiende.
een chocola à l'ancienne drinken in Les deux magots waar het emotionele gesprek tussen Driss en Philippe in Les Intouchables plaatsvond. De opnames zouden eindeloos hebben geduurd wat ervoor zorgde dat acteur Omar Sy een overdosis kip binnenkreeg.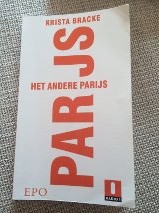 Het andere Parijs, Krista Bracke, Epo, 156p
Dit boek kwam tot stand voor het Radio 1-programma Brood en spelen en bevat originele suggesties van luisteraars voor een citytrip naar Parijs: de wijngaard van Montmartre, café chantant Au limonaire,  tango dansen aan Square Tino Rossi en het Parc des Buttes Chaumont van waaruit je een prachtig zicht hebt op de stad. Wist je trouwens dat er ook een meridiaan doorheen Parijs loopt en dat je de riolen van Parijs kan bezoeken?! Voor iedereen die al vaker in Parijs is geweest en wel toe is aan iets nieuws!
Heb jij nog originele tips voor Parijs? Post ze hieronder!