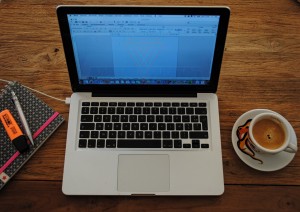 De boekenmeisjes bloggen ondertussen bijna twee maand. Wie had gedacht dat een boekenblog zo tijdsintensief was?! Misschien hadden we eerst de '24 things no one ever tells you about book blogging' moeten lezen!
Toch was er ook tijd voor ontspanning. Eveline ging op schrijfweekend, Barbara bekeek grappige filmpjes van Tina Fey en ik volgde deze yogaworkshop.
De vraag is, is ontspanning nog ontspannend als je er achteraf moet over bloggen. Een moeilijke… De laatste 100 bladzijden van Notities uit de jungle lezen tussen middernacht en 1 uur op maandagavond, is niet hetzelfde als een boekje lezen met een cocktail in de hangmat. Je verdiepen in de geschiedenis van de Aperol Spritz, vraagt meer concentratie dan er drie naar binnen 'kappen' en lezen aan 100 bladzijden per uur is niet gelijk aan gezapig door een tijdschrift bladeren.
Maar is het daarom minder ontspannend? Niet meteen. Ontspannen, dat is de batterijen opladen en dat lukt wonderwel bijzonder goed met 100 bladzijden lectuur na middernacht. En ik ben hiermee duidelijk niet de enige.
Via Bloglovin krijg ik elke dag een update van mijn favoriete blogs zoals die van Private life of a girl. Sophie ontwerpt juwelen en verslindt iedere maand stapels boeken. We zijn daarnaast ook vriendjes op goodreads. Sophie's boekenupdates volgen elkaar snel op maar ik ben vooral aangenaam verrast door haar eclectische smaak. Eén van haar favoriete boeken van de afgelopen maanden is Smoke gets in your eyes, een blik achter de schermen van een begrafenisondernemer.
Ook This is how we read kan je volgen via Bloglovin.
Deze maand was meer dan anders gericht op ontspanning dankzij de #boostyourpositivity challenge. Ook op deze website ontdekte ik enkele leuke blogs (met boekenlinks).
Kathleen van de Verbeelding leest ieder jaar dertig boeken en heeft goede smaak.. Enkele van mijn favoriete boeken van de afgelopen jaren passeerden ook de revue op haar blog: Waar is Bernadette?, Eleanor en Park, De betoverden…
Miss Fabuleus is kampioen in organiseren en plannen en bespreekt regelmatig self-managementboeken als Handboek van een spitsuurvrouw of Opgeruimd.
De ultieme ontspanning, dat is voor mij toch de combinatie van reizen en lezen. Ik mocht het vorige week nog ondervinden op een gestolen leesmomentje in Italië. Twee Nederlandse meisjes maakten van deze droom werkelijkheid en reizen doorheen Nieuw-Zeeland en Australië met hun storytimebus. Als ze halt houden, lezen ze voor aan lokale kinderen.
Ook Yasmine, een bloggende Belgisch-Amerikaanse kennis houdt van de twee. Afgelopen week barstte haar blog uit haar voegen toen ze vertelde waarom 50 shades of grey niet OK is.
Ik weet trouwens alvast hoe ik dit weekend ga ontspannen want ik stem zondag om elf uur af op Radio 1. In Touché laat Friedl Lesage schrijver Joost De Vries (winnaar Gouden Boekenuil 2014 en shortlist 2015) aan het woord.
Geniet van een ontspannen weekend!