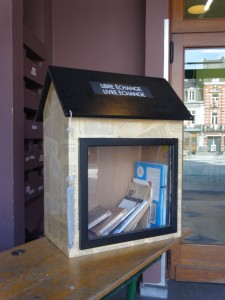 Het lijkt op een groot uitgevallen vogelhuis. Maar dan met boeken erin. En een leuk opschrift: Libre échange/livre échange. Little Free Library is een gratis bibliotheek, die gevoed wordt door inwoners van een buurt, dorp of stad en geheel vrijblijvend is. Laat een boek achter of neem een boek mee, aan jou de keuze.
Mijn boekenhuisje staat in Huy, het Waalse stadje waar mijn roots aan moeders kant liggen, we regelmatig een weekend doorbrengen en ook een kasteeltje huren voor onze trouwdag. Huy heeft een hele fijne boekenwinkel met een groot assortiment aan verleidelijke papierwaren en buitenlandse tijdschriften. En een boekenhuisje dus.
Little free library ontstond in 2009 in de Verenigde Staten. Een man bouwde voor zijn gepensioneerde moeder, een leerkracht die haar passie voor boeken doorgaf aan haar leerlingen, een groot uitgevallen vogelhuisje met boeken erin. Bovenop het huisje stond een bordje: free library.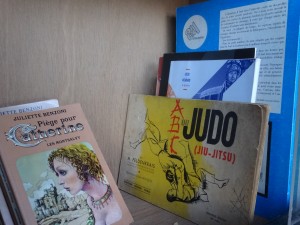 Het idee sloeg aan, de likes op sociale media op hol en de organisatie 'Little free library' werd in 2011 in het leven geroepen. Eenieder die zich geroepen voelt kan een huisje knutselen of bestellen, een steward aanduiden en de kleine gratis bibliotheek registreren op de site van Little free library. De boeken worden automatisch aangevuld door buurtbewoners die boeken kwijt willen en weer leeggehaald door geïnteresseerde lezers.
Op de site staat ook een wereldkaart. Het kastje in Huy is nog niet geregistreerd, maar in Sint-Andries staat er wel een boekenkastje, zo blijkt. Ook in Petrozavodsk (Rusland), Lakki Mariwat (Pakistan) en Kyangwali Refuge Settlement (Uganda) staan kastjes.
Iedereen kan boeken meenemen of doneren en op de vraag of boeken gestolen kunnen worden, antwoordt de site; 'How can free books be stolen?'
Je kan hier een filmpje bekijken over de werking ervan… En ik drop volgend weekend enkele uitgelezen boeken in het boekenkastje. Veel timmerplezier!