Omdat het leven meer is dan boeken alleen…
Vandaag deel ik voor één keer geen boekentips, maar wel enkele straffe podcasts, TEDtalks, Youtube-kanalen die mijn dode uurtjes, autoritten, afwas en loopsessies interessanter en leuker maken, want, toegegeven, net als Kelly heb ik geen talent om 'een uur door een treinraam te staren'.
Heb jij nog leuke tips, deel ze dan in de comments!
YOUTUBE
En all the credits go to 'Yoga with Adriene'. Dit gratis Youtube-kanaal is de yogahemel! De Texaanse Adriene is grappig, motiverend en kan het simpelweg zo goed uitleggen. En al heeft ze miljoenen abonnees, toch behoudt ze haar naturelle tongue-in-cheek humor. Ik was altijd wantrouwig over online yogalessen omdat je live beter wordt begeleid en gecorrigeerd, maar dat was tot ik Adriene ontdekte. Voor het eerst slaag ik erin om (bijna) elke dag mijn mat uit te rollen voor een half uurtje yoga. Ze heeft video's voor alle niveaus, voor specifieke issues, zoals yoga tegen eenzaamheid, voor meer focus of meer energie en om bepaalde oefeningen als crow pose onder de knie te krijgen. Yoga with Adriene voelt als een vaste afspraak met een vriendin, maar dan eentje waarop leggings wel done zijn.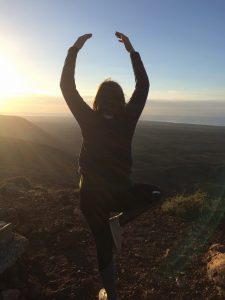 INSTAGRAM
Mari Andrew ontdekte ik via de fantastische blog Cup of Jo. Hierop deelt Mari iedere week een illustratie. Elke keer opnieuw slaagt deze bijna dertiger er in om 'zo waar' te zijn. Herkenbaarheid (ja, ik voel me graag een bijna dertiger) troef hier voor mijn Amerikaanse Eva Mouton! Via Instagram krijg ik tegenwoordig een dagelijkse portie Mari Andrew.
PODCASTS
Als het Adriene is die me op de yogamat krijgt, dan zijn het podcasts die me het laatste duwtje geven voor een rondje joggen. Modern love zijn liefdesverhalen uit de New York Times, over vrouwen die verliefd worden op de portier of een verstandshuwelijk aangaan met hun homofiele moslimvriend. Altijd ontroerend, altijd eerlijk.
En als het niet naar Modern love is, dan luister ik wel naar de razend sterke Iemand podcast van Radio 1 (bvb. deze over het gezinsdrama van de 97-jarige Rosy), het recent ontdekte Women of the hour van Lena Dunham (check deze aflevering over 'being trapped') of de anonieme telefoongesprekken van Beautiful Anonymous (over een vrouw die was getrouwd met een pedofiel) . En wist je dat je zelfs naar Winteruur kan luisteren in podcast vorm?
TELEVISIE
Een televisieabonnement heb ik al lang opgegeven, maar online kijken doe ik nog wel. De zeven-minuten documentaires van Canvas lijken wel voor mij gemaakt. Korte, straffe verhalen oftewel een zeven minuten blootstelling aan gevaarlijk blauw licht net voor het slapengaan! Check zeker het schrijnende verhaal van Walter en Martha!
TEDtalks
En om het af te leren nog een literaire TEDtalk, van Ann Morgan die op haar blog de uitdaging aanging om binnen het jaar een boek uit elk land van de wereld te lezen, wat zelfs aanleiding gaf tot nieuwe vertalingen, want niet uit elk land zijn er boeken vertaald naar het Engels. Ooit al van het Portugees sprekende Sao Tomé en Principe gehoord?

PS Literaire instagramaccounts en TEDtalks.