Dilemma. Lekker lange weekends waarin we tijd hebben om te koken. Maar ook het bikini-seizoen lonkt en we zijn 'officieel nog niet klaar'. Dan maar eens kijken in het aanbod gezonde én lekkere kookboeken.
Slechts 20 minuten tijd en een allergie aan gluten, koemelk en suiker? Ingrediënten die een lekkere maaltijd ongetwijfeld in de weg staan. Met Laurianne Ruhé en haar Good Food in 20 minuten kan het. Smakelijke ontbijtjes, appetijtelijke hapjes en stomende schotels in no time. De recepten zijn eenvoudig en de ingrediënten liefst zo vers mogelijk. Laurianne schrijft vrolijk en vol enthousiasme, Soms lijkt het dat ze naast je staat te kokkerellen. De wraps met yoghurt-eiersalade en de gezonde rucola-berenkool-zoete aardappel stamppot blijven permanent in je smaakpapillen gegrift, zo lekker zijn ze. En hoera voor de knotsgekke namen. Hier een voorsmaakje:
De 'Pop it's like it hot' – popcorn met kaassmaak
De 'Hmmmburger' – vegetarische burger
De 'Superchickie' – gezonde kipnuggets
De 'Ticket to the tropics' – zelfgemaakte kokosyoghurt
Good Food in 20 minuten, Laurianne Ruhé, Scriptum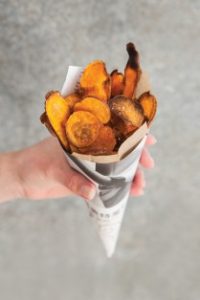 Tja. Het Lief wil wel eens een half paard in de stamppot draaien, ik kan best een tijd leven zonder beest op mijn bord. Om het huiselijk geluk toch niet in de weg te staan, was er nood aan een kookboek dat 'the best of both words' verenigt. Eating Apart Toghether zegt het allemaal, toch? Gedaan met twee gerechten op tafel zetten. Je kookt één keer en assembleert een variant voor de vegetariër en de vleesjeseter in huis.
De persoonlijke huisfavoriet is de couscous, met merguez-worstjes aan de ene kant en feta kaas aan de andere. Dat ik als semi-vegetariër af en toe een worstje pik wordt oogluikend toegestaan. Soms toch.
Twee vriendinnen, Tessel en Niki, kregen het idee voor dit heerlijk unieke boek. Ze vormen zelf een duo van vegetariër en vleeseter, en werden dus regelmatig geconfronteerd met het gekende probleem. Een crowdfunding-rondje later lag deze originele oplossing in de rekken. Links de vegetarische variant, rechts de vlees- of visvariant. Topdames, als je het mij vraagt.
Eating Apart Together, Tessel Peijnenburg & Niki Jongman, Uitgeverij Orlando
P.S.: Nee, we zijn Pascale niet vergeten, zij palmt ook een hoekje van onze blog in.
P.P.S.: ook leuk, het pindakaasboek. Deze houden we nog even in beraad tot de afloop van het bikini-seizoen. Want we voorspellen een extra vetrolletje om onder de dikke wintertrui te stoppen.