And the winner is… Christine Van den Branden
Blinkende ogen vol verwachting, enkele die hard fans van Valerie Eyckmans en Lara Taveirne en heel wat zenuwachtige columnisten. Het was een fijn publiek dat we mochten verwelkomen op de prijsuitreiking van onze vierde columnwedstrijd. Eén laureaat kwam zelfs helemaal uit Nederland om erbij te zijn, en boekte een nachtje in een Leuvens hotel. Dat het een geslaagde avond was, lees je hier!
Voor we de winnaars van de avond bekendmaakten, ging Barbara in gesprek met gastjurylid Valerie Eyckmans. Als ex-columniste van o.a. Flair, stadsmagazine Zone 02/ en showbizzblad Touché is Valerie perfect geplaatst om tips te geven over hoe je een tekst naar een hoger niveau tilt: "Hou je vooral niet in bij het schrijven, ga niet op de rem staan. Vergeet je angst om op tenen te trappen.
Er zijn trucjes genoeg om een vriendschap te herstellen na een scherp betoog."
Valerie had goede raad voor wie een job wil versieren als columnist, niet meteen een titel waar vaak vacatures voor verschijnen: "Doe wat ervaring op in de journalistiek en trek op een gegeven moment je stoute schoenen aan. Ik heb bij Flair zelf op tafel geklopt en gezegd dat ik vond dat het blad nood had aan mijn columns. Daar werd eerst  mee gelachen, maar ik mocht wel enkele proefteksten schrijven. Die vervolgens gepubliceerd werden en toen had ik dus mijn column."
Intussen heeft Valerie ook drie romans op haar naam, Verloren Maandag (nog door ons gesignaleerd in ELLE: Crazy Bitch verovert Literatuurland!), De dierbaren en Het Belang van Schoon Ondergoed (bejubeld op de blog)… In elk van die romans zit een humoristische onderstroom, maar de teneur verschilt sterk. Van bijtende satire, via milde spot naar licht absurde en soms gitzwarte tragikomedie… En wij maar denken dat mensen – en dus ook auteurs – geboren worden met een bepaald gevoel voor humor?! Valerie:
"De toon en humor in mijn eerste twee romans verschillen, omdat de hoofdpersonages zo anders zijn.
Eva in Verloren Maandag is boos en brutaal – ze neemt het kantoorleven stevig op de hak. In de schoolpoortwereld van De Dierbaren kijken mensen wel ironisch naar hun leven, maar niet giftig. De humor in Het Belang van Schoon Ondergoed  dan weer, is erin geslopen tegen wil en dank. Ik wou toen weg van het luchtige en was echt van plan een Serieus Boek te schrijven. Maar ik begrijp wel waarom die humor zich opdrong. A.M. Homes, één van mijn favoriete schrijvers, heeft in een interview ooit gezegd dat humor de toegangsweg is tot ernst. Voor mijn werk klopt dat, denk ik."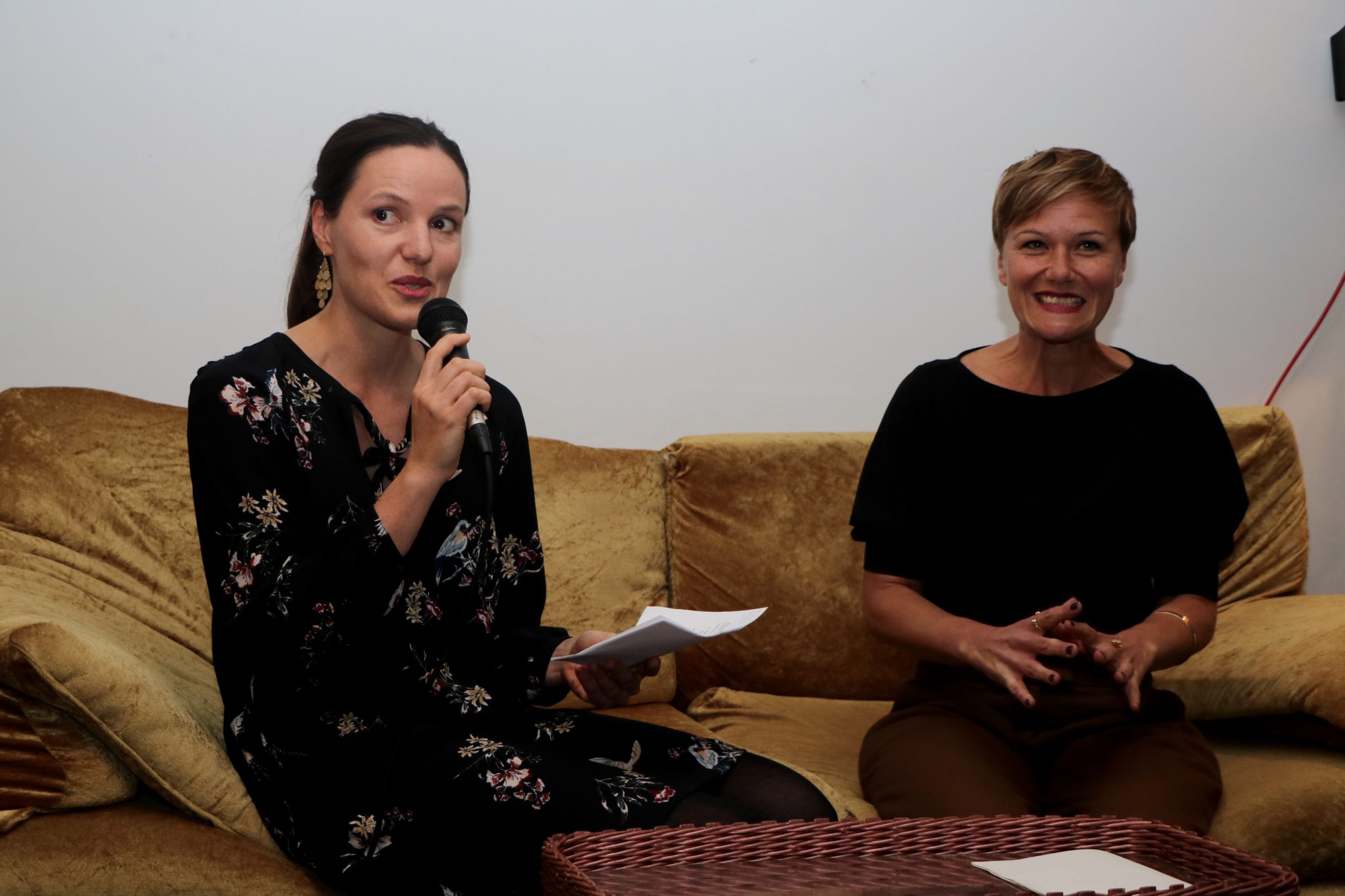 Vandaag werkt Valerie Eyckmans aan een nieuw boek, humoristische non-fictie waarin ze de vraag verkent of ze nu wel of niet in een midlife crisis zit. Ze las een stukje voor uit dat work in progress, tot hilariteit van de aanwezigen. We kunnen moeilijk voor Valerie spreken en zeggen dat ze – oh jawel – keihard een midlife crisis heeft. We kunnen alleen aanstippen dat ze een, euhm, getroubleerde relatie heeft met Instagram, een onrustwekkende voorkeur voor korte truitjes uit de Primark en een talent voor het schrijven van woest ontsporende badkamerscènes. Nieuwsgierig? Ren in het voorjaar dan naar de boekhandel voor Valeries nieuwe, te verschijnen bij Borgerhoff & Lamberigts.
Katrien sprak vervolgens met de Brugse schrijfster Lara Taveirne over haar jongste roman, Kerkhofblommenstraat. Met dit pas verschenen boek keert Lara terug naar haar roots: "Mijn grootmoeder woonde vlakbij het Guido Gezelle kerkhof in de Kerkhofblommenstraat. Als kind speelde ik daar op de zerken. Vooral de graven van de kindjes intrigeerden mij, zeker als er graven zonder bloemen tussen zaten. Volgens een communistisch principe herverdeelde ik de bloemen op het kerkhof, zodat elk kindje bloemen had." Vijf jaar geleden belandde Lara opnieuw op het kerkhof, toen haar jongere broer Wolf begraven werd: "Na zijn dood wilde ik met een grote ruiker bloemen tonen dat ik zijn allerliefste zus was. De kerkhofpoort was echter dicht. Ik ben dan maar over de muur geklommen en alleen aan zijn graf heb ik beseft dat het niet draaide om wie de liefste zus was of wie de meeste bloemen meehad. Mijn broer was immers dood en ik wist niet hoe ik daar moest mee omgaan. Over de dood praten, dat heb ik van mijn grootmoeder moeten leren. Zij doet regelmatig de tour van het kerkhof, onderweg naar de Aldi, en praat tegen de doden alsof ze nog in leven zijn."
Lara vond niet alleen de verhaallijn voor haar nieuwe roman op het kerkhof maar ook voor de namen van haar personages zoekt ze inspiratie op grafzerken: "Ik lees de namen van de overledenen en zie dan een heel leven voor mij.
De namen van mijn romanpersonages komen stuk voor stuk van het kerkhof.
Vorige week vond ik het graf van een zekere Suzie. Die naam fascineert me. Dat alleen al kan de aanleiding vormen voor een nieuwe roman."
Van de dood laveerde Katrien het gesprek naar de liefde, naar die complexe en vaak polygame relaties waar Lara ook nu weer over schrijft: "Ik wil al mijn geliefden graag dicht bij mij houden. En ik gun mijn man hetzelfde. Dat is niet altijd eenvoudig. Ik heb vaak afgezien van extreem liefdesverdriet maar ik had het niet anders gewild." Of er nog autobiografische elementen in het boek zitten? "Het hoofdpersonage, Arabella staat heel ver van mij. Maar de familiegeheimen uit de roman, zo zitten er in mijn familie verschillende."
Besluiten deed Lara met een fragment uit Kerkhofblommenstraat waarmee ze het sappige, volkse taaltje van de Brugse personages uit het begin van de vorige eeuw tot leven brengt. Het verwondert niet dat Lara tijdens haar opleiding Germaanse werd geroemd om haar prachtige dialect vol snottebellen, elletuiten en stutjes.
En dan was het eindelijk tijd voor de bekendmaking van de winnaar van onze columnwedstrijd.
De derde prijs ging naar Kleine Kantjes van Stenn Ceulemans. Een goed geschreven, erg vlot leesbare tekst met een pracht van een openingszin.
De tweede prijs was voor Daan Pieters, met zijn hilarische column over de teloorgang van de johnnycultuur. Wij verwachtten stiekem een man met klakske en en Zino en Judy broek, maar Daan haalde zijn prijs netjes af in hemd. De jury vond het erg geestig dat Pieters de johnnyverschijnselen doortrekt naar de cultuur van vandaag; Op de vraag of zijn Camino buiten stond, moest Daan helaas nee antwoorden.
En toen kon je tromgeroffel horen, ergens in de verte. Enkele columnisten stopten eventjes met ademen… De winnaar van onze columnwedstrijd 2018…
is Christine Van den Branden, met haar Vakantiepret (met hond). Een column die tegelijkertijd tragisch en dolkomisch is, met mooie beelden en en verrassend einde, dat Valerie zelfs Lize spit-achtig durfde noemen. Christine schrijft helder, en weet de perfecte balans te houden tussen het tragische en komische. Aldus jurylid Valerie.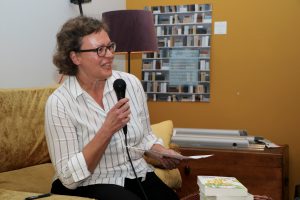 Een overdonderde Christine werd naar voren geroepen om haar prijs in ontvangst te nemen, en haar column voor te lezen. De zaal werd even heel stil.
Nadien was er tijd voor nog een drankje, signeerden Lara en Valerie, werden er stapels boeken verkocht en mochten de columnisten nog wat schrijftips ontfutselen aan ons jurylid.
Noteer de zomer van 2019 alvast in je agenda voor de volgende editie van onze columnwedstrijd! Tot dan!
PS: Van links naar rechts: genomineerde Sofie Van Gestel, Lara Taveirne, genomineerde Isabel De Wit, winnares Christine Van den Branden, 2e prijs Daan Pieters, Valerie Eyckmans, genomineerde Shannon Vollemans
PS: Dit is een This Is How We Read co-productie, geschreven door Barbara, Katrien en Eveline (vooraan op de foto)