Als het vandaag 27 augustus is, dan is er geen ontkennen meer aan. Over vier dagen is de zomervakantie voorbij. En over elf dagen wordt er in dit huis een derde zusje verwacht.
Terwijl This Is How We Read vanaf volgende week weer overschakelt op het gewone ritme (posts op ma/di/do, literair linklijstje op vrijdag), ga ik er even tussenuit.
Baby's boven blogs, enzo. Prioriteiten.
Tot vrijdag 13 november gun ik mezelf een break.
Ik heb een paar posts uit mijn archief klaargezet – handig toch, al tien jaar bezig zijn… Er wachten nog teksten van deze zomer op publicatie. En Eveline en Katrien draaien dit najaar nu en dan een dubbele shift.
Het zal hier niet stilvallen. Integendeel. Sinds de geboorte van Astrid (2010 alweer) weet ik dat moederschap mij inspireert.
Wie weet welke wilde plannen er de komende weken opborrelen tussen wieg en flesjeswarmer?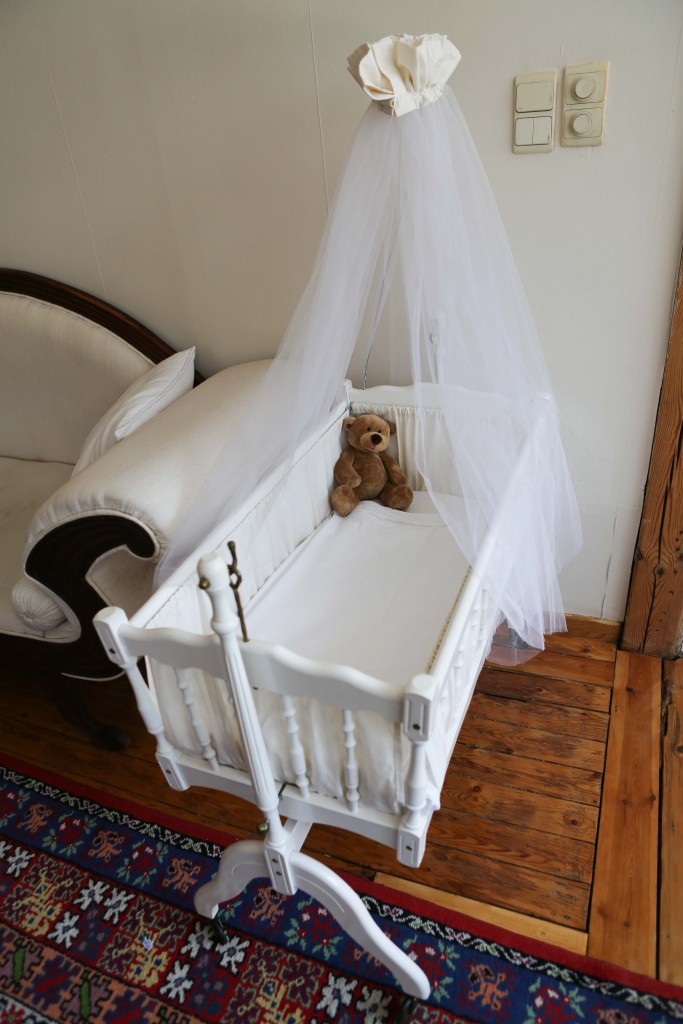 Voor wie nog twijfelt of kinderen combineerbaar zijn met professionele, artistieke of intellectuele ambities, is er de geweldige reeks Tussen Muze, Man en Moederschap door Annelies A.A. Vanbelle op Charliemag.be. O.a. schrijfsters Gerda Dendoven en Kristien Hemmerechts profileren zich als kunstenaar en moeder. Hemmerechts wordt vandaag zestig, by the way. Maar ze is het boos zijn nog niet verleerd.
De illustratrice en zoontjesmoeder achter (strip)blog Le Coeur à Marée Basse bewijst dat er over elke week met een baby  wel iets te creëren valt. Lang leve (zelf)relativeringsvermogen, realiteitszin en die eeuwige, ongegronde hoop (ik spreek voor mezelf): Ik weet het, manneke – het is hier nen hannekensnest, maar morgen ruim ik op.
Volgende drie inzendingen voor onze (inmiddels afgelopen) columnwedstrijd vond ik ook te mooi om niet te brengen. Moederschap vormt de rode draad.
Annette Akkerman over een korte vakantie:
De exotische oorden die we met de kinderen bezoeken, ontlokken meestal bewonderende kreten.
'Dat je dat zo maar durft.' Glunderend doe ik alsof deze avontuurlijke dame dat zo even regelt. Feit is dat ik een week van te voren eigenlijk helemaal niet wil.
Lees column
Kristien Quintiens over haar pasgeboren dochter (hieronder op de foto):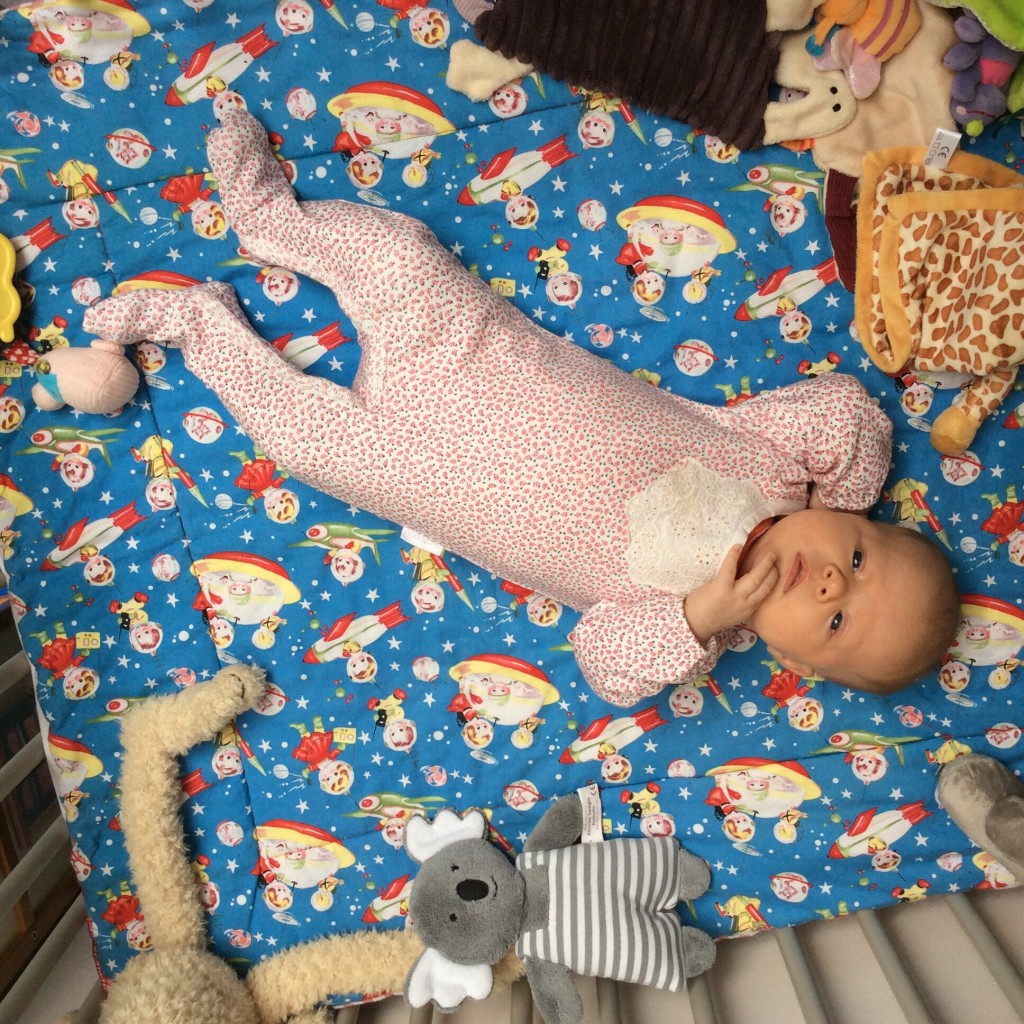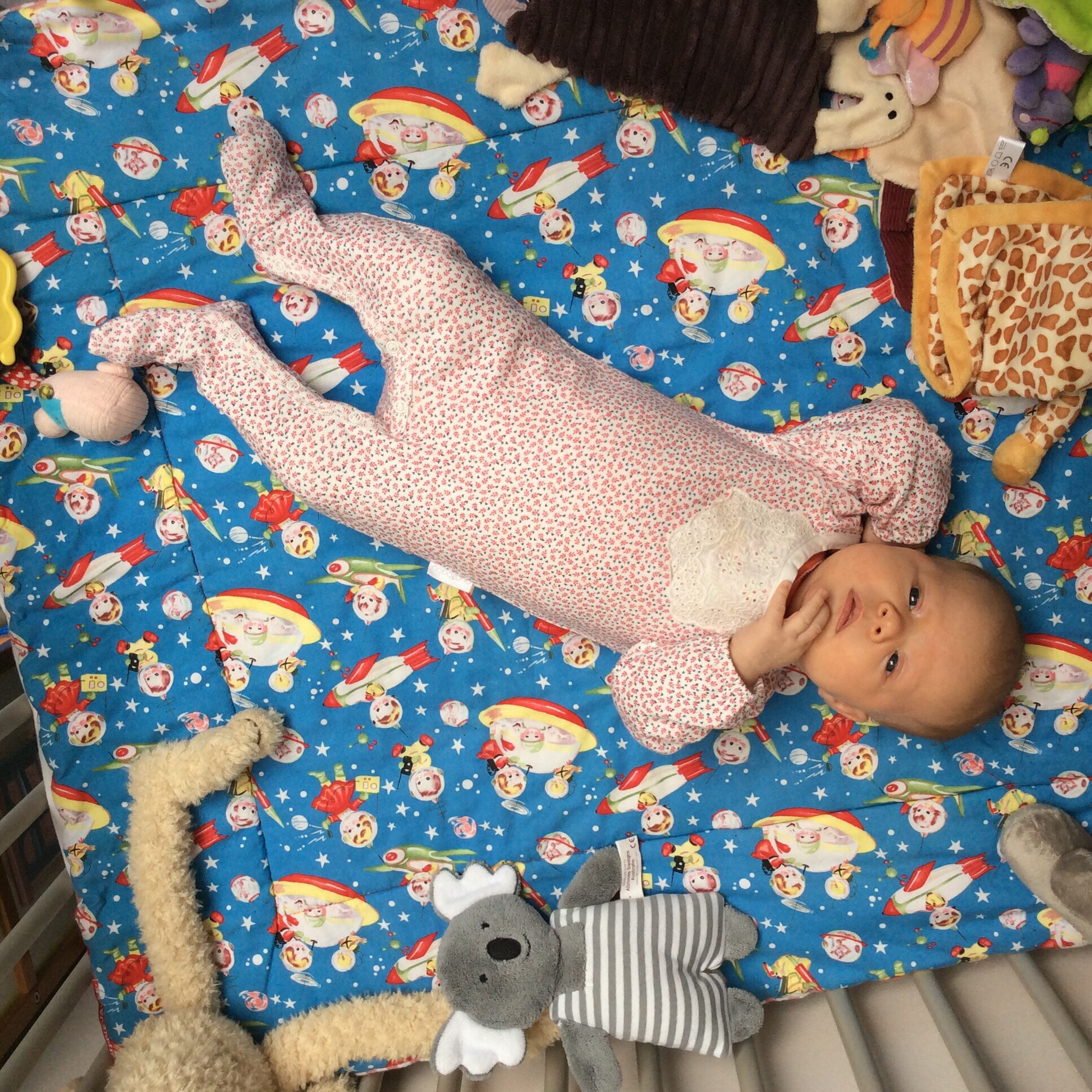 Ik heb haar verteld over de zinderende hitte en de kat van de buren die nu elke dag om melk komt vragen. Over de terrastegels die vervaarlijk glad zijn, zeker op natte voeten, en
over de blaffende buurhond die ik graag zou willen afknallen.
Lees column
Lut Vanderaspoilden over de innerlijke tweestrijd tussen pedagoge en paracommando:
"Mama, er zitten wespen in de tuin!"
Mijn dochter stormt de keuken binnen.
"Laat ze maar, lieverd, elk dier heeft recht op een eigen plekje in de natuur," sus ik haar paniek.
Ik voel me de perfecte pedagoge. Respect voor elk levend wezen! Dat adagio heb ik mooi weer even duidelijk gemaakt.
Lees column
Adios & wish me luck!
PS: Op mamablog Mama Baas worden werkende moeders vergeleken met de haas uit Alice in Wonderland… Mama, mediafiguur en blogger Erika Van Tielen brengt over 2 dagen haar Happy Mama uit… en het boek van the Gentlemoms (met hun roze cover maar minder rooskleurige bekentenissen) is nog kraakvers… Het wordt een goede herfst voor boeken en baby's…
PPS: Top 5 ouderschapsboeken (door ons…) en de (on)zin van opvoedingsboeken (door Charlie Evelien Chiau)
PPPS: "Mijn boek is m'n kind niet" – eindelijk eens een schrijfster die dat statement maakt!