Zonnige roddels uit Venetië
Literaire roddels uit Venetië
Venetië heeft een dijk van een reputatie en een naam die bij het grootste deel van de wereldbevolking wel een (carnavals)belletje doet rinkelen. Kenners van de stad weten dat de pootjebadende stad erg klein is en de sfeer onder bewoners dat van een klein bergdorpje benadert.
Ons kent ons en nieuwtjes doen snel de ronde over de kleine kanaaltjes en calles.
Roddelen kunnen Venetianen als de beste, het is er, staand aan de bar met een spritz in de hand, een soort nationale sport. Al eeuwenlang, zo blijkt uit enkele literaire gidsen voor Venetië.
Geen paniek, wij doen het harde werk en triëren onder het genot van een pizza Quattro Stagioni, een bezoek aan de Biënnale en een rondje over de Canal Grande enkele van de meest sappige roddels over uw favoriete schrijvers…
Onderweg naar Venetië hield Lord Byron kort halt in Oostende, 'to fall upon the chaimbermaid like a thunderbolt', aldus zijn arts. De dichter was al even beroemd om zijn schandalige privéleven als zijn romantische epistels. Venetië ademt roddels en schandalen als de beste en fluisteringen over Byron's escapades weergalmden langs de pallazzi van de Canal Grande.
Wat de vuilbekkerij nog verder deed aanzwellen, was Byron's fysieke machtsvertoon. De jongeman had een verlamde voet, wat hij compenseerde door te paard over het Lido te galopperen en zelfs één keer van het Lido helemaal tot Venetië te spartelen.
Nog zo'n potente legende en één van de beroemdste Venetianen is Giacomo Casanova. Hoewel seks zijn trademark is, staat de man ook bekend om zijn schrijfselen.
Of hij inderdaad over uitmuntende kwaliteiten in bed beschikte is maar de vraag.
Velen denken dat het feit dat hij zijn avontuurtjes zo gedetailleerd en uitvoerig neerpende veel meer aan zijn reputatie deed dan de effectieve… wel, daad. Hij werd gevangen gezet op grond van atheïsme, één van de weinige misdaden die hij niet op zijn kerfstok had. Overspel en gokken daarentegen viel voor hem iets moeilijker  te ontkennen. Zijn boek rond de spectaculaire ontsnapping uit zijn gevangeniscel versterkte zijn reputatie. Jonge Venetiaanse deernes zwijmelden bij het noemen van zijn naam in de salons van de statige paleizen.
Een andere ontsnapping die veel vragen deed rijzen, was Johann Wolfgang Goethe's plotse vertrek uit Duitsland. Hij verlaat Weimar onaangekondigd, om 3u 's nachts en reist onder een valse naam. Eindbestemming? Venetië, uiteraard. De reden? Een onweerstaanbare drang om de stad met eigen ogen te aanschouwen. Het contrast met Duitsland leek de sterkste magneet voor zijn herhaaldelijke reisjes naar de stad in de lagune. De kleuren, de passie, het liberale en de spontaniteit. Of hij er in Venetië een plaatselijke Charlotte op nahield, is niet geweten. Verder onderzoek door ondergetekende is niet uitgesloten.
Dichter Ezra Pound woonde met tussenpozen in de wijk Dorsoduro. Hij belandde maar liefst 13 jaar lang in de gevangenis voor anti-semitische uitspraken en radio-optredens tijdens het Mussolini-tijdperk. Over zijn veroordeling wegens verraad wist hij later te vertellen dat 'my worst mistake was the stupid, suburban prejudice of anti-semitism, all along that spoiled everything.'.
Wie we ook altijd kunnen appreciëren is onze goede vriend Shakespeare. Venetië dient als achtergrond voor een kwart van zijn stukken, dus een verblijf in de stad is niet uit te sluiten?
Shakespeare's voetsporen zijn minder makkelijk te traceren zijn dan de werken van zijn hand.
Weinig is geweten over het leven van de man, zo schreef Bill Bryson een heel erg beknopte biografie, gebaseerd op feiten die daadwerkelijk te controleren zijn. Het boekje telt 195 pagina's. Wie Bryson kent, weet dat hij de boeken pas toe doet na 400 pagina's. De mening van de experts lijkt momenteel te zijn dat Shakespeare, moest hij er geweest zijn, beschrijvingen zou hebben opgetekend die veel treffender en levendiger zijn.
Om uw Venetiaanse leeshonger te stillen en het lijstje met niet-nuttige, edoch sappige fait divers verder aan te vullen: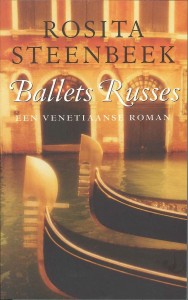 Ballets Russes, Rosita Steenbeek, Prometheus
Een boek dat leest als een reisgids. Een jonge Siciliaan werkt om het San Michele kerkhof en is gefascineerd door Russische literatuur, Stravinsky en de liefde. Als een oude Russische prinses/prima ballerina de begraafplaats naast Stravinsky voor zichzelf reserveert, is zijn nieuwsgierigheid geprikkeld. De prinses danste vroeger nog mee in enkele van zijn balletten. De beschrijvingen van het dagelijkse leven op Venetië , de wateroverlast en de carnavalsgekte dompelen je onder in de sfeer. Een voorbeeld:
Hij bestelt een spritz, het Venetiaanse drankje waar ze hem voor gewaarschuwd hadden: een mengsel van campari, witte wijn en spuitwater.

Zijn vader was als admiraal jarenlang directeur van het Arsenaal geweest. Ze woonden boven het museum en de weg naar zijn huis voerde over trappen verlicht door lantaarns die eeuwen geleden de schepen verlichtten die over de wereldzeeën voeren.
Venice is a fish, Tiziano Scarpa
Een zintuiglijke culturele gids van Venetië. Aan de hand van verschillende lichaamsdelen (voet: literaire wandeling, oor: muziek, oog: schilderijen, …) laat Scarpa zijn lezer de vele aspecten van het culturele leven ontdekken. En de vis? Bekijk even een kaart van Venetië en de overduidelijke visvorm springt naar voren.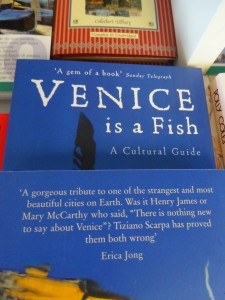 the politics of washing, Polly Coles
Je ooit afgevraagd wat er gebeurd als je als Venetiaan een nieuwe droogkast bestelt bij de Makro? Zo'n bestelbusje komt er niet snel aan te pas. Wat als je verhuist? Hoe vermijd je de zwerm toeristen op lijn 1 van de Vaporetto die op je route naar je werk ligt? Hoe maken de Johns uit de laguna indruk op de Marina's zonder gepimpte Honda Civic? Dat laatste weet ik uit ervaring: (hoewel mijn buffalo's al sinds 1998 niet meer uit de kast mogen, het occasionele foute jaren 90 feestje daar gelaten) een honda motorbootje met ingebouwde bokskes op volle boenk-kracht. Voor alle andere antwoorden verwijzen we u graag door naar het charmante The politics of washing.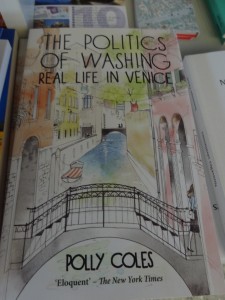 Lees ook de Blue guide, literary companion to Venice (Uitgeverij Somerset) en Venice, a cultural end literary history door Martin Gerrett (Uitgeverij Signal). Waarschuwing: er staan enkele serieuze weetjes in.
Uw boekenmeisje bezocht de stad naar aanleiding van de Biënnale van Venetië, de tweejaarlijks tentoonstelling waar je kan opsnuiven wat er leeft in de hedendaagse kunst. Het thema dit jaar is 'All the world's futures'. Minder kaas gegeten van wat tegenwoordig allemaal onder de noemer kunst valt? Meulenhoff biedt het antwoord. In Dat kan mijn kleine zusje ook geeft kunstkenner Will Gompertz antwoord op enkele van de meest gestelde vragen. Waarom is een sofa bovenop een diepvriezer kunst? Kunnen twee houten balken geld waard zijn als ze in een museum worden tentoongesteld?
Sarah Thronton volgde 33 jaar lang enkele beroemde kunstenaars. Ze legt AI Weiwei, Damian Hirst, Marina Abramovic en Jeff Koons op de rooster en zoekt het evenwicht tussen ondernemerschap en het kunstenaarsbestaan. Wat is een kunstenaar? Verwacht november 2015.
Ps: Nog zin in Italiaanse paleizen? Lees Barbara's verhaal over een palazzo in Bari.
Pps: Lees hier de recensie rond Pietro Paladini's vijf dilemma's.