Er zijn mensen die de hele tijd over hun kinderen praten, en anderen die het voortdurend over hun verbouwingen hebben. De ergste soort zijn mensen die verbouwen met kinderen. Tenminste, dat vindt gastauteur Kristien Quintiens. Verbouwen doet ze niet, wel schrijft ze over haar pasgeboren dochter. "Omdat het even niet anders kan en dat is allemaal de schuld van die dekselse hormonen." Wat doe je trouwens anders daarboven op die roze wolk?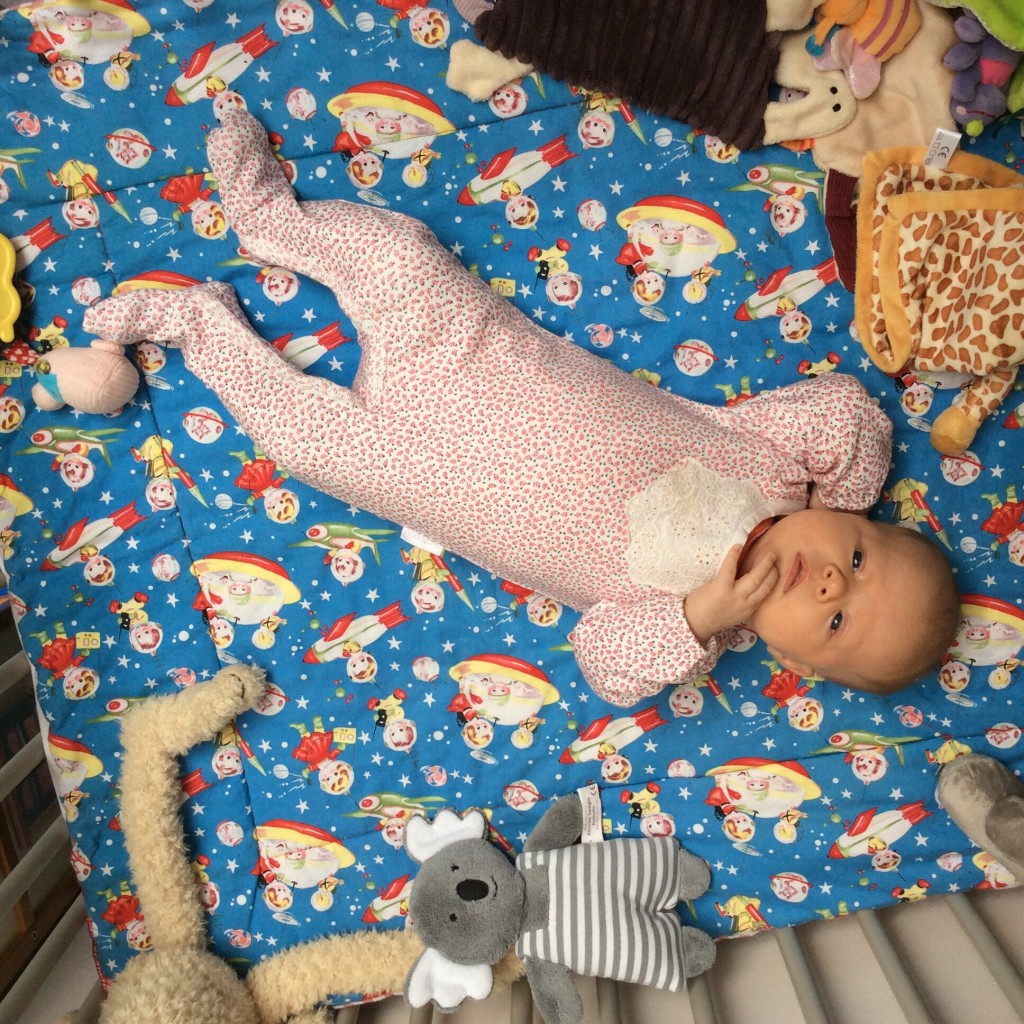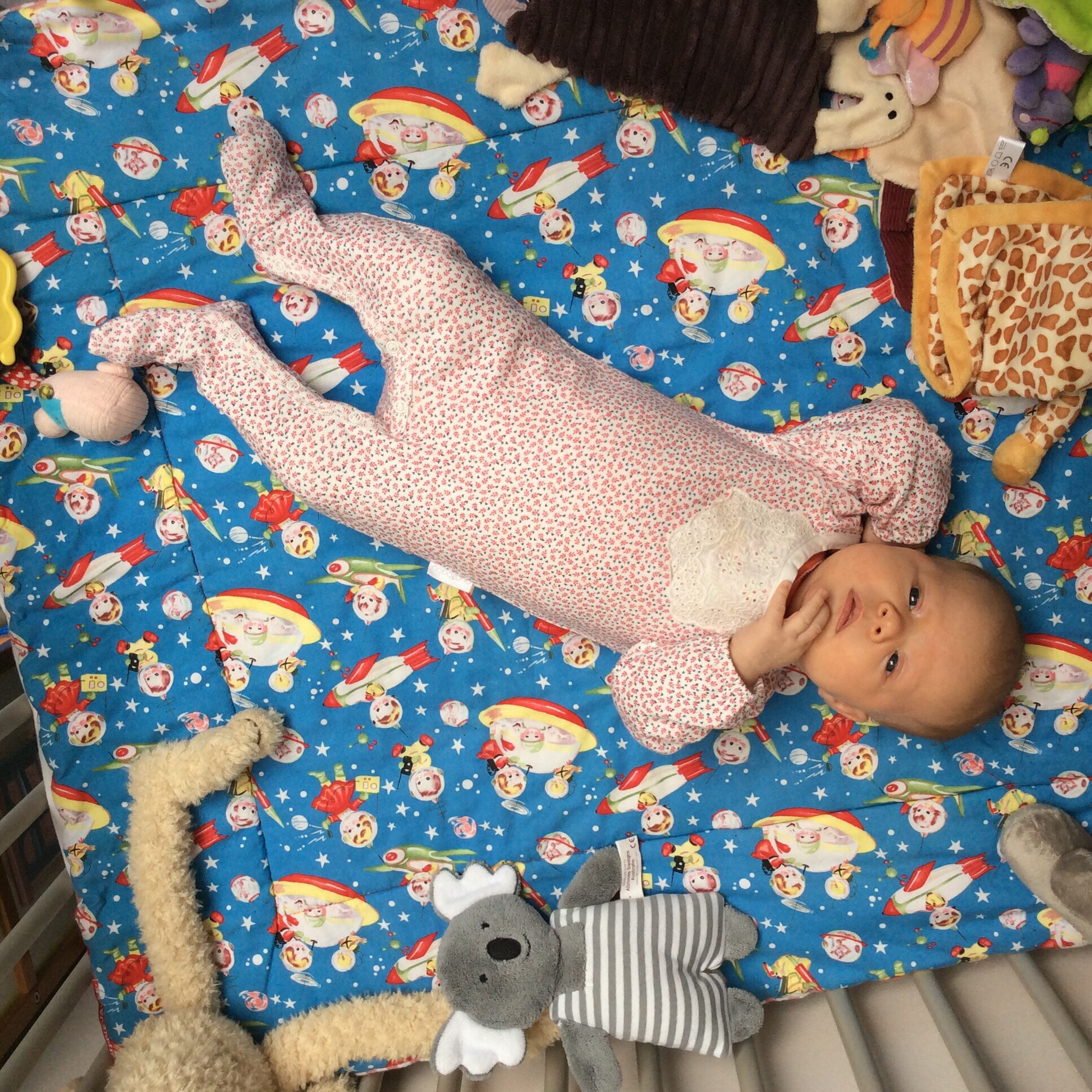 Ik heb haar verteld over de zinderende hitte en de kat van de buren die nu elke dag om melk komt vragen. Over de terrastegels die vervaarlijk glad zijn, zeker op natte voeten, en over de blaffende buurhond die ik graag zou willen afknallen. Niet dat ik dat ooit zou doen, maar het zou geweldig opluchten. We praatten over mijn citytrip naar Praag, die nu akelig dichtbij komt, en hoe dwaas en impulsief het was om zomaar te boeken.
Waarom Praag als heel de wereld in je armen ligt?
In haar blik zit de zomer, het geruis van de bomen en de zoete geur van amandel.
Ze meet 54 centimeter en weegt 4.440 kg, dat zegt haar boekje. Haar frêle lijfje lijkt last te hebben van het leven waarin ze zo plots is getuimeld. Ze boert alsof het een lieve lust is en haar winden zijn erg, erg luid. Dat is normaal, beweert de vroedvrouw, dus zeg ik er maar niets over. Ze slaapt vredig doorheen het tumult van alledag, soms wel urenlang, en laat zich gedwee wiegen door haar grote zus. En ze huilt zelden, ze knort.
Het ouderschap verandert zoveel. Voornemens gaan verloren tussen stapels werk, ambities worden opgeborgen wegens niet meer aantrekkelijk of onrealistisch.
Hobby's worden verkast naar later, op die een of twee dingen na, waarvoor je wekelijks dartelend de deur uitloopt. Nieuwe vriendschappen ontstaan, meestal ergens rond een schoolpoort of klimrek. Ik ben een krak in timemanagement. Ik kan strijken en leeuwen imiteren tegelijkertijd. Kippen, schapen, geiten, neushoorns of tractoren, noem maar op. Neushoorns nadoen is niet eenvoudig, tractoren eigenlijk evenmin.
Laat het water maar klateren, zolang het hier niet overstroomt. Laat de wind maar waaien, ik blijf wel overeind. Ik negeer de afwas en ga op ruimtemissie met twee konijntjes. Maar misschien is die citytrip al bij al toch niet zo'n slecht idee?
Misschien.
Met deze column nam Kristien Quintiens deel aan onze zomerse columnwedstrijd 2015 – waarvan de winnaar intussen, na de nodige bekentenissen van twee juryleden, werd verwittigd.
PS: De baby op de foto is wel degelijk Bo, Kristiens tweede dochtertje. Je zou van minder lyrisch worden.
PPS: Over bloemen en baby's…
PPPS: 9 quotes/schrijftips van De Standaard columniste An Olaerts