Bekentenissen van een jurylid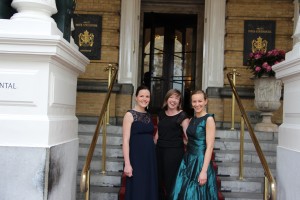 We wisten het eigenlijk toen we na de Libris aan de praat raakten met jurylid Marnix Verplancke.
Barbara vermoedde het al toen ze in de jury zat van de Essayprijs van de stad Leuven of toen we samen de Psychologies boekenprijs mee mochten bepalen.
Wij willen literair jurylid zijn… van onze eigen literaire prijs.
En zo geschiedde… We riepen een columnwedstrijd in het leven en hoopten op genoeg kwalitatieve inzendingen voor acht zomerse Column op woensdag sessies.
Onze oproep was nog niet koud, of er kwam al meteen een inzending binnen. De toon was gezet. Het bericht werd lustig gedeeld en kwam op het lijstje met schrijfwedstrijden op Creatief Schrijven. In totaal namen 36 aspirant-columnisten deel aan onze wedstrijd, goed voor maar liefst 44 columns…
… over de meest uiteenlopende onderwerpen: gaande van het transport van bederfbare waren en vluchtende mensen, de lokale middenstand, sollicitatieperikelen, een crush op de omroepsters, een doodgewoon multicultigezin met horende en dove gezinsleden en ladder- en grondmannen, tot het syndroom van het ezelsoor.
… met verrassende openers:
'Ik weet nog dat ik als 10-jarige het weekend voor Pinksteren al op en neer aan het springen was als een marsupilami die net stevig wat speed, een lijntje cocaïne en 16 blikjes Red Bull had opgesnoven.'

'Een vrouw knielt neer en raapt geduldig schelpen. Vlak naast haar zit een vrouw op een stoel.'

'Ik heb haar verteld over de zinderende hitte en de kat van de buren die nu elke dag om melk komt vragen.'

'Ik wil overal zijn, maar voornamelijk in mijn eigen huis.'
… met pareltjes van zinnen:
'Uiteindelijk zijn we niet meer dan een uitgekleed taboe.'

'Nee, ik schrijf geen poëzie. Ik ben een uitschrijver, mijn teksten zijn mijn gedachten die uit mijn hoofd rollen.'
… met persoonlijke onthullingen: Schrijvers delen hun moederlijke schuldgevoelens, hun ultieme momenten van geluk en hun huwelijksaanzoek in de Efteling. Ze vertellen over broers met een beestje in hun hoofd, over vreemdgaan en hun adoratie voor vrouwen.
… met opvallende parallellen: Wijn blijkt inspirerend voor de schrijverspen, de zomer schijnt bevolkt te zijn met witte benen, priemende mannenogen en taxerende vrouwenblikken en reizen gaan gepaard met ehbo stress, pickpockets en kidnappers…
Bedankt voor jullie deelname iedereen. Wij hebben genoten van jullie schrijfsels! … En blijven schrijven natuurlijk!
Uit deze inzendingen kozen we met zijn drieën acht genomineerden: de excuses van 'een oude vent in een jong lichaam', de eetstoornis als muur tussen zon en bikini, de obstakels van een wielertoerist aan de Scheldeboorden, de wanhoopskreet van een gevangene in de death row, het geploeter van een hongerige zwemster, een onsierlijke duik op het trottoir, de zoektocht naar een lief in de biowinkel en de pogingen tot loslaten in de yogaklas.
Nu wacht de moeilijke opdracht om uit deze acht genomineerden een winnaar te kiezen. Hiervoor doen we beroep op (tadata… tromgeroffel) De Standaard columniste An Olaerts. We nodigen haar uit voor een etentje aan het water, in Capriani Lakeside Mechelen. In deze inspirerende omgeving zal An bepalen wie de zelfgebakken taart van Eveline en dit boekenpakket zal winnen:
En alweer bleven we ongedeerd van Hanna Bervoets
Zeldzame aarden van Sandro Veronesi
We zijn onszelf niet van Matthew Thomas
De man die van kinderen hield van Christina Stead
Dertig dagen van Annelies Verbeke
Stay tuned voor een interview met An Olaerts op dinsdag 25 augustus en de bekendmaking van de winnaar op woensdag 26 augustus.
PS: Alweer een item om van onze literaire bucket list te schrappen.