De jongste groep swingt er op los op het liedje 'Heroes', de oudsten gooien liters verf en glitter op hun 'danskamp' t-shirt en in de keuken is de kookploeg druk in de weer met het bereiden van 120 groentebrochettes en het bakken van 159 kippenboutjes. Het thema van het danskamp is History en vandaag zitten we in de oertijd, dus enkel fingerfood. Aan tafels en stoelen doen we in de prehistorie ook niet mee, wij steken een heus kampvuur aan en eten buiten in de natuur. Marshmallows iemand?
De middelste groep horen we regelmatig gillen. Zij zijn bezig met jeux de dès (met dank aan Clip vakantie voor de inspiratie), waarbij elke deelnemer een teerling moet werpen en bij bepaalde nummers opdrachten uitvoert. Genre, 'iedereen die nu een zes gooit, moet straks aan tafel met de handen geboeid eten'. Komt dik in orde, met dat fingerfood.
Voor de lezers die totaal in de war zijn en dachten op een literaire blog beland te zijn, geen paniek, boeken volgen zo. Naast boekenmeisje sta ik ook wel bekend als 'de dansjuf' en momenteel ben ik met zestig kinderen en vijftien monitoren op kamp…
Omdat elk danskamp in mijn ogen een kampbib nodig heeft, een verslag van wat wij deze week lezen…
Floortje op ponykamp, Suzanne Buis, Cok Grashoff, Uitgeverij Kluitman
Zoals paardemeisjes dromen van tutu's, dromen danseressen van pony's. Floortje uit Floortje op ponykamp kan niet wachten om te vertrekken.
In het verschiet? Een week vol rijles, lekker eten, bonte avonden en veel vriendinnen.
Het boek vertelt een fijn meisjesverhaal vol stapelbedden, dressuurlessen met en zonder handen, wat heimwee, een nest poesjes, een spannende dropping en de nodige perikelen tussen rivaliserende vriendinnengroepen. De groep gaat op huifkarrentocht, oefent hard voor de aankomende wedstrijden en staan 's ochtends heel vroeg op voor een ponyrit op het strand. Voor de bonte avond verzinnen Floortje en haar vriendinnen een dansact met kunstjes te paard, maar de oefensessie die ze 's avonds plannen draait uit op een spannende episode als de meisjes vast komen te zitten op de hooizolder. En dan is er nog een geheimzinnig briefje dat de meisjes vinden, waarop staat dat ze verbannen worden van het ponykamp. Het ideale boek om elke meisjedroom al een beetje te laten uitkomen.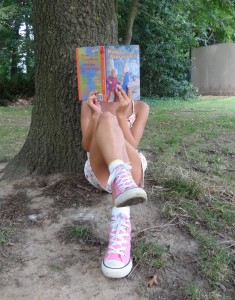 Berre gaat op Berekamp, Annemie Berebrouckx, De eenhoorn.
Elk jaar hebben we wel wat kinderen met heimwee. De eerste avond hebben ze het wat moeilijk, zo in een ander bed, weg van mama of papa. Zo ook voor Berre, die Fleur mist, en zijn bad, en zijn grote bed… Honger heeft hij ook niet echt, want thuis maakt Fleur de broodjes. Maar de tweede dag gaan de beren op trektocht door het bos, zwemmen ze in de vijver en organiseren de leiders een picknick. Berre schrijft een lange brief aan Fleur en vertelt hoe leuk het is op kamp. Ze doen een speurtocht, organiseren een berenquiz, er volgt een kookwedstrijd en ze bouwen zelfs een echt berenkamp.
De mooie plaatjes illustreren op aandoenlijke wijze hoe Berre zijn plek vindt op kamp en een ontzettend fijne week beleeft.
En net als Berre vinden onze heimwee-kindjes na de eerste activiteiten snel hun plek en genieten van de spelletjes, het lekkere kampeten en de monitoren die elke dag wat gekker doen. Leuk is ook dat het boek illustreert hoe het thuisfront uitkijkt naar post, een traantje wegpinkt bij het lozen van hun kroost en de blijdschap bij de hereniging aan het einde van de week.
Op kamp, Jolanda Horsten, Uitgeverij Zwijsen
Op kamp is een toneel-leesboek. Meteen een goed aanleiding om een drama-activiteit met kinderen te organiseren…
Emma en Joep gaan op kanokamp. Hun avonturen zijn in dialoogvorm neergeschreven, zodat ze gemakkelijk na te spelen zijn. In het eerste hoofdstuk worden de personages voorgesteld: tuttebel Lisa, die met een hoog stemmetje praat of buurman Bernhard, die altijd een beetje boos klinkt. De acteurs in spe krijgen ook wat uitleg over hoe ze iets kunnen voorlezen: woorden in drukletters worden geroepen, drie puntjes dienen om even te wachten,…
Het begin van elk hoofdstuk begint met prenten van de personages die aan bod komen. Een korte beschrijving schetst de situatie. Het verhaal loopt over het ganse boek door, maar de hoofdstukken kunnen wel los van elkaar gespeeld worden.
Emma en Joep worden op kamp geconfronteerd met (wederom) een mysterie: hun blauwe kano verdwijnt. Wie zou hem gestolen hebben? Op de kop toe beschuldigt boze buurman Bernhard hen  van diefstal. Maar dan ontmoeten Joep en Emma de lieve zwerver Wannes, die klusjes doet voor buurman Bernhard. Buurman  blijkt stilletjes aan genoeg te krijgen van zwerver Jannes. Gelukkig kunnen Emma en Joep een heel slim plannetje verzinnen.
Een boek met een originele opzet en de mogelijkheid om heel wat leuke drama-activiteiten te organiseren. Kinderen leven zich snel in in het verhaal en het kampgevoel is zo nooit erg ver weg…
Op kamp in de tuin, Alja Verdonck, Merel Eyckerman, Uitgeverij De Eenhoorn
Een bekend fenomeen: jongere broer of zus komen een oudere deelnemer afzetten op kamp en hebben stiekem ook wel zin om op kamp te gaan… Op kamp in de tuin zegt het zelf: De broer van Leen, Jan, is net terug van kamp. Het was er erg leuk: hij sliep op een veldbed in een tent, kon 's nachts licht maken met een zaklamp en heeft een nachtspel meegedaan. Nu wil Leen ook wel op kamp, maar ze is te jong. Mama en papa stellen voor om een nachtje op kamp te gaan in de tuin. Leen vindt het allemaal heel spannend, tot ze 's nachts wakker wordt van een vreemd geluid.
Een lief boek op Avi 3 niveau.
Ideaal voor jonge lezers die verlangen naar grootste dingen als een veldbed, slapen in een slaapzak en al een beetje op eigen benen staan. Merel Eyckerman zorgt voor speelse illustraties in een heel eigen stijl. Deze wordt een klassieker in de kinderbibliotheek, echter niet zonder risico: nichtjes kamperen in de tuin loeren om de hoek.
Koen Kampioen gaat op kamp, Fred Diks, Uitgeverij Kluitman
Winterstop, dat is voor geen enkele voetballer leuk. Maar de trainer van Broekies team heeft iets leuks in het vooruitzicht: Koen's team vertrekt op voetbalkamp. Spannend. Koen propt spullen voor een jaar in zijn koffer en mama en papa brengen hem weg. Eenmaal aangekomen staan Koen en zijn teamgenoten te trappelen van ongeduld om te spelen. De volgende dag hebben ze al hun eerste wedstrijd, maar eerst is er een spannend spel in het bos. Ze ontmoeten een postbode met pakjes, een deftige dame en een dronken man. Alle personages die ze tegenkomen, geven hen een letter van het alfabet mee. De groep beleeft dolle pret, tot ze plots een spook zien…
Een vlot boek voor voetbalfans en stoere danseressen. AVI M5 niveau.
Mees Kees op kamp, Mirjam Oldenhave, Uitgeverij Ploegsma
Meester Kees moet nog veel leren. Hij is nog jong en begaat in de klas de ene blunder na de andere flater.
Gelukkig vinden de leerlingen dat maar al te leuk. Deze week vertrekt Mees Kees op kamp. Op werkkamp, want de klas moet flink wat bijleren. En Mees Kees doet erg zijn best, hij houdt zijn bundel met leerdoelen er netjes bij. Maar hoe goed hij alle hokjes in het leerboek ook wil afvinken, steeds gaat het weer de mist in, tot groot jolijt van de klas uiteraard.
Tijdens het opzetten van de tent gebruiken de kinderen de touwen om katapultje te spelen. Achteraf blijkt de rits bovenaan te zitten, in plaats van opzij. Maar ze hebben wel mooi geleerd om samen te werken.
Ook vertrekken ze op speurtocht, met opdrachten. Het thema is bomen, want dan leert de klas weer flink wat bij. De speurtocht loopt een beetje in het honderd, omdat de klas liever wil gaan zwemmen… en omdat Mees Kees in slaap valt als hij de wegwijzers gaat ophangen.
Waar de groep ook geen zin in heeft, is een leerrijke activiteit rond standjutten. Mees Kees vat zijn les dus bondig samen in één zin en de klas zet vaart achter het zoeken van schelpen, zeewier, stukjes hout… en een Iphone. Oei.
Van het boek bestaat ondertussen ook al een hilarische film… Ideaal voor een filmavondje op kamp?
Loslopend Wild Deel 1, spelregels voor het organiseren van een jeugdkamp, Steunpunt Jeugd
Voor monitoren die graag een leidraad hebben voor het organiseren van een jeugdkamp is er Loslopend Wild. Stap voor stap wordt uitgelegd hoe je de praktische kant van ene kamp regelt:
aandachtspunten voor het kiezen van een kamplocatie
huurovereenkomsten voor groepen
materiaal zoals tenten, veldbedden, EHBO-dozen, sjorhout,…
wat te doen bij ongevallen, ziekte, …
Verzekering en aansprakelijkheid: wat en hoe.
Netelige situaties: klachten, drugs, …
vrijwilligerswerk, werknemers en de vzw
budgetten en prijsberekeningen
de koude keten en voedsel bestelle
Een onmisbaar boek voor iedere jeugdleider die een vlot georganiseerd kamp wil. Het boek wijst de weg tussen de wirwar van paperassen, regelgevingen en formaliteiten. Handig is de lijst met adressen en de voorbeelddocumenten aan het einde van het boek. Modellen voor huurovereenkomsten (in drie talen), medische fiches,…
Loslopend Wild, Deel 2, milieuvriendelijk en energiezuinig op kamp, Steunpunt Jeugd.
Kan u het zich inbeelden, eten bestellen voor een ganse week voor 60 hongerige kinderen en opgroeiende pubers? Dan wijgen we nog maar over de berg afval dat dat met zich meebrengt. We sorteren al flink, maar we nemen wat graag tips mee om de afvalberg te verminderen. Minder verpakkingen, inkopen doen bij landbouwbedrijven en werken met seizoensproducten, alle tips houden rekening met gezonde, eerlijke en ecologische voeding.
'En de laatste doet het licht uit' kan ik ondertussen op mijn T-shirt printen. Hoe bespaar je energie op kamp? Hoe geraak je energiezuinig ter plaatse, wat voor soort detergent koop je best en waar blijf je met afvalwater.
Ons monitorenteam is vrij gestoord (om het zacht uit te drukken), maar zij zeggen nooit nee tegen nieuwe ideetjes voor activiteiten en spelletjes. Het boek staat bol van milieuvriendelijke (natuur)activiteiten, leuke nachtspelen met respect voor de dierenwereld, het wat en hoe van kampvuren,…
Van karton, Angels Navarro, De vier windstreken

Knutselboeken genoeg voor wie creatief aan de slag wil met kinderen. Wij zien het graag groots en slepen dertig enorme kartonnen dozen mee op kamp. Het doel? Prinsessenkastelen knutselen voor rond het thema Middeleeuwen. In het pareltje Van karton vinden we alles terug: hoe karton bewerken, wat voor materiaal je best kan voorzien en tal van ge-wel-dige knutselprojecten die makkelijk te realiseren zijn met dozen. Een voorbeeld: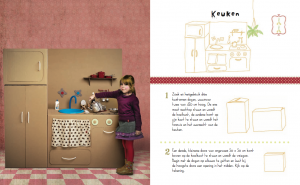 Een autogarage, vliegtuig of gitaar, allemaal binnen handbereik mits wat knutseltalent en enkele dozen. Een schitterend boek waar grote en kleine kinderen uren knustelplezier en dagen speelplezier aan overhouden. Wij koesteren alle ideetjes in de kampbib en plannen de komende jaren telkens nieuwe kartonprojecten in het programma.
Zo, dan gaan wij nu verder met het Asterix en Obelix-spel.