Met Vreemdgaan nam Peter Coppens deel aan onze zomerse columnwedstrijd.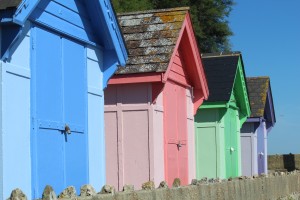 Vreemdgaan
"Vreemdgaan kan ook inspireren", plaag ik. Mijn vrouw kijkt op van haar boek, rolt haar ogen richting hemel en zucht zachtjes. Gespeelde ergernis. "Mannen", denkt ze vast, terwijl ze verder leest met een steelse glimlach om haar lippen.
Vooral de zomermaanden vormen een uitgelezen decor om dromerig af te dwalen van platgetreden paden. Misschien omdat het ritme van de dagen ook voor de doorwerkers een breekpunt toont? De schoolpoort toe, de minimensjes hoeven niet elke avond ergens heen. Ze worden met een bus opgestuurd naar een kampbed of verdwijnen in een scoutstent voor een week of wat. De files staan er nu vooral op zaterdag. Met meer licht en warmte in een etmaal lonkt het leven met een zachte dosis spot naar al die kleine vastgeroeste hebbelijkheden. Er ontstaat ruimte voor een speelse escapade. Soms een recept voor wat onverwacht plezier, meestal zonde van de tijd.
Hoewel het tegenwoordig virtueel kan, geef ik nog steeds de voorkeur aan fysieke interactie. Een "touchscreen" voelt altijd weer hetzelfde aan, en geuren doet zo'n ding al helemaal niet. Net dat digitaal onbereikbare palet van schaduwen, kleuren, geuren en de eerste aanraking vormt de basis.
Neen, doe mij maar echt. Een virtuele eerste indruk is half werk.
Daarna wordt de ontdekkingstocht verbaler. Eerst nog heel voorzichtig. Een enkel woord kan alle kanten op. Soms blijf ik hangen bij de openingszin. Laat de woorden walsen in mijn hoofd, herlees de zin hardop. Vertelt die nu al iets over wat zal komen? Dat kort moment, die bewust ingelaste pauze bij de start is magisch. Een kantelpunt. Omdat nieuwsgierigheid keer op keer zoveel meer belooft dan de inlossing ervan ooit brengt. Dan gaat het snel. Al na een bladzijde is de stijl gezet, het timbre heeft zijn kleur gevonden. En ook al denk ik na het eerste hoofdstuk, "dit wordt niets", toch zet ik door. Een begonnen boek niet uitlezen is voor efficiënte mensen.
Het blijft verbazen dat zesentwintig letters zich naar zoveel kanten laten leiden. Ze kunnen boeien, ontroeren, ergeren of ronduit degouteren. Hoe ze in de handen van talent op zoveel verschillende manieren hetzelfde verhaal kunnen vertellen. Meestal vis ik in dezelfde lettervijvers. Het volgend boek van eenzelfde auteur. De shortlist van een prijs. Een tip van een vriend of een recensie in de krant. Soms gaat het anders. Dan krijg ik wat lectuur cadeau of grabbel ik impulsief iets mee uit een boekenwinkel. Zo kan het gebeuren dat in de boekenkast een dissonant verschijnt. Meestal blijft die dan een paar weken onaangeroerd staan. Alsof ik nog moet wennen aan die onbekende rug in huis. Vastpakken vraagt moed, en aan het einde van elk goed begin wacht enkel leegte.
"Pratchett," zeg ik. "Te leen gekregen van een collega". Mijn vrouw stopt met lezen en neemt de pocket van me over. Ze bestudeert de cover en laat de bladzijden even langs haar duimen flippen.
"Hmmm," is haar reactie. "Fantasy las je dertig jaar geleden. Een duidelijk geval van literair overspel".
Peter Coppens is een alleslezer. Hij kan uren verdwijnen in een thriller, of traag en woord per woord mijmerend zinnen laten doordringen. Van alles wat voor hem. Af en toe schrijft hij zelf: een blog toen hij 50 werd, een reisverhaal, een wedstrijd die passeert.