9 quotes van columniste An Olaerts
Morgen maken we de winnaar van onze zomerse columnwedstrijd bekend. Het relaas van de selectieprocedure begint eigenlijk al in 2006, bij de facelift van de Brusselse Eroticabeurs…
Maar laten we de zweepjes en handboeien nog even buiten beschouwing. Het samenstellen van de shortlist van 8 genomineerden gebeurde zedig en vredig. Elke maand lazen Eveline, Katrien en ik alle columns, we markeerden de teksten waarin we een 'kanshebber' zagen en op het einde van de maand gaf elk van ons de teksten op de longlist een score. Even optellen en klaar.
Een eindwinnaar aanduiden bleek moeilijker. Tenslotte hadden we niet gevraagd om anoniem in te sturen. Onder de genomineerden zaten een persoonlijke vriend, een literaire kennis en een fijne ex-collega. Wat doe je dan? Ook is het moeilijk om een column waarvan de pointe de eerste keer verrast, objectief te beoordelen bij een vierde lezing.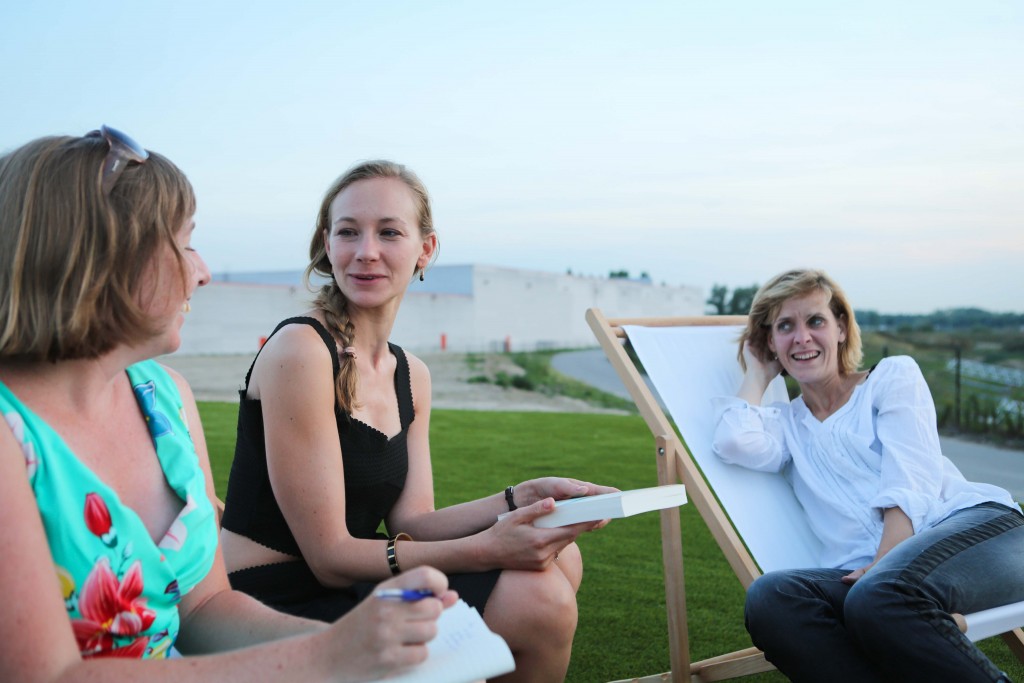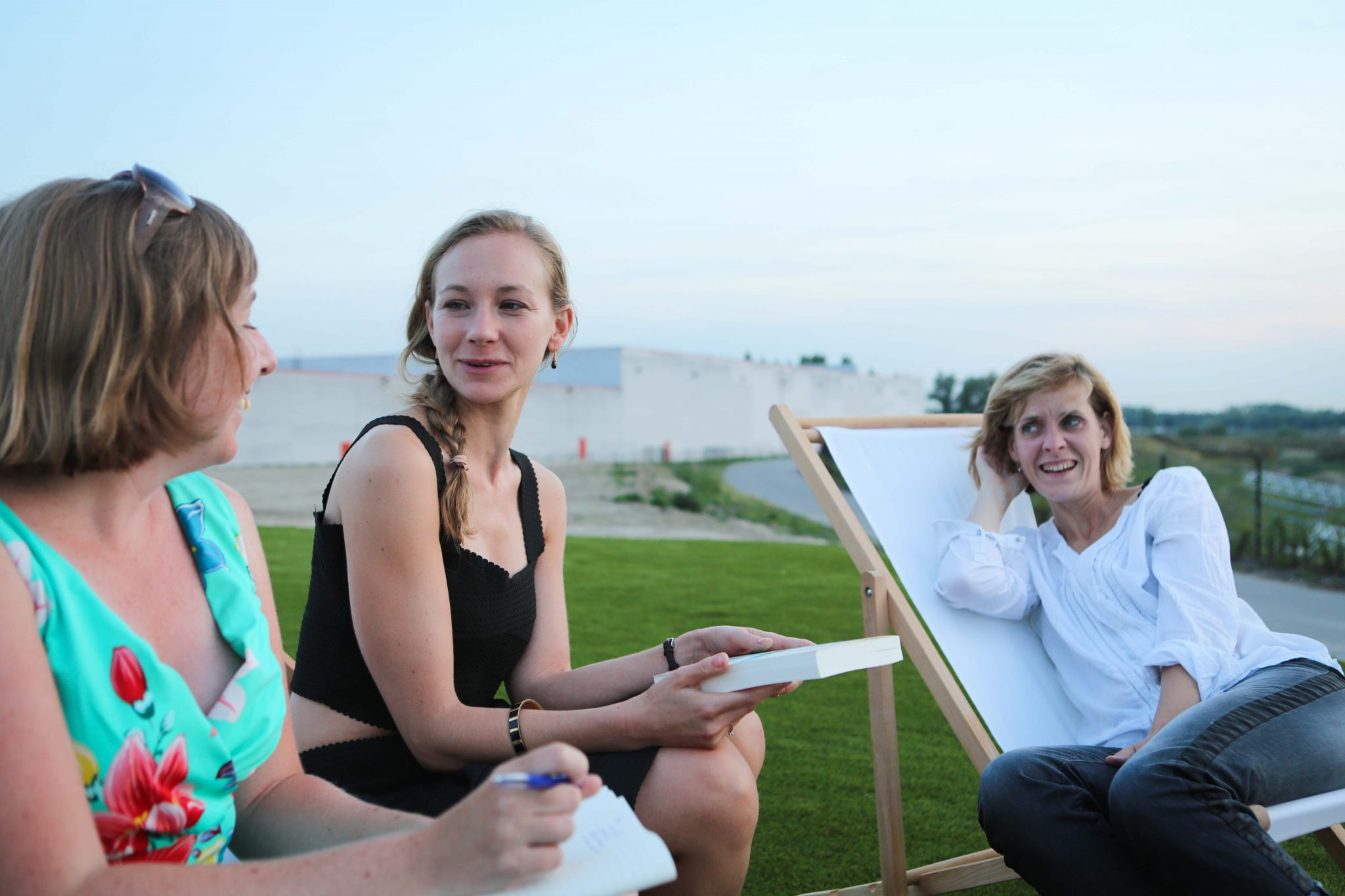 Dus: we hadden een extra jurylid nodig met een frisse blik en zonder kennis over de auteurs. Was die persoon 'toevallig' een gevestigde columnist(e),  dan gaf dit de wedstrijd extra cachet. Enter de Eroticabeurs van 2006.
Eveline gooide al het bondage materiaal dat ze die editie had gekocht in een koffer, reed naar het huis van Jan Mulder en sleurde hem – niet tot zijn ongenoegen – gekneveld in haar kar. Of: Barbara herinnerde zich dat ze op de perslunch voor die beurs aan tafel had gezeten naast An Olaerts, die de jongste vier jaar tweewekelijks de m/v column schrijft in De Standaard Magazine. Eén mailtje later, zat Olaerts antwoord in onze mailbox:
ik ken u nog tiens!
zal eens id agenda kijken
trekt het niveau op iets?
want ik vind bijna alle columns slecht
En zo gebeurde, dat op een zwoele maandagavond, op het fantastische terras van Brasserie Capriani Lakeside aan de Mechelse waterskiclub Battenbroek, vier vrouwen zich bogen over acht columns.
Het Oordeel van Olaerts lees je hier morgen, maar bij wijze van roddel en achterklap kan ik wel meegeven dat de Zeebaars Mediterrane in deze Italiaanse brasserie geweldig smaakt, dat de Prosecco bij alle niet-zwangeren aan tafel vlot binnen liep, dat we het terras deelden met Zsofi Horvath en Roos Van Acker en dat het moeilijk was om ons los te maken uit de witte loungestoelen op de aperitiefweide (is dat een woord?) met zicht op de zonsondergang boven het meer.
Voor wie minder blabla en meer schrijverswijsheden wil, tekende ik volgende quotes op. Doorwinterde columniste An Olaerts over haar vak en aanpak:
"Iedereen heeft minstens één geweldige column in zich. Het is de kunst om elke week, of elke dag een goede column te maken."
"Meestal is mijn tekst pas voor de deadline klaar en heb ik geen tijd om 'm te laten liggen en te herlezen. Ik heb eens ergens gelezen dat uitstelgedrag een vorm van perfectionisme is. Op die manier kan de uitsteller altijd zeggen: 'Ach ja, het was ook haastwerk'. In ieder geval ben ik zelden blij als ik een tekst van mij gedrukt zie."
"Ik ben gegroeid met de jaren. Mijn allereerste column verscheen in een studentenblad en was een pleidooi voor plastic boeken die mee in bad mogen. Mijn eerste officiële column – eigenlijk een brief aan Sinterklaas – verscheen rond 2001 in De Morgen.
Vandaag heb ik minder de neiging om mij stilistisch te bewijzen dan veertien jaar geleden. Ik heb geleerd om mijn stijl de kop in te drukken."
"Een goede column is geschreven voor de lezer. Als columnist moet je de lezer doen lachen, verwarren of raken. Ik geloof niet in therapeutische columns en schrijf hoogstens één à twee keer per jaar over verdriet. Mensen lezen het nochtans graag, maar ik hou niet van het melodrama."
"Ik schrijf soms over stront, en dat doet het altijd goed. Voor de rest probeer ik de onderwerpen die gegarandeerd scoren zoveel mogelijk te vermijden: kinderen, tegenslag, nostalgie en seks. En nog iets.
Columns die over columns gaan, spaar ons, Heer."
"In het echte leven ben ik saaier dan in mijn columns. In mijn teksten verwoord ik mijn ideeën kort en snel. Een column moet to the point zijn. Mensen hebben geen tijd voor tralala. Vlamingen hebben daarin een minder sterke traditie dan Nederlanders. Nederlanders schrijven vaak nuchterder."
"Ik heb nooit toestemming gevraagd om iemand op te voeren in mijn columns, en ben dat ook niet van plan. Ik maak toch een verdichting van de werkelijkheid. Het is alleen maar mijn kant van het verhaal. Voor de rest moeten mensen moeten maar een beetje oppassen wat ze zeggen."
"Er zijn weinig columns die mij doen lachen. Vandaag vind ik zo'n tachtig procent van alle gepubliceerde columns slecht, zeker in Vlaanderen. Ik ga de naam niet noemen, maar de man met zijn dochters, zijn witte jurken en zijn appeltaartjes… Ze moesten een cake van hem bakken. Zo zeuren dat hij doet. Ik lees graag Remco Campert, Koen Meulenaere, Linda Asselbergs, Midas Dekkers, Maarten 't Hart en Aaf Brandt Corstius."
"In 2011 verscheen bij uitgeverij Vrijdag 'Achterwerk', een bundeling van de columns die ik voor Vacature schreef. Ik heb die voor het boek bijna allemaal herschreven en Klaas Verplancke zorgde voor illustraties. Aan een tweede of derde columnbundel – of een eerste roman – heb ik geen behoefte.
Ik droom van een dagelijkse column in een krant, waarmee ik genoeg verdien om niets anders te moeten doen. Elke ochtend een column schrijven en de rest van de dag inspiratie opdoen voor de volgende – dat zou het zijn!"