Column op woensdag – Kampioen
Tijdens de zomervakantie presenteert This Is How We Read elke woensdag één van de genomineerden van onze columnwedstrijd. Op 1 september bekronen we de eindwinnaar met vijf boeken en een spectaculaire taart. Meedingen naar die hoofdprijs kan nog tot donderdag 23 juli.
Vandaag probeert Hilde Devoghel los te laten.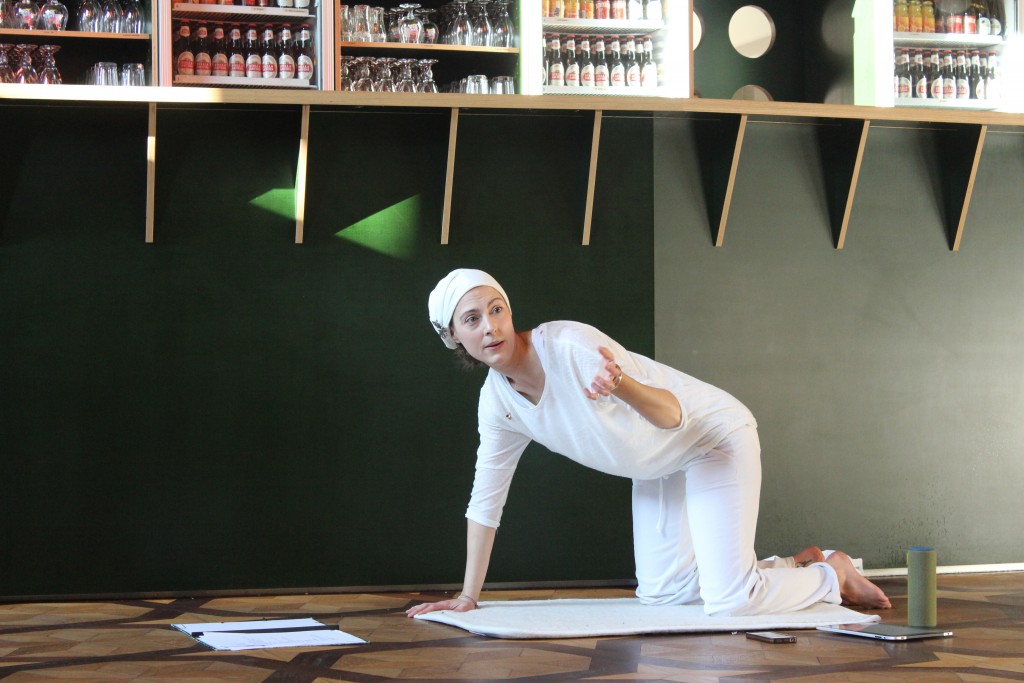 Kampioen
'Ontspan je voorhoofd, je wenkbrauwen, je neusbrug, je mond. Je tong neemt ruimte in in je mond. Je hoofd staat los op je lichaam.' De ritmische opeenvolging van zinnen die de yogaleraar bij het begin van de les uitspreekt, vernauwen mijn bewustzijn. De cadans en het timbre van zijn zinderende stem zorgen voor een vorm van focus. Die van 'het leven in het nu'. De mantra van het waarachtige. Ik surf er even op mee, doe of ik erin geloof. Ik ben tenslotte een ijverige leerling op mijn lichtblauwe matje.
Een adept die zich stiekem meet met de andere yogi in de vrijdagavondklas. Let op, competitie en prestatie, die moet je aan de deur achter laten. In de halfduistere, groezelige gymzaal telt niet wie of wat je daarbuiten bent. Not dus. Het is me al van bij de eerste les duidelijk dat de drie jonge moeders die hun uitgezakte, vermoeide lijf betekenis komen geven, mekaar constant beloeren. Wie van ons krijgt er zijn billen in twee tellen galant in kaars naar omhoog? Geen van de drie zo blijkt. De drie gratiën zijn ook buiten de yogales vriendinnen. Voor de les begint, sluit ik steeds even bij hun groepje aan. Op die manier kan ik in hun wederzijds gekwetter opgaan en moet ik geen details kwijt over leven, kinderen, partner. Vragen beantwoord ik consequent met andere vragen of met een vluchtig 'Prima, alles ok". Zo parkeer ik meteen elke mogelijke bemoeienis.
Yoga, zo heeft mijn huisarts gezegd zou me helpen om los te laten, om in het nu te leven. Ik laat niet los. Ik ga tot het uiterste.
Na drie lessen ken ik de volgorde van de oefeningen. Thuis oefen ik 's morgens, om 5 u zoals het hoort, met de ipad en een yoga-app naast me. Ik perfectioneer mijn ademhaling. Na 7 lessen klinkt het gechant uit mijn borst als de oerschreeuw van een Tibetaanse monnik. Met precisie en discipline ben ik kampioen loslaten. Ontspanning wanneer gevraagd, opspanning wanneer vereist.
Vanavond lig ik vlak achter de vriendinnen, rechts en achter mij liggen nog een tiental slachtoffers van de sleur en de werkvloer. Ed ligt links van me. Ed, zeventig, ligt er al twaalf jaar op zijn grijze matje. Hij is het toonbeeld van een gezonde oudedag, geduldig en soepel zonder protesterende gewrichten. Met de yogaleraar heeft hij een speciale verstandhouding; bij het begin van de les geeft hij aan met welke pose hij het mogelijks moeilijk zal krijgen, waar er zich in zijn oude lijf op dat moment een lichte blokkade bevindt. Ed beheerst de les en geniet ronduit van de bewondering van zijn medeyogi.
Ed heeft één onhebbelijkheid. Met de billen hoog laat hij ook zijn darmen meesurfen op de ontspanning. Weke winden ontsnappen aan zijn oude lijf.
Ze drijven weg en versterken de misselijkmakende, oude voetzolengeur van de yogamatjes in de bedompte zaal.
Ik ken intussen precies het moment waarop het vege lijf van Ed leeg loopt. Tussen de zonnegroet en de giraf, halverwege de Bahasana. Het vergt me elke les weer al mijn zelfcontrole en tolerantie om niet opzichtig te walgen, op te staan en fulminerend de les uit te lopen. De yogaleraar daarentegen accepteert gelukkig en gelaten dat ook organen mee in diepe ontspanning gaan. Nu lig ik gespannen het windenmoment af te wachten. Ik concentreer me, nog twee oefeningen. Tijdens de zonnegroet borrelen de darmen van Ed al van de voorpret. En voor het eerst in 10 lessen voel ik mijn controle verslappen. Woede en taaie walging schieten langs mijn keel omhoog. Ik krijg ze niet weggeslikt. 'Ga dieper in je ontspanning' beveelt de leraar. De spiegel breekt. Als een furieuze, Russische judoka stort ik me op Ed. Ik ga schrijlings op hem zitten en prang zijn slappe strottenhoofd tussen mijn opgespannen dijen. Ik pers en blijf persen tot er in de zweterige zaal een droge knak klinkt. En ippon, denk ik, helemaal losgelaten.
Hilde Devoghel sprokkelt verhalen en koestert mooie zinnen. Ze schrijft en schrapt in zwarte schriftjes, in een bloedhete auto, leunend op een winkelwagen, tijdens de voetbaltraining…Op dit moment jongleert ze met overvolle agenda's. Maar een adempauze komt er aan. Om te schrijven..héérlijk veel te schrijven.
PS: Zin gekregen in een yoga boost met Goedele Leyssen?
PPS: Ook genomineerd: Biowinkel en Duik