Het lastige leven van Léa Olivier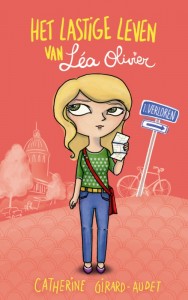 Tienermeisjes in de nineties lazen de boeken van de Babysittersclub, in de nillies betoverde Harry Potter de tienerharten en nu is er Léa Olivier, de Canadese puber die langzamerhand de wereld verovert. Masterbrein achter deze boekenserie is schrijfster Catherine Girard-Audet. Via haar Facebookpagina (40.000 likes) en haar blogposts op VRAK communiceert Catherine met haar lezers en vindt ze inspiratie voor de avonturen van Léa Olivier.
Léa is een Canadese tiener die verhuist van het platteland naar Montréal, haar liefje Thomas en beste vriendin Marilou moet achterlaten en het best wel moeilijk heeft om zich te integreren op haar nieuwe school. Haar immer populaire en knappe broer lijkt hier dan weer helemaal geen last van te hebben.
Catherine vertelt de teenage troubles van Léa onder de vorm van een briefroman, een briefroman 2.0 wel te verstaan. Het lastige leven van Léa Olivier leest als een collectie mails, smsjes en chatberichten en dat verklaart een groot deel van het succes. De verhalen zijn zo gemakkelijk leesbaar dat ze ook niet zo vlotte lezers kunnen bekoren.
Ook de herkenbaarheid draagt bij aan het succes. In Le journal de Montréal zegt Catherine hierover dat ze dankzij het internationale succes pas besefte hoe universeel de problemen van Léa zijn. En dat brengt ons terug bij het interactieve ontstaanskarakter van de boeken.
Op haar Facebookpagina stelt Catherine regelmatig vragen zoals 'Waar gaan jullie deze zomer op vakantie?'  In de honderden antwoorden vindt de schrijfster ongetwijfeld een vakantiebestemming voor het achtste deel van de serie dat in oktober in het Frans verschijnt. Off topic: ik gok op Cuba, aan de antwoorden te zien.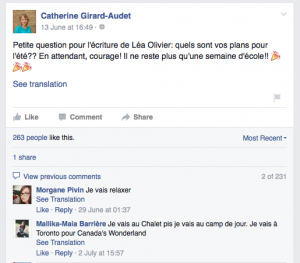 Op VRAK heeft Catherine haar eigen adviesrubriek voor jongeren. Tieners stellen haar vragen als 'Comment faire les premiers pas?', 'Je n'ai jamais eu du chum?' of 'Comment parler de la puberté avec ma mère' waarop Catherine antwoordt als een oudere zus. En zo blijft de prille mama vertrouwd met de leefwereld van veertienjarigen. Ieder hoofdstuk begint of eindigt trouwens met zo'n lezersbrief van Léa. Met Catherine Girard-Audet en Cheryl Strayed is het me trouwens wel de zomer van de literaire adviesrubriek!
And last but not least heeft Léa zelf ook haar eigen plekje op VRAK waarin ze tips geeft om je deze zomer niet te vervelen of hoe je je eindejaarsbal kan overleven zonder date. En français weliswaar! Het kan beroepsmisvorming zijn en ik weet dat er eindelijk een uitstekende Nederlandstalige vertaling is verschenen, maar waarom niet je tienerdochter verrassen met een Franse Léa Olivier!?
Duidelijk is dat Léa Olivier een eigen (virtueel) leven leidt dat aanslaat. Deze lichtvoetige (maar hé met de boekenmeisjes is het ook goed gekomen op literair vlak na hun Babysittersclub periode) en bijzonder verslavende lectuur is waarschijnlijk de perfecte summer read voor uw dochter. Zo kan u rustig aan dit lijstje beginnen.
Het lastige leven van Léa Olivier, Catherine Girard-Audet, Kennes Editions, Nederlandse vertaling van Iris De Haan