Schitterende kleine dingen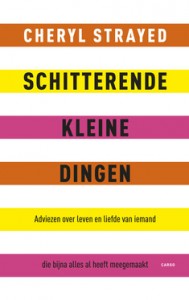 'Lieve Sugar', zo beginnen de brieven, gericht aan de mysterieuze Sugar, schrijfster van de adviesrubriek op het online literair magazine The Rumpus. Doorgaans zijn het psychologen die schuilgaan achter de zelfhulprubrieken in damesbladen. Niet op The Rumpus, de eenzameharten adviseur hier is immers niemand minder dan kunstenares Cheryl Strayed, schrijfster van de bestseller Wild over haar therapeutische voettocht van Mexico naar Canada. In Schitterende kleine dingen (Cargo) bundelt Cheryl Strayed een selectie van brieven en antwoorden uit haar adviesrubriek. Zelfhulppulp? Nee, want Cheryl speelt de rol van anonieme columniste op een wel heel bijzondere manier. Doorgaans gebeurt het zo:
"Schrijvers van adviesrubrieken houden zich immers aan een onuitgesproken code: je concentreert je op de briefschrijver, lepelt de vereiste hoeveelheid clichés op en zorgt ervoor dat het allemaal een beetje draaglijk klinkt. Met je eigen seksuele trauma's komen aanzetten hoort daar beslist niet bij."
Cheryl/Sugar betrekt zichzelf – hoewel de meeste lezers niet weten dat Sugar eigenlijk Cheryl is – wel persoonlijk in haar antwoorden en doorbreekt zo alle conventies van 'het genre'. Kortverhalenschrijver Steve Almond, de allereerste Dear Sugar, bejubelt haar hiervoor in het voorwoord.
"Ze was een mens van vlees en bloed die zichzelf onbevreesd blootgaf, opdat wij de aard van onze eigen situatie beter zouden begrijpen."
Cheryls antwoorden blinken uit door hun inlevingsvermogen en mededogen en dat doen hen klinken als het beste advies van je allerbeste vriend: een advies dat tijd en moeite heeft gekost. In haar uitgebreide en beeldrijke antwoorden stelt Cheryl single vrouwen van vijftig gerust dat er heus mannen rondlopen die hun naakte en uitgezakte lichaam nog zullen willen beminnen, spreekt ze een verminkte man van 26 moed in om de hoop in de liefde niet op te geven en praat ze een jonge vrouw met overgewicht het schuldgevoel om haar miskraam uit haar hoofd.
Hoewel het in het echte leven vaak ongepast is als iemand met zijn eigen problemen op de proppen komt als je om advies vraagt, is dit hier absoluut niet het geval. Cheryls verhalen zijn verhelderend, boeiend en geven het gevoel 'ik ben niet alleen', zonder te klinken als lauwe opgewarmde kost van psychologen.
Cheryl is dan ook iemand – en dat bleek al uit Wild – die echt heeft geleefd: misbruik, drugs en anorexia… Just name it… of ze heeft het meegemaakt!
Cheryl is op haar best als ze een anekdote vertelt die op het eerste zicht niets te maken heeft met de vraag van de briefschrijver. Op onnavolgbare wijze weet Cheryl die faits divers op een symbolische manier te koppelen aan 'de case'. Zo gebruikt ze het verhaal over twee katten die maanden overleefden in het donker achter haar kast om een aan pijnstillers verslaafde man weer perspectief te geven.
"Ik heb nooit een manier gevonden om erover te schrijven tot ik deze brief aan jou schreef, Heerser, toen ik besefte dat het een verhaal was dat jij moest horen. Niet over hoe die kittens hadden geleden in al die weken dat ze zonder uitweg hadden rondgezworven in het binnenste van dat duistere gebouw – al zit daar zeker ook iets in –, maar over hoe ze zichzelf hebben gered. Hoe bang die kittens waren, en het toch hebben volgehouden. En toen twee onbekenden hun handpalm aanboden, stapten ze daarop."
Schitterende kleine dingen is – behalve een bundeling van vraag & antwoord – tussen de lijnen door ook een soap over opgroeien in een disfunctioneel gezin, trouwen en weer scheiden, meneer Sugar ontmoeten, hem een slippertje vergeven en twee kinderen krijgen.
De tone of voice is af en toe wat Amerikaans en direct maar daarom ook net heel verfrissend voor 'eeuwig opties afwegende' Vlamingen. Cheryls werkwijze zit als volgt in elkaar: ze analyseert het probleem, geeft drie mogelijke opties, elimineert er twee omwille van die en die reden en gaat dan resoluut voor de derde optie. Te simplistisch? Niet echt, Cheryl doet niet aan zwartwit denken, is grootmoedig en weet uit eigen ervaring dat het echte leven barst van de affaires, intriges en achterklap.
Is het dan niet gevaarlijk dat verslaafden en patiënten met een depressie hun leven in handen leggen van de niet-psychologisch geschoolde Cheryl leggen? Cheryl weet echter perfect tot waar ze kan gaan. Soms verwijst ze de briefschrijvers dan ook door naar een therapeut. Met een knipoog zegt ze:
"Ik ben geen therapeut en ik ben maar een paar keer in mijn leven bij een therapeut geweest. Wat betekent dat ik eigenlijk totaal niet gekwalificeerd ben voor dit baantje."
Met Schitterende kleine dingen brengt Cheryl Strayed de adviesrubriek naar een next level. Een aanrader voor iedereen die deze zomer aan het zwembad wat knopen wil doorhakken!
Schitterende kleine dingen, Cheryl Strayed, Cargo, vertaling Miebeth van Horn