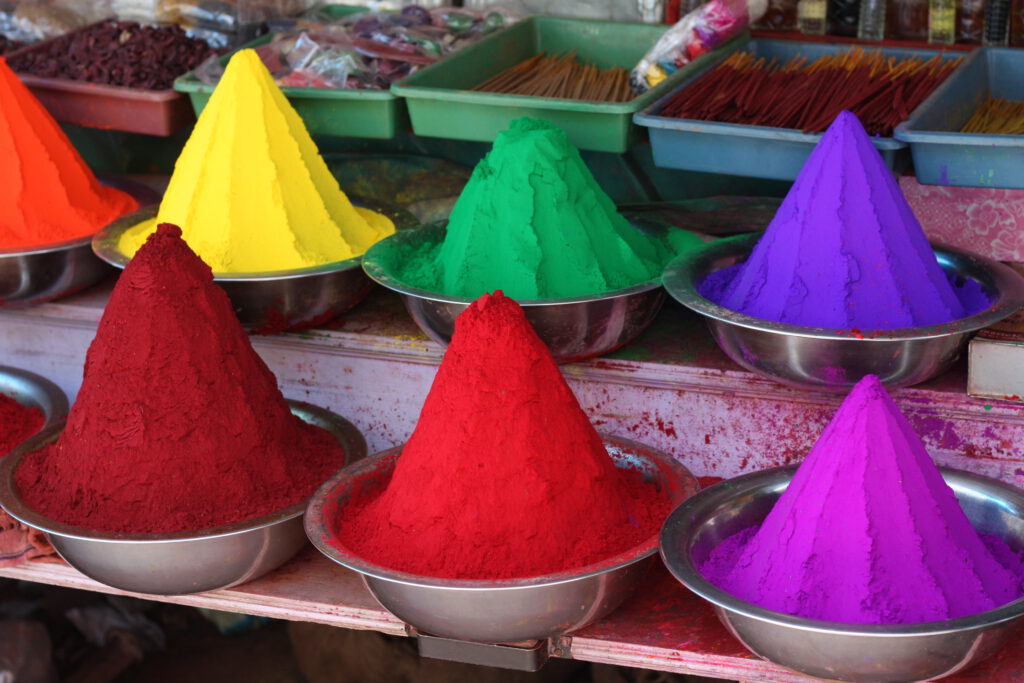 Klaar voor de tweede aflevering van De Verfmenger, kort verhaal van Bert Aerts, winnaar van onze columnwedstrijd 2019? In deel een keek Bert – een schrijvertje in de vorm van een teamleider, volgens z'n lief – met z'n gezin naar The Lion King. Herinneringen aan z'n eerste job als vatenvuller borrelden op… Lees vandaag verder over gekko's in een terrarium, treurige feestjes en een sexy receptioniste.
3. De Indiërs
Het kot van de verfmenger was eigenlijk een havencontainer – van Maersk of zo – die droogweg tegen een wand van de fabriekshal aangeduwd leek. De container was aan alle kanten wit, maar de zijde gericht naar de fabriekshal bestond volledig uit glas. Binnenin was het zo licht dat het zelfs van hieruit –ik bevond mij aan de onderkant van de gigantische ketel- pijn aan de ogen deed. Ik had net een sliert van de zilveren brij in een aluminium potje opgevangen en zette me schoorvoetend op weg naar het kot. Terwijl ik het bos van vaten doorkruiste, zag ik doorheen de glazen wand de verfmenger duidelijk staan. Hij bevond zich bij een centraal geplaatste ketel en was druk in de weer met wat een elektrische mixer leek. Zoals altijd had hij zijn lange, witte stofjas aan. Ik vroeg me opnieuw af wat ik me al zo vaak afgevraagd had:
Wat staat hij daar in hemelsnaam de godganse dag te doen? Wat brouwt hij in die toverketel van hem? En waarom in deze donkere fabriekshal, achter een glazen wand, als een gekko in een terrarium van licht?
Later zou de verfmenger op al die vragen antwoord geven. Dan zat ik daar, in het licht van zijn kot, en staarde ik de duistere fabriekshal in terwijl hij, roerend in zijn ketel, zijn vreemde verhalen vertelde. Tot op de dag van vandaag weet ik niet zeker of hij de waarheid sprak, en misschien is dat ook niet belangrijk.
Bij één van die gelegenheden vertrouwde hij me toe wat er in zijn ketel zat. 'Ik brouw nieuwe kleuren,' fluisterde hij, met nauwelijks verholen trots, als betrof het een heilige taak.
'Nieuwe kleuren?' vroeg ik.
'Voor de Indiërs,' verduidelijkte hij. Hij vroeg me of ik hen ooit ontmoet had.
Ik schudde nee.
De Indiërs waar hij over sprak, waren de twee eigenaars van de fabriek. Ze hadden een gigantisch bureel dat de gehele tweede verdieping van het hoofdgebouw besloeg. Niemand mocht daar komen en ze waren zelf ook zelden daar, omdat ze -dat was algemeen geweten- altijd op zee zaten, op hun zeilboot.
'Ondoorgrondelijke wezens,' prevelde de verfmenger, 'zelfs als ze Engels spreken, zijn ze volledig onverstaanbaar. Als ze ja bedoelen, schudden ze nee en als ze nee willen zeggen, knikken ze ja. Meestal waggelen ze hun hoofd heen en weer in halve cirkeltjes.' Zonder een zweem van parodie bootste hij hun hoofdbewegingen na. 'Het komt er op aan,' drukte hij me op het hart, 'om met uitgestreken gezicht mee te waggelen, als was het de normaalste zaak van de wereld, en er dan maar op te hopen dat ze geen onraad ruiken.' Hij liet een stilte vallen. 'En natuurlijk hebt ge ze nog nooit gezien,' vervolgde hij op betweterige toon. 'Ze hebben een privélift. Rechtstreeks van de parking naar het tweede. Ge denkt toch niet dat ze de trap gaan pakken? En dan u daar tegen het lijf lopen zeker?'
Eens per maand moest hij zich melden in dat gigantische bureel, ging hij door, met één enkele nieuwe kleur.
'Voor hun zeilboot?' vroeg ik.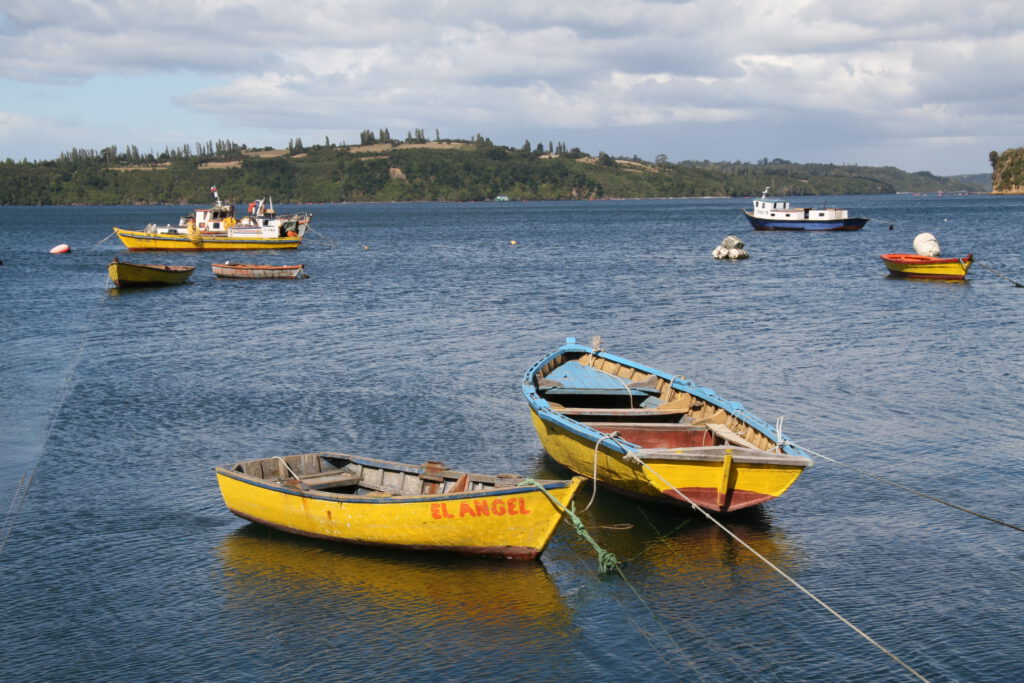 De verfmenger knikte. "Voor hun zeilboot,' herhaalde hij. 'Soms heb ik visioenen,' zei hij. Hij was even gestopt met roeren en staarde in zijn ketel. 'Dan zie ik ze staan, op het dek van hun boot, de blik op oneindig, onwrikbaar als goden'. Het was meer zingen dan spreken wat hij deed. 'Geruisloos doorklieven ze de zee, die zich overal rond hen uitstrekt, rimpelloos als een spiegel.'
Ik hing aan zijn lippen.
Hij zuchtte diep, begon opnieuw in zijn ketel te roeren en vertelde verder. De Indiërs gaven hem geen enkele aanwijzing, behalve dat zijn kleur seaworthy diende te zijn, maar daar had hij naar eigen zeggen niets aan. Bijna altijd werd hij koudweg teruggestuurd.
'Het gekke is,' mijmerde de verfmenger, meer in zichzelf dan tegen mij, 'ze hebben altijd gelijk. Nadien zie ik het ook, maar wat ik ook probeer, op voorhand tast ik in het duister.'
De stilte was totaal en het was in die stilte dat ik mijn volgende vraag stelde: 'Waarom hier? In het zicht van iedereen, achter een glazen wand?'
Daarop lachte hij luid en zei: 'Als ik heel de tijd op een witte container moet staren, ga ik geen schoon kleurekes kunnen fabriceren hè Beire!' Ik vroeg me af wat het dan, in die grauwe fabriekshal, was dat hem inspireren moest, maar die vraag durfde ik niet stellen. Wel had ik sindsdien het onbehaaglijke gevoel dat ik in het oog gehouden werd. 'Misschien is de verfmenger niet de gekko in het terrarium,' bedacht ik mij, 'maar ben ik dat.'
Heel soms raakte zijn nieuwe kleur iets in het hart van de Indiërs. Ze kregen dan tranen in hun ogen en omhelsden elkaar, minutenlang, zonder woorden. De verfmenger wees naar een kast waarop zich zes kleine verfpotjes bevonden. 'Zes zeewaardige kleuren,' zei hij. Hij beweerde dat de Indiërs dan eigenhandig hun boot overschilderden en hem nadien meetroonden naar een uitzuipbar, om te vieren. Hij beschreef begeesterd hoe daar dan 'vrouwen als klassieke godinnen zich ontkleedden en de hele nacht lang, tot de zon weer opkwam, met ontblote borsten voor hen dansten.'
Toen ik opwierp dat ik dat een wel heel treurige manier van vieren vond, om zo ver van huis te moeten betalen voor wat gefingeerde liefde, reageerde hij erg boos.
Hij keek me recht in de ogen, met een blik alsof hij van me walgde, en zei: 'Wat is daar triestig aan, Beire? De éne mens gaat naar een hoerenkot, op duizenden kilometer van huis, en komt daar thuis. En de andere loopt verloren tussen de vaten, in een fabriek achter zijn eigen hoek.'
Maar dat was allemaal later. Nu stond ik met mijn staal in de hand voor zijn deur. Ik had nog nooit met de verfmenger gesproken en stapte onwennig, voor de allereerste keer, zijn kot binnen.

4. CHARLOTTE
Toen mijn ogen gewend waren aan het felle licht, zag ik de verfmenger. Hij was als in trance met zijn brouwsel bezig. In alle uithoeken van zijn kot ging hij tubes halen, pigment naar ik veronderstelde. Hij kneep er een beetje van in het mengsel en smeet ze vervolgens op de grond. Dan hief hij zijn zware elektrische mixer in de ketel en begon hij te mengen. Hij had alle moeite om de mixer onder controle te houden. De verfspatten vlogen alle kanten uit. Ik zag ze terechtkomen op muren en meubilair, en langzaam dikke strepen naar beneden trekken. De verfmenger zelf zag er ook bepaald morsig uit. Zijn voorhoofd, wangen en zijn zaten onder de vlekken verf. En de lange stofjas die hij droeg was misschien ooit wit geweest, maar was dat al lang niet meer. Elke kleur die hij ooit gefabriceerd had, had daar zijn beslag gevonden, als in een logboek. Het ding moest minstens een halve kilo zwaarder zijn dan toen het nog echt wit was. Nu viel mijn oog op de hoek rechts naast de deur waarlangs ik binnengekomen was. Tientallen beschimmelde schaaltjes met restanten van diepvriesmaaltijden hadden zich daar opgestapeld. In de schaaltjes zag ik ook koffiepads, broodkorsten en sigarettenpeuken. Misschien bevond zich onder die stapel een vuilbak maar daar was ik niet zeker van. Ik keek rond me en merkte nu pas wat een gigantische puinhoop het overal was. Een orgie van kleuren, en van vunzigheid.
De verfmenger deed alsof hij mij niet had zien binnenkomen. Althans, dat veronderstelde ik, aangezien hij luidkeels -en opmerkelijk toonvast- een passage uit Light my Fire van The Doors te berde bracht. Ik kon mij echt niet voorstellen dat dit toeval was. Dat was natuurlijk om mij te jennen. Ik grinnikte.
Ik was al lang blij dat er eens iemand niet deed alsof de gebeurtenissen gisteren niet plaatsgevonden hadden. De verfmenger beëindigde zijn schouwspel met een uithaal van jewelste: 'Try to set the night on fiiiire. Yeah!' Bij die laatste 'yeah' sprong hij met rood aangelopen kop en verwrongen gelaatstrekken de lucht in. Bij het neerkomen ontwaakte hij zogezegd uit trance en merkte hij mij eindelijk op. 'Hier se! Firestarter!' riep hij enthousiast.
Ik wou 'Hey Jim,' zeggen, bij wijze van grap, maar durfde dit niet. In de plaats daarvan knikte ik kort, zonder hem aan te kijken.
'Seg, hoe lang staat gij hier eigenlijk al?' vroeg hij, 'Ik verschiet mij een ongeluk.'
Zonder op die vraag te antwoorden gebaarde ik naar het staal in mijn hand.
De verfmenger veinsde verbazing: 'Hoe? Gij staat toch op het platform? Sinds wanneer moet gij de vaten vullen? Is er iets gebeurd of zo?' Het theater was dus nog niet voorbij.
Ik stond er wat bedremmeld bij en wist niet goed wat zeggen. 'Grappig hoor,' mompelde ik uiteindelijk, maar te stil om gehoord te worden.
'Allez,' zei de verfmenger, 'ik zal stoppen met u te plagen. Als ge plechtig belooft niks in de fik te steken, zet uw potteke dan maar op die tafel daar.' Hij wees naar een tafeltje bij de glazen wand. 'En pakt ne stoel want ik ben hier nog efkes bezig. Er staat drinken onder tafel.' Onder tafel vond ik inderdaad een pak halve-literflesjes River Cola. Ik nam er een flesje uit, duwde er de rommel op tafel mee opzij zodat ik het neer kon zetten, verplaatste een hoop vuile doeken van de ene stoel naar een andere en ging zitten.
Elke namiddag sinds die dag zat ik aan tafel bij de verfmenger, en dronk ik een cola terwijl hij me liet wachten. Hij wist dat ik een ziel op de dool was en bood me een rustplaats. Ik twijfel er niet aan dat hij dat uit mededogen deed. In heel dat lange jaar in de fabriek heb ik me nergens zo dicht bij mezelf gevoeld als daar, in die puinhoop van de verfmenger, terwijl hij in zijn ketel roerde. Een hele tijd later durfde ik hem vragen wat zijn naam was.
'Raphaël,' antwoordde hij, voor één keer ernstig, 'maar zeg maar Rafa.'
Ik knikte.
Weldra zou deze Rafa zich ontpoppen. Tot mijn Rafiki.
*
'Allez, we zullen uw kwakske eens inspecteren,' zei hij die eerste middag, na pakweg een kwartier. Hij kwam op me af en griste mijn staal van tafel. Ik had verwacht dat hij een soort apparatuur zou gebruiken, maar hij doopte gewoon vunzig langzaam zijn middelvinger in de zilveren brij.
Ondertussen keek hij me recht in de ogen, stak zijn tong zo ver hij kon uit zijn mond, grimaste en kreunde op wansmakelijke wijze, alsof hij klaarkwam, 'oh Charlotteke, zo lekker warm.'
Ik voelde me betrapt en krimpte in elkaar. Charlotte was de receptioniste. Hoe kon hij weten wat ik voelde voor haar? Als in een film drongen zich herinneringen aan me op, van mijn eerste dagen in de fabriek, toen ik nog in de cafetaria in het hoofdgebouw ging eten. Opnieuw zag ik voor me hoe ik 's middags de andere arbeiders een sluis involgde die de fabriekshal met het hoofdgebouw verbond. Niemand zei een woord. In die sluis hielden we halt bij een onopvallende witte bak waarin blauwe plastieken hoesjes zaten. Die moesten we, ik vermoed om de traphal proper te houden, over onze schoenen trekken. Niemand gaf een krimp maar ik voelde mij, terwijl ik de trap opliep, een complete freakshow. Bovenaan die trap, achter een balie, zat Charlotte. Ze was onberispelijk gekleed en schonk me, telkens ik haar passeerde, de meest stralende glimlach. Haar lippen, glanzend van de lipgloss, hield ze daarbij lichtjes uit elkaar. Ze had kuiltjes in de wangen, zomersproetjes en een twinkel in de ogen. En ook al moet ze ongeveer mijn leeftijd geweest zijn, ze had net zo goed van een andere planeet kunnen komen. Ik voelde meer verwantschap met een bonobo. Ik meed steeds zorgvuldig haar blik maar na een paar dagen sprak ze mij rechtstreeks aan, zo onbevangen dat het pijn deed: 'Hallo. Gij zijt Bert zeker? Ik ben Charlotte. Voelt ge u al wat thuis?' Ik voelde het bloed naar mijn kop stijgen, klikte mijn blik vast aan de blauwe hoesjes rond mijn lelijke schoenen, stamelde 'ja' en maakte dat ik wegkwam.
Een intens verdriet overmande me. Sinds die ontmoeting durfde ik niet meer naar de cafetaria en at ik mijn boterhammen alleen op, buiten.
De verfmenger merkte dat ik van slag was en lachte een vettige lach. Hij haalde zijn vinger uit de brij, trok enkele draden met zijn duim, hield dan beide vingers vlak onder zijn neus en snoof eraan. 'Bloemekes en honing', zuchtte hij smachtend, waarna hij zijn tong zo snel hij kon in en uit zijn mond bewoog, 'Riekt eens, Beire!' Hij bracht zijn vingers mijn richting uit. Ik durfde hem niet van me afweren. Gelukkig hield hij snel op.
'Over Charlotteke gesproken', zei hij vervolgens, terwijl hij zijn vingers afveegde aan één van de vieze doeken die ik verlegd had, 'als uw ontploffingske bedoeld was om indruk op haar te maken, mission accomplished, Beire. Knap gedaan.'
Ik keek hem vragend aan.
'Ja, ik passeerde haar juist en ze vroeg achter u.'
'Echt?'
'Ja, serieus.' Hij klonk wat verontwaardigd dat ik hem niet op zijn woord geloofde. 'Ze vroeg of alles okee was met u.' Hij liet een stilte vallen, keek me doodernstig aan en ging dan door. 'Haar onderlip begon wat te trillen, haar ogen werden nat en toen zag ik ineens haar tepels helemaal…'
'Fuck off gast,' onderbrak ik hem, oprecht kwaad, 'stopt ermee!'
De verfmenger bulderde van het lachen, zijn kop werd vuurrood, en hij riep triomfantelijk: 'Er zit dan toch iets van leven in de vatenvuller.' Daarna legde hij warm zijn hand op mijn schouder, keek hij me aan met ogen die straalden en zei 'Allez, ga uw vaatjes maar vol doen. Tot morgen he!'
'Tot morgen,' antwoordde ik, waarna ik tussen de vaten verdween.
PS: Nog even geduld. Op 21 april publiceren we de ontknoping van De Verfmenger.
PPS: Ook Leen Vandereyken – brons in de columnwedstrijd 2019 – zat intussen niet stil.