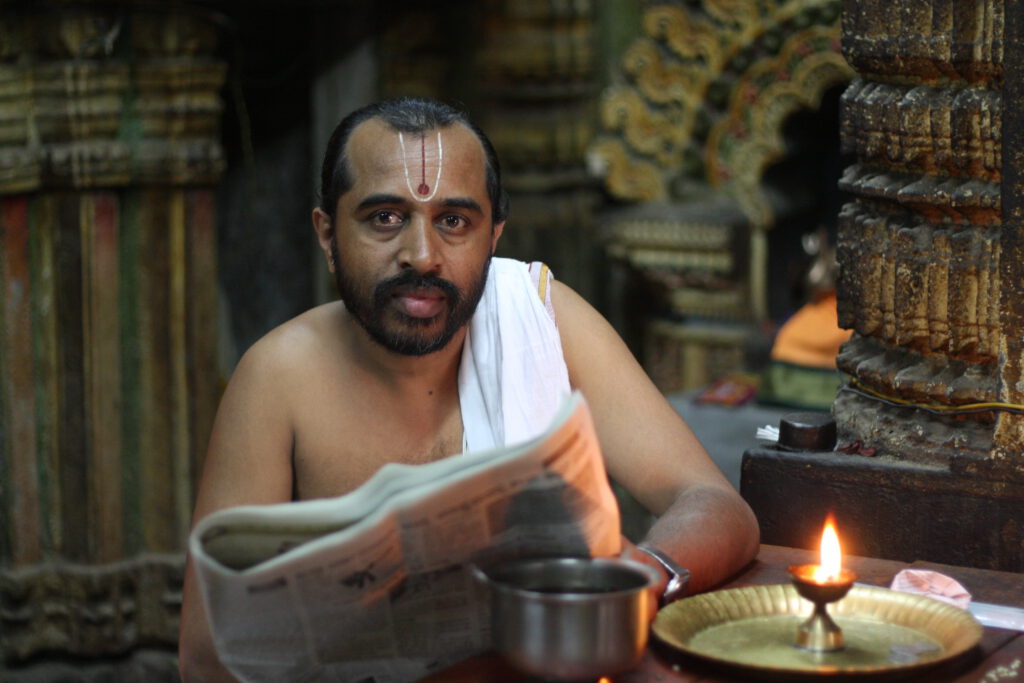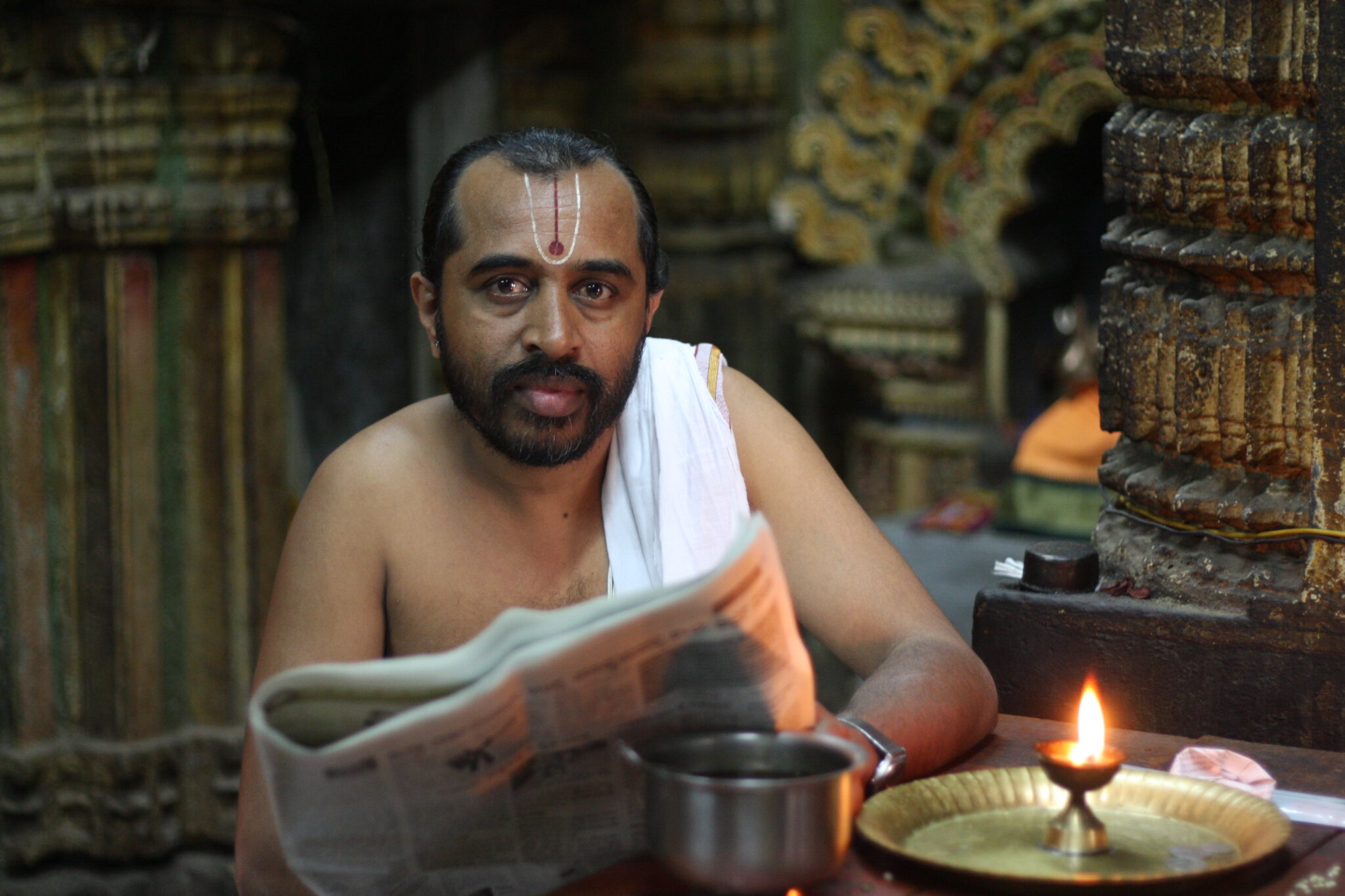 In 2019 kaapte hij – onder de goedkeurende blik van gastjurylid Saskia De Coster – de eerste prijs weg in onze columnwedstrijd. Maar Bert Aerts, zelfverklaarde 'man op de rand', heeft meer in z'n literaire mars. Deze maand trakteren we jullie op zijn korte verhaal De Verfmenger. Stap mee in de wereld van Bert – waar vaders amuletten verbergen op zolder en fabrieksketels (semi)spontaan ontploffen.
THUIS
Bij ons thuis is de eerste nacht van elke vakantie filmnacht. Dan sleuren we matrassen, donsdekens, kussens en knuffels naar beneden, schoppen we de salontafel aan de kant en maken we onze nest voor één nacht in de living. Ons Lobke –de hond- snapt er niks van.
Vanavond staat The Lion King op het programma dus mogen alle katachtigen meekijken. Dat hebben Max –zeven jaar- en zijn broer Toby –vijf- net samen beslist. Vandaar de verzameling leeuwen, tijgers, jachtluipaarden en panters in hun armen terwijl ze met driftige pasjes op me afgestormd komen. 'Uit de weg, papa!' gillen ze opgewonden. 'We kunnen niet door!' Ik sta bovenaan de trap, in gevecht met de laatste matras die naar de living moet. 'Rustig,' zeg ik, met langgerekte klinkers en zo diep ik kan, als om een tegengewicht te bieden aan hun hoog oplopende stemmetjes. 'Voorzichtig,' zeg ik ook nog. Op exact dezelfde toon. Ik zet een stapje opzij. Onmiddellijk trippelen mijn kinderen me hijgend voorbij. En dan gaat het mis.
Toby struikelt over de staart van één van de katachtigen in zijn armen, een grote tijger denk ik, en katapulteert zich zo het gat van de trap in, hoofd vooruit. Handen heb ik –vanwege de matras- niet vrij dus steek ik, in een ultieme poging hem te redden, een been uit. Ik probeer hem te knellen tegen de trapleuning. Helaas, dat lukt niet. Hij duikelt mijn been over en is een fractie van een seconde later helemaal buiten mijn bereik.
Ik kan enkel nog toekijken hoe hij, als in slow motion, een koprol maakt over de volledige lengte van de trap. Ik zie hem beide handjes voor zich uitsteken. Het volgende moment ligt hij beneden op de grond. Roerloos.
'Misschien valt het nog mee,' flitst het door mijn hoofd, 'het zag er zo sierlijk uit.' Een eeuwigheid gebeurt er niets. Dan krabbelt hij recht, gilt zo hard hij kan: 'Geen pijn! Dikke duim!' steekt olijk zijn duim in de lucht en begint te schateren van het lachen. De wereld begint opnieuw te draaien.
Ik duw de matras tegen de muur, haast me naar beneden en hurk daar bij Toby neer. 'Venteke toch! Pijn gedaan?' vraag ik terwijl ik in de zwarte haartjes rond zijn kruintje kriebel. 'Knuffel nodig?'
'Nee! Papa! Stop!' Hij slaat me van zich af. Hij wil dat ik zwijg, want Max spreekt. Die heeft alles zien gebeuren en is zwaar onder de indruk: 'Wow, Toby!' gilt hij, 'What the piep! Precies een echte stuntman!'
Toby glimt van trots.
'Nog een keer?' vraagt Max enthousiast.
Toby haalt de schouders op. 'Okee.'
'Niks van!' roep ik uit, 'Veel te gevaarlijk!' en vervolgens, terwijl ik hen beurtelings streng in de ogen kijk en al mijn wijsvingers en wenkbrauwen de lucht in gooi: 'Jongens! Dit is ons geheim! Niks tegen mama zeggen. Beloofd?' Maar ze beloven niets. Ze zijn al weer verdwenen. Ik krabbel dan ook maar recht. Puffend ga ik de trap weer op en sleur ik mijn matras verder naar beneden. 'All in a day,' zucht ik.
*
'Ik moet mijn amulet halen,' bedenk ik me dan, terwijl ik mijn matras in de living naast de andere neerplof, 'ik kan niet na al die jaren terug naar The Lion King kijken zonder mijn amulet.' Dus zet ik me op weg naar de zolder. Vanop de overloop van de eerste verdieping zie ik dat Max en Toby zich ondertussen in de speelkamer bevinden. Ze staan met hun rug naar me toe, broederlijk naast elkaar, tussen een gigantische berg knuffels en merken niet dat ik even halt houd om naar ze te kijken.
'Nee Toby,' hoor ik Max zeggen, op een toon die half geïrriteerd, half geduldig is, 'een kikker is géén katachtige. Dat is een soort vis. Maar dan met poten. Die woont in het water.' Hij heeft zijn hand bemoedigend op de rug van zijn broer gelegd. Toby kijkt, met hangende schoudertjes, teneergeslagen naar de grond. Hij houdt zijn kikker vast. Hij mummelt iets maar ik kan niet horen wat.
'Mijn amulet,' denk ik, en ik sluip stilletjes verder, de trap op naar de zolder. Daar duurt het even vooraleer ik een haalbare route bepaald heb, maar dan zet ik achtereenvolgens een voet over een paar zakken babykleding, vind ik vervolgens een plekje voor mijn volgende voet door er -terwijl ik me vasthoud aan een verzorgingstafel- een hoop duplo mee opzij te schuiven en stap ik, tenslotte, over een doos houten babypuzzels, middenin een zak, met daarin andere zakken. Zo kom ik uiteindelijk bij een stapel bananendozen die alle hetzelfde opschrift dragen: belangrijke herinneringen. Ik weet onmiddellijk welke doos ik nodig heb. 'Hoe komt het dat ik dit nog weet?' vraag ik me af, 'ze zien er allemaal hetzelfde uit.' Even later sta ik met een metalen doosje in mijn handen. Ik doe het open.
Daar ligt het amulet. Het ziet er nog exact uit zoals ik het mij herinner: Zes veren. In zes verschillende kleuren. Rond elke steel zorgvuldig een ijzerdraadje gewikkeld. En daarmee vastgehecht aan een centrale ring.
'De kleuren hebben niets van hun intensiteit verloren,' denk ik ontroerd, 'zelfs na al die jaren.' Ik ga zitten op een oude versterker en neem het amulet uit het doosje. Ik voel het in mijn hand liggen. Met mijn wijsvinger streel ik voorzichtig de veertjes. Opnieuw en opnieuw. En net zoals een lang vergeten geur een mens instant kan terugwerpen naar een andere tijd, net zo overrompelt mijn amulet mij, hier op deze zolder, met oud verdriet, en met dankbaarheid. Herinneringen komen daar helemaal niet aan te pas. Mijn hart zwelt en mijn ogen vullen zich met tranen. Ik hoef niet terug te denken aan de gebeurtenissen die plaatsvonden twintig jaar geleden in de fabriek.
*
Langzaam maar zeker dringt geroep tot mij door: 'Bert!' en dan opnieuw, dringender: 'Bèèrt!'
'Dat ben jij,' realiseer ik me eindelijk met een schok, 'en je klinkt serieus kwaad.' Ik spring recht van mijn versterker, struikel de zolder uit en storm de trap af, ondertussen 'jahaa, ik kom' roepend. Beneden sta je mij inderdaad op te wachten, met Toby op je arm. Je geeft me onmiddellijk de volle laag: 'Waar zit jij in hemelsnaam? Onze Toby is hier keihard aan het wenen!' Je gebaart naar Toby, die als was het om je woorden kracht bij te zetten, zijn keel nog wat verder openzet. 'Ik ben in de keuken bezig he! Gij ging op de kinderen letten!'
'Ja, sorry, ik was eventjes op zolder,' mummel ik ter verdediging en dan, vooral om de aandacht af te leiden: 'Wat is er aan de hand Toby?'
'Max zegt dat mijn kikker niet mee naar de film mag kijken,' snottert hij. Eerst versta ik hem niet maar dan zie ik de kikker in zijn handjes. 'Mijn God,' denk ik bij mezelf, 'Dit gaat nog altijd over die kikker.'
'Ja papa,' verdedigt Max zich, 'alleen katachtigen mogen meekijken. Dat hadden we afgesproken!' Hij heeft zijn lichaam op een vreemde manier over de trapleuning geplooid en wiegt ritmisch heen en weer. 'En een kikker is géén katachtige!' Die laatste zin gooit hij Toby briesend naar het hoofd. Hij is gestopt met wiegen.
'Mijn kikker is wél een katachtige,' krijst Toby terug, zo hard hij kan. Nu die op jouw arm zit, durft hij duidelijk wat meer.
'Jongens! Jongens! Stop!' roep ik, terwijl ik in een poging de situatie te ontmijnen, tussen hen in ga staan. Ik begrijp wat er gebeurd moet zijn. Bij hoog en laag volhouden dat een kikker een katachtige is, daarmee krijg je Max wel over het randje. Die heeft Toby natuurlijk een enorme klap verkocht. Vandaar dat hij daar zo schuldbewust over de trapleuning hangt te wiegen.
Ik kijk Toby recht in de ogen: 'Toby,' zeg ik helder, 'een kikker is geen katachtige.' Ik schud begripvol het hoofd. 'Sorry venteke.'
Jij streelt hem zachtjes over zijn rug.
'Zie je nu wel!' komt Max tussen. 'Ik zei het toch!' En hij laat zijn frustratie nog even de vrije loop met een welgemeende 'echt he!'
'En ook geen 'vis met poten' Max!' kaats ik onmiddellijk terug.
'Ow.' Hij voelt zich duidelijk opgelaten en begint opnieuw over zijn leuning te wiegen.
'Een amfibie Max,' plaag ik hem, 'een kikker is een amfibie. Euh, hallo juf Lies? Is er nog plaats in de eerste kleuterklas?'
'Ow,' zegt hij opnieuw.
Ik peil je blik. Even houden onze ogen zich vast aan elkaar. Je lijkt niet meer kwaad. Integendeel. Je probeert met alle moeite van de wereld je lach in te houden. Ik leef op, en richt me dan opnieuw tot Toby: 'Volgende keer kijken we naar een film van amfibieën schat,' zeg ik. 'Beloofd. En dan mag uw kikker meekijken.'
Geen reactie.
'Toby? Gaat uw kikker dan meekijken volgende keer?' probeer ik nogmaals.
Helaas, er komt geen antwoord op die vraag. Toby begint opnieuw te huilen, zo mogelijk nog hartverscheurender dan voorheen. En doorheen dat gehuil begint Max hysterisch te brullen: 'Auw Toby! Stop! Mijn oren! Ik haat jou!'
Opnieuw zoek ik je blik, maar ditmaal geef je niet thuis. En dan, terwijl ik me bedremmeld sta af te vragen wat er net gebeurd is, neem jij het heft in handen.
*
'Venteke toch,' fluister je Toby toe,'laat eerst al uw verdriet er maar eens uit. Laat u maar eens goed gaan.' Toby doet exact wat je vraagt. Je streelt hem over zijn rug.
Terwijl hij, tussen twee uithalen door, eventjes naar adem hapt, kijk je Max aan. 'Ik weet het schat.' Je wijst naar je oren en trekt een gek gezicht. 'Nijp ze toe, dat helpt.' Max doet wat je vraagt.
'Amai, Bert, knap hoor,' sis je mij vervolgens sarcastisch toe, 'dikke duim!'
Ik trek een zure mond en draai met mijn ogen.
Zo staan we daar een hele tijd te staan, tot iedereen uiteindelijk een klein beetje mildert. 'Komaan he,' zeg je dan. 'Het is filmavond. We gaan ons toch niet laten kennen zeker. We vinden wel een oplossing. Daar zijn wij super goed in.'
Iedereen pruttelt wat.
'Misschien Toby,' ga je aarzelend van start, 'is uw kikker eigenlijk een katachtige, maar dan in de vorm van een kikker.'
'Wablief mama?' vraagt Max.
'Waar wil ze naartoe,' denk ik.
Toby is gestopt met wenen en luistert aandachtig.
Je kijkt heel ernstig. 'Er bestaan bijvoorbeeld ook zeehondjes in de vorm van ijsberen', zeg je, 'en poesjes in de vorm van konijntjes. Die huppelen dan zo rond in het gras, met oren van een konijn, en zo'n wit staartje en helemaal fluffy. Maar vanbinnen voelen die zich een poes.'
'Hoe bedoel je mama,' vraag Max.
'Dit werkt nooit,' denk ik.
'Dat is eigenlijk heel verdrietig,' ga je door. 'Die konijntjes willen miauw zeggen en muisjes vangen, maar dat lukt natuurlijk niet. Zo bestaan er ook meisjes in de vorm van jongens. En jongens in de vorm van meisjes. Of schrijvertjes in de vorm van teamleiders.' Die laatste zin is natuurlijk een sneer naar mij.
'En prinsesjes in de vorm van huisvrouwen,' steek ik terug.
Je doet alsof je me niet hoort. 'Toby? Zou het kunnen dat uw kikker eigenlijk een katachtige is?'
Toby begint opnieuw te huilen, maar ditmaal een andere soort tranen. 'Ja,' snottert hij, zielsblij. 'Een babyjaguar.'
'Een babyjaguar,' herhaal jij. 'Natuurlijk wil die mee naar de film kijken. Wat is dat nu!' Ondertussen kijk je niet hem in de ogen, maar mij. 'Breng hem maar snel naar de andere dieren.'
En weg drentelt Toby.
'Ja, mama!' roept Max nu verontwaardigd uit. 'Dat telt niet he! Ze moeten er ook uitzien als een katachtige!' Wat een onzin, de tranen springen er hem van in de ogen.
Je legt zuchtend je hand op zijn rug en geeft hem een duwtje richting living: 'Ik weet het schat.' Zo wandelen jullie samen, als waren jullie beste vrienden, de living in. 'Komaan Max,' hoor ik je zeggen, terwijl ik achter jullie aan hobbel, 'work with me. Een amfibie meer of minder.' Nog even tornt hij eigenhandig het gewicht van de wereld en sloft hij verongelijkt naast je, maar dan zucht hij gelaten: 'Okee dan mama.'
En weg is hij.
Over je schouder kijk je me aan. Triomfantelijk. Je haalt vragend je wenkbrauwen op. 'Rots,' zeg ik. En al trek ik nog steeds een zure mond, mijn ogen stralen.
*
Net dan gaat het alarm van de oven. 'Pizzaa!' joelen we terwijl we met z'n allen de keuken in hollen. Daar laden we elkaars armen vol met snoepdozen, zakken chips en kommen popcorn. Op filmavond is ongezond voor één keer geen bezwaar.
Max duwt Toby een gigantische kom marshmallows onder de neus: 'Hier Toby,' zegt hij geïrriteerd, 'pak dan!'
'Dat gaat niet,' roept Toby geïrriteerd terug, 'ik heb mijn kikker al vast.'
'Ja, zet die er dan in he,' roept Max nog geïrriteerder.
'Ow,' zegt Toby, en hij zet zijn kikker tussen de marshmallows. We lachen.
Dan lopen we elkaar voor de voeten de living in, en ploffen we uitgelaten neer op een matras. Zie ons daar nu zitten, vier mensen, een hond en twee dozijn katachtigen, waaronder één babyjaguar in de vorm van een kikker, en een poes van vlees en bloed die nu net een schelletje salami van een pizza steelt.
'Worf!' gil ik.
'Smakelijk eten,' roept Toby en hij steekt zijn duim de lucht weer in, 'heel bedankt!'
Dan komt de zon op boven de eindeloze vlaktes van de Serengeti en verstoort, tegen de achtergrond van de machtige Kilimanjaro, een familie buffels de ochtendmist. 'Aah sevenyaah,' joelen de kinderen mee. Hun ogen zijn gekluisterd aan het beeldscherm.
Maar in mijn hand ligt nog steeds het amulet en, terwijl ik gedurig de veertjes streel, ontwikkelt zich voor mijn ogen een andere film.
2. FABRIEK
De fabriek waarin ik een jaar lang verloren liep –dat moet nu twintig jaar geleden zijn- kon symbool staan voor mijn leven.
Ik snapte er geen ene moer van. Ik wist niet welke de grondstoffen waren die de heftruckchauffeur –een stugge man die deed of ik niet bestond– op gezette tijden de fabriekshal binnenreed, ik wist niet wat de naam was van de dikke, zilveren brij die we produceerden en ik wist niet wat de bestemming was van de grote, blauwe vaten waarin we de brij uitstortten. Elke ochtend in de kleedkamer ontdeed ik mij van mijn kleren en stapte ik in mijn werkplunje: lelijke schoenen met een stalen tip, een brede, blauwe broek en een grauw T-shirt. Ook mijn naam liet ik achter in de kleedkamer. In de fabriekshal noemde iedereen mij Beire. Ik haatte die naam maar durfde er niets van zeggen.
In de fabriekshal stond een gigantische ketel, zes meter hoog schat ik, waarrond een platform en een trap gebouwd waren zodat iemand de grondstoffen in een opening bovenaan kon kappen. In het begin was die eer mij een aantal dagen te beurt gevallen, maar dat was faliekant fout gelopen. Eerst kwam er dikke, zwarte rook uit de opening bovenaan, wat later ging er een oorverdovend alarm af en het eindigde met brandweersirenes en de evacuatie van het hele bedrijvenpark. Ik had geen idee wat er gebeurd kon zijn maar dat de oorzaak bij mij lag, daar twijfelde ik niet aan. Er werd mij niets gevraagd en ik vroeg niets. Ik werd voor de rest van de dag naar huis gestuurd.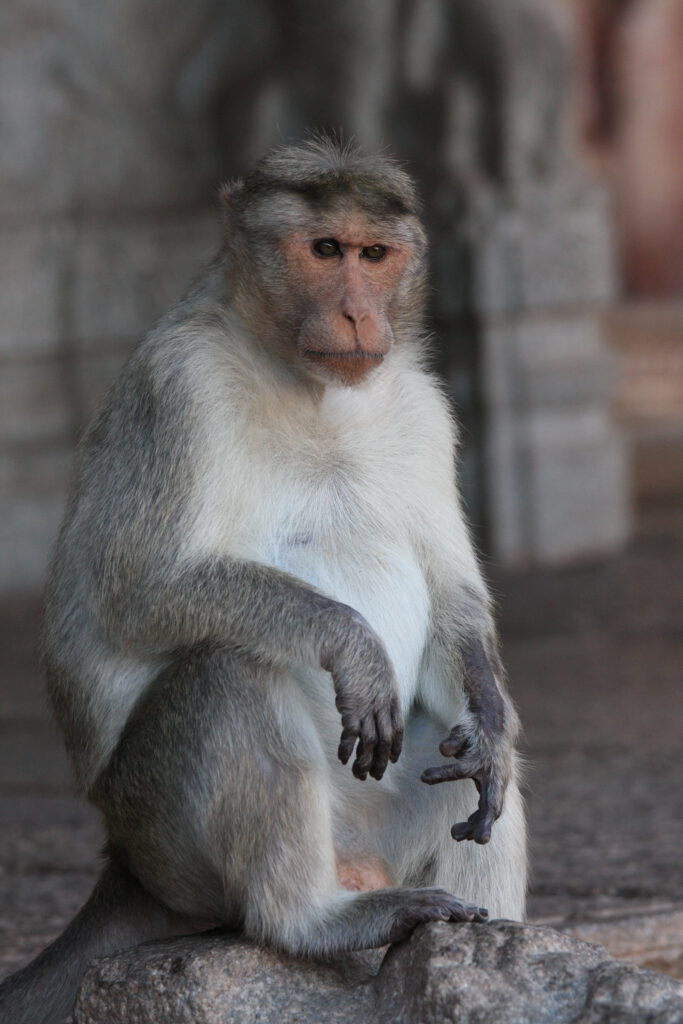 Die dag alleen in mijn appartement keek ik voor het eerst naar The Lion King. En zag een sleutelscène: Terwijl Simba pluk de dag doet met Timon en Pumba –god, wat heb ik een rothekel aan dat achterlijke wrattenzwijn en die irritante stokstaart- verschijnt daar eindelijk ten tonele
de ziener Rafiki. Mandril, geen baviaan. Oude knoken, grijze manen. Staf in de hand. Hij komt Simba zoeken in dat holle leven dat het zijne niet is, sleurt hem eruit –'You follow Rafiki, he knows the way'- en brengt hem naar het water.
Maant hem daar, met een klap op z'n kop, tot stilte en gebiedt hem te kijken: 'Look harder, Simba. You have forgotten who you are. You are more than you have become.' Ook het oerwoud heeft zijn spiegels. Ik hapte naar adem en weende dikke tranen. En had geen idee van waar die kwamen.
Bizar dat ik toen niet zien kon wat vandaag zo helder is: Die Simba, dat was ik. Ik hunkerde met heel mijn verloren gelopen wezen naar een Rafiki. En een klap op mijn kop.
De volgende ochtend in de kleedkamer repte niemand met een woord over het incident van de dag voordien, maar eens in de fabriekshal stapte iemand anders zwijgend de trap naar mijn platform op. Ik was opnieuw tot de begane grond veroordeeld. Wat ik daar dan geacht werd te doen, werd mij pas duidelijk toen de heftruckchauffeur vanuit het magazijn de fabriekshal binnengereden kwam. Hij denderde met een pallet vaten recht op mij af, veel sneller dan nodig was, en zette het bruut neer, exact waar ik stond rond te lummelen. Ik kon nog net op tijd opzij springen. Ik begreep dat ik tot vatenvuller gedegradeerd was.
Elke ochtend herschiep de heftruckchauffeur de fabriekshal in een bos van vaten, als een woesteling, en de gehele voormiddag hield ik me in dat bos schuil. Ik zeulde een emmer lijm en een stapel etiketten met daarop driehoekige waarschuwingstekens –danger, corrosive– achter me aan en hurkte zo, lijmend, van vat tot vat. Hoog boven mij, op het platform, prepareerde ondertussen iemand anders de zilveren brij. In de namiddag, als de brij klaar was, vulde ik de vaten. Ik manoeuvreerde pallet na pallet naar de onderkant van de ketel, opende de zware afvulkraan die zich daar bevond en keek lusteloos toe hoe de zilveren brij zich in de vaten stortte. Daarna sloot ik de kraan en duwde ik hijgend de loodzware paletten terug het bos in. Maar alvorens ik van start kon gaan met vaten vullen, moest ik een staal ter controle binnendoen. Dat deed ik vlak na mijn middagpauze. Zo leerde ik de verfmenger kennen.
PS: Geboeid? Het tweede deel van De Verfmenger lees je hier op 11 april 2021.
PPS: Ook Luc Geeraert kreeg bij ons al eens het podium, met zijn verhaal Nachtruiter
PPPS: De foto's bij dit stuk maakte ik (Barbara) zelf in 2008, tijdens mijn wereldreis met Joris. Altijd blij die doos nog eens open te kunnen trekken.