And the winner is… Bert Aerts
In het uitstekende gezelschap van schrijfsters Fleur Pierets en Hanne Luyten – en tussen een traan en een lach – maakten wij gisterenavond bekend wie gastjurylid Saskia De Coster verkoos tot winnaar van onze vijfde columnwedstrijd. Een verslag van de warme avond volgt snel, wij delen alvast het rapport van de jury vol kudos voor alle acht de genomineerden.
In willekeurige volgorde:
"Caroline Van den Berghe swipet in haar column langs Tindertony's en andere Onslows. Volgens de jury is deze column echt Flairmateriaal: een toffe dating anekdote die voor velen herkenbaar zal zijn. Grappig is alvast het uitgangspunt van deze tekst: een zoon die zijn moeder moet leren swipen. Hardop lachen deed de voltallige jury ook met de "Tiny gaat op reis" profielen en de Tony's die gracieus het stuur van hun Porsche in hun buik klemmen. Caroline wij swipen jouw column alvast naar boven. 
Pieter Wouters mijmerde in zijn column over zingeving en die arme Nietzsche, die nooit een nachtelijke naaktselfie mocht ontvangen. Reeds halverwege deze tekst had Saskia torenhoge verwachtingen over wat de uitkomst van deze column zou zijn. Ging ze een antwoord krijgen op wat het belangrijkste is in een mens zijn leven? Saskia vergelijkt de schrijfstijl van Pieter zelfs met die van Amélie O. in Elle, prijst hem om zijn snuggere gedachten en concludeert: deze man heeft iets van de wereld gezien. Of de hoeren van het Falcon plein daar voor iets tussen zitten, weten wij ook niet.
Met haar column over 'fushjelhaar' fulmineert Isabel De Wit over kapers op de kust bij Kapsalon Joke. Saskia wil Isabel echt aanmoedigen om te blijven schrijven en vindt het geweldig sterk hoe Isabel een eigen concept – dat van het fushjelhaar – lanceert in haar column: origineel en grappig. Dat de tekst ook dicht bij Isabel lijkt te liggen en dat ze zich fel durft uitspreken, is een extra plus. Mogen we bovendien zeggen dat het indrukwekkend is dat Isabel voor het tweede jaar op rij genomineerd werd. Dat doet ons altijd denken aan de woorden van An Olaerts, ons eerste jurylid: 'Iedereen heeft één goede column in zich, weinigen kunnen dat niveau behouden.'
Met de titel 'Schrijven is als kakken' zet Jürgen Nakielski meteen de toon. Die scrabeuze schrijfstijl met een eigen jargon is meteen Jürgens grootste troef, vindt Saskia. Je voelt dat hij hierin op zijn gemak is. Verder kan Saskia zich herkennen in de mijmeringen over de onvoorwaardelijke liefde voor zijn dochter en kan ze de combinatie van kwetsbaarheid en humor ook appreciëren. Dat ook Jürgen voor de tweede keer werd genomineerd, is de jury niet ontgaan.
Van een heel andere aard is Ononderbroken slaap van Laura Nollet. Zij vraagt zich af hoe het is om terug wakker te worden in een wereld waarvan je al afscheid hebt genomen. Die premisse alleen al is volgens Saskia materiaal voor een film of een kortverhaal. Saskia's woorden waren nog niet koud of vervolgens zagen wij haar drie keer slikken, en dat was een goed teken. Laura's column maakt iets los en verontrust. Op een beklijvende manier schrijven over zo'n unheimlich onderwerp is bovendien niet gemakkelijk. Saskia wil Laura dan ook expliciet aanmoedigen om te blijven schrijven.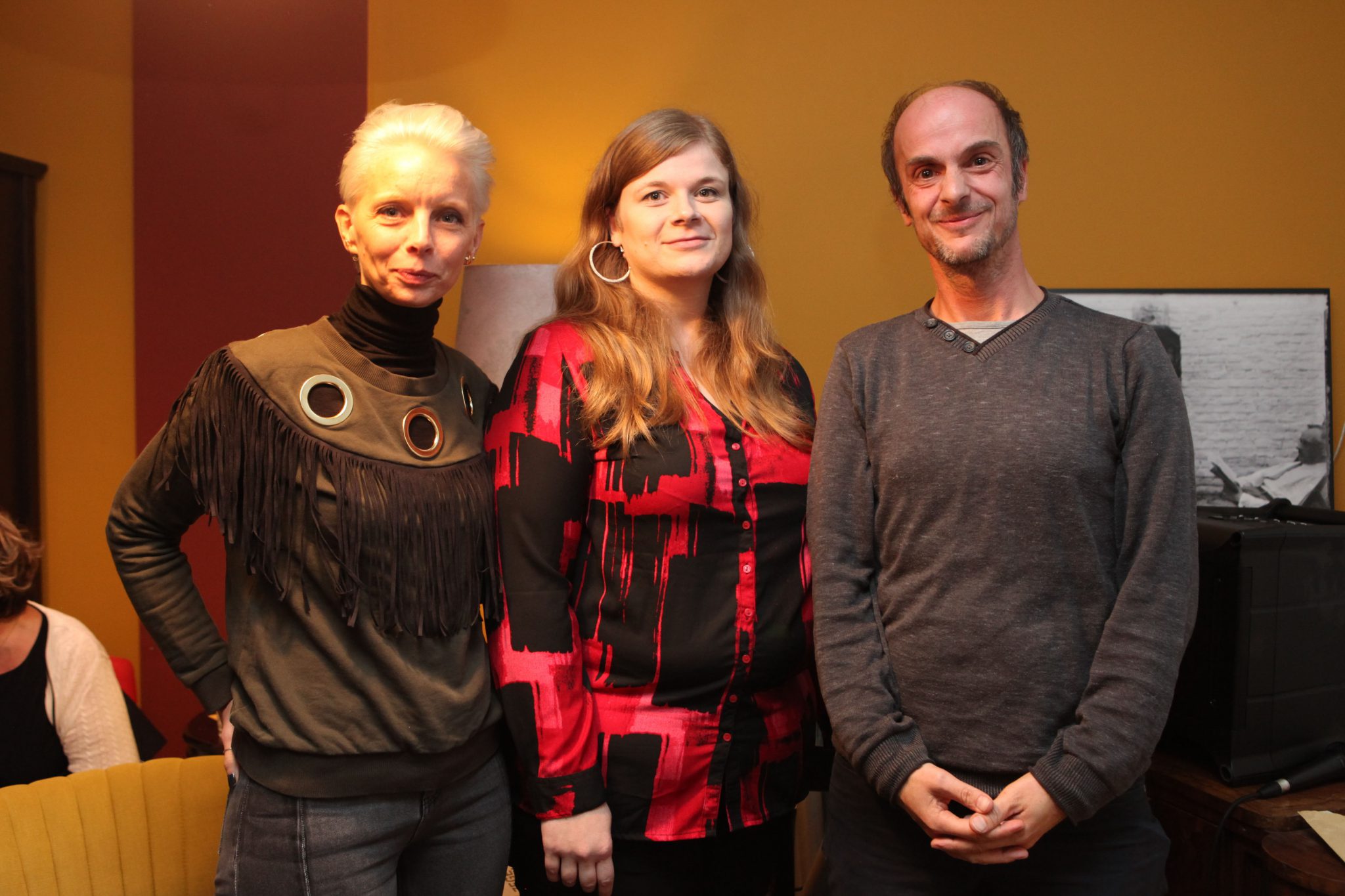 De top 3, het erepodium van onze columnwedstrijd. 
Het is Leen Vandereycken die met de bronzen medaille mag gaan lopen. Met 'waarom vrouwen in bikini zo vaak hun billen aanraken' doet Leen een originele observatie die we nog nergens hadden gelezen. Bovendien houdt de jury van vergelijkingen als 'de derrière is het nieuwe monokini' of 'de sinaasappelhuid als brailleschrift voor zelfkennis'. Interessant, matuur en grappig, het zijn maar enkele van de lovende adjectieven waarmee de jury deze tekst omschrijft. 
Op de tweede plaats staat een column die een uitgekiend spel speelt met waarheid en herinnering. Vanaf de eerste zin weet je dat dit foute boel is. Iets klopt niet en de schrijver van deze tekst bouwt de spanning op zonder te benoemen wat er echt aan de hand is. Ellen Willième, de jury bekroont jouw tekst over een liefdesbrief die je schreef op je 7de niet alleen omwille van de spannende opbouw met een twist maar vooral omdat ze ontroert.  Zo lief en mooi, zei Saskia!
En dan zijn we bij de winnaar van de columnwedstrijd gekomen. Bert Aerts, volgens de jury is jouw column over mediteren klaar voor publicatie. Saskia looft jouw tekst omdat ze zowel kwetsbaar als humoristisch is. De jury houdt van het ademhalingsmotief, van het beeld van de verpleegster die de dementerenden terug naar hun kamer brengt en van het ironische verdrietje in de zetel. Een volwassen en gebalanceerde tekst, die met de eerste prijs naar huis gaat."