Dit is een bijdrage van onze vaste gastredacteur Kurt Van Gasse
Hoed je voor boekenstapels. Ze kweken als konijnen, ze zijn een bedreiging voor lijf en leden –mits hoog genoeg gestapeld-, maar ze zijn vooral een gevangenis voor het boek dat helemaal onderaan ligt. Dat komt nooit meer boven. Zelfs als is het een erg goed boek. Zelfs al zit je halverwege en wil je echt wel weten hoe het afloopt. Het is een ijzeren wet die alle boekenmensen kennen:
de enige bedreiging voor boeken, is nog meer boeken.
Er heerst een bikkelharde concurrentie tussen de boeken in je woonkamer. In de strijd om gelezen te worden sneuvelen ze bij bosjes. Je behandelt immers boeken zoals Don Juan zijn minnaressen: je legt het nooit  met minder dan zes tegelijk aan, terwijl je ondertussen begerig nieuwe doelwitten in de gaten houdt.
Sommige sneuvelen deels gelezen omdat ze geplet worden onder de nieuwe aanwinsten. Andere dan weer omdat een boekenmeisje je opdraagt om in een lederen jekker een boekvoorstelling te verslaan, en het boek te recenseren. Nog andere –laat ons eerlijk zijn- omdat ze werden afgetroefd door een nog beter boek. Om nog te zwijgen van de moeilijke nachtkastgevallen die moeten concurreren met ons chronisch slaaptekort en elke avond uit onze verslappende hand op de grond donderen.
Het is niet eerlijk. Het is volslagen willekeur.
Wij pleiten daarom voor de onmiddellijke rehabilitatie van je niet uitgelezen prachtboeken.
Red ze van je nachtkastje, bevrijd ze van de stapel met de nieuwe garde en maak er meteen een nieuwe stapel van. En zoals je 's vrijdags die gehaktballen van maandag handig combineert met die pasta van woensdag, hou je een literaire restjesdag. Je rijgt laatste rechte lijn aan laatste rechte lijn. De voldoening van een hoop boeken te hebben uitgelezen, krijg je cadeau.
Dit leverde onze reddingsactie op: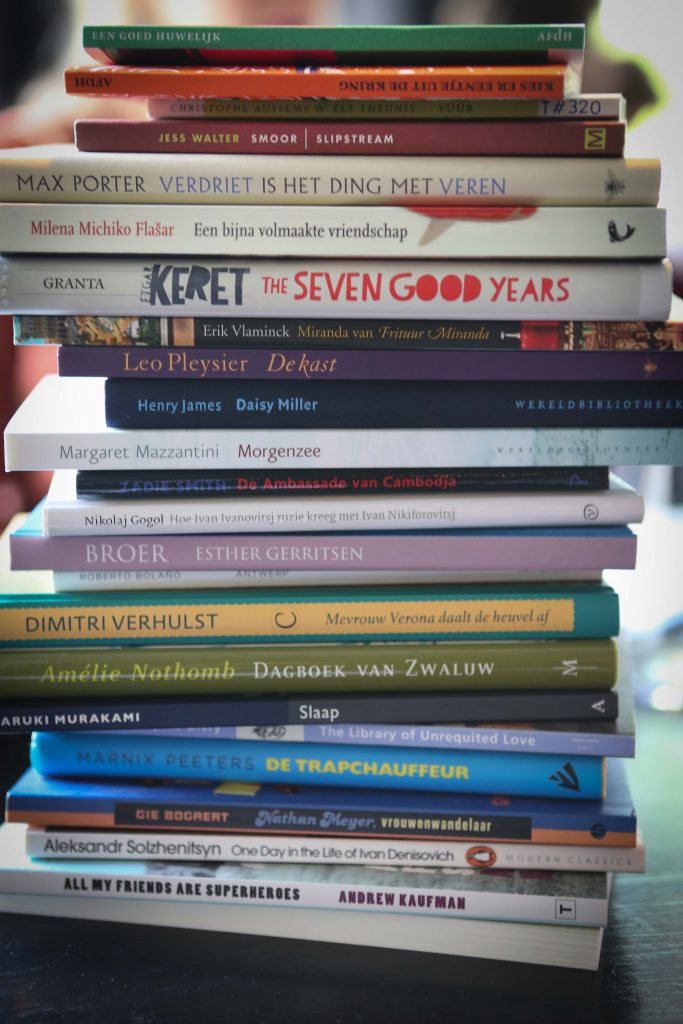 Dertig dagen – Annelies Verbeke
Van de hand van de meesteres van het kortverhaal. Alphonse verdient de kost als klusjesman in de Vlaamse Westhoek. De gezinnen die hij bezoekt leveren Verbeke een prachtige gelegenheid om een horde aanmodderende personages op te voeren, wat dezelfde reden is waarom we aan haar kortverhalen verslingerd zijn. Of dat ook werkt in een roman, zal snel blijken. (Je leest het ook in de gastrecensie van Leen Raats op deze blog…)
De jonge bruid – Alessandro Baricco
Een Italiaans sprookje, bulkend van de prachtige beelden. Katrien is fan, en terecht. Niet verklappen of de Zoon nu al dan niet de Jonge Bruid zal vervoegen, dat lees ik zelf wel.
De Jiddische politiebond – Michael Chabon
Michael Chabon combineert deze hard-boiled detective à la Raymond Chandler met een  gedachtenexperiment en lijmt de zaak netjes aan elkaar met zijn kenmerkende humor. Best snel uitlezen, zodat we afdoende gewapend naar de verfilming van de Coen Brothers kunnen.
Als je het licht niet kunt zien – Anthony Doerr
OK, ik heb gelogen. Er is geen restje Als je het licht niet kunt zien. Er is geen pagina over. Ik heb deze turf gulzig uitgelezen, in een paar koortsachtige sessies. Maar dat we voor niets terugdeinzen om je boekentips te slijten, dat had je al begrepen. In deze memorabele oorlogsroman leert een blind meisje je kijken. Echt kijken. Neveneffecten van dit boek zijn een plotse hang naar het herlezen van Jules Verne, een dilemma tussen een treinticket naar Saint-Malo of een toegangsticket voor het Natuurhistorisch museum van Parijs, en vlagen van weemoed bij het luisteren naar de radio. Dikke vette aanrader.
PS: Pak je je literaire restjes liever uiterst geconcentreerd en in goed gezelschap aan? Neem je stapel mee naar een Slow Reading sessie in de Barboek, en oogst bewonderende blikken bij je enorme leessnelheid.
PPS: Blijkt een literair restje je zwaar op de maag te liggen en krijg je het echt niet meer verteerd? Leg het te vondeling, misschien vindt iemand anders het om van te smullen.