Recensie op vrijdag – Annelies Verbeke
In februari presenteert This Is How We Read elke vrijdag één van de genomineerden van onze recensiewedstrijd. Op 4 maart 2016 maken we de winnaar bekend. Die krijgt een boekenpakket en een origineel leesdeken.
Vandaag is Leen Raats aan de beurt. Zij bewondert en hekelt schrijfster Annelies Verbeke.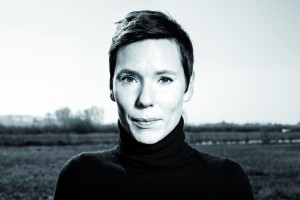 In 'Dertig dagen' katapulteert Annelies Verbeke ons in haar onnavolgbare stijl naar de Westhoek. Voor de gelegenheid kruipt ze in de huid van een klusjesman met Afrikaanse roots die opgroeide in het bruisende Brussel en daar een gepassioneerd muzikantenbestaan leidde. Nu komt hij aan de kost als klusjesman op het West-Vlaamse platteland. We raken niet enkele geïntrigeerd door zijn eigen verhaal, maar ook door de verhalen van de mensen voor wie hij muren schildert en kamers opknapt. Alphonse beschikt namelijk over een bijzondere gave waarmee hij mensen kan helpen en dat doet hij dan ook, vaak tot ergernis van zijn vriendin Kat. De manier waarop al die verhalen na verloop van tijd schijnbaar vanzelf in elkaar schuiven, vormt een belangrijk deel van het leesplezier.
Als lezer kan je niet anders dan diepe, warme gevoelens koesteren voor deze hulpvaardige, rustige maar ook passionele man. En net dat maakte dat ik zo verdomd kwaad was op Verbeke omwille van het einde van dit meesterlijk boek. De noodlottige gebeurtenissen werden zorgvuldig voorafgegaan door subtiele hints die doorheen het boek werden gegeven en de spanning werd haast onmerkbaar opgebouwd. De schrijver in me wil haar dan ook zeggen: 'Knap gedaan, je hebt je lezers bij de keel gegrepen en hen opgezadeld met een gevoel dat niet meteen wegebt nadat het boek is dichtgeklapt', terwijl de lezer in me met overslaande stem schreeuwt: 'Verbeke, verdomme, moest dat nu echt? Vind je dit leuk ofzo?!'
Dat ze zelf in haar roman opduikt – in de vorm van een schrijfster die in een schrijversresidentie verblijft en met haar auto de hele Westhoek doorkruist op zoek naar inspiratie – wekt mijn nieuwsgierigheid – wat is autobiografisch, wat is verzonnen? – en toont nog maar eens aan hoe Annelies Verbeke de regels van de kunst zodanig beheerst dat ze ze probleemloos naar haar hand zet. De heerlijk van de pot gerukte scène met de journalist maakt dat ik me afvraag of dit een soort 'zoete schrijverswraak' is op de soms vervelende of zelfs beledigende vragen van bepaalde journalisten en de onzorgvuldige manier waarop ze weleens te werk gaan, of misschien wel op één bepaalde journalist in het bijzonder. Dat ik zelf journalistieke roots heb, maakt het er voor mij enkel maar leuker op om dit te lezen.
Eerder las ik van Verbeke de verhalenbundel 'Groener Gras' en de romans 'Vissen redden' en 'Reus' en nog steeds verbaas ik me er over hoe ze er in slaagt om grote thema's op zo'n subtiele manier aan te boren, zonder ooit in clichés te vervallen. Ze schippert tussen hyperrealistische situaties en complete absurditeit. Maar bovenal: ze weet de balans tussen beiden op zo'n manier te maken, dat je als lezer méé bent, hoe absurd het soms ook wordt.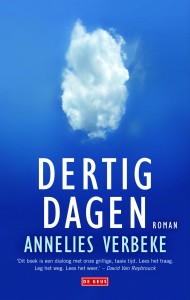 Leen Raats (Antwerpen, 1984) is freelance schrijver en copywriter. Ze schrijft vooral teksten voor overheden en natuurorganisaties en werkt met veel enthousiasme creatieve concepten uit. Verder schrijft ze proza en poëzie. In 2015 debuteerde ze met 'Barst', een verzameling kortverhalen.