Vele hemels boven de zevende
In de voormiddag naar de film gaan, het is zoiets als wijn drinken in bad of op je eentje gaan ontbijten. Een luxe die we onszelf maar uiterst zelden permitteren. Omdat de ochtendlijke Sprakeloos filmdate ons zo beviel, maken Barbara en ik echter meteen onze agenda's vrij wanneer we een uitnodiging krijgen voor de persvisie van Vele hemels boven de zevende. "Zo ontspannend om de dag hiermee te beginnen", verzuchten we op weg naar de intieme Cinema Aventure in Brussel.
Twee uur later kijken we elkaar met rode oogjes aan. Ontspannend was misschien toch niet het enige woord voor deze filmervaring. Heftig was beter geweest.
Emotioneel met hoofdletter E. Maar zeker ook een aanrader concluderen we bij een cappuccino en chai massala, en wel om deze redenen…
Griet Op de Beeck raakte bij velen een gevoelige snaar met haar herkenbare debuutroman Vele hemels boven de zevende waarin vijf personages worstelen met het leven. De centrale figuur is de 36-jarige Eva, die als zus, tante, dochter en sociaal assistente vooral ten dienste staat van anderen en zichzelf daarbij verliest. In de film staan alle spots op Eva en verschuiven de vier co-protagonisten uit het boek (haar tienernichtje Lou, haar zwijgzame vader Jos, haar zus Elsie en diens minnaar Casper) naar de periferie. Omdat actrice Brit Van Hoof zo'n sympathieke Eva neerzet, konden wij met die klemtoonverschuiving best leven.
Als je graag actrices van eigen bodem in een glansrol ziet, is Vele hemels trouwens jouw film.
Ook Sara De Roo speelt als Elsie op een heel natuurlijke manier een intense rol.
Net als het boek zorgt de film zowel voor een paar tegeltjeswijsheden als voor een portie food for thought. Wij kauwden even verder
op de raad van de therapeut: "Om kinderen die altijd lachen, moet je je de meeste zorgen maken."
op de kinderlijke wijsheid van Lou: "Het is net de kunst om niet te rap content te zijn. Hoe kunnen dingen anders ooit veranderen of verbeteren?"
op de rationale bedenking van Elsie: "Alles gaat over, ook verdriet."
Actrice Brit Van Hoof – yup, wij zijn fan, dus hier gaan we even op door – neemt met haar vertolking van Eva voor het eerst een hoofdrol op. Met haar hese stemgeluid, subtiel gekunstelde lach en kleine tics zet ze een kwetsbare en – in de ogen van haar moeder – mislukte en mollige vrouw neer. Heel krachtig is het contrast tussen de breekbare scènes bij de "shrink" waar Eva geconfronteerd wordt met haar maskerade en haar naar de buitenwereld zo 'dappere' gezicht, waarmee ze iedereen wil pleasen. Wel – en misschien moeten we stoppen met het boek met de film te vergelijken – oogt Brit een stukje jonger dan 36 en kunnen we haar bezwaarlijk chubby noemen. Is dat erg? Ja en nee, haar leeftijd komt – in tegenstelling tot haar gewicht – in de film niet aan bod, dus dat stoort niet.
Maar als je een dunne actrice cast, moet je in je script geen verwijzingen steken naar haar overgewicht. Die losse T-shirt en joggingbroek maken ons niks wijs.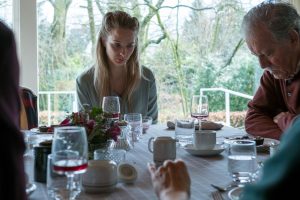 Eén van de hoogtepunten van de film is de scène waarin het 69ste verjaardagsfeest van mama Jeanne Festen-gewijs ontspoort. Zus Elsie zwijgt niet langer en gooit alles tussen de taart en de koffie op tafel: de manipulatieve slachtofferrol van de moeder des huizes (een doorgedreven en onsympathieke variant op Viviane de Muyncks rol in Sprakeloos), het dronken drama van vader Jos en de onderdanigheid van Eva.
De bom ontploft in een Vlaamse huiskamer, drie kwart van de aanwezigen haast zich ongemakkelijk weg, waarna de achterblijvers beginnen aan operatie 'dit vegen we onder mat'.
Herkenne wie zich herkennen wil…
De film eindigt nogal zwaar. Op de scène die voelt als de emotionele apotheose volgt immers nog een videoboodschap van Eva. Ook niet bepaald lichte kost. We zeiden het al: toen de lichten aangingen, hadden we allebei rode ogen.
Deze Vlaamse film komt met een gratis portie Griekse catharsis – want hey, even lekker blèten lucht altijd op.
Allemaal richting cinema dus, vanaf woensdag 8 november. Mét een portie zakdoeken en zonder die dikke laag mascara.
PS: Superfans van Griets boeken en de 7 lievelingsboeken van de schrijfster
PPS: De trailer van Vele Hemels
www.cinenews.be/nl/films/vele-hemels-boven-de-zevende/
PPPS: Deze post is een TIHWR co-productie van Barbara en Katrien.