kinderboeken op de boekenbeurs
Mijn favoriete standen op de boekenbeurs? Kinderboeken, geen twijfel mogelijk. En aangezien de beurs van donderdag tot zondag weer de deuren opent, verwennen we jullie met enkele fijne vondsten op de kinderboekenplanken. Voor kleine en grote mensjes, en ook voor eeuwige kinderboekenfanaten zoals wij.
Peuters
Het circus spreekt tot de verbeelding van de allerkleinsten (ok, en van de grootsten). Met de serie van Ruth Wielockx ontdekken peuters allerlei vormen in het boekje Circussterren, plaatsbegrippen  in Circuskunstjes en onze favoriet: samen leren tellen met de Circustrein. Op elke pagina ontdek je een nieuwe wagon met circusdieren en artiesten. Hoeveel olifanten tel je? En hoeveel clowns? Een vrolijke, speelse en leerrijke reeks. Dat vraagt om een bisnummer.
Kleuters
Mag het iets meer zijn? Een speel- en leerboek, maar ook een heuse boerderij? Een boerderij om open te vouwen is een bontgekleurd voorleesboekje waarin kleuters op zoek gaan naar verschillende groenten in de moestuin, kleine poesjes in de schuur en dieren in de wei. Maar er is meer. Je kan het uitklapboekje ook uitvouwen tot een boerderij. Heerlijk om mee te spelen en de dieren tot leven te brengen. Oh, en in dezelfde reeks verwent Lucie Brunellière ook met een uitklapbare school, een kasteel, een brandweerkazerne, een huis, een dierentuin,…
Kinderen
De Willewete reeks is er voor nieuwsgierige kinderen (en volwassenen). In tijden van vallende bladeren en naderende Sintbezoeken (nog exact 30 dagen!) valt ons oog op Seizoenen. Een luisterrijk boek vol weetjes, knutselopdrachtjes, spelideetjes en fraaie tekeningen. In dezelfde reeks ontdekken kinderen tussen 4 en 12 jaar o.a. ook alles over de Romeinen, Dinosaurussen of Walvissen. Als u ons zoekt, wij zitten met onze neus in de Willewete serie.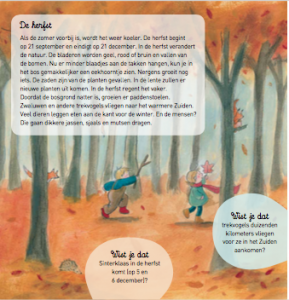 Voor de Sint en zijn helpers
Over de goede oude man gesproken. Van alle beeldige boeken die over onze dikke vriend zijn verschenen, is deze toch het topje van de pakjesberg: Het echte boek van Sinterklaas. Een plechtig verguld boek met namenlijsten vol kinderwensen, tekeningen, dakenkaarten van steden en dorpen, de paklijst voor de grote overtocht naar België, kinderfoto's van de Sint en het enige echte speculaasrecept. Dit boek mag niet ontbreken onder de arm van de heilige man en al zijn hulpsinten.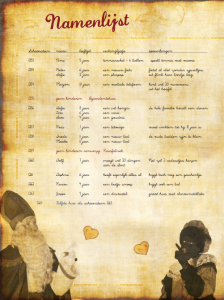 Tieners
Het Young Adult genre boomt. Ons oog valt al snel op Oorlog in een koffer van Berti Persoons. Pieter, de kleinzoon van Benjamin, krijgt van zijn opa een koffertje. En daarmee het bijhorende verhaal. Benjamin groeide in Mechelen op als onbezorgde Joodse tiener. Tot de oorlog uitbreekt en de Duitsers binnenvallen. Benjamin en zijn ouders worden gedeporteerd naar Auschwitz. Hij overleeft het, maar kan pas 70 jaar na de oorlog over de gruwelen praten. Een dramatisch en roerend oorlogsverhaal om nooit meer te vergeten.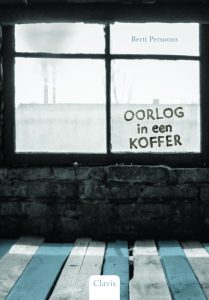 De tip voor nieuwsgierige speurneuzen
Het boek voor toekomstige Sherlocks onder ons: Wie heeft het gedaan? 25 mysteries om op te lossen. Leuke raadsels om te doorgronden, met verschillende moeilijkheidsgraden. Van een moordzaak op meneer Groen met een hoop verdachten tot drie veroordeelden die uit een cel ontsnappen. Slaag jij erin om de mysteries op te lossen en de code te kraken? Kinderen kunnen de mysteries alleen, met vrienden of zelfs de hele familie oplossen.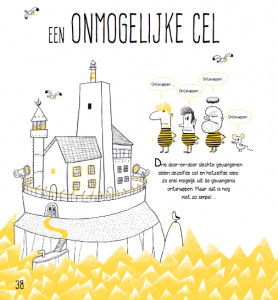 Alle boeken bij Clavis Uitgeverij, stand 201-203
De boekenbeurs, nog van 9 tot 12 november, Antwerpen Expo