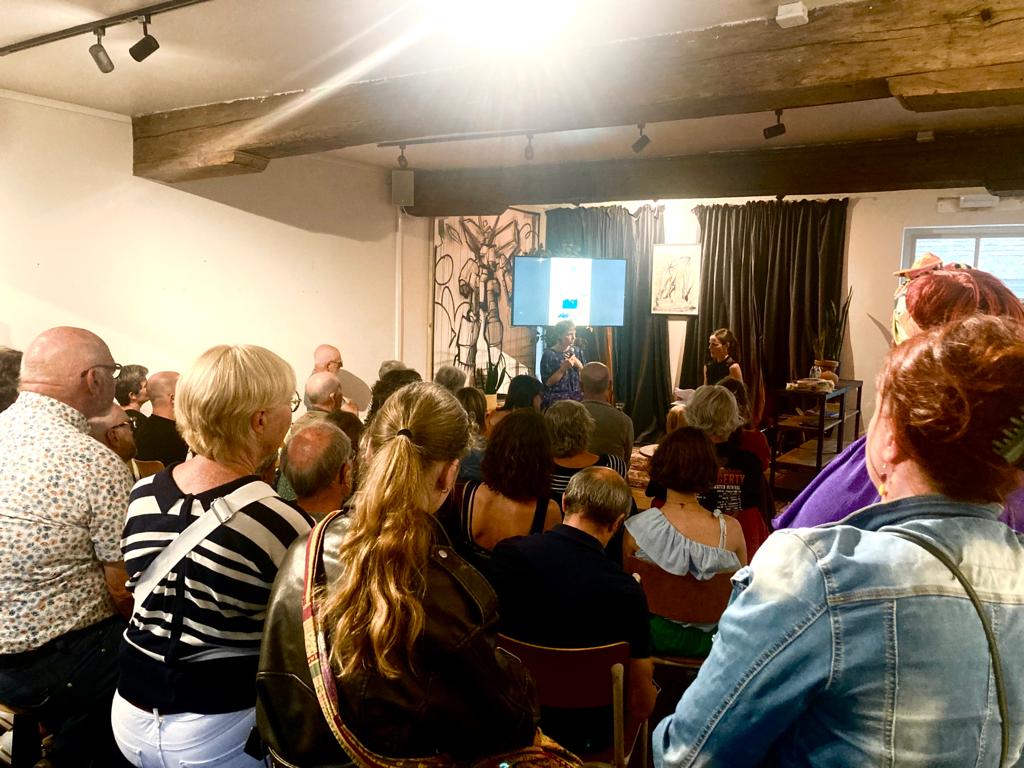 Nog op zoek naar een lekker dik, maar vlot leesbaar boek voor de zomer? Probeer dan het debuut van Sofie Leyts, 'Niets mis met Suzanne'. Een grappige roman over wraakzuchtige oudjes, met een ontroerende ondertoon over twee zussen die met de jaren uit elkaar groeien. De vele mooie zinnen krijg je er zomaar bij.
Sofie Leyts schreef al drie jeugdboeken en stelde eerder deze week in Brugge haar debuut voor volwassenen voor. Ik (Barbara) mocht de vragen stellen. Altijd leuk.
"Niets mis met Suzanne" speelt zich af in een seniorenresidentie en voert een clubje kwieke 80ers en 90ers op. Allemaal hebben ze nog een eitje te pellen met figuren uit hun verleden die met onrecht zijn weggekomen.
Terwijl de dood (of dreigende dementie) ademt in hun nek, proberen de leden van het geheime genootschap 'In vino veritas' hun openstaande emotionele rekeningen te vereffenen.
Dat leidt tot hilarische scènes, o.a. in een museum voor moderne kunst en op een jubileumfeest. Al kaart de roman ook moeilijkere thema's aan, zoals beginnende dementie of de verwoestende impact van manipulatieve relaties.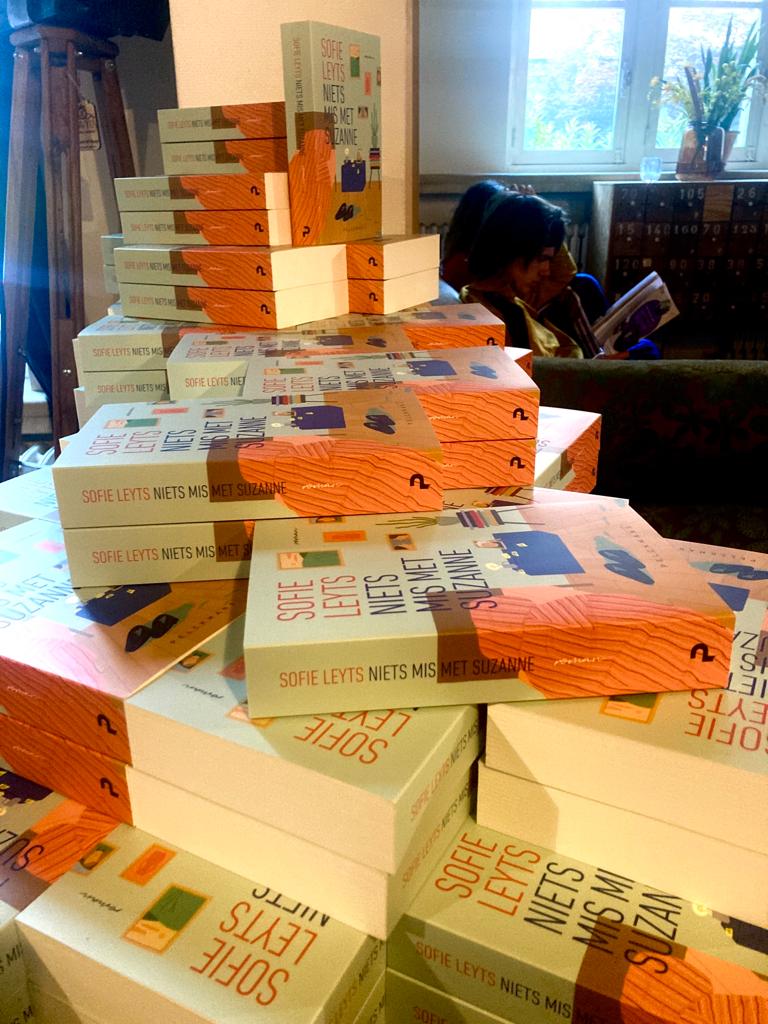 Ik onthoud van het interview met Sofie, die ook halftijds werkt als bibliothecaresse:
Dat de stap van jeugdliteratuur naar literatuur-voor-volwassenen voor haar niet zo groot was. Ooit stuurde ze een manuscript voor jonge lezers naar een reeks uitgeverijen. De reactie? "Dit gaan we niet publiceren, maar contacteer ons opnieuw als je iets schrijft voor volwassenen!"
Dat ze niemand uit haar omgeving 1-op-1 opvoert in haar literaire werk. Maar dat tegelijkertijd iedereen haar inspireert. De puberjongen Sky, de boekverkoopster-op-rust Suzanne of de verfijnde advocaat Henri uit 'Niets mis met Suzanne?'? Die hebben wel wat gemeen met respectievelijk haar zonen, haarzelf en nonkel Koen 🙂
Dat een roman die er strak gecomponeerd uitziet (precies 50 hoofdstukken, en regelmatige tijdsprongen van 'toen' naar 'nu') toch spontaan gegroeid kan zijn. 'Niets mis met Suzanne' vertrok van het idee hoe een vrouw geleidelijk de grip op haar geheugen kwijtraakt. En het boek kwam onstuitbaar op gang met een beeld – van twee zusjes die ballet oefenen. De eerste en de laatste bladzijde lagen vast, maar de loop van het verhaal ontplooide zich vrij tussen die twee punten.
Dat niets zo heerlijk is als een boek waarin je jezelf herkent. Sofie was een kleine boekenwurm in de jaren '80. Ze voelde geen klik met de avontuurlijke hoofdpersonages van de typische meisjesboeken van toen. Haar wereld werd veel mooier toen ze het personage Sofie (what's in a name?) ontdekte in Roald Dahls 'De Grote Vriendelijke Reus'. Het blijft vandaag één van de mooie aspecten van haar werk in de bib: mensen helpen om dat boek te vinden dat écht bij hen past.
Dat de schrijfster zich – met mate – laat verrassen tijdens haar werk. Ze begint aan een hoofdstuk zonder te weten wat het volgende zal brengen. Maar! Ze moet wel 100% tevreden zijn met wat ze heeft geschreven, voor ze de stap naar een volgende hoofdstuk waagt. En dat tot op zinsniveau.
Dat laatste – haar oog voor detail op vlak van taal – verklaart waarschijnlijk waarom er zoveel pareltjes van zinnen in dit boek staan. Hoe mooi is deze?
"Nu was Lizzy verloren. Niet als een kind zonder mama in een zee van mensen, strandbloemen en schopjes, maar als een mama zonder kind in een kamer vol herinneringen."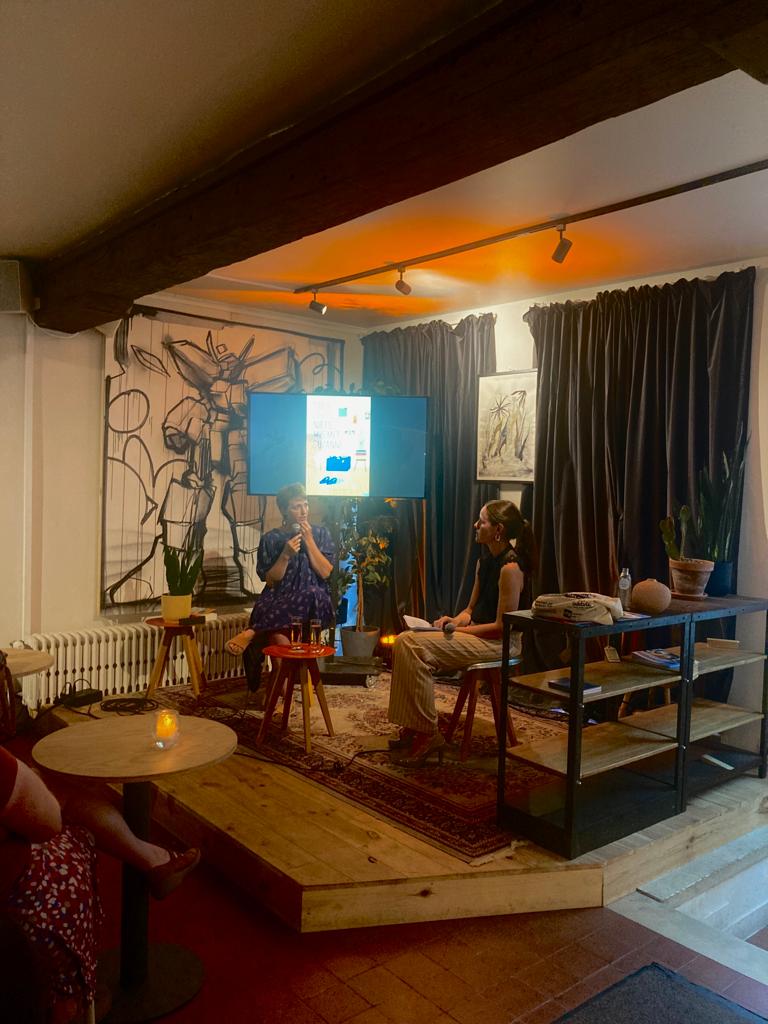 En als afsluiter – speciaal voor de boekenwurmen – nog dit mooie fragment:
'Dat zou jij toch moeten weten, Suzanne. Jij, met al die boeken van je,' zei Mia. Al die boeken? Die hebben me net het omgekeerde geleerd, had ik willen zeggen. Verhalen zijn zelden zwart of wit. Ze vertellen je over al het grijs ertussenin, over dat grote niemandsland tussen feiten en fabels, waar de zon genadeloos haar licht laat schijnen over al die mooie woorden, tot ze verzanden, tot ze wegzakken in de grond, waarin zoveel levens, zoveel leugens, zoveel liefde ligt begraven, door elkaar heen, vergeten en vergrijsd, dat niemand nog weet wat ooit zwart was en wat wit. Maar dat zei ik allemaal niet, want het deed er niet toe.