5 boekentips van ondernemende vrouwen (2)
'Welk boek inspireerde je om de stap te zetten naar ondernemerschap?' Die vraag stelden we afgelopen week aan tien ondernemende vrouwen. Creatieve vrouwen ook, die verrassende keuzes durven maken. In deel 1 kon je gisteren lezen dat Lien maar vier uur per week werkt, dat Hedwige leeft volgens de wijsheden van de Dalai Lama en dat Annick bedrijfstheater maakt gebaseerd op managementboeken. We ontdekten eveneens dat Inge een internetgodin werd dankzij het gelijknamige boek en dat Madam Confituur niet vies is van wat Amerikaans enthousiasme.
De vijf boekentips van vandaag zijn minstens even verrassend. Lees mee en laat je inspireren!

TINE HOLVOET  – Vlerick business school
Tine Holvoet is sociologe en werkt als onderzoeker aan de Vlerick Business School. Ze doet onderzoek naar ondernemerschap, richtte de denk- en doetank Teamtank bvba op en haar DIWO (do it with others) projecten kennen veel bijval. De laatse 12 jaar deed ze onderzoek naar hoe ondernemerschap in de media (en meer bepaald in het journaal) aan bod komt. Haar conclusie?
In de korte omschrijvingen van de 159.694 nieuwsitems in een databank van Steunpunt Media doken de trefwoorden "ondernemer", "onderneming" en hun afgeleiden amper 191 keer op. Dat is 1,2 keer per 1.000 items.
De term 'ondernemerschap' wordt zelfs vaker gelinkt aan criminaliteit dan aan innovatie en creativiteit. Met haar cross-over projecten wil Tine Holvoet hier iets aan doen.

De boekentip van Tine
' "Remember to never panic", zo signeerde René Redzepi zijn trilogie Noma: A Work in Progress. 's Werelds meest beroemde kok richtte zich toen tot mijn dochter, net twee maanden oud. Een boodschap voor het leven. Via recepten, een dagboek en een reeks snapshots toont Redzepi de startupmentaliteit in zijn bedrijf. Die zal wellicht nooit verdwijnen, de energie spreekt, het experiment staat centraal. Redzepi pitcht zijn restaurant als een work in progress en wordt daar erg succesvol mee. Dat thema is big momenteel: hoe krijgen grote bedrijven meer startupmentaliteit?
Een actuele uitdaging voor alle grootbanken en Belgacoms. Hoe zou Metahaven dat kritisch evalueren? In hun boek Uncorporate Identity exploreert dit grafisch bureau branding als geopolitiek gegeven. Het boek is een ontmanteling en aanval op branding, en in bijzonder op het branden van landen en samenlevingen. Het boek helpt om genuanceerd na te denken over corporate identity, over assimileren en differentiëren.
Beide referenties gaan niet letterlijk over ondernemen, maar ze gaan ondernemend om met hun eigen core business. Dat werkt aanstekelijk!'
Noma: a work in progress, René Redzepi en Nico Van Campenhout, Phaidon.
Uncorporate Identity, Metahaven (Daniel van der Velden, Vinca Kruk) en Marina Vishmidt, Lars Müller Publishers
NADIA VERBEECK – Peggy O.
Stem vrouw. De reclamecampagne waarin bekende politieke krokodillen een vrouwelijke touch kregen, doet wellicht een belletje doet rinkelen. Creatief brein hierachter is copywriter Nadia Verbeeck die samen met Heidi Seys een reclamebureau voor en door vrouwen leidt: Peggy O.. De slagzin van dit positieve feministische communicatiebureau luidt: "If you want to sell to women, why not hire some". Voor hun bedrijfsnaam zocht Nadia inspiratie bij Peggy Olsen, de eerste vrouwelijke copywriter voor SCDP uit de televisiereeks Mad Men.
De boekentip van Nadia
'Welk boek me inspireerde of moed gaf mijn eigen baas te worden? Leuke vraag maar helaas geen eenduidig antwoord. Dat je plots gaat ondernemen is meer een combinatie van karakter, opvoeding, op- of afleiding en vooral: de omstandigheden. Zo voelde ik op een gegeven moment geen enkele klik meer met de toenmalige reclamebureau's. "Doe het dan zelf!", riep een stemmetje in mijn oor. En zo geschiedde.
Maar die boekenvraag dus. Ik zou de boeken van Jo Tollebeek kunnen noemen (hoe je kan diepzeeduiken in de geschiedschrijving). Ik zou ook filosofen als Nietzsche (Ge hebt het allemaal zelf gezocht) of Foucault (Iedereen heeft gelijk als ge het maar goed uitlegt) kunnen citeren. Of Persepolis van Marjane Satrapi (hoe je je aan je eigen haar uit het moeras kan trekken). Of de Bijbel (als je een klap krijgt, bied dan je andere kaak aan. How cool is that?!). Of Cutting Edge Advertising van Jim Aitchison (of hoe elk merk of product een uniek verhaal heeft. Blijven zoeken John Combrez 😉
Maar niet dus. Ik kom liever op de proppen met de ultra-conservatieve mierzoete en belegen verhaaltjes van Tiny. Ze was onuitstaanbaar voorbeeldig, er zat humor noch clou in en het was moraliserend as hell.
Maarrrr, uber-seut Tiny'ke vond wel de ene spannende activiteit na de andere uit en was ondertussen toch maar mooi overal geweest.
Tiny ging zeilen, vliegen, kamperen, skiën, kroop in een luchtballon, trok naar het circus én de boerderij. Ze was eigenlijk best wel een ondernemende meid.
Nee hoor, onder al die lagen tenenkrullende fifties kneuterigheid zat een mooi Girl Power lesje verborgen: You Go Girl!'
Tiny, Gilbert Delahaye, Casterman
ANGELIQUE VAN DEN BORN  – TopVintage
Opgepast, want als je online retro boetiek TopVintage nog niet kende, dan kan het een dure kennismaking worden. Niet dat de jaren '50 Pencil Dresses met polkadot of Swing Dresses in muntkleur die Angelique van den Born in haar webshop aanbiedt, zo duur zijn. Helemaal niet. Het zijn er alleen zo veel. En ze zijn zo mooi. En ze maken een mens zo hebberig. En je kunt er nog schoenen en tasjes en klassieke Cat Eye Sunglasses bij shoppen, ook. Help! We kwamen Angeliques naam tegen in het boek Onderneemster zoekt sterk merk van Katlijn Voordeckers en Sara Reymen. Daarin vertelt ze hoe ze eerst tweedehands laarzen en schoenen verkocht op marktplaats.nl (Een marktplaatsmeisje, dus!). Maar na een burn-out vond ze de kracht om haar eigen webwinkel uit te bouwen, met de steun van haar man, een kleine lening van haar schoonmoeder en een leverancier van kwaliteitsvolle, exclusieve en nieuwe vintagemodellen.
TopVintage is nu de grootste online retroboetiek van Europa met zo'n zestig medewerkers.
De boekentip van Angelique
'Het boek dat mij geïnspireerd heeft om voor mijzelf te beginnen is… de Bijbel. Ja, de bijbel. Dat duffe rare boek… Of dat was mijn mening voor ik het ooit gelezen had. Vijftien jaar geleden liep ik vast en na een zoektocht naar de zin van het leven heb ik ontdekt dat Jezus niet een of ander verzonnen figuur is, maar dat Hij leeft en van mij houdt. Een keerpunt in mijn leven. Ik heb geen fijne jeugd gekend, hierdoor was mijn zelfbeeld nogal beschadigd. Mijn moeder was net 18 jaar toen ik geboren werd en ik had het gevoel: "Ik ben niet gepland, ik ben ongewenst." Totdat ik in de Bijbel ontdekte dat God mij gepland heeft vóórdat hij de wereld geschapen had. Dat heeft mijn hele leven in een ander perspectief geplaatst!
Ik besefte dat ik geliefd ben, uniek met unieke talenten.
Hierdoor ben ik helemaal opgebloeid en heb ik per 'toeval' ontdekt dat ik goed ben in online verkoop en marketing. Een tekst die mij enorm inspireert, is: "Vertrouw op God met je hele hart, en steun niet op je eigen inzichten alleen. Betrek Hem bij alles wat je doet, dan maakt Hij je weg recht."  De Bijbel is een boek over mensen zoals jij en ik, 2000 jaar geleden geschreven, maar nog steeds zo actueel. Ik haal er wijsheden uit wat betreft belangrijke beslissingen die ik moet nemen, hoe ik met conflicten kan omgaan, hoe je moet delegeren en nog zo veel meer. We hebben inmiddels een hoop verantwoordelijkheden met een sterk groeiend bedrijf en een team van 60 mensen. Spannend? Ja! Maar een fantastische uitdaging want ik weet: we doen het niet alleen: God is met ons en wat wil je dan nog meer?'
DAPHNE AERS – TNS
Daphne stopte op haar 17e met school, flirtte kort met een leercontract als boekhouder en startte dan haar eigen voedingsbedrijf. TNS maakt artisanale kroketten en bedenkt leuke variaties erop, zoals breydelhamkroketten of witloof-hamkroketten. Daphné was te zien in de Beste hobbykok van Vlaanderen en won vorig jaar de WOMED award, de titel van Vrouwelijke Ondernemer van het jaar. En dat ze kan ondernemen, blijft ze bewijzen. Zo kwam onlangs haar boek, Kroket van de chef, uit en opende haar tweede krokettenbar, Pure Daphné, de deur.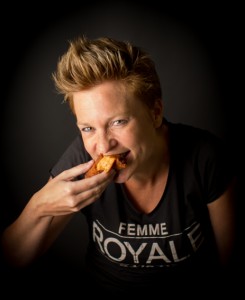 De boekentip van Daphné
Mijn tip is het kookboek waar ik mee leerde koken, Koken voor elke dag van de Praktische school KAV. Mijn moeder was kapster en ik herinner me dat ik aardappelen zat te schillen terwijl zij de haren van klanten knipte. Daarnaast is het boek Marcellijn, brood en wijn van Sanchez Silva José Maria mij bijgebleven.Elk weekend gingen we logeren bij mijn grootouders. Zij hadden het boekje thuis staan, met een blauwe stoffen cover en bruine blaadjes. Voor het slapengaan las ik erin, weekend na weekend. Leuk weetje: mijn zoontje is vernoemd naar het boek, nl. Marceau. Het verhaal gaat over een jongen die wordt opgevoed door paters die leven op brood en wijn.
Koken voor elke dag, KAV – Praktische School
Marcellijn, brood en wijn, Sanchez Silva José Maria, Arbeiderspers
STEPHANIE MANASSEH – Accessible Art Fair
De Canadese Stephanie Manasseh organiseerde in 2007 de eerste Accessible Art Fair in Brussel, een event waarmee ze kunstenaars zonder galerij in contact wil brengen met kunstkopers. Ondertussen is de Art Fair een vast item op de culturele agenda in Brussel. Daarnaast is Stephanie ook Personal Art Shopper en is ze curator voor kunst-in-hotel/bedrijfsprojecten. 
Boekentip van Stephanie
'Ik kies voor My Name is Charles Saatchi and I am an Artoholic (Phaeton). In dit boek geeft Charles Saatchi – onder vorm van vraag & antwoord – zijn opinie over de kunstwereld en geeft hij steun aan jonge artiesten.
Toen ik zijn boek in 2009 voor het eerst in handen kreeg, was ik een prille onderneemster. Ik was onervaren en vaak dacht ik: "Is een creatieve zaak runnen wel iets voor mij?" Toen ik zijn boek net uit had, voelde ik onmiddellijk dat Saatchi en ik veel met elkaar gemeen hadden. Door hem voelde ik me geïnspireerd om mijn eigen ideeën verder te ontwikkelen.
Hij was de zoon van joodse immigranten, net als ik. Hij was recht voor de raap en volgde de conventies van het artistieke milieu niet. Met Accessible Art Fair wilde ik ontluikende kunstenaars een platform geven.
Zijn boodschap was identiek aan de mijne: als wij geen levende artiesten steunen, wie gaat het dan doen. Als je van een kunstwerk houdt, moet je het kopen.
Saatchi creëerde met zijn galerij in Londen een platform voor jonge kunstenaars. Ik probeer hetzelfde te doen met Accessible Art Fair.'
My name is Charles Saatchi and I am an Artoholic, Charles Saatchi, Phaeton
PS: Deze post kadert in de #ondernemendevrouwenweek. Lees hier de Boekentips van Ondernemende Vrouwen, deel 1.