Borrelen met boeken: Bar Nine
Afgelopen week hadden we een boekenmeisjes-boekenknecht date, Eveline, Kurt en ik. Cultuur en cocktails, it was. Voor cultuur waren er Saint Amour en onze late night meeting met de Russische schrijver Alexandr Skorobogatov, voor de cocktails was er Bar Nine op de Leuvense Oude Markt. Nummer negen aan de Langste Toog was lang een Chinees toprestaurant, Ming Dynasty, moederrestaurant van de zestig Wok Dynasty's in België. Afgelopen jaar besloten Wu (Changying) en Pak (Pehfo) het over een andere boeg te gooien en transformeerden ze 'de Ming' in een trendy cocktailbar voor – en nu citeer ik Wu – 'hippe, mooie mensen zoals jullie'.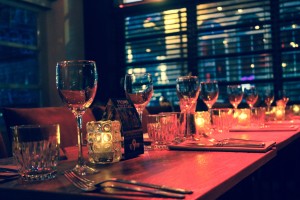 De Chinese toets bleef behouden – al zaten er in de Chinese vogelkooien geen nachtegalen meer maar lampen – en werd vakkundig gemixed met hippe kussens, tijgerprints en een statige Chesterfieldsofa met knusse open haard. Wu is een no-nonsense zakenvrouw die meegaat met haar tijd en haar hand niet omdraait om tussen het managen van haar wokrestaurants door nog een kookboek te schrijven, al nippend van haar favoriete cocktail, de Zombie.
Voor de cocktailrecepten in Bar Nine zorgde de wereldberoemde cokctailmixer Manuel Wouters, Belgisch tapkampioen Jan Vandenplas voert uit. Zelf koos ik voor een klassieke cocktail met een twist, de Lavendel Margarita, een zoetere versie van de Margarita met lavendelsiroop. Eveline ging voor een Lazy Red Cheeks, een cocktail waar je heerlijk dronken van wordt zonder het te merken en Kurt pikte een stoere Shark Bite uit het menu… en eindigde met een roze drankje.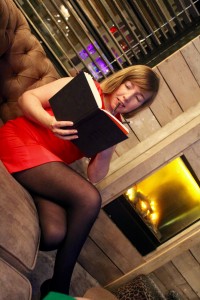 Wij werden om acht uur in de Schouwburg verwacht dus kozen we voor een snelle combinatie van Aziatische fingerfood en een kaasplank van Elsen, de beste kaaswinkel van Leuven en omstreken. Verfijnde klassehapjes! Maar de volgende keer ga ik voor een burger of kreeft (ja, van een culinaire spagaat op de menukaart gesproken)… en een plaatsje op het terras, een creatieve setting van paletten en kussens.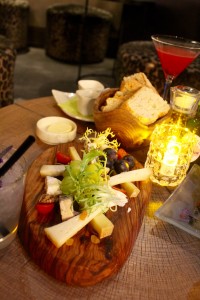 Terwijl Kurt 'honger' kreunde – en wij hem voor de tiende keer streng toespraken "je mag dit nog niet eten/drinken/aanraken want alles voor de show"- zette Eveline nog een laatste keer alle props goed, schoot ik nog enkele beelden … en konden we eindelijk proeven dat het goed was.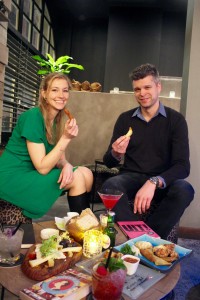 Wij zochten voor elke cocktail nog een gepast boek uit en gaan volgende keer in Bar Nine languit op de Chesterfield lezen voor de haard!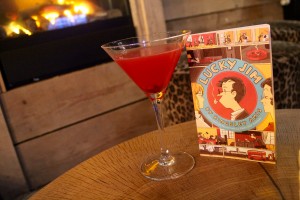 Kurt bracht Lucky Jim mee, waarop Eveline – na het lezen van de achterflap – uitriep: "dat boek past meer bij jou dan bij je Shark Bite!". Ik onthoud: "merciless satire", "attack on the forces of boredom" en zelfs "comic nirvana".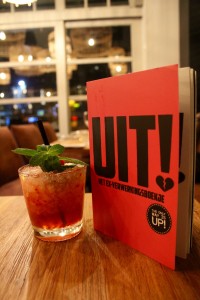 Eveline wilde dan weer geen persoonlijke statements maken maar vond het roze ex-verwerkingsboekje Uit prima passen bij haar cocktail. Nu, ik vind drie cocktails drinken in Bar Nine wel een betere verwerkingstip dan 'stop met je benen te ontharen'.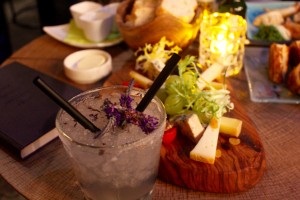 Zelf bracht ik Zwellend fruit (Peter Verhelst) mee, een boek dat symbolisch beter met een sangria had gematched maar wel een heel mooi liefdesverhaal bevat. … Omdat Bar Nine natuurlijk de dating plek bij uitstek is.
En toen moest Saint Amour nog beginnen!
Bar Nine, Oude Markt 9, Leuven