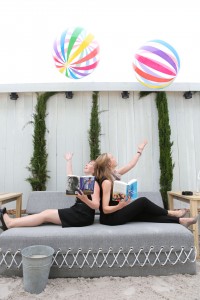 Na een stevige ondernemende vrouwenweek, willen we u het weekend insturen met wat 'lichters'. Nu ja, laat ons het houden op smakelijk. Vorig weekend mochten we neerstrijken in zomerbar Ipanema en restaurant Crudo in Hasselt om een literair zomermenu samen te stellen. Cocktails, sappige appetizers en debuutromans, heerlijke smeuïge pasta en klassieke werken die doorsmaken. Oh ja, en een achterafje, uiteraad.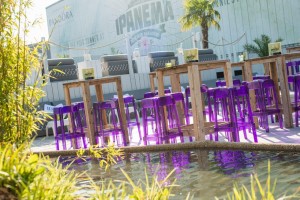 Beach Club Ipanema in Hasselt ligt vlak naast de Versuz. Zwembad, beatz, zand tussen de tenen en hip volk – geen betere plek om bij een Gin Tonic of een Lazy Red Cheeks te kijken welke beach reads deze zomer mee mogen op reis. In Ipanema kan je de hele zomer lang het ultieme zomerse gevoel opsnuiven.
De twenties van Bryony Gordon lezen als één langgerekt aperitief: het echte leven lijkt maar niet te willen starten en de sloten alcohol die B. feestend naar binnen giet, zijn behoorlijk indrukwekkend. Bryony's hedonistische en grappige verhalen gaan over triootjes, foute slipjes en getrouwde mannen. Sex & the City in Londen.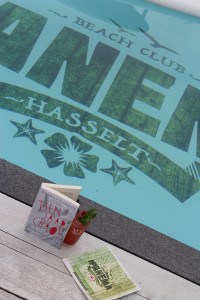 Strandstoelen, een picknicktafel bij een VW hippiebusje en loungezetels rond het zwembad… Leesplekjes genoeg in Ipanema. Eveline spoelt haar cocktail door met de nieuwste bundel columns (de 3e alweer) van de Amsterdamse Hanna Bervoets. Die bevat een serieuze scheut rock 'n roll en scherpe observaties van aan Instagram en sitcoms verslaafde vrienden.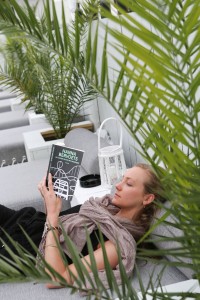 Bij een appetizer van gegrilde gamba's en gefrituurde inktvis… past het boek van een online smaakmaker. Anna Nooshin blogt dagelijks over mode, lifestyle en nog meer mode en beschrijft haar successen en minder glamoureuze momenten (denk: mislukte selfies) in het sappige On top. Zo weet je in no time hoe je een fotoshoot doorstaat, krijg je shopping tips en volg je Anna op persreizen.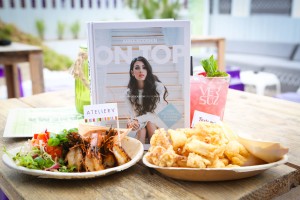 Ipanema pikte z'n naam van het beroemdste strand van Rio. Als je daar met je zeilboot kunt aanleggen, zit de fun factor in je leven goed. Tenminste, dat dacht Vivian Oskam. De Nederlandse kocht met vriend Bram een oude boot en zeilde voor zes jaar weg van een doorsnee leven met 'hypotheek-carrière-crèche'. Hun tocht naar Gambia, Rio en Paaseiland werd een avontuur, maar geen onverdeeld pretje, zoals de ondertitel (Een wereldreis op wilskracht) verklapt.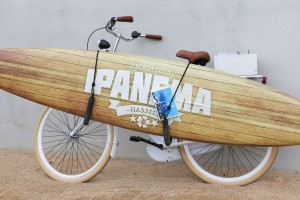 Tijd voor iets anders. We verlaten Ipanema en steken de patio met rood-groen-witte papieren lampions over om te dineren bij het op en top Italiaanse Crudo. Het restaurant vierde net z'n eerste verjaardag en het loopt er momenteel storm. Eigenaar Giovanni had vroeger al een restaurant en is dus thuis in de business. Voor de opening van Crudo stelde hij  een team van koks samen die allen Italiaanse roots hebben. Hen live bezig zien achter de keukenbar is een streling voor het oog. Hun succesnummers? De tonijn, scampi's en de pasta vongole…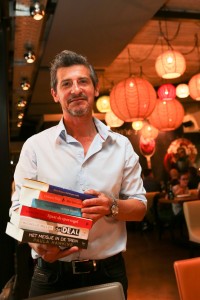 Maar voor we onze tanden zetten in smeuïge pasta vongole of tonijn die op de tong smelt, zetten we nog snel een literair buitenbeentje op de leeslijst. David Duchovny (ja hoor: dé X-files acteur) debuteert deze zomer met een allegorie over een chattende koe en een kalkoen met een Iphone. Hun missie? De wereld verbeteren!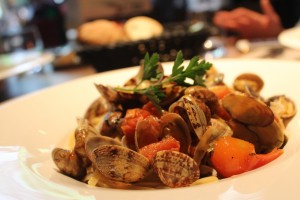 De literaire hype van 2015 mag niet op ons bord ontbreken. Deze thrillersensatie over de alcoholverslaafde Rachel, voert overal ter wereld de boekenlijstjes aan. Iedere dag observeert Rachel vanuit de stilstaande trein het gezin van Megan en Scott. Als Megan plots verdwijnt, gaat 'het meisje in de trein' naar de politie. Maar de alcohol vertroebelt haar geheugen. Toch maar een watertje bestellen?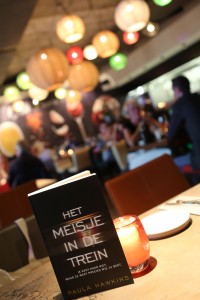 Een klassieker op het bord of in de valies moet kunnen. Enter Spaar de spotvogel, een onvergetelijke Amerikaanse must-read die de literaire honger meteen weet te stillen. Deze schokkende roman over een blanke advocaat die de verdediging van een zwarte man op zich neemt, zette in 1960 de ongelijkheid tussen blank en zwart op de kaart. 50 jaar oud, in 40 talen verkrijgbaar en 30 miljoen keer verkocht.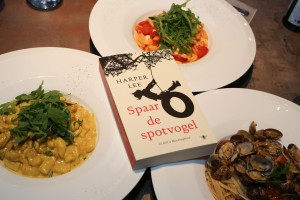 Crudo zou een goed adresje zijn voor Milena Busquets, de Spaanse schrijfster die furore maakte op de jongste Frankfurter Buchmesse. Busquets schreef een roman over een vrouw van veertig die de balans opmaakt na de dood van haar moeder. Dat doet ze in een kunstenaarsdorp aan de Middellandse Zee, met vrienden en (ex)-geliefden die willen feesten en filosoferen. Mmm, welke juicy verhaallijn zou Busquets verzinnen rond de vier Italiaanse hotties die in Crudo in de potten roeren?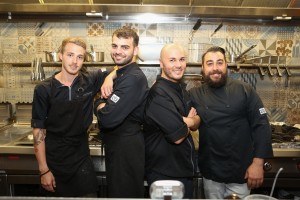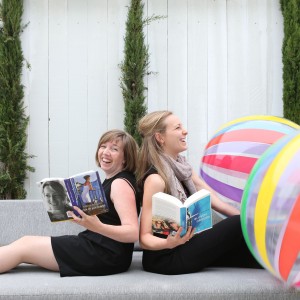 En als dessert… een boek over wat er 'daarna' gebeurde. De Vlaamse journaliste Dolores Thijs raakte tijdens een reis naar Denemarken aan de praat met de huishoudster van Karen Blixen, de vrouw op wiens leven de filmklassieker Out of Africa met Meryl Streep en Robert Redford is gebaseerd. In Het huis aan de Sont vertelt Thijs – voor het eerst! – over het excentrieke, teruggetrokken leven dat Blixen leidde op haar Europese landgoed na de verkoop van haar Keniaanse koffieplantage…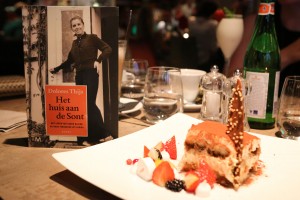 Wie bij Crudo komt dineren, kan de avond verderzetten in Versuz, The Venue naast de deur. Rond 23u krijgt iedereen in Crudo een bandje voor de Versuz VIP lounge en kan de nacht echt beginnen. Goeie deal? Dat dachten wij ook. Net als in De deal van auteur Michelle Miller, die in een vorig leven voor zakenbank JP Morgan werkte. Miller fileert met kennis van zaken de schimmige onderhandelpraktijken op Wall Street. Haar debuut houdt het midden tussen 'The Social Network' & 'The Wolf of Wall Street'.
Voor we jullie een weekend vol zon, cocktails, lekker eten en boeken insturen, nog even een blik achter de schermen…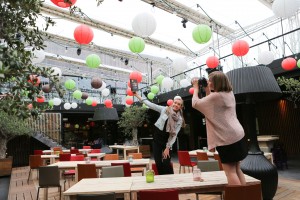 Have a good one!
Dit literair zomermenu verscheen eerder al op de website van Elle.be.