Vrouwen met een Sterk Merk
Ik ken Katlijn Voordeckers, business consultant voor ondernemende vrouwen, uit één van haar vorige levens. En zo heeft ze er wel een paar. Katlijn werkte jaren in de bankwereld, waar ze advies gaf aan KMO's. Nadat ze ernstig ziek werd, dacht ze:
"Wat heb ik te verliezen? Ik blijf niet braaf de rest van mijn dagen op deze stoel zitten, ik word ondernemer!"
Ze stampte haar eigen zaak uit de grond en maakte die in geen tijd rendabel. Katlijn: "Maar mijn 'puzzel' viel pas tweeënhalf jaar later in elkaar. Ik had ontzettend veel ervaring opgedaan bij de bank, ik was zelf ondernemer geweest en ik bleef gepassioneerd door economie en marketing. Het begon te kriebelen om andere vrouwelijk ondernemers te helpen met het in de markt zetten van hun producten of diensten. Ik zocht contact met mijn vroegere professor marketing en hij stuurde meteen een masterstudent op me af om een eindwerk over mijn visie te schrijven. Dat was voor mij het signaal dat ik iets te bieden had."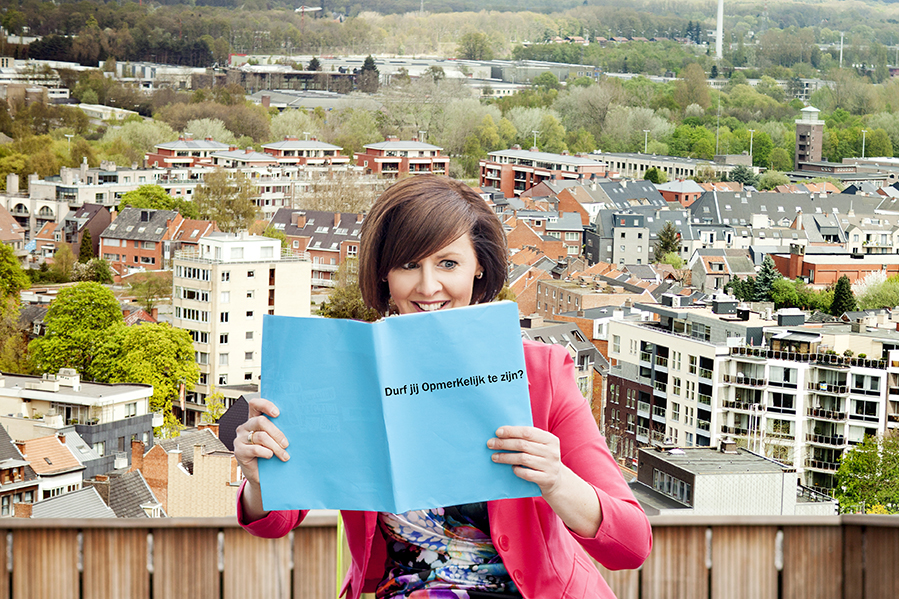 En reken maar, dat Katlijn vrouwelijke ondernemers vooruit kan helpen. Dat doet ze nu ongeveer vijf jaar met haar zaak OpmerKelijk. Als expert in brand management en communicatie organiseert Katlijn groepstrainingen, businesstrajecten en netwerkevenementen. Ze helpt vrouwelijke ondernemers om zich te profileren met een sterk merk door duidelijk concept, een krachtig aanbod, een heldere communicatie en een strategische aanpak. Begin 2015 verscheen Katlijns eerste boek, met co-auteur Sara Reymen, Onderneemster zoekt sterk merk (Lannoo Campus).  Dat boek vond in geen tijd z'n weg naar onze boekenkast, want je raadt het nooit… Eveline, Katrien en ik willen van This Is How We Read dus wel degelijk een sterk merk maken. Hoog tijd voor een telefoontje naar Katlijn.
Je richt je bewust tot vrouwelijke ondernemers. Wat moeten wij in vergelijking met onze mannelijke collega's nog leren? En wat doen wij beter?
KV: "Als KMO adviseur bij de bank merkte ik een enorm verschil tussen de mannelijke en vrouwelijke ondernemers die ik over de vloer kreeg.
Een man kwam binnen en vroeg: 'Wanneer krijg ik krediet?' Kwam er een – nochtans zelfzekere – vrouw binnen, dan was haar vraag: 'Wat denk je? Is dit voorstel krediet waard?'
Vrouwen zitten vaak met wat meer vragen en twijfels. Ze kijken altijd naar het grotere plaatje en houden rekening met de impact van zakelijke beslissingen op hun gezin, hun kinderen… Deze stereotypen gelden zeker niet voor iedereen, maar ik kom veel straffe onderneemsters tegen die er zich toch in herkennen. Ik  merk ook vaak de wetenschappelijk aangetoonde verschillen tussen man en vrouw.  Een belangrijk leerpunt voor vrouwen is dat ze moeten geloven in zichzelf voor ze aan de wereld vragen om in hen te geloven. Vrouwelijke ondernemers bloeien op als ze zich omringen en verbinden met stimulerende mensen, want vrouwen toetsen beslissingen graag af. Een vrouwelijke troef is dat wij goed zijn in netwerken en in het leggen en onderhouden van contacten. Vrouwen hebben een groot vermogen tot samenwerken. Wij gunnen elkaar dingen."
Een sterk merk roept relevante, gevoelsmatige en onderscheidende associaties op. Mag ik je boek zo in een notendop samenvatten?
KV: "Als business consultant in brand management en communicatie help ik ondernemers om scherp te krijgen welke associaties ze willen oproepen bij hun doelpubliek. Je moet jezelf niet in een hokje stoppen of een label op kleven – je kunt gerust een brede poort kiezen waar van alles achter zit, als je er maar duidelijk opzet waarom ze bij jou moeten aankloppen.
Als jij niet klaar en duidelijk aan de wereld uitlegt waarvoor je staat, dan doet iemand anders dat in jouw plaats.
Mensen willen je in één zin kunnen definiëren om je relevant en onderscheidend te maken. Reik hen zelf die zin aan, en zorg dat hij je lading dekt."
Heel wat internetondernemers – bloggers, webwinkeluitbaters, coaches… – zijn vrouwen. Wat maakt vrouwen en het wereldwijde web zo'n goede match?
KV: "Dankzij het Internet kunnen ondernemende madammen hun product of dienst aan duizend mensen tegelijk uitleggen, zonder zich af te vragen: 'Durf ik dit wel?' In een meeting room of op een receptie zouden ze misschien dichtklappen, maar veilig achter hun computer durven ze zich te profileren. Online heb je ook heel veel tools om je doelgroep goed te bepalen en alleen te tonen wat je wilt tonen. Je kunt je merk een heel duidelijke identiteit geven en die via sociale mediamarketing breed uitdragen. Toch vind ik het belangrijk dat vrouwelijke ondernemers ook voorbij het Internet durven kijken.
Veel vrouwen beginnen aan de keukentafel of achter hun pc met een bedrijfje. Zo kunnen ze een tijdje groeien, maar er komt altijd een moment waarop de hobby of de passie 'echt' wordt en er investeringen moeten gebeuren.
Onderneemsters vinden dat vaak een moeilijke horde, dat punt waarop ze er voluit voor moeten gaan."
Katlijn Voordeckers & Sara Reymen – Onderneemster zoekt sterk merk, Lannoo Campus. Bestellen via www.lannooshop.be/thisishowweread 
Lezers van This is how we read genieten in de Lannoo webshop van gratis verzending (t.w.v. €2,5) bij aankoop van 1 van de titels die wij bespreken. De actie is geldig zolang de voorraad strekt. De gratis verzending wordt automatisch toegekend zodra je een exemplaar in je winkelmandje legt.
PS: Deze post kadert in onze Ondernemende Vrouwen Week 2015. Lees ook: Blij als eigen Baas en Mevrouw de Manager