Ze is weer voorbij. Die mooie zomer! Doomsday 1 september is gepasseerd en boeken kaften, boterhamdozen vullen en zwemzakken leeghalen hebben de plaats ingenomen van zand uit de kleren kloppen, zonnecrème smeren en ijsjes likken…
Behalve voor mij! Na een zomer vol taalvakanties combineerde ik afgelopen week de zomerdebriefing in de Ardèche (it's a hard knock life chez CLIP) met zonnekloppen aan het zwembad, aperitieven aan het zwembad, ploeteren in het zwembad, dutjes doen aan het zwembad, lezen aan het zwembad… En gisteren zo maar even losjes 20 kilometer in de bergen wandelen.
Tussen dit alles door dacht ik – solidair als ik ben – af en toe al even na over het nieuwe schooljaar!
Op de Nederlandse site Lezen voor de Lijst vind je inspiratie voor leeslijsten op school. Ook hippe titels als Een weeffout in onze sterren of De hongerspelen vinden er een plaatsje. Radio 1 maakte enkele jaren geleden deze reportage over de leeslijsten: van verplicht Cyriel Buysse lezen tot zelf mogen kiezen.
Barbara, Eveline en ik nemen dit schooljaar afwisselend plaats op de schoolbanken, voor een jaarcursus literaire stromingen in Mechelen via Background Educations en kijken ernaar uit om daar Evelien Chiau te ontmoeten.
Volgende donderdag mag ik voor This Is How We Read een sessie How to stay calm volgen bij The School of Life in Antwerpen. Docente is Silvie Moors van literaire organisatie De Dagen. Een verslag lees je snel.
In juni volgde ik enkele online cursussen. Het resultaat lees je deze maand in Psychologies, maar wat dacht je bijvoorbeeld van Becoming a writer (schrijfoefeningen van 3 minuten per dag), Build a succesfull creative blog of  TV writing. Online lessen niets voor jou? Schrijf je dan in voor de cursus columns schrijven die Barbara dit najaar bij Wisper geeft. Ex-cursist Kurt veroverde deze zomer een plaatsje bij de acht genomineerden van de zomerse columnwedstrijd en bracht me dinsdag een blitzbezoek in de Ardèche.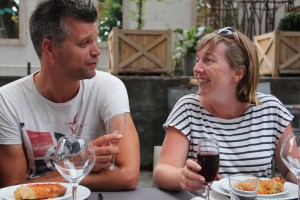 Zelf kijk ik ernaar uit om na een zomerstop terug naar de yogales te gaan. Zeker nu Goedele Leyssen (Boost) doceert bij Flowing yoga. Zou dit iets te maken hebben met ons gesprekje na deze Kundalini workshop op de 24 uur van de non-fictie?!