Leven tot elke prijs is de grote doorbraak voor Zweeds auteur Kristina Sandberg. Dat wij Zweedse import wel kunnen smaken, kon u al lezen in onze degustatie van Leila Lindolms A piece of Cake. Ook hier Zweedse baktradities en heerlijke broodgeuren ten top. Deel drie van de trilogie rond Maj, een huisvrouw en moeder die haar weg zoekt temidden van de jaren 50, is Sandberg's ticket tot internationale literaire faam.
Maj's leven is er één van jaloerse buren, wespentailles in fiftiesjurken, buitenechtelijke slippertjes negeren en je schoonouders licht aangebrand gebraad voorzetten. Met de glimlach. Sandbergs kunst schuilt in de details: precieze beschrijvingen van baksessies, schilderwerken overzien en een koffie als beloning na de was en de plas. Maj kijkt uit naar een namiddagje kerstkoekjes bakken met de kinderen, tot ze zich realiseert dat die slaande deuren twee adolescenten aankondigen. Echtgenoot Tom is vooral afwezig en als hij al thuis is, is de alcoholwaas meer aanwezig dan hijzelf. De schone schijn ophouden kost Maj alle moeite van de wereld.
De literaire wereld bombardeert de auteur tot de nieuwe Knausgård. Tijd om Kristina te mailen met enkele prangende vragen: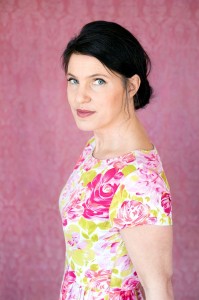 Leven tot elke prijs is het derde deel uit de trilogie. Hoe verklaar je het internationale succes het sluitstuk van je drieluik?
Veel lezers hadden de eerste twee delen aangeraden aan andere lezers, dus volgens mij zat er een heel publiek te wachten op de uitgave van deel 3. Deel 1 en 2 kregen lovende kritieken en werden ook vlot opgepikt door boekenblogs. Ik ontving de August Award in Zweden, wat een belangrijke literaire prijs is en veel media-aandacht genereert. Toch is de belangrijkste reden voor de populariteit is volgens mij de herkenbaarheid. Vele vrouwen hebben het bestaan van Maj gekend. Ik krijg van lezers de reactie dat ze het leven van hun moeder of schoonmoeder herkennen.
Het idee voor het boek ontstond uit een gesprek met je grootmoeder?
Onder andere. Als feministe wilde ik de hedendaagse Zweedse samenleving portretteren vanuit het standpunt van de huisvrouw achter haar aanrecht. Huiselijkheid was belangrijk tijdens de 20ste eeuw, als concept, maar vooral als dagdagelijkse werkelijkheid. 'Folkhemmer' is de Zweedse term voor Welvaartstaat, een ideaal van de dominante Sociaal-democraten. Zij wilden een nieuwe, moderne maatschappij creëren met betere kansen voor de bevolking. De taak van de vrouw als goede moeder en huisvrouw was om een thuis te scheppen. Dat ze daardoor geen werk inpikken van mannen was mooi meegenomen gezien de heersende werkloosheid in die periode.
Ik had de berekening gemaakt: mijn grootmoeder was niet getrouwd op het moment dat ze zwanger geraakte van mijn grootvader. Ik stelde haar de vraag, maar de schaamte is nog steeds te groot. Ze stond op en ging de ketel op het vuur zetten in de keuken…
Heb je veel research gedaan naar het tijdperk?
Ik heb vooral veel gelezen. Geschiedenis, onderzoeken, dagboeken, recepten, oude handleidingen,… Ook herinner ik mij heel goed waar mijn grootmoeders belang aan hechtten.
Waarom zijn vrouwen uit 2015 zo gefascineerd door vrouwen uit de jaren 50?
Het boek wordt omschreven als een 'feminist classic'. Het boek zoomt in op het dagelijkse leven dat vele vrouwen leiden. Voor mij is het belangrijk om te tonen hoe ideologie en de heersende mentaliteit het leven van individuen beïnvloeden en kansen schept of juist wegneemt. Vrouwen stellen zichzelf dezelfde vragen als toen: 'Hoe vul ik mijn leven in?', 'Welke normen en sociale omgangsvormen beheersen mijn leven?'. Het moeilijkste was om deze vaak verwaarloosde levensverhalen literatuur te kunnen distilleren.
Waar mogen we in de toekomst naar uitkijken?
Ik heb nog geen tijd gehad voor nieuwe schijfselen omdat mijn agenda volstond met speeches en ontmoetingen met lezers. Ik kijk al uit naar de lente, dan pak ik mijn pen zeker weer op…
Goed, en nu wachten op de vertaling van deel 1 en 2…
Leven tot elke prijs, Kristina Sandberg, Nieuw Amsterdam, verschijnt op 18 september 2015
P.s.: Nog benieuwd naar auteursinterviews? Babs mocht Ljoedmilla interviewen over haar schrijfwerk en zangcarrière. Naomi Wood babbelt over haar Mevrouw Hemingway en ook Nederlands auteur Carlijn Vis onsnapt niet aan onze nieuwsgierigheid.
P.p.s.: happy birthday Katrien!